MLB.com Columnist
Phil Rogers
Even without offspeed stuff, Arrieta simply the best
Pitching to contact, Cubs ace relies on fastball in second no-hitter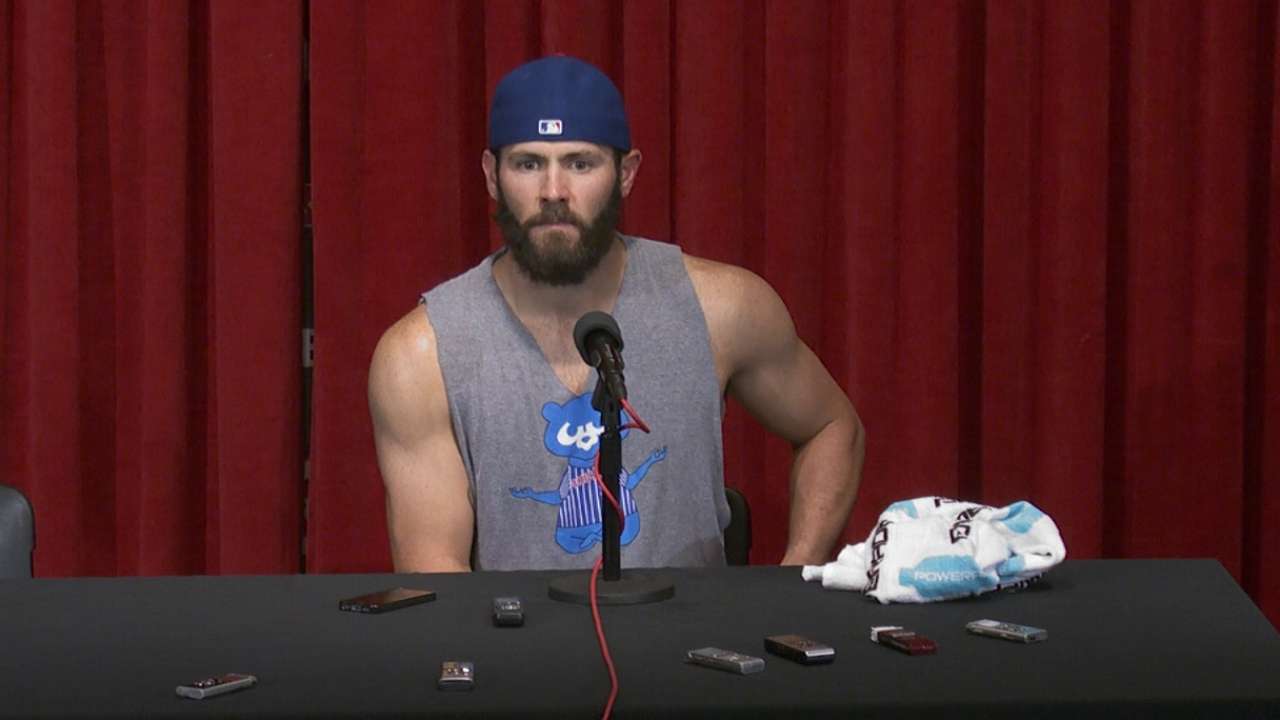 First came the stuff. Then the command.
Now the reputation, the stone-cold stare and, it would seem, a whole lot of intimidation. That Jake Arrieta, he just keeps getting better and better.
The only way the reigning National League Cy Young Award winner could have been hotter than he was Thursday night was if he had ridden to the mound for the ninth inning on the back of a little red Corvette.
Arrieta's no-hitter in the Cubs' 16-0 victory over the Reds at Great American Ball Park, his second no-no in his past 14 starts, including three postseason outings, was affirmation of a point he's pounded home since last June.
Arrieta is the best pitcher on the planet at this point in time. With apologies to Clayton Kershaw, David Price, Max Scherzer, Zack Greinke, Chris Sale and other great pitchers, there's no one close to Arrieta right now.
Jake Arrieta's second no-hitter
•
Pair-rieta: Jake's 2nd no-no a drubbing
•
Did you know? Facts from Arrieta's 2nd no-no
•
There's no-no doubting Arrieta's greatness
•
Rogers: Arrieta simply the best
•
Ross 'on cloud nine' after Arrieta's no-hitter
•
Arrieta 3rd Cub with multiple no-nos
•
Help yourself: Arrieta tallies two hits in no-no
•
No no-no is complete without defensive gems
•
Reds get no-hit at home for 1st time since '71
•
All-time no-hitters by club
•
Full game coverage
•
Flashback: Arrieta no-hits LA in August 2015
Sights & sounds
Arrieta's second career no-no
All 27 outs
Arrieta finishes no-hitter
#THIS: Arrieta no-hits Reds
Must C: Arrieta's 2nd no-no
Arrieta discusses no-no
Maddon on Arrieta
Ross on catching Arrieta
Game gallery
There were only nine regular-season starts between Arrieta's two no-hitters. That's the third-fewest in history, behind only Johnny Vander Meer's back-to-back no-nos in 1938 and Warren Spahn's two in '60 and '61, near the end of his Hall of Fame career.
Like Scherzer, Arrieta turned the corner toward becoming a consistently dominating starter in his age-28 season. He took a major step forward last season, at 29, and amazingly is continuing to get better as a 30-year-old, perhaps because opponents like the Reds have come to learn just how tough he is, night in and night out.
Working with a lead all night after Kris Bryant's first-inning homer, Arrieta walked four and struck out six. But the Cincinnati hitters seldom made good contact on his pitches, even if his slider wasn't nearly as sharp as it was last Aug. 30 at Dodger Stadium, when he no-hit Adrian Gonzalez, Andre Ethier and their Dodgers teammates.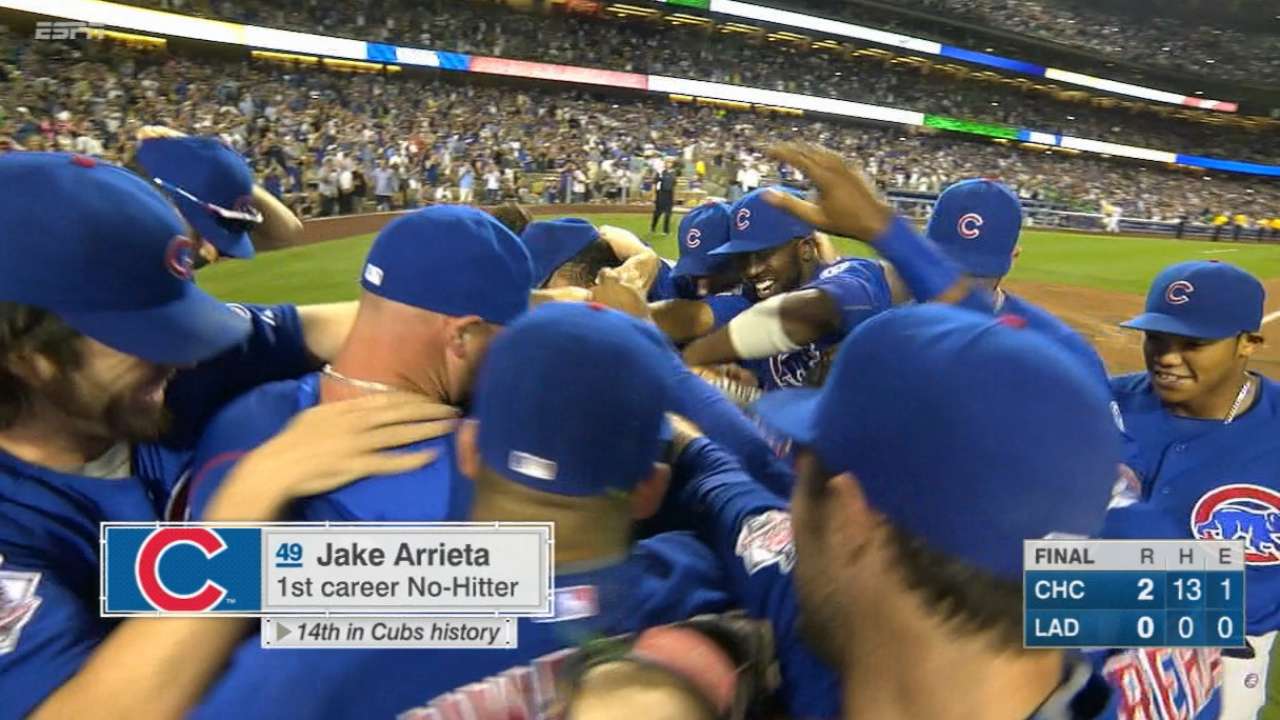 In his first no-hitter, Arrieta got 21 swings-and-misses. He had only 12 against the Reds, happy to pound the strike zone with fastballs and "pitch to contact," as he said afterward. Seventy-nine of Arrieta's 119 pitches were fastballs, as opposed to 58 of 116 against the Dodgers.
The differing context of the games figures heavily.
Arrieta was trying to help the Cubs make the postseason last August, and Los Angeles starter Alex Wood held firm after giving up two first-inning runs. That game would wind up 2-0, and in this one, Arrieta went to the mound for the sixth leading 9-0.
You pound the plate with fastballs when you have a big lead. But even though Cincinnati knew Arrieta would be doing just that, it couldn't get to him.
No defensive gems were needed against the rebuilding Reds. Arrieta's stare -- which somehow he held the entire time he watched Eugenio Suarez's fly ball float out to Jason Heyward for the final out -- seemed to speak as loudly as his fastball. The heater sat around 95 mph, according to Brooks Baseball, a little better than the one he had against the Dodgers.
We've never seen a pitcher this dominant for this long.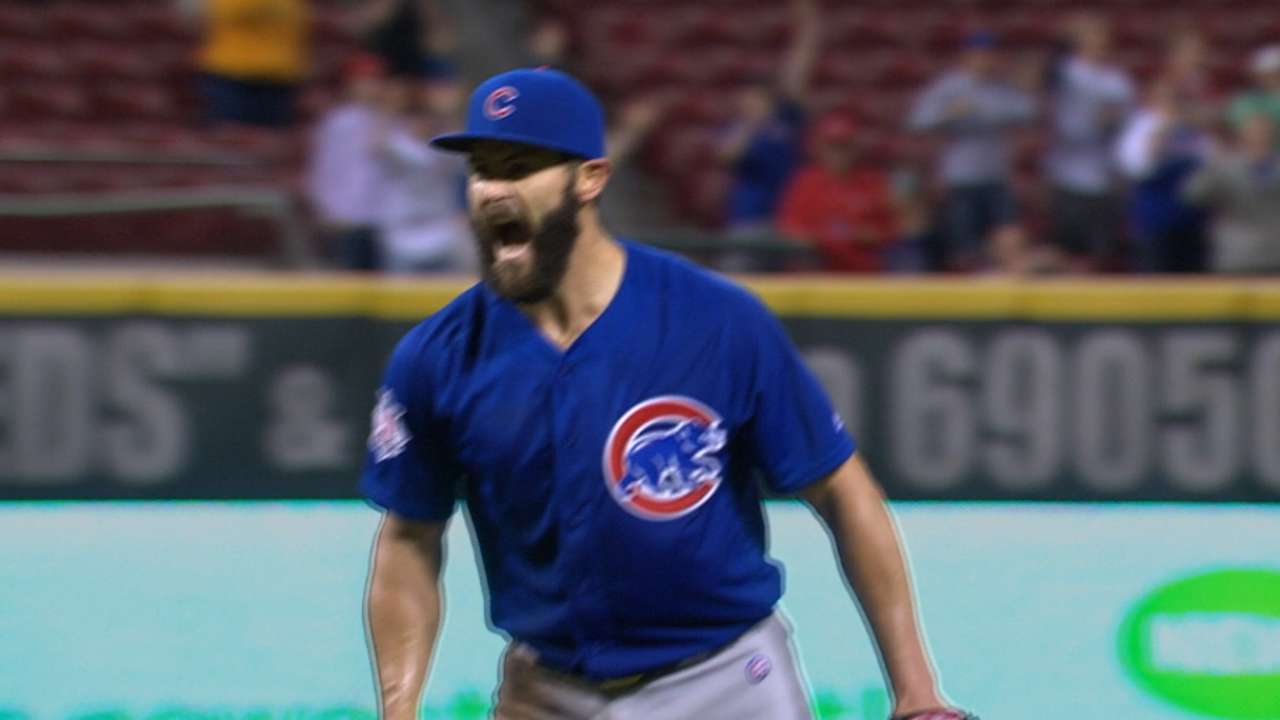 Arrieta, who Theo Epstein acquired from the Orioles in 2013 for Scott Feldman and Steve Clevenger, has gone 21-1 with a 0.86 ERA over his past 24 regular-season starts. This was the fifth time in his past 52 regular-season starts that he's taken a no-hitter into the seventh inning.
Arrieta twice flirted with no-hitters in 2014, before he and the Cubs were on anyone's radar. Stephen Drew broke one up at Boston with two outs in the eighth inning, and then Brandon Phillips ended another with one out in the eighth at Wrigley Field.
This is a bad, bad dude, even if he did leave Dodger Stadium in a onesie after his first no-hitter and is popularizing Pilates for baseball players.
Arrieta realized how good he could be -- and how much fun it would be to be good -- after spending the summer of 2006 pitching alongside Price on Team USA. He's been fanatical in working toward that goal, but it wasn't until he was traded to the Cubs and told to relax, be himself, that things started to click.
That said, Arrieta was the biggest question in camp when the Cubs reported to Mesa in February. He had hit a wall in his last two postseason starts last October, which is understandable considering the 248 2/3-innings workload represented the first time he'd gone beyond 180. Nobody knew how he'd hold up.
But all I had to do was watch Arrieta work once in the Cactus League to know he'd be fine. He was so sharp the day I saw him face the Padres that he walked Derek Norris on purpose so he could practice working out of the stretch.
If anything, Arrieta looks to be in better shape now than he was last season, when his body fat was likely measured in negative integers. You'd think that would be impossible. He not only maintained his fastball throughout 2015, but he had his best velocity in September. But I think it's true.
That day in March, I asked Arrieta if he had any questions how he'd hold up after taking such a big leap forward.
"Now I've obviously bounced back," Arrieta answered. "I'm in better shape than I've ever been in, and I'm ready for another 250 [innings]."
Because the Cubs weren't willing to go to six or seven years when the sides talked about a contract extension in the offseason, Arrieta remains eligible for free agency after the 2017 season. That's the only part of this story that isn't great for Epstein and Chicago fans.
But as the Cubs said to Arrieta, relax. There are a lot of starts between now and then, probably more than a few in October given the way the Cubs have been winning. Enjoy the ride.
Phil Rogers is a columnist for MLB.com. This story was not subject to the approval of Major League Baseball or its clubs.