Wagner's stellar relief picks up D-backs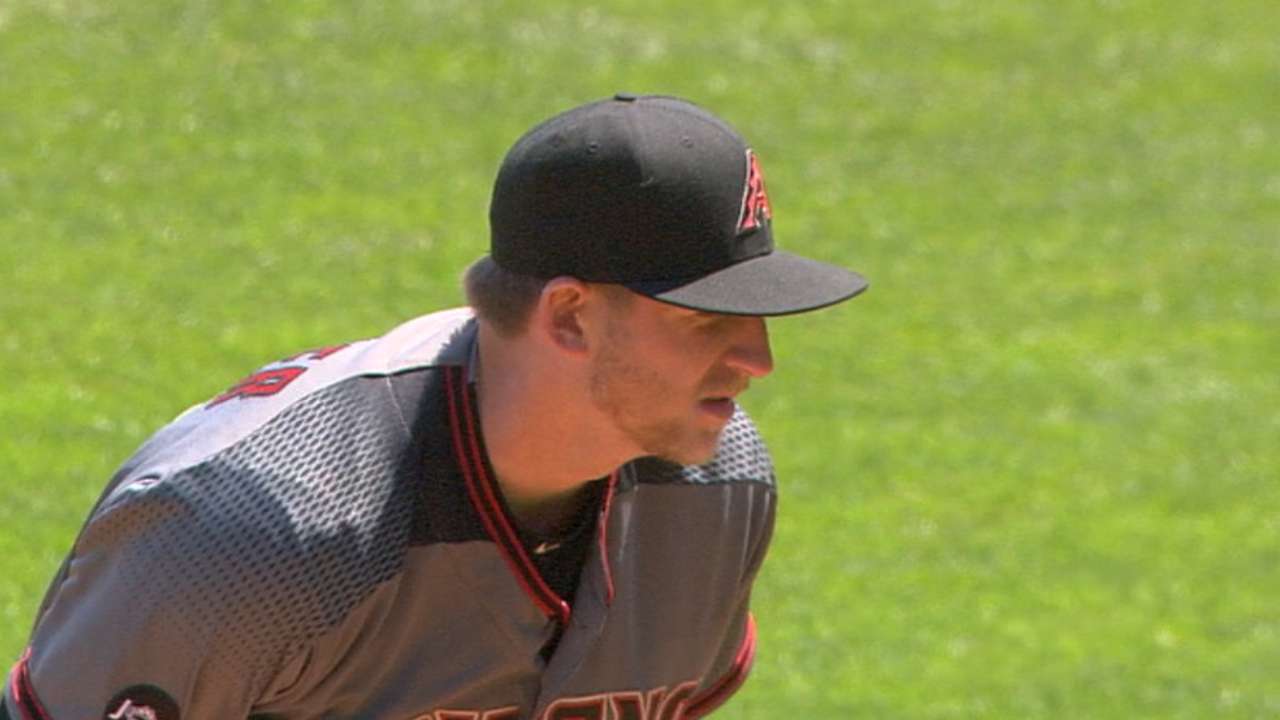 SAN FRANCISCO -- The lineup card and the game ball sat in Tyler Wagner's locker, a pair of keepsakes the D-backs right-hander will have to remind him of his first Major League win.
Wagner tossed five shutout innings Thursday afternoon in relief of Shelby Miller as the D-backs completed a four-game sweep of the Giants, 6-2.
Miller had to leave the game in the third inning after struggling with his command, and Wagner, ranked as the D-backs' No. 10 prospect by MLBPipeline.com, helped save the taxed bullpen by lasting as long as he did.
"Wags came in and did a great job," Miller said.
Wagner entered the game with no outs and the bases loaded and got Brandon Belt to ground into a double play, which scored a run, and then Brandon Crawford grounded to first to end the inning.
"When I brought him in the game, bases loaded, nobody out, I just said, 'Get outs,'" D-backs manager Chip Hale said. "We'll deal with the score at the end of the inning. Don't worry about getting double plays, don't worry about striking guys out."
Said Wagner, "I'm just trying to limit things, minimize the damage. To get a ground-ball double play is what I'm trying to do."
Wagner gave up two hits over the rest of his outing but did not allow either runner to reach second.
"This defense is unbelievable," Wagner said. "That gives me confidence as well to be able to go out there and pitch to contact like I have in the Minors. Having those guys behind me definitely gives me confidence."
Wagner came to the D-backs, along with Jean Segura, from the Brewers in a deal at the end of January. In three starts for the Brewers last year, he had a 7.24 ERA, but he pitched well for the D-backs this spring, and he was called up Monday from Triple-A Reno to help reinforce the bullpen.
He did exactly that, throwing seven shutout innings in this series against the Giants.
"I think it's about being comfortable, knowing that I belong here, that I can pitch here," Wagner said. "Last year, I didn't go to camp with the Brewers, so there was a lot of new faces for me, so I wasn't as comfortable with the guys, where I think here, I can be myself."
Steve Gilbert has covered the D-backs for MLB.com since 2001. Follow him on Twitter @SteveGilbertMLB. This story was not subject to the approval of Major League Baseball or its clubs.