Double take: Hicks continues to star in OF
Following laser throw in previous game, Yanks LF scales wall to catch foul pop, adds assist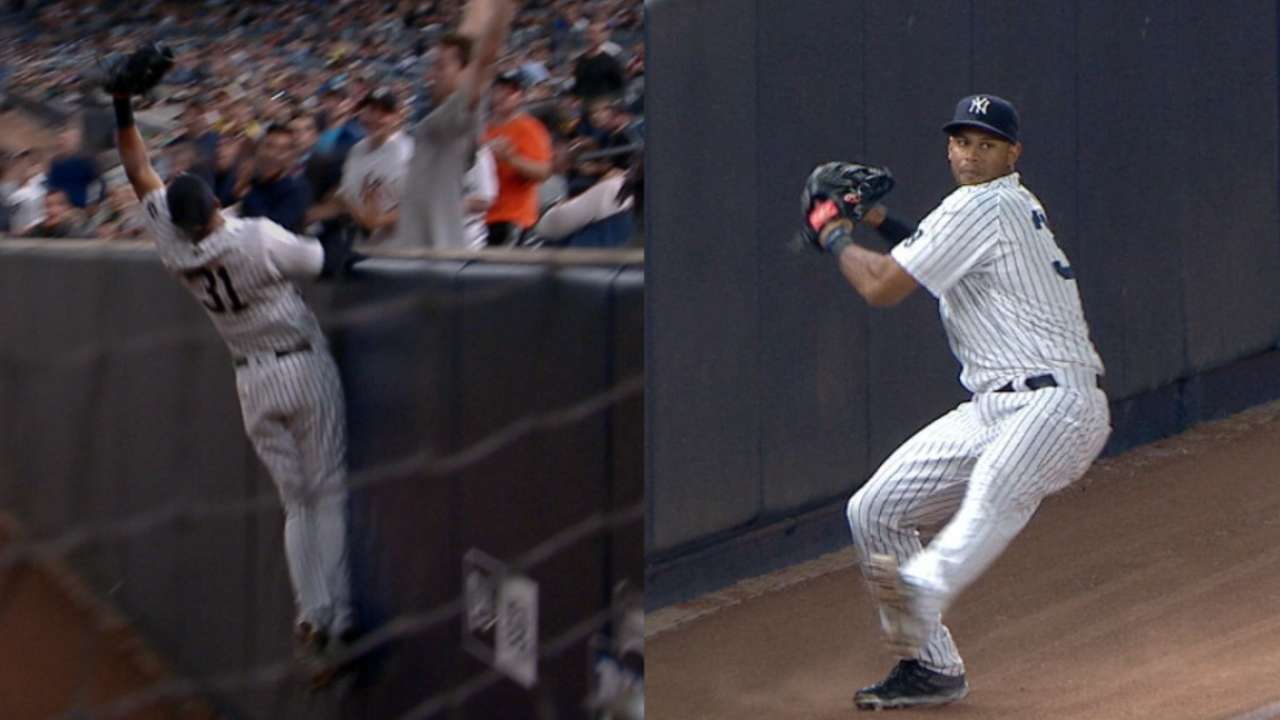 NEW YORK -- One night after recording the fastest throw in Statcast™ history, Aaron Hicks turned in two more defensive gems for the Yankees in Thursday's 7-3 loss to the A's, scaling a padded wall in foul territory to snare a Chris Coghlan popup and once again throwing out a runner, this time Jed Lowrie at second base.
In the fourth inning, Hicks raced from his position in left field and brought in the Coghlan drive, much to the appreciation of Yankees right-hander Luis Severino. Oakland had already scored a run in the frame, but Severino rebounded to strike out the next two hitters following Hicks' catch.
• Cut4: Hicks continues defensive clinic
Hicks said he didn't think he had a chance at the ball at first, but he quickly realized the opportunity was there as he got closer.
"I thought it was going to be a little bit further into the crowd, but I gave it my best and it ended up coming back into play a little bit more than I expected, and I was just trying to make a play," Hicks said.
The left fielder also gave the Yankees a 1-0 lead with an RBI single in the second. The at-bat represented just his second hit of the season and his first against left-handed pitching, a platoon split he was brought to the Bronx specifically to handle.
In his mind, the hit was a culmination of his preparation.
"I'm just happy the guys got in front and I was able to watch some pitches, watch some at-bats and see what I could do to him," he said. "And I got a pitch that I just fought off into center field, and I was able to get the run in."
Hicks remained modest about both his throw in the sixth -- which he described as simply an attempt to get the ball into the infield as fast as possible as Lowrie tried to stretch a single into a double -- and his last two days overall.
• 105.5! Hicks' throw fastest in Statcast™ era
Despite his highlight-reel defensive plays -- including Wednesday's one-hop laser to home plate that was clocked at 105.5 mph by Statcast™ -- and his step forward at the plate, Hicks still doesn't want to say whether or not he should be inserted into the starting lineup on a more regular basis.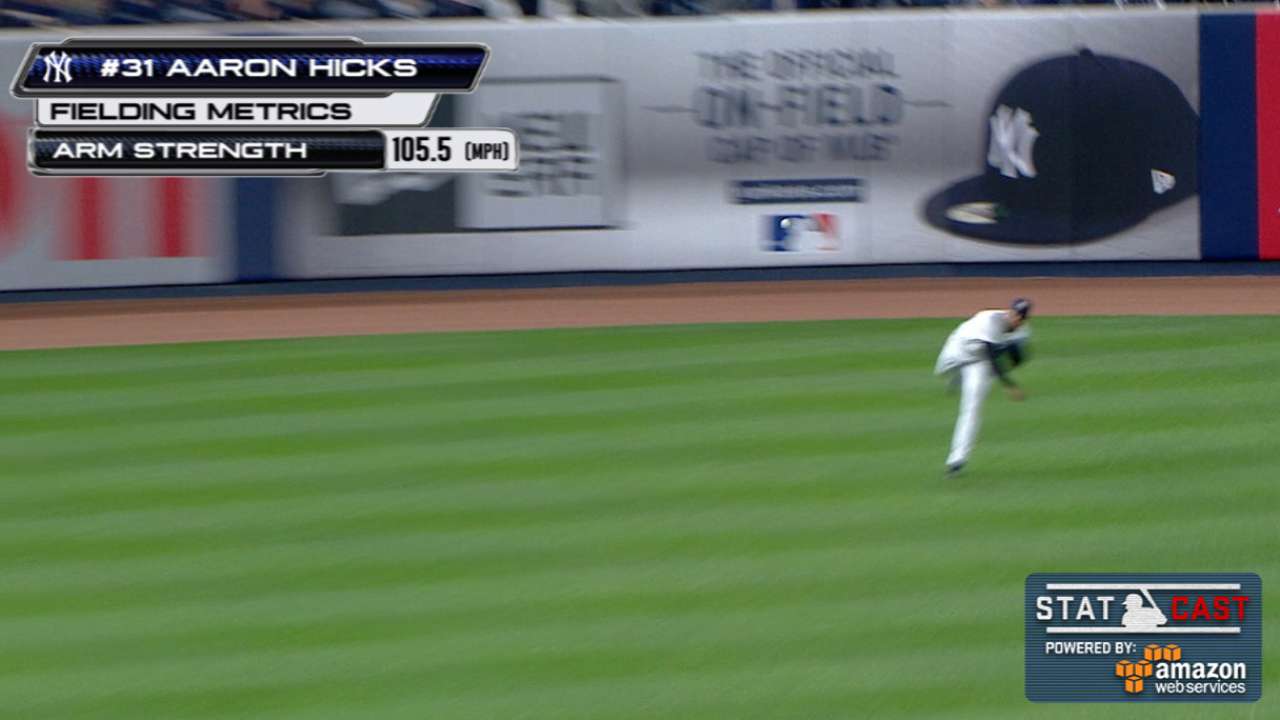 "I'm just out there to play," Hicks said. "If [manager Joe Girardi] comes out there and tells me that I'm in the lineup, then I'm in the lineup and I'm going to go out there and play."
Bryan Hoch has covered the Yankees for MLB.com since 2007. Follow him on Twitter @bryanhoch, on Facebook and read his MLBlog, Bombers Beat. Nick Suss is a reporter for MLB.com based in New York. This story was not subject to the approval of Major League Baseball or its clubs.