Human highlight reel Iglesias maturing on, off field
KANSAS CITY -- Tigers shortstop Jose Iglesias has already put up a highlight reel's worth of plays in his young career. On Wednesday, he put up more than highlights.
His diving stop from the other side of second base on the infield shift denied Kendrys Morales a leadoff single up the middle and earned closer Francisco Rodriguez a crucial first out in the ninth. Earlier, Iglesias' throw across his body with his momentum going toward left field kept speedy Jarrod Dyson off the basepaths leading off the third inning. Two innings later, Iglesias' field awareness to look for Alex Gordon breaking home finished off the unconventional 4-3-6-2 double play that ended a fifth-inning threat.
When manager Brad Ausmus talks about putting meat and potatoes into Iglesias' defense, games like Wednesday qualify as a main course.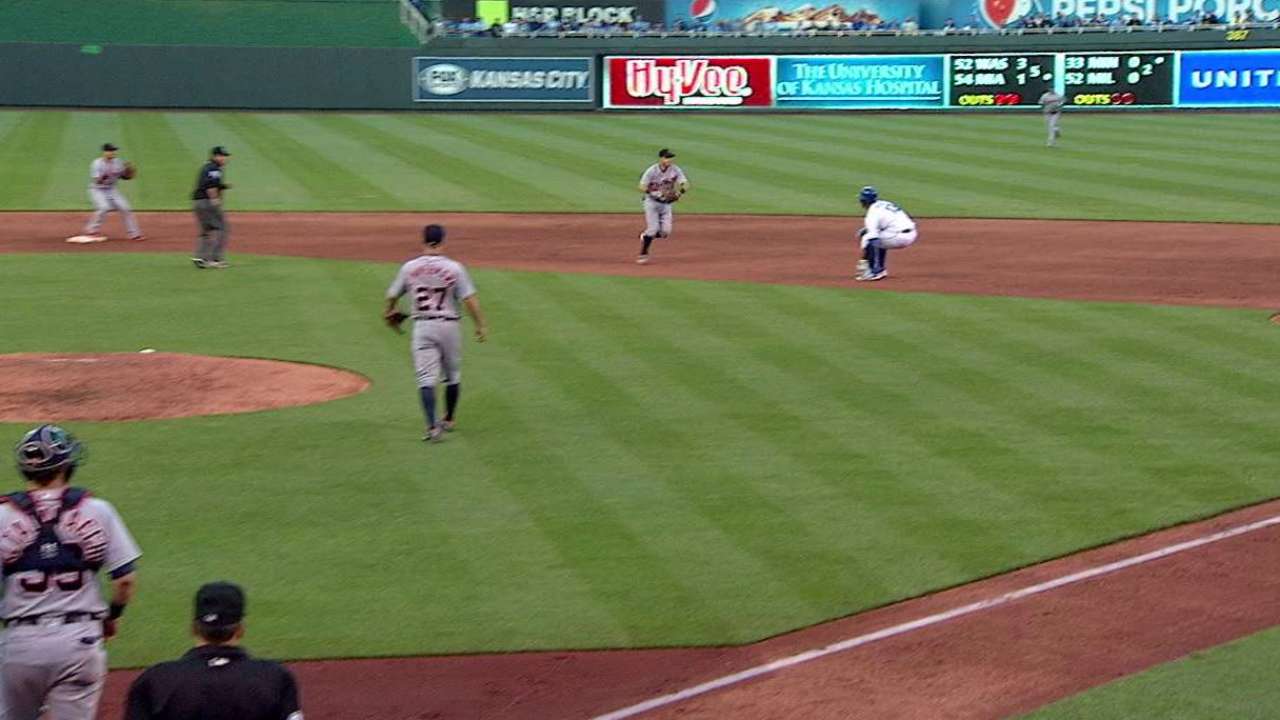 "He's improved tremendously," said his double-play partner, second baseman Ian Kinsler. "He's paying attention to the details of the game, and he's working hard. And he wants to be better. He's got all the tools that you need to be a really good shortstop and a really good defender, and he's taking advantage of it."
It's not just ability, infield coach Omar Vizquel said, but maturity.
"Now he realizes that it's not all about the show," Vizquel said. "It's more about techniques, about playing the game the right way."
The maturation isn't just on the field, by Iglesias' admission.
"It's more off the field," Iglesias said. "It's more growth as a human being, as a friend, as a teammate, as a player. That's what makes me a more comfortable player, and obviously another year of experience will get you better."
Both Vizquel, a Hall of Fame caliber shortstop in his career, and Kinsler, a metrics standout at second, have lent their wisdom and experience to Iglesias to help the process. Vizquel had that type of guidance coming into the league from his old double-play partner in Seattle, Harold Reynolds.
"You come new into the league and you don't really know what to expect," Vizquel said. "You have this thing coming from your country that you're viewed as the best, and then you get here and try to do the same, but you find yourself fighting against lions. Everybody's pretty good here, and you have to do things the right way. He had to change a little bit and he's been doing so. I'm really glad with the maturity that he has mentally, because there's no doubt he has the abilities to be the best."
It's not just physical, but mental.
"You can tell that he's more focused," Vizquel continued. "I think he really wants the recognition that he's one of the best shortstops in the league, and I think that he's no doubt one of the best out there in the field. When he plays at that level, when he plays that game he played yesterday, he's pretty good, pretty intense. And if he can continue that intensity throughout the year, he's going to get his recognition."
Jason Beck is a reporter for MLB.com. Read Beck's Blog, follow him on Twitter @beckjason and listen to his podcast. This story was not subject to the approval of Major League Baseball or its clubs.