Brief break, hitting work revives Duffy's bat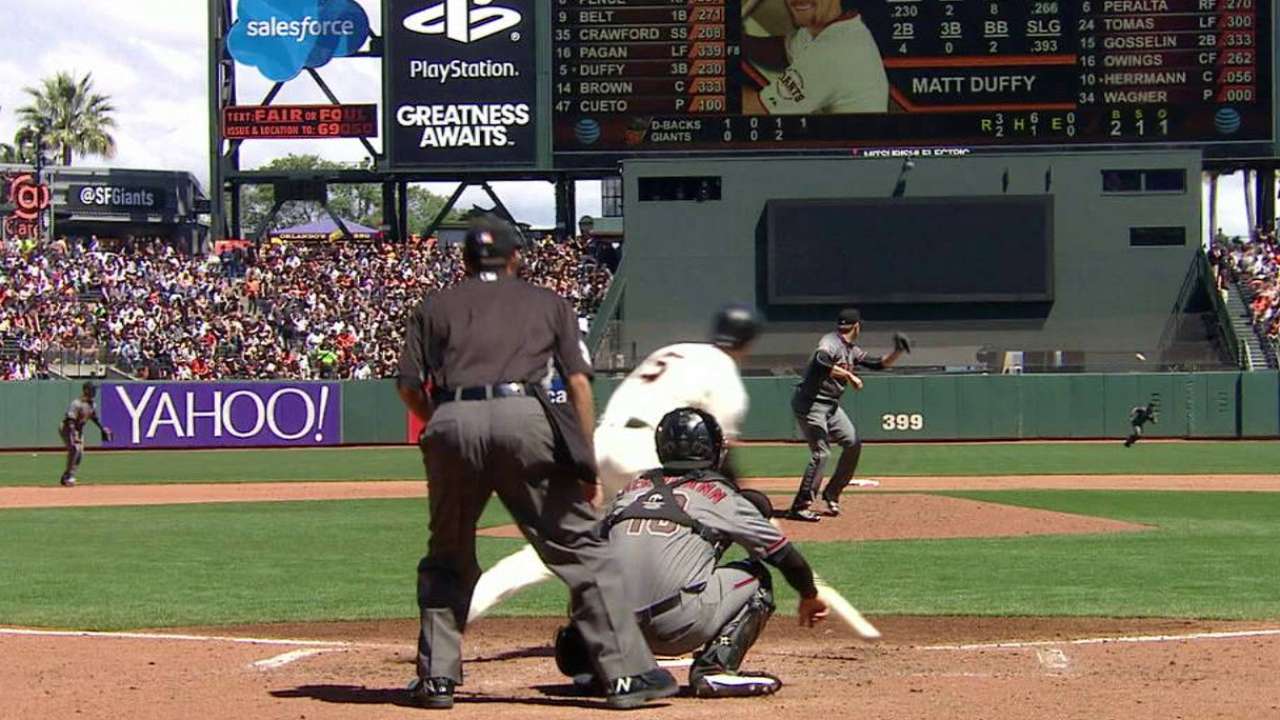 SAN FRANCISCO -- While the Giants continue to have big problems trying to score with runners in scoring position -- something that's becoming an all-too familiar trait for manager Bruce Bochy's ballclub lately -- Matt Duffy is showing signs of coming out of his own slump at the plate.
Duffy had two of San Francisco's three hits in Thursday's 6-2 loss to the Arizona Diamondbacks, the third consecutive multi-hit game for the Giants third baseman.
That raised Duffy's average to a modest .234, a far cry from the .295 mark he had in 2015 when he finished second to Kris Bryant of the Chicago Cubs in National League Rookie of the Year voting.
Still, for a player who spent the past week trying to keep his average from dipping below .170, it's a definite step in the right direction.
"It's not bad sometimes to take a mental day and stop thinking so much," Duffy said. "I worked with [hitting coach Hensley Meulens] to calm down my swing a little bit. It's helped me see the ball a little better."
Duffy's surge in production came after Bochy gave the 25-year-old infielder a rare break and pulled him out of the starting lineup Monday. Duffy was mired in a 2-for-24 funk at the time. Although he wound up playing anyway as a defensive replacement and struck out in his only at-bat, the brief rest clearly did him some good.
Duffy has had two hits in each of the three games since then and is 6-for-11 overall during that stretch.
"We've given guys days off and he needed one there," Bochy said. "Not just physically, but it's a mental break for him and allows him to go over some things. Even when he was struggling, I said, 'He's going to get it going.' Right now he's seeing the ball better."
Part of Duffy's problems at the plate came from rushing his swing, which threw his rhythm off. That might have been expected, too. The young hitter was coming off a tremendous 2015 and was eager to build off his success from a year ago.
When it didn't happen right away, Duffy says, he started getting impatient at the plate -- something many of his San Francisco teammates appear to be doing now during their own collective hitting slump.
"I was just kind of rushing to the ball," Duffy explained. "I wasn't giving myself a chance to see the ball and then react to it. I was just jumping up. You see a good pitch to hit, and your eyes maybe light up a little more to try to hit the ball harder or hit it farther. Maybe that was happening a little bit, which contributed to me starting to rush."
There is a noticeable difference now, however. Duffy's swing the past three games was much calmer and smooth, and the results were telling.
Duffy is confident the rest of San Francisco's hitters will bust out of their funk just as he has. The Giants are 3-for-35 with runners in scoring position during their five-game losing streak.
"The lineup is composed of too many good hitters who understand what they're doing at the plate for us to stay down this long," Duffy said. "Maybe some small adjustments and go from there, but I don't think anybody's worried at this point."
Mike Wagaman is a contributor for MLB.com based in the San Francisco Bay Area This story was not subject to the approval of Major League Baseball or its clubs.