MLB.com Columnist
Mike Petriello
Red-hot Murphy carrying record-setting changes into 2016
Pull percentage increased every year since 2012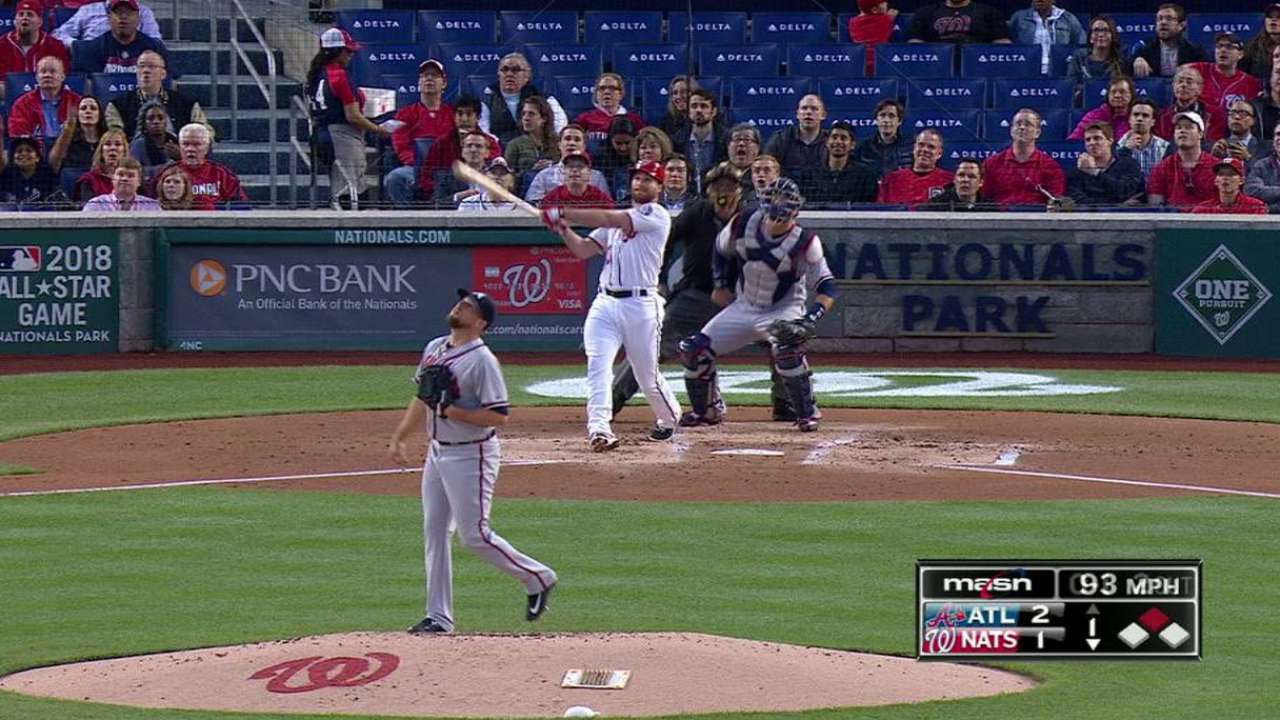 Daniel Murphy put together a historic home run streak last fall, one that was nearly as shocking as it was impressive. After all, Murphy had been the definition of consistency over his last few years with the Mets, and so his unbelievable October seemed more to be a well-timed hot streak than it was an indication that at age 30, he'd suddenly unlocked the key to elite production.
But what if it wasn't? Even accounting for an 0-for-3 in Thursday's 5-1 loss to Miami, Murphy's .404/.483/.673 slash line comes out to be the sixth best (per wRC+) of the 202 qualified hitters in baseball so far, though Bryce Harper has made sure it's not even the best on Murphy's own team.
If this was any random hot streak from any random player, we'd probably note it and move on. After all, Dexter Fowler is hitting .393/.521/.696, and no one seems to think that he's found anything particularly magical. If not for that unprecedented October, we'd probably think the same about Murphy. But he did have that run, making him one of 2016's most interesting players headed into the season and he's backing it up right now, so it's worth asking: What if this -- or something that reasonably approximates it -- is for real?
Let's get the obvious caveats out of the way. Yes, it's been only 60 plate appearances. Yes, Murphy's Batting Average on Balls in Play of .452 is so ludicrously high that it's just not humanly possible for him to maintain it. No, Murphy will not hit .404 all year long. If this is all "it's too darn early for any of this" to you, well, understood -- we'll see you in June.
That said, we did see Murphy make some actual changes last year that helped to explain his home run streak. As we noted at the time, he'd worked with Mets hitting coach Kevin Long to crouch his stance more and crowd the plate, in order to help alleviate Murphy's weakness and lack of production on outside pitches. Though Murphy has gone south to Washington, he's kept Long's advice:
Guess it's time to update the "is Dan Murphy still crouched and standing closer to plate for power, oh, yes" tracker pic.twitter.com/jeQqgCg5qg

— Mike Petriello (@mike_petriello) April 4, 2016
In addition, it became extremely clear last year that Murphy's greatest source of power was to his pull field. Five of his seven postseason homers were to right, and all seven were at least to the right side of dead center. So far, both of Murphy's homers in 2016 have been to center and right; he's hit just five of his 64 career homers to left field, and didn't do it at all between 2009-12.
Knowing that, we saw Murphy attempt to increase his pull hitting last year. Thus far in 2016, he's not only been keeping that up, he's been doing it more than ever:
So does that matter? For Murphy, it does, given that when he pulls the ball, good things happen. As we noted, his power comes to the right side, and so it should be hardly surprising that his Statcast™ exit velocity (92 mph pulled as compared to 85 mph opposite field) does as well.
Higher productivity when pulling the ball is true for lots of players, of course. It's just that most of those players aren't able to tap into that and focus on pulling the ball as successfully as Murphy has. So no, of course he won't keep hitting .400 all year long. But it sure does seem like Murphy has maintained the changes that helped him so much in his final year in New York, and that's what makes him notable. That's what might just make him more than a consolation prize for a team that had hoped to have Ben Zobrist playing second base.
Oh, and about that 0-for-3 in Miami? It may not have turned into hits, but it was also more evidence that the new Murphy is here to stay. Before popping out to the catcher late in the game, he made contact twice. Both times, 98 mph. Both times, line drives to right field. Sure, Ichiro Suzuki happened to be out there and able to make a fantastic catch to rob Murphy. Doesn't mean Murphy didn't hit the ball hard, though. Doesn't mean he stopped pulling the ball. It's the right formula, at least for Murphy.
Mike Petriello is an analyst for MLB.com and the host of the Statcast podcast. He has previously written for ESPN Insider and FanGraphs. This story was not subject to the approval of Major League Baseball or its clubs.