Maddon not getting caught up in early averages
CINCINNATI -- Anthony Rizzo and Jason Heyward both began Thursday's game with batting averages under .200, but manager Joe Maddon isn't worried about the pair after 15 games.
"Take Jason Heyward's three days in St. Louis," Maddon said of the just-completed series, in which Heyward went 1-for-12. "Could he have hit the ball any harder? He had one hit to show for it. He hit the ball well. He worked good at-bats, hit the ball hard, his batting average doesn't look good.
"I didn't know [Ben] Zobrist was 0-for-24," Maddon said of the veteran, who was batting .212 with a .333 on-base percentage before he homered off Brandon Finnegan in the second inning of Friday's series opener vs. the Reds. "He's still working good at-bats, he's getting on base, and I know I'm shaking his hand coming into the dugout after scoring runs. I really don't get caught up in [the averages]."
The Cubs may have been batting .236 as a team to begin the weekend, but they ranked third in the National League in on-base percentage.
"I don't worry about batting averages," Maddon said. "They're working good at-bats."
Rizzo does lead the Cubs in home runs and RBIs, and he had another potential homer stolen by the Cardinals' Randal Grichuk, who made a leaping catch in the first inning on Wednesday.
"[Rizzo] came up for the second at-bat, and I said, 'You realize you've already hit a home run today,'" Maddon said. "I said, 'Maybe it's not going to count, but you did. Why not hit another one?' and he hit one [in the fourth]. He came back and said, 'Let's go for three today.' Guys like him, all of a sudden, it starts flying out of the ballpark."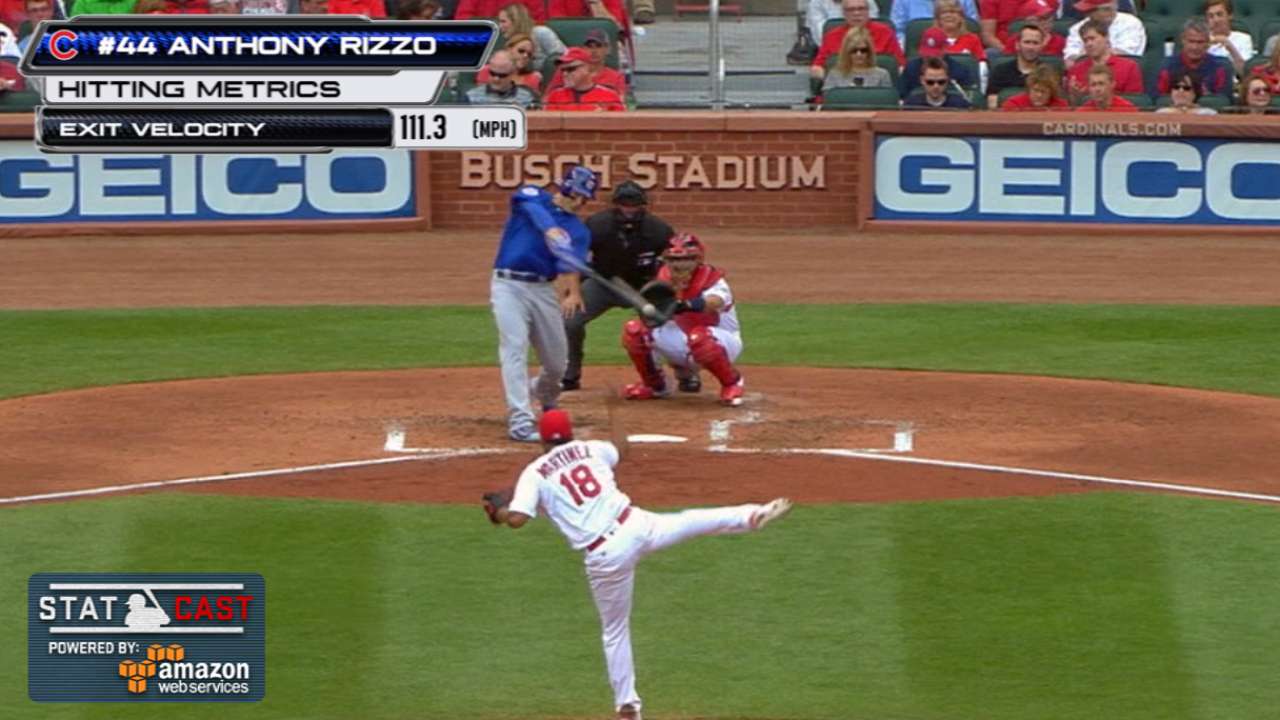 • Kyle Schwarber, who underwent surgery on his left knee on Tuesday, is back in Chicago ready to begin his rehab. The successful ACL reconstruction and LCL repair were performed by Dallas Cowboys orthopedic specialist Dr. Daniel Cooper, and the Cubs expect a full recovery. Schwarber sustained the season-ending injury on April 7 in a collision with teammate Dexter Fowler in the outfield.
• Maddon grew up a huge fan of the Cardinals and had a chance to meet his favorite player, Hall of Fame pitcher Bob Gibson, during the Cubs' series in St. Louis.
"I told him how much I respected him when I was a kid," Maddon said. "He was my favorite player growing up. I chose a pitcher to be my favorite player growing up because even as a 10-year-old, I recognized how tenacious he was when he played. I told him all of that."
Maddon was starstruck.
"I totally was -- I slobbered," he said. "As a 10-year-old growing up in Pennsylvania, that was the group I followed most closely."
Maddon also collected a couple of souvenirs, purchasing two bases from the Lou Brock ceremony. Maddon plans on keeping one and auctioning the other to benefit his Hazleton Integration Project.
"It means a lot to me -- I was such a huge fan of [Brock's] as a kid," he said. "What a player he was. He's the reason why the Cardinals got going. He's the reason why it all happened."
Carrie Muskat is a reporter for MLB.com. She writes a blog, Muskat Ramblings. You can follow her on Twitter @CarrieMuskat and listen to her podcast. This story was not subject to the approval of Major League Baseball or its clubs.