Confident Wisler capably battles Kershaw
Right-hander gives up an unearned run in 6 2/3 innings vs. Dodgers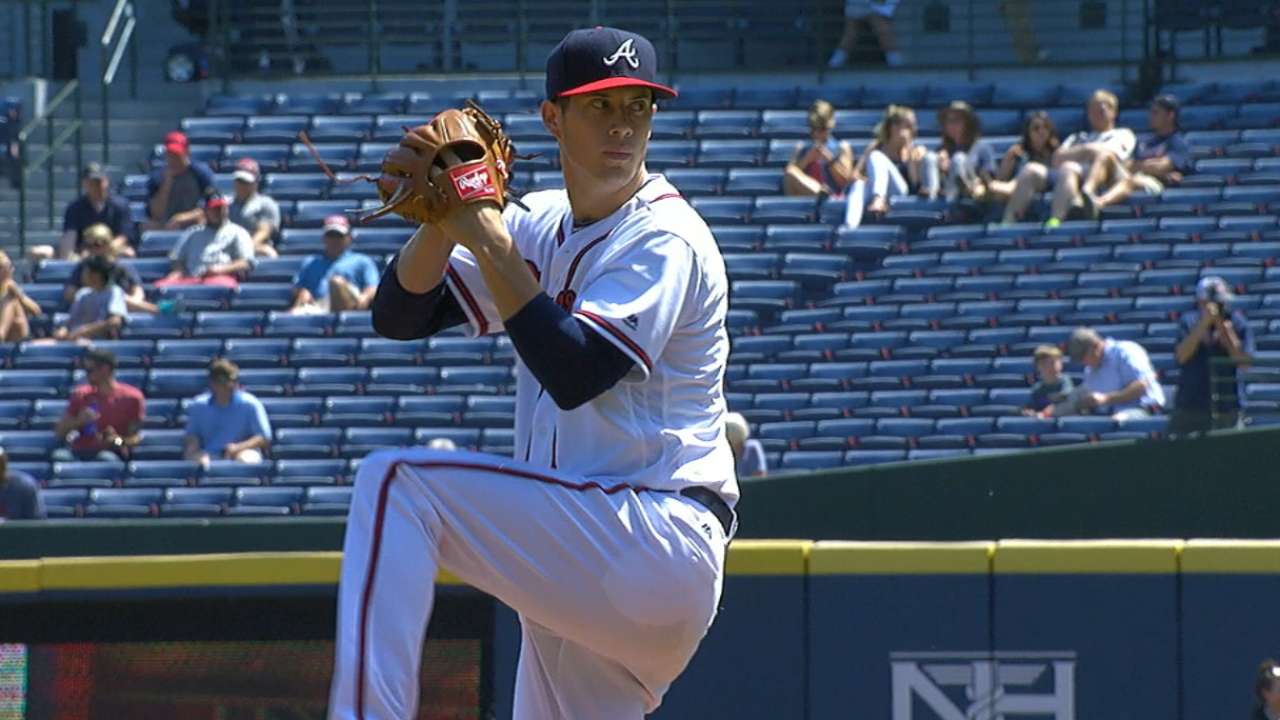 ATLANTA -- As Matt Wisler progressed through Spring Training, he provided a glimpse of the strides he had made since last year's sometimes frustrating rookie season. But the young Braves right-hander truly showed his progress as he capably battled Clayton Kershaw, before seeing the Dodgers claim a 2-1, 10-inning victory.
"He went pitch-for-pitch with one of the premier pitchers of our era," Braves manager Fredi Gonzalez said. "Wisler was terrific."
Though he is just 22 starts into his young career, Wisler has progressed to the point that he now stands as the closest thing the Braves have to a frontline starter. Atlanta's rotation should be enriched by some highly regarded prospects over the next couple of seasons, and if Wisler stays on his current course, he could prove to be one of the most valuable members of this special group.
After falling victim to one big inning in both of his first two starts, Wisler was in full command as he limited the Dodgers to one unearned run and four hits over 6 2/3 innings. He threw a career-high 115 pitches and would have likely completed seven scoreless innings if not for a couple defensive miscues, including the first of third baseman Adonis Garcia's two errors, which extended the first inning long enough for Joc Pederson to record an RBI single.
"I felt good out there," Wisler said. "I'm feeling better every start."
Instead of completing his planned side session in Miami on Sunday, Wisler notched his first career save during a six-pitch emergency relief appearance that capped a 10-inning win over the Marlins. The Braves responded by taking the cautious route of pushing Wisler's scheduled start back two days, setting up this matchup against Kershaw.
While Kershaw showed his moxie as he surrendered just one run despite giving up a season-high 10 hits, Wisler experienced little trouble against the Dodgers' lineup. He surrendered two consecutive singles to begin the fourth inning and then retired each of the next seven batters he faced.
"This year, I've had a better mental attitude on the field," Wisler said. "I'm competing on every pitch and I'm not giving in, in certain situations. I have a little more confidence in myself and the pitches I'm throwing. I just have a little better game plan."
As Wisler posted a 4.79 ERA over 19 starts last year, he allowed himself to be negatively affected by adversity. But he's benefited from 2015's growing pains, and after spending a portion of this winter working with Hall of Famer Tom Glavine, the 23-year-old righty has increased confidence and composure. He reacts better to setbacks, like both of the errors Garcia committed on Thursday.
After Garcia bobbled A.J. Ellis' grounder to begin the seventh inning, Wisler immediately induced a double play. Wisler's bid to complete seven innings ended after Kershaw's two-out fly ball fell to the grass as Jeff Francoeur and Mallex Smith collided in right-center field.
Still, Wisler had reason to proudly walk away from this start, which seemingly provided a clearer indication of how much he has progressed since the end of last season.
"He's been getting better and better every time out," Gonzalez said. "Sure, every once in a while, he'll take a step backwards just like everybody else. But I'm really proud of the young man's development."
Mark Bowman is a reporter for MLB.com. This story was not subject to the approval of Major League Baseball or its clubs.