When Thor's on mound, Mets shift less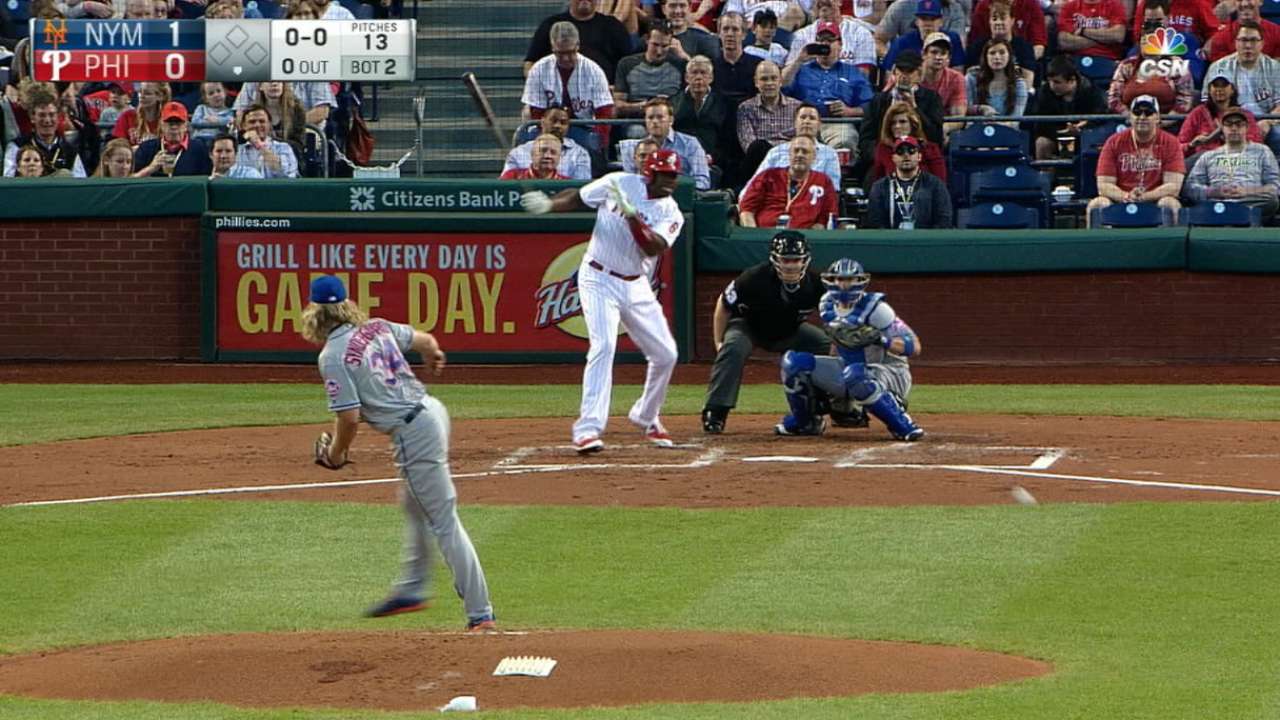 Because Ryan Howard is Ryan Howard, a man with an iron-wrought reputation, the Mets did what they were supposed to against him Monday in Philadelphia. With Noah Syndergaard pitching in the second inning, the team shifted its infield to accommodate the Phillies' extreme pull hitter, like most every other team Howard has faced for more than a decade.
This time, however, the result was unexpected. Howard's hack against a Syndergaard fastball produced a grounder to left-center, worming through a hole that typically falls within shortstop Asdrubal Cabrera's range.
Howard, the poster child for defensive shift philosophy, beat the shift. And he wasn't alone. The Phillies' propensity for shortened swings against Syndergaard forced the Mets to learn a lesson: From now on, when the league's hardest-throwing pitcher is on the mound, they won't do much moving and shaking behind him.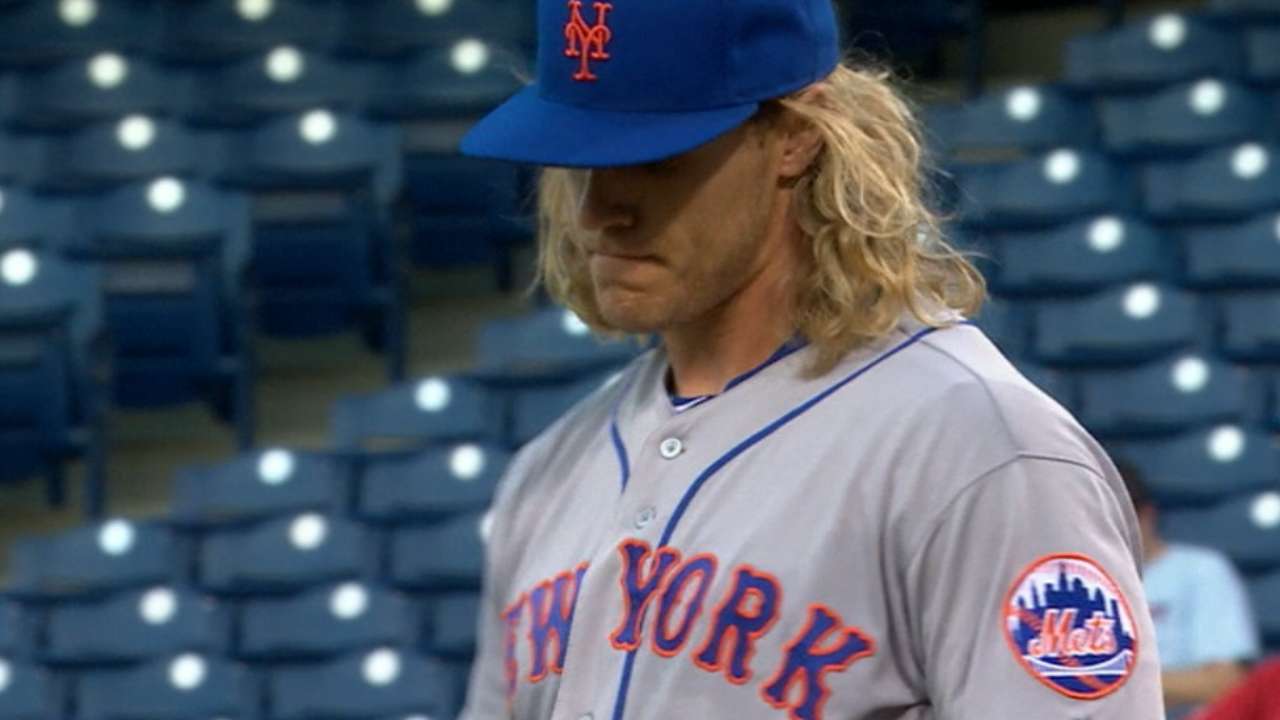 Such is the battle the Mets have faced as their high-velocity starting pitchers make an increasingly large percentage of their starts. Unlike last season, when Syndergaard, Matt Harvey, Jacob deGrom and Steven Matz did not occupy the same rotation regularly until September, those four have been together this year since Opening Day. When Zack Wheeler returns from the disabled list in July, displacing Bartolo Colon, all five Mets starters could average 94 mph or more with their fastballs.
It's difficult to turn on that sort of smoke; through the Mets' first 14 games, opposing batters have pulled a Major League-low 31.3 percent of the balls they've put in play against the team's pitching staff, according to Fangraphs. So the Mets, who lean heavily on advanced metrics for everything from player acquisition to lineup construction, have all but eschewed the league's popular group-think on defensive positioning in general.
Through 14 games, the Mets have shifted just 55 times, also according to Fangraphs data. That ranks 28th in the Majors, with a specific reason for it.
The Mets throw really, really, really hard.
"I think any shifting, you have to take into consideration the velocity," Mets bench coach Dick Scott said. "It's just common sense. So I don't think it's one size fits all."
In engineering their defensive strategies, the Mets look at how batters have fared against comparable pitchers around the league. If Colon is starting against the Phillies, for example, the Mets will not only look at Howard's history against him, but also against other right-handed sinkerballers with similar velocity. If Addison Reed is relieving, they'll view data on pitchers with comparable repertoires.
The problem they have run into this year is that there are no comparable pitchers to Syndergaard. None. No one in baseball throws as consistently hard as Syndergaard, forcing third-base coach Tim Teufel -- head of the Mets' unofficial shift department, with a binder full of spray charts his constant companion -- to adjust on the fly.
"We're trying to use the best data we can to be in the right place," Teufel said. "Is it perfect science? Of course not. Certainly with a guy like Syndergaard … he's kind of an island up there."
For now, the Mets are still learning. Consider the lessons of the Tigers, who have more or less stopped shifting against Eric Hosmer, Mike Moustakas and Alex Gordon because of how adept those Royals are at beating unorthodox defensive alignments -- at finding ways to falsify, in other words, what the data says they are most likely to do. The Mets are not necessarily as concerned about players purposely bunting or hacking past their own shifts, so much as they are confident their high-velocity pitchers will continue to produce poor contact.
It's the Hosmer effect, only by accident. And it stops here, now. Since batters have pulled fewer than 30 percent of their batted balls against Syndergaard this season, it no longer makes sense for the Mets -- despite an analytics-minded front office and a coaching staff as proactive about shifting as any in the league -- to align their defense against the pull.
"Syndergaard is going to be one of those guys that we will not do the same thing that we do with Harvey, deGrom, Colon," Teufel said. "I think he's a separate entity as far as how we're going to position players. I don't want to give up a slap single the other way. If I'm a hitter, I'm just trying to survive that at-bat."
Anthony DiComo is a reporter for MLB.com. Follow him on Twitter @AnthonyDiComo and Facebook, and listen to his podcast. This story was not subject to the approval of Major League Baseball or its clubs.