Inbox: How can Cards improve their defense?
Beat reporter Jenifer Langosch answers questions from fans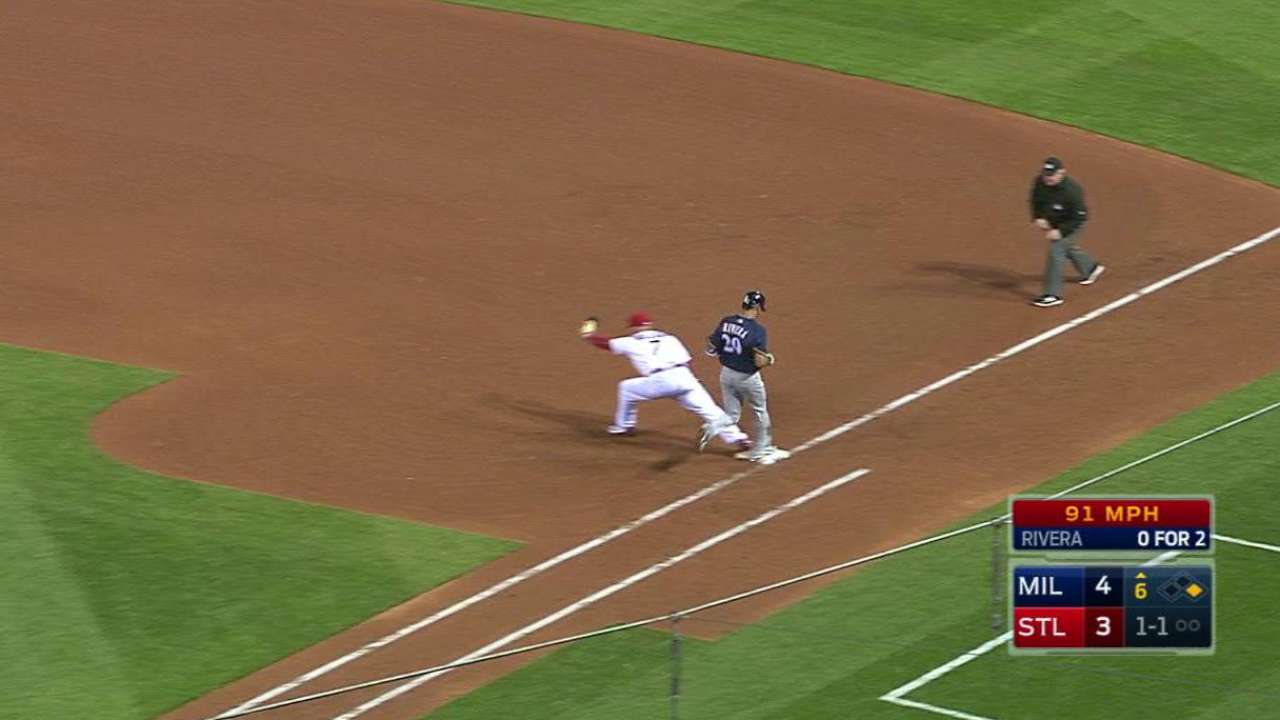 With the Cardinals en route to San Diego for the start of a seven-game road trip, let's take a few minutes to address some of your pressing questions. Feel free to submit a question at any time for consideration in a future Inbox. Please include your name and hometown with the submission.
The Cardinals' fielding has obviously not been up to par. Are there plans to bring in a fielding coach (preferably someone trained by Jose Oquendo) to help the players get back on track? I'm thinking someone like David Eckstein.
-- Bob F.
With Oquendo absent, the Cardinals' infielders are taking instruction from bench coach David Bell and first-base coach Bill Mueller. At this time, there are no plans to adjust those assignments. Bell and Mueller are former big league infielders, so they should be able to provide capable help. Bell, for instance, has been doing almost daily pregame infield work with Aledmys Diaz this week.
• Submit a question to the Cardinals Inbox
The Cardinals have committed 15 errors in their first 15 games, 13 of those miscues by infielders. Seven have come at the shortstop position (four by Diaz), which has shown concerning vulnerabilities amid Jhonny Peralta's absence. One of Oquendo's strengths was his instincts, which directed how he positioned infielders pitch to pitch. That hasn't really been the issue for the Cards, who have merely booted too many routine ground balls.
Can you please give us updates on the Cardinals' injured players? When are they expected to come back? And which players are expected to be left off the roster when it happens?
-- Oswaldo H., Venezuela
Tommy Pham (left oblique strain) resumed swinging on Wednesday, though he is likely still at least a week away from heading out on a Minor League rehab assignment. Brayan Pena (left knee surgery) is still hobbling around, and he will likely need until mid-May to recover from the procedure.
Peralta (left thumb surgery) has his hand out of a cast, and he will soon be able to test how much strength has already returned. The best-case scenario for his return is June. Lance Lynn (Tommy John surgery) has begun playing catch again, though he won't be back until next year. Jordan Walden (right shoulder strain) has not resumed any activity, and there remains no time frame for his return.
When Pena comes back, he'll bump Eric Fryer off the roster. Adding Pham will be a little more complicated. If Jeremy Hazelbaker continues to slide, he could be squeezed out of a spot. Following his torrid season start, he's hitless in his last 16 at-bats.
@LangoschMLB when will the front office address the needs for a 1B? Tyler/NLR, AR

- Tyler Hopper (@wildcats_88) April 21, 2016
The Cardinals may not have a set everyday first baseman, but they are getting sufficient production from the position. St. Louis ranks third in the Majors in slugging percentage (.536) and RBIs (12) and second in runs (10) at first base, where Matt Holliday, Brandon Moss and Matt Adams have been sharing time. Remember, too, that once Pham returns from the disabled list, Holliday is likely to get increased opportunities at first base. There's no room for another option.
@LangoschMLB #STL Do you think there will be an upcoming prospect to help out the cards offense or will they outsource?

- Spiker Helms (@SpikerHelms) April 21, 2016
Unlike last year, when the team summoned Stephen Piscotty to provide an offensive jolt, the Cardinals don't appear to have an impact position-player prospect on the horizon. They have some potential role players -- Greg Garcia, Carlos Peguero, Charlie Tilson (No. 9 on the team's Top 30 Prospects list), Jacob Wilson (No. 16) and Patrick Wisdom (No. 22) -- but not a budding star. If the Cards were to need significant offensive help later this season, it'd likely have to be addressed by adding someone from the outside. Getting Peralta, Pham and Pena back from the DL will also be a boost.
@LangoschMLB What player on the 40-man roster is most likely to be included in a trade before the summer deadline? Kevin/Knoxville

- Kevin White (@kevin_white84) April 21, 2016
So much can change in terms of need and injuries in the next few months, but I still see Adams as an expendable piece who has enough value to warrant interest by other clubs. Both parts of that equation are key. Barring injury, the Cardinals are deep at first base and have gotten solid production from Holliday and Moss. Adams' trade value is helped by the fact that he is under control through 2018. But the level of interest he will generate will ultimately depend upon his production. It's unclear how much of an opportunity the Cards will have for Adams, particularly to allow him to show that he can have some success against left-handed pitching.
Jenifer Langosch is a reporter for MLB.com. Read her blog, By Gosh, It's Langosch, follow her on Twitter @LangoschMLB, like her Facebook page Jenifer Langosch for Cardinals.com and listen to her podcast. This story was not subject to the approval of Major League Baseball or its clubs.