Although Plouffe out, Molitor wants Sano in OF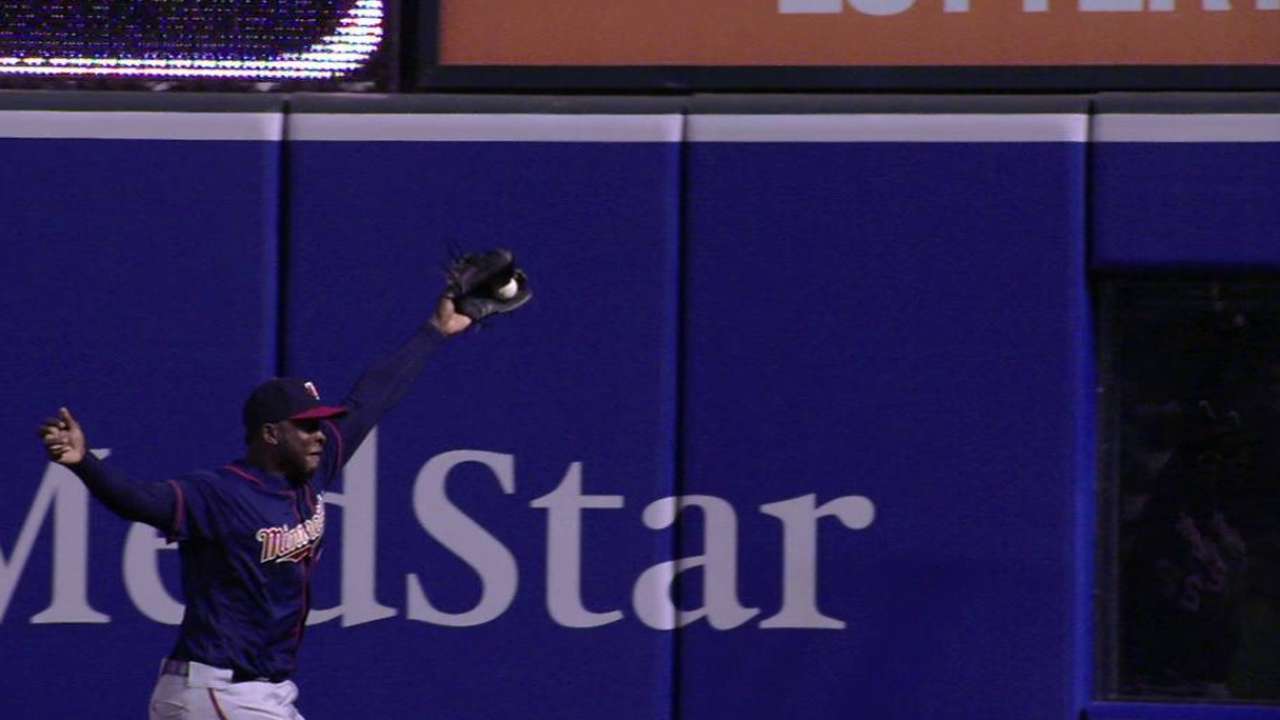 MINNEAPOLIS -- With third baseman Trevor Plouffe on the 15-day disabled list and Miguel Sano still learning the ropes in right field, Twins manager Paul Molitor understands it's only natural to ask why Sano isn't playing third in Plouffe's absence.
But Molitor said he still prefers not to move Sano to third on a short-term basis because he's exclusively worked as an outfielder since Spring Training. Sano took grounders during batting practice on Monday, but that was the first and only time he's done that this year.
With Plouffe out, Molitor has gone with Eduardo Nunez at third base before giving the Twins' No. 5 prospect Jorge Polanco his first start of the season there on Thursday. The manager said the only thing that would change his mind on Sano is if Plouffe is out for longer than expected with his strained right intercostal muscle.
"You can make the arguments for both sides," Molitor said. "I wouldn't feel overly comfortable sticking him in there just to play a game to give me a different outfield when he's taken 15 ground balls there this year. If things were to continue this way or if it were a longer deal, you'd have to consider it as an option. I've even heard first base as a possibility, too. But I haven't crossed over on my thoughts on that yet."
Sano obviously can't move to first base with Joe Mauer entrenched there and Byung Ho Park his backup. Sano's development at third base was hindered by the fact that he underwent Tommy John surgery and missed the entire 2014 season. He played only nine games at third in the Majors with the Twins last year, so it's still somewhat of an assumption at this point that he could play a competent third base.
Molitor said he has enough options at third, especially with Danny Santana set to return from the 15-day disabled list on Monday. Santana, on the DL since April 9 with a right hamstring strain, is scheduled to play in three rehab games with Class A Advanced Fort Myers this weekend. He'll play third base in one of those games, while also seeing action in center field and right field.
"When Danny Santana comes back, that would be a really good option for me to keep my infield athletic," Molitor said. "But then you can say Danny in right and Sano at third. I'm more comfortable with Danny playing third base than moving Sano into the infield."
Rhett Bollinger is a reporter for MLB.com. Read his blog, Bollinger Beat, follow him on Twitter @RhettBollinger and listen to his podcast. This story was not subject to the approval of Major League Baseball or its clubs.