Robertson, bullpen inspiring confidence in Sox
Ventura's relievers have Majors' lowest ERA through 15 games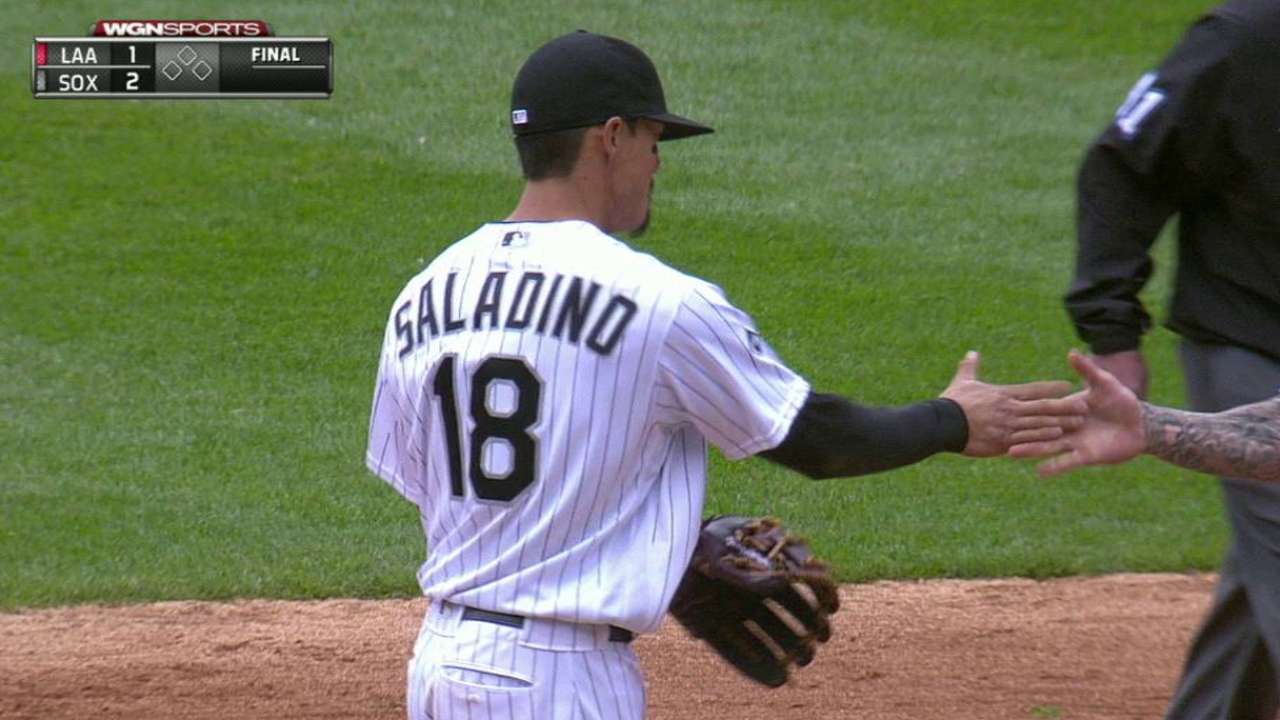 CHICAGO -- When David Robertson jogged in from the White Sox bullpen in the eighth inning of Wednesday's 2-1 win over the Angels with two outs and another Chris Sale gem in jeopardy of losing its luster, the team's worry level did not match the tension of the situation.
Robertson gave up two hits, but got the help of Todd Frazier's defense and a Mike Trout baserunning blunder to hold on for a rare four-out save. Robertson went more than one inning in only one of his 34 saves last season.
The victory was emblematic of what has the White Sox off to a 10-5 start, their best since 2006: starting pitching, improved defense and "the little things" coming together, before the bullpen comes in and shuts things down.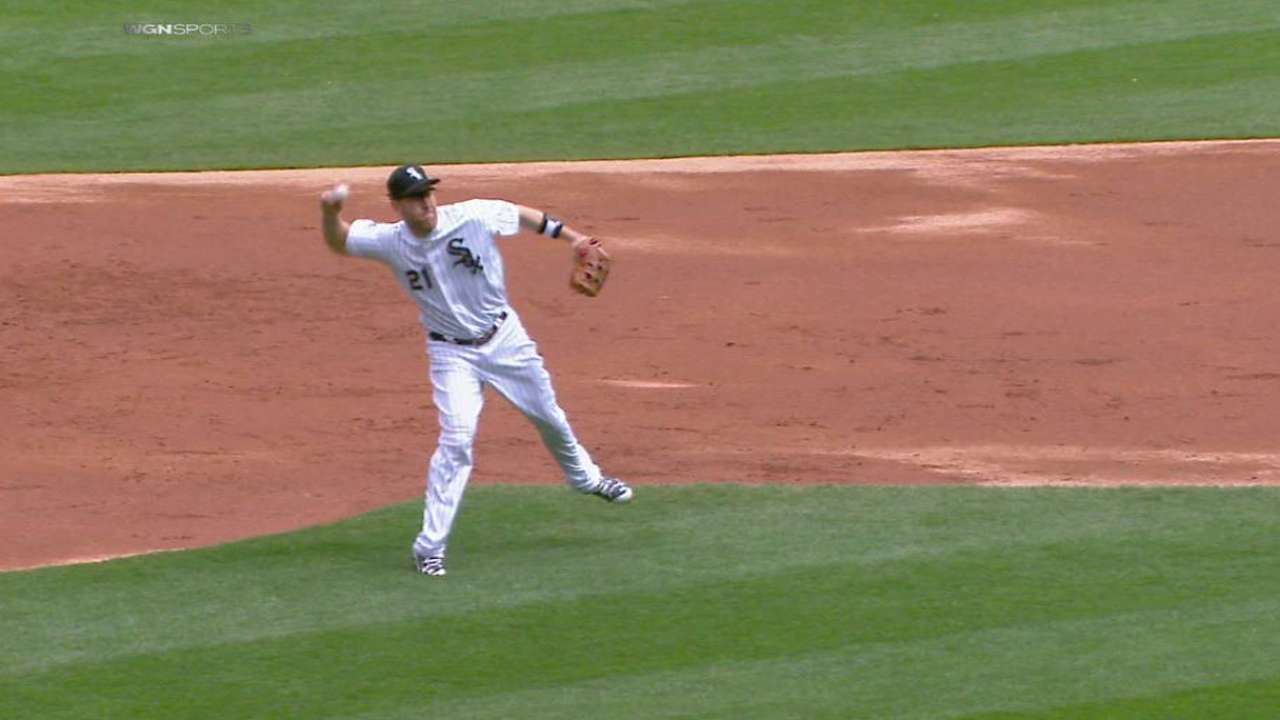 "I think even the players, when they see a guy jogging in from the outfield, they're pretty confident with who they see," White Sox manager Robin Ventura said. "That's something that's earned. And I think when guys come in, and they put it together time and time again, you're seeing a team that gets confident when they get later in a game, that they can either hold it down or get an extra run to win a game."
Entering Thursday, the White Sox bullpen has a Major League-best 1.52 ERA in 14 appearances. Robertson is 6-for-6 on save opportunities and has retired 18 of the 21 batters he has faced.
"Glad he's on my team," Sale said of Robertson. "His cutter is as good a pitch as I've seen anybody have in the bullpen. And you throw in an 85 mph curveball, that's a tough hand."
The Sox bullpen also has the benefit of experience. Right-handers Jake Petricka and Zach Putnam have been closers in the past, and Petricka especially has blossomed into a reliable relief option.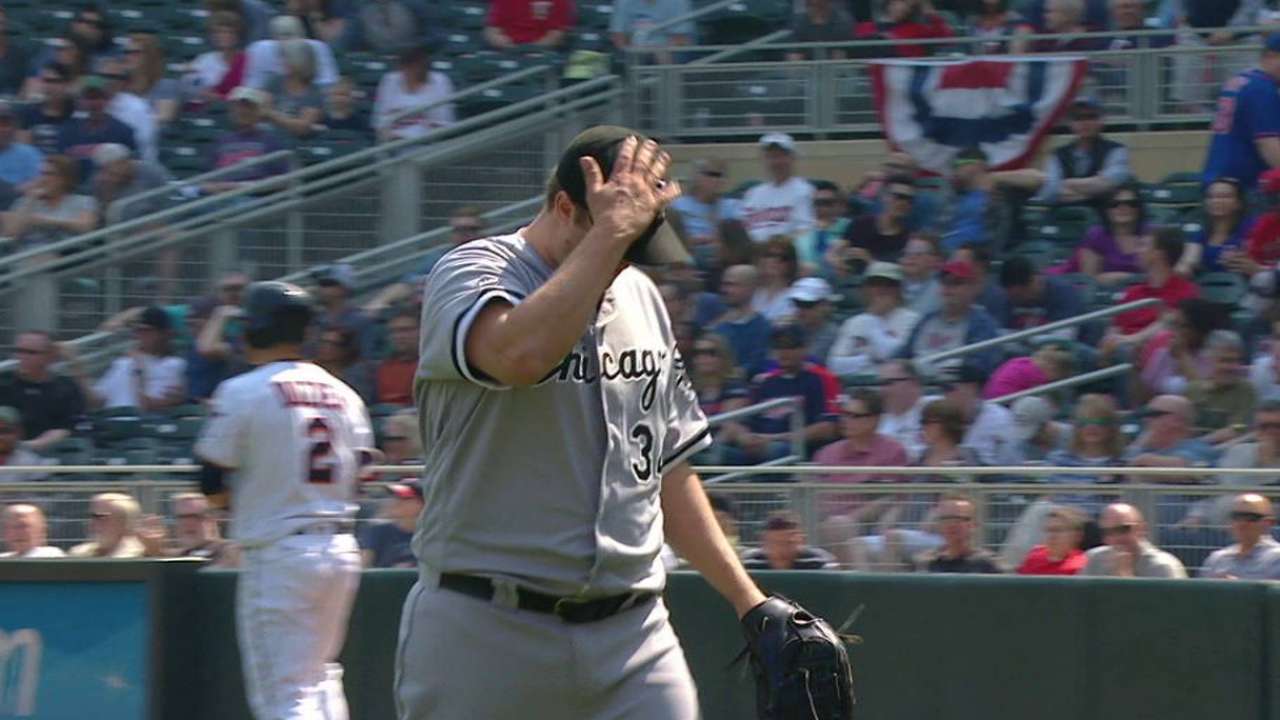 Veteran Matt Albers has not allowed a run in 7 2/3 innings this season, and he has a streak of 31 consecutive scoreless innings dating back to last year.
Dan Jennings has a 0.97 ERA in his past 27 outings -- the fifth-lowest in baseball over that stretch -- and Nate Jones has started his sixth season with a team-best 0.26 WHIP over 7 2/3 innings.
All that equates to a bullpen Ventura said could continue to pitch at a high level.
"I think you're looking at guys that have a little more mileage on them, and that's also mentally, being able to come into a game and put it away," Ventura said.
Cody Stavenhagen is an associate reporter for MLB.com. This story was not subject to the approval of Major League Baseball or its clubs.