Data show White-hot start for Tyler is for real
223 wRC+ is the third best in baseball through Wednesday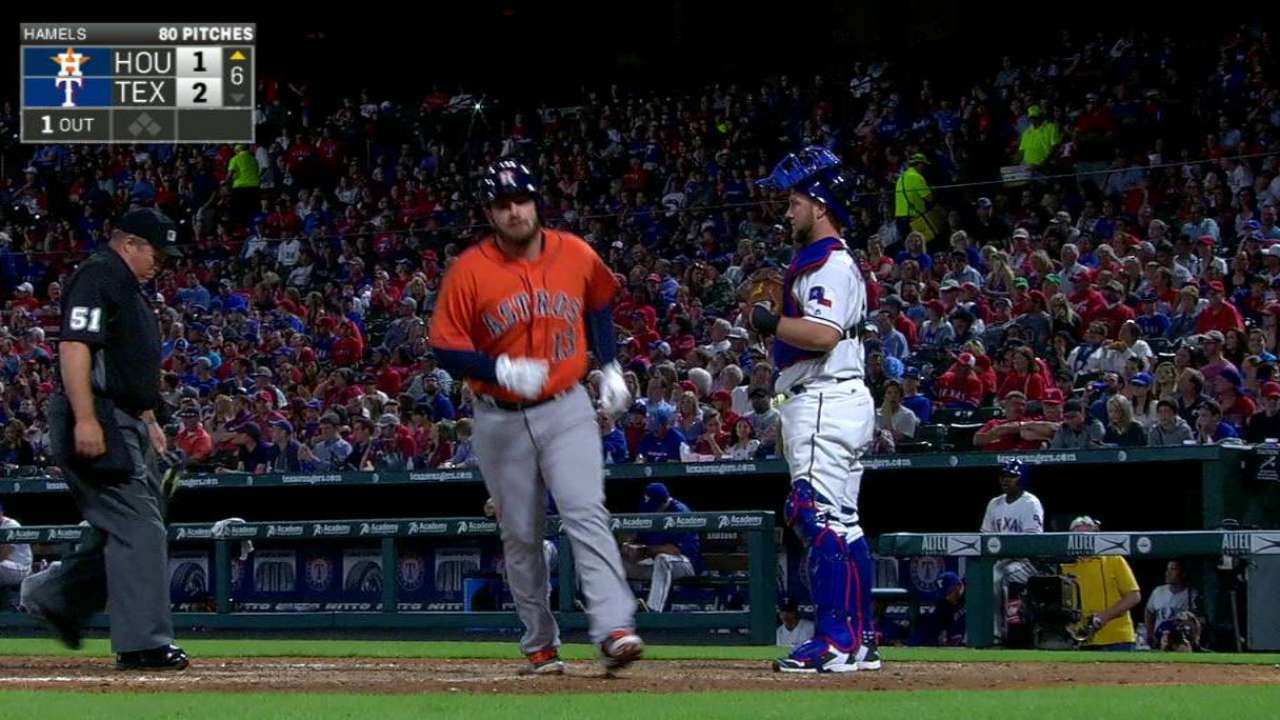 The best rookie hitter in baseball this year has not been Trevor Story. The best rookie hitter in baseball this year has been Tyler White -- by nearly 60 points of wRC+ over Story. Maybe you haven't heard about him as much because his last name doesn't make for a convenient headline, but it's happened. White is mashing, just like he has at every single level at which he's played.
Despite his solid Minor League track record, when White won Houston's first-base job out of Spring Training, there was ample reason to doubt him, simply because of his profile -- a first baseman who relied more on strike-zone control in the Minors than power. It's a skill set that's fine for a player who offers defensive and baserunning value, but without more pop, these types of guys have had trouble sticking at first base in the Majors, as a look at similar players throughout recent history showed.
• FanGraphs' Jeff Sullivan asks if Noah Syndergaard is already baseball's best pitcher
Well, White is exceeding expectations again. And it's because he's hitting for power. In 15 career Major League games, White has already hit five homers after having never hit more than eight at any Minor League level, or more than 15 in any one Minor League season. His .380 isolated slugging percentage is in the top five in baseball.
Now, of course, it's been two weeks. You've already had that thought at least three times while reading this article. The projections already view White a bit differently. However, because it's only been two weeks, not too different. ZiPS has bumped his estimated true-talent ISO from .130 to .151. Steamer went from .149 to .156. The rest-of-season projections haven't changed drastically, but the rest-of-season projections are never going to change too drastically after just two weeks. What has changed drastically is the updated projections.
We can't take away what White has done. He has hit five homers. White has run a .380 ISO through his first 57 Major League plate appearance. He does have an OBP above .400. And those facts, coupled with his slightly more rosy rest-of-season projections, make for an updated end-of-season forecast that looks quite a bit different than the one I used to find comparisons for him a month ago. It's worth re-running the comparison test, now that White is been one of the three best hitters in baseball for the first two weeks of the season. What do White's rookie first baseman comps look like now?
Less than a month ago, White's three closest comps were Yonder Alonso, Conor Jackson and Clint Robinson. Suddenly, it's rookie year Joey Votto, Matt Carpenter and Lucas Duda. I know we often preach not to put too much stock into small samples, but when a rookie comes out and hits like Bryce Harper for two weeks to begin a career, expectations can shift quickly -- especially when the area in which that rookie has most exceeded expectations is the area which caused doubt to creep in in the first place.
A month ago, White was projected to finish the season with the same ISO as Juan Uribe. Now, he's projected to finish the season hitting for as much power as Albert Pujols.
And when I see White hitting for more power than expected, I can't help but think back to an Evan Drellich article from the Houston Chronicle in which Drellich noted that White was focusing on hitting high fastballs, and "wants to further tap into his power. He's always had a great eye and taken his walks, so he was attempting to put the ball in the air more."
White seemed to know more power would be necessary for sustained big-league success. The strikeout rate has spiked alongside the power, perhaps indicating a swing change. He's the only player in baseball to have recorded at least five balls in play with a launch angle between 25-30 degrees and an exit velocity above 95 mph -- the conditions most conducive to hitting home runs. White has displayed a Major League power hitter's swing plane. Over half his balls in play have been in the air, and he's slugged 1.000 on elevated pitches -- his areas of focus from Spring Training. White has been thrown one of the lowest rates of in-zone fastballs,an indicator of respect by pitchers -- he's being pitched to like J.D. Martinez and Nelson Cruz. White's still walking as expected and is still spraying the ball all over the field, so he's kept the things we liked about him in the first place, just with added power on top -- and power that looks like it might be legitimate, or at least more legitimate than we'd anticipated.
White is probably not going to hit 40 homers, and he's probably not going to finish the season as one of the three best hitters in baseball. But he's done enough in just two weeks to drastically alter reasonable expectations for him, and he's seemingly made changes to his swing that have him now resembling a legitimate Major League bat.
Just a month ago, the evidence pointed to the question being, "Is Tyler going to hit for enough power to be a Major League first baseman?" White looked more like a placeholder until prospect A.J. Reed took over as the first baseman of the future in June. Now, the evidence points to the question being, "How are the Astros going to find at-bats for Reed?"
A version of this article first appeared at FanGraphs.com. This story was not subject to the approval of Major League Baseball or its clubs.