Coleman on leave, while Baez cleared to play
Dodgers call up reliever Avilan to boost bullpen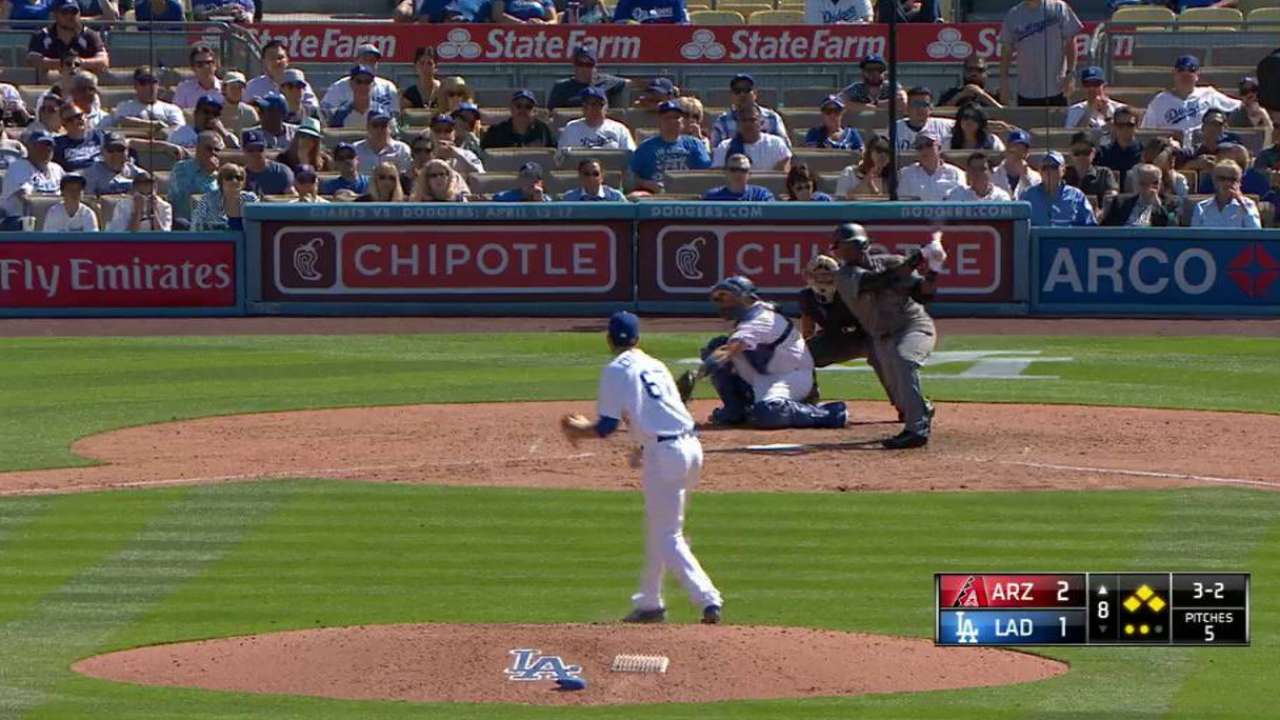 Atlanta -- The Dodgers' deep bullpen has been a big reason for their first-place standing in the National League West. But as play began Thursday afternoon, that depth was in jeopardy of taking a temporary hit, with righty reliever Pedro Baez dealing with a possible concussion and right-hander Louis Coleman placed on the bereavement list.
As a precaution, and with a weekend trip to Colorado on the horizon, the team called up former Braves reliever Luis Avilan from Triple-A Oklahoma City. Avilan, 26, was available but didn't pitch in the series finale in Atlanta, which the Dodgers won, 2-1.
Fortunately, Baez was cleared after going through MLB's concussion protocol. He was hit in the back of the head by an errant Adam Liberatore throw while sitting in the bullpen on Wednesday. He was examined by doctors prior to the game.
"Pedro has been cleared," confirmed Dodgers manager Dave Roberts following Thursday afternoon's 10-inning win. "At game time, he was available today, so I got wind of that. Going forward, he'll be fine."
The 28-year-old Baez, who was 4-2 with a 3.35 ERA in 52 games last season, had posted a 3.38 ERA in six games in 2016, striking out nine while walking two and limiting hitters to a .158 average and a .238 on-base percentage in six innings of work.
Coleman was placed on the bereavement list prior to the game.
"It's kind of a family thing that he's dealing with," said Roberts. "So we're trying to work on some logistics where he might have to join his family."
Coleman, 30, was signed as a free agent during the offseason after parts of five seasons in Kansas City, where he was 6-4 with a 3.20 ERA. In 2016, he has posted an 0-1 record with a 7.20 ERA in five appearances, covering five innings.
Had Baez gone on the concussion list, he would have been out of action for a minimum of a week. Bereavement leave is a minimum of three days and a maximum of seven.
With the possibility of losing both Baez and Coleman, the Dodgers called up Avilan.
The 26-year-old Caracas, Venezuela, native played his first three-plus Major League seasons in Atlanta, going 12-5 with a 2.77 ERA in 218 games, primarily as a setup man. He was acquired on July 30 as part of the three-team deal with Atlanta and Miami that also netted L.A. pitchers Alex Wood, Jim Johnson and Bronson Arroyo and infielder Jose Peraza.
Avilan's best season was 2013, when he went 5-0 with a 1.52 ERA in 75 games for the Braves, limiting lefties to a .144 batting average.
"[Avilan's] last few outings, he's had a really good fastball, his velocity is where it's supposed to be, arm side, glove side, his command's been good, his change has been good," said Roberts. "So just the reports I've gotten the last three [games] have been good."
Avilan pitched in five games at Oklahoma City this year, allowing only three hits, striking out nine and walking three in six scoreless innings of work.
Jon Cooper is a contributor to MLB.com. This story was not subject to the approval of Major League Baseball or its clubs.