Ozuna's blast powers Marlins past Nationals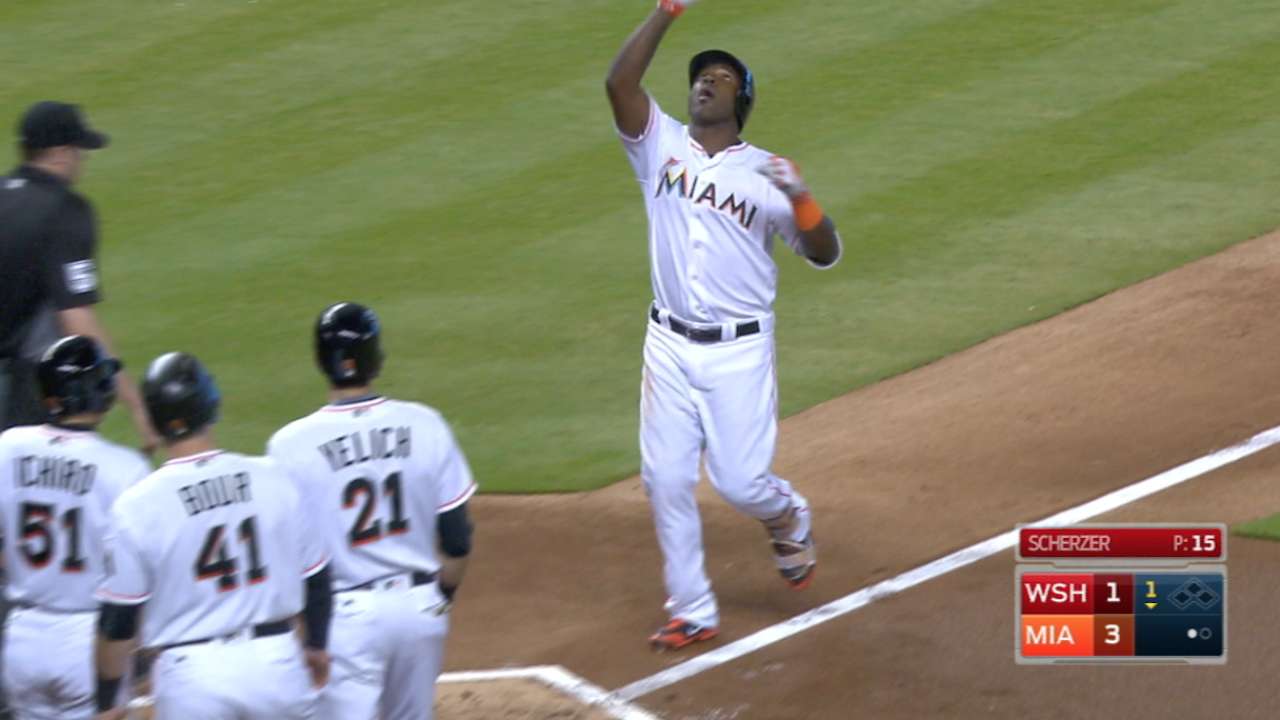 MIAMI -- Marcell Ozuna launched a three-run homer in the first inning as the Marlins cruised to a 5-1 victory over the Nationals on Thursday afternoon to earn a four-game series split at Marlins Park.
Martin Prado and Justin Bour had run-scoring hits against Nationals right-hander Max Scherzer, who was not sharp from the outset. He allowed five runs on eight hits and issued two walks with only three strikeouts.
"He was just out of sync, and sometimes that happens," Nationals manager Dusty Baker said. "Max will be fine. We're not worried about Max."
Bryce Harper hit another home run (his eighth of the season) off Tom Koehler, but the Nationals' offense managed only one other hit in the game on Wilson Ramos' infield single in the second. Koehler, who has given up six career jacks to Harper, allowed one run on two hits in five innings with five strikeouts for his first win of the season.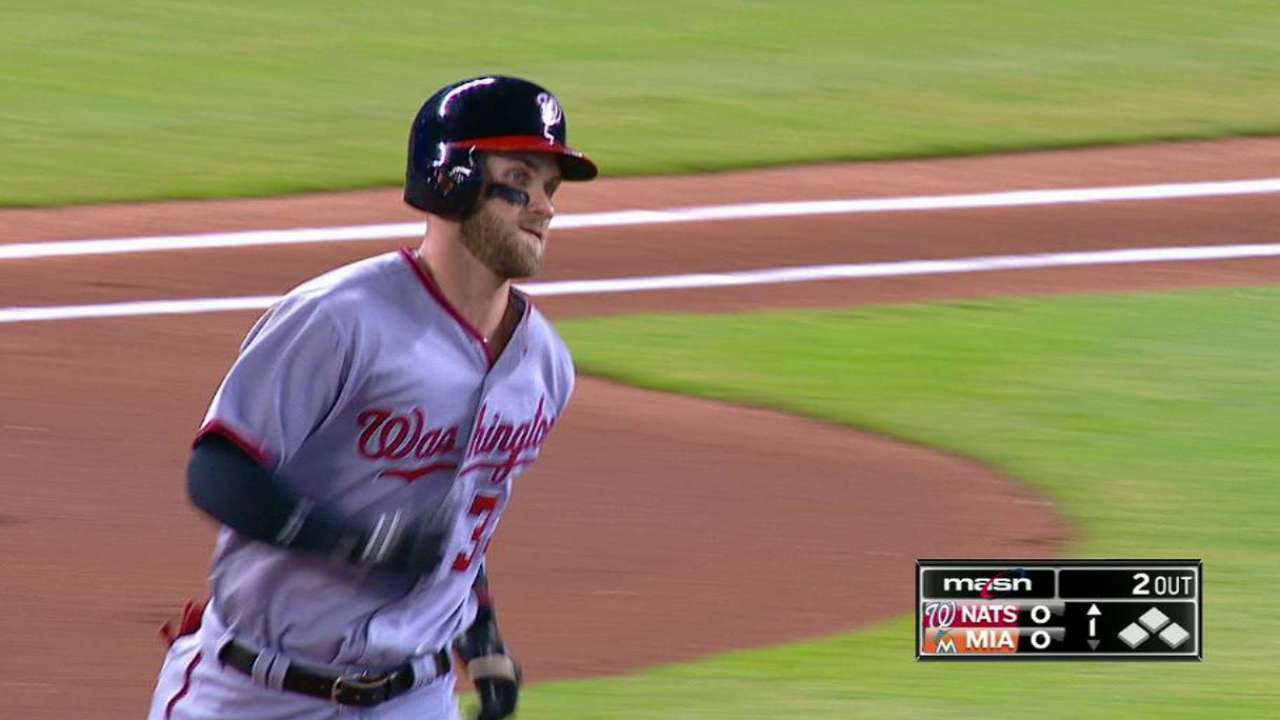 "When you get a run in the first, battle, have good at-bats, you think you're gonna put a lot of runs on the board," Harper said. "I think Koehler really came at us, stuck to his plan and did what he needed to do. Tip your cap to what he did today and move on."
MOMENTS THAT MATTERED
Cleanup hitter: With Giancarlo Stanton getting the day off, Ozuna was inserted into the cleanup spot. The Marlins center fielder flexed his muscles with a three-run homer in the first inning. After a single by leadoff hitter Ichiro Suzuki and a double by Christian Yelich, Ozuna deposited a 1-1 pitch into the left-field seats, clearing the bases and giving the Marlins an early 3-1 lead. More >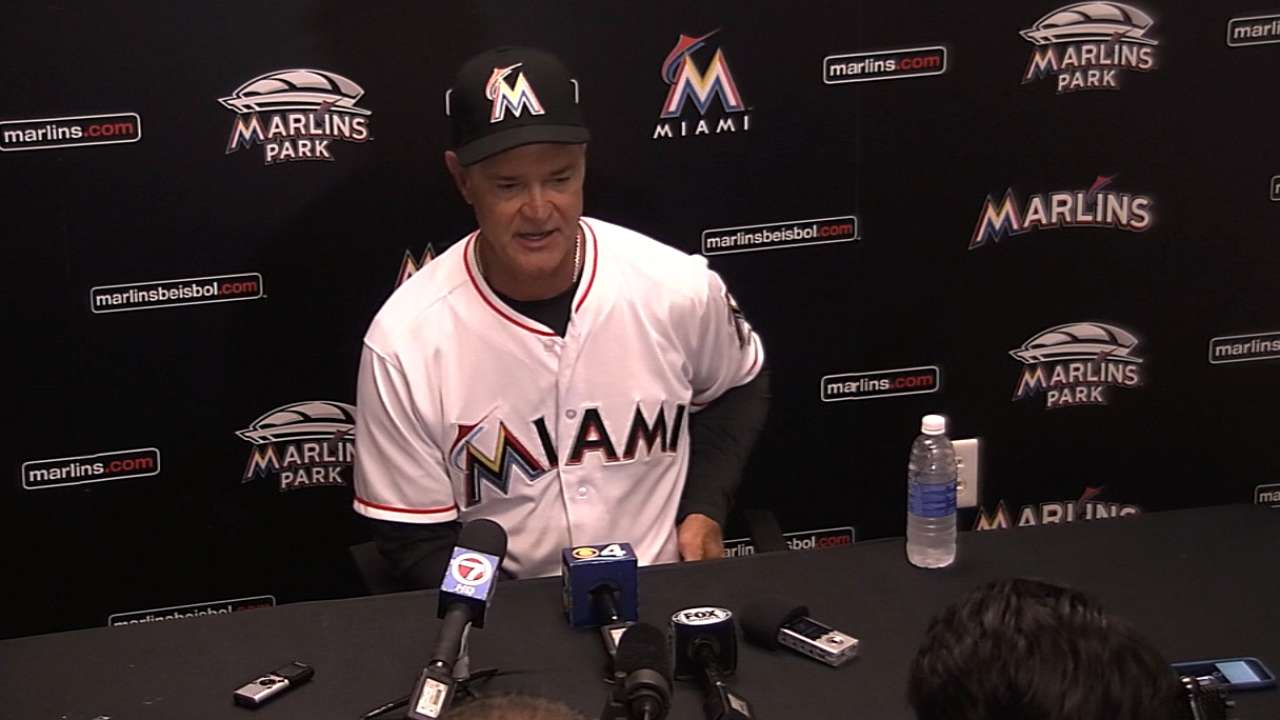 "It was really just positioning him where you felt like you were going to get him a good [pitching] matchup as the day goes on," Mattingly said of the decision to put Ozuna in the cleanup spot.
Harper stays hot: After his solo blast in the first inning Thursday, Harper has homered in six of the past eight games. He has eight homers on the season, which was more than three teams entering the game. Harper is now 9-for-28 in his career against Koehler with six home runs. More >
Winning outing: Though he went just five innings, Koehler (1-2) turned in a solid effort for the Marlins. In his best outing of the season, Koehler allowed just two hits and one run, a first-inning homer to Harper, striking out three and walking two. He did not allow a hit past the first batter of the second inning. More >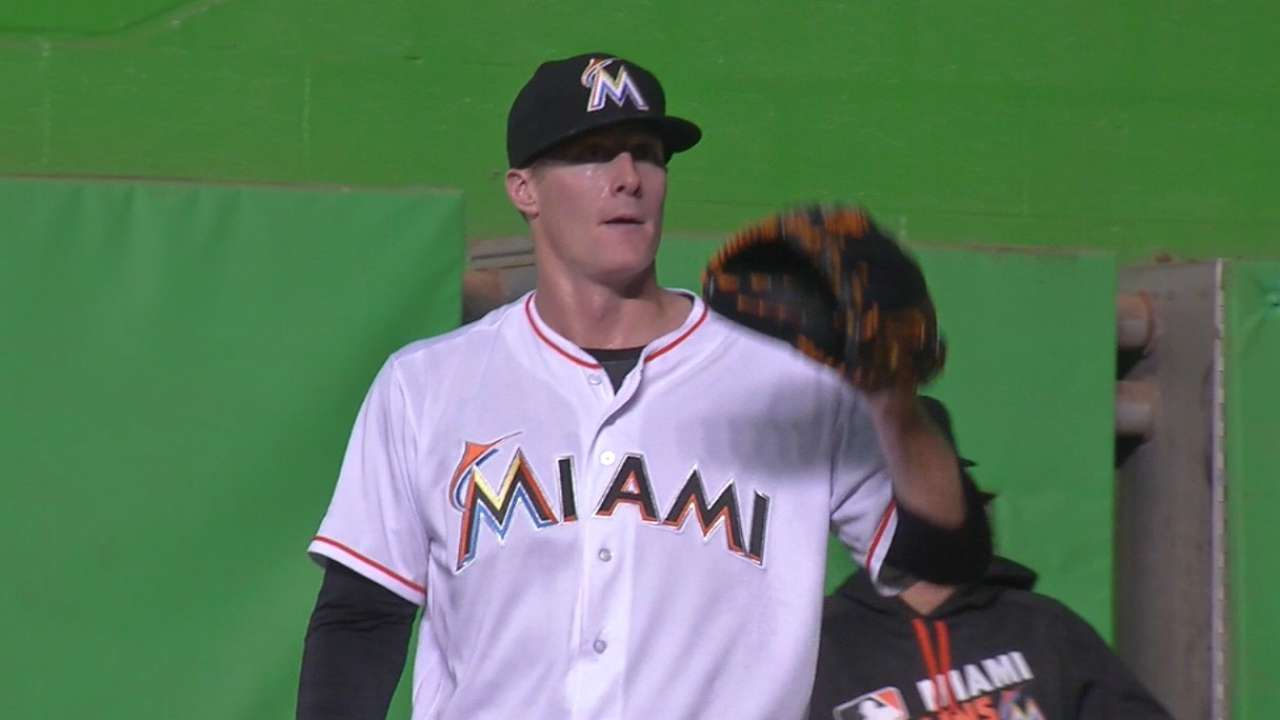 "Fortunately, I was able to battle through [Harper's home run] and make some pitches," Koehler said.
Scherzer struggles: Scherzer pointed to not finishing his pitches, something he realized when watching video after his start, for contributing to his first loss of the season. He considered it an easy fix that should be corrected ahead of his next start.
"I'm aware of myself and I'm aware what I do well, and I generate swing and misses," he said. "And the swing and misses aren't there, and I feel like that's a lack of me just finishing my pitches and coming up with the right sequence."
WHAT'S NEXT
Nationals: Left-hander Gio Gonzalez aims to continue the best start in his career with the Nats as they return home to open a three-game series against the Twins on Friday at 7:05 p.m. ET. Gonzalez has posted a 0.69 ERA through his first two starts, the lowest mark through two starts in his five-year career with the Nationals.
Marlins: Jarred Cosart takes for the mound on Friday at 10:15 p.m. ET in the opener of a weekend series against the Giants at AT&T Park. Cosart hasn't had a decision this season in two starts with a 6.10 ERA. In his only career start vs. San Francisco, Cosart gave up four runs and six hits over four innings.
Watch every out-of-market regular-season game live on MLB.TV.
Jamal Collier is a reporter for MLB.com. Follow him on Twitter at @jamalcollier. Glenn Sattell is a contributor to MLB.com. This story was not subject to the approval of Major League Baseball or its clubs.