Versatile Ramirez key to Rays' pitching staff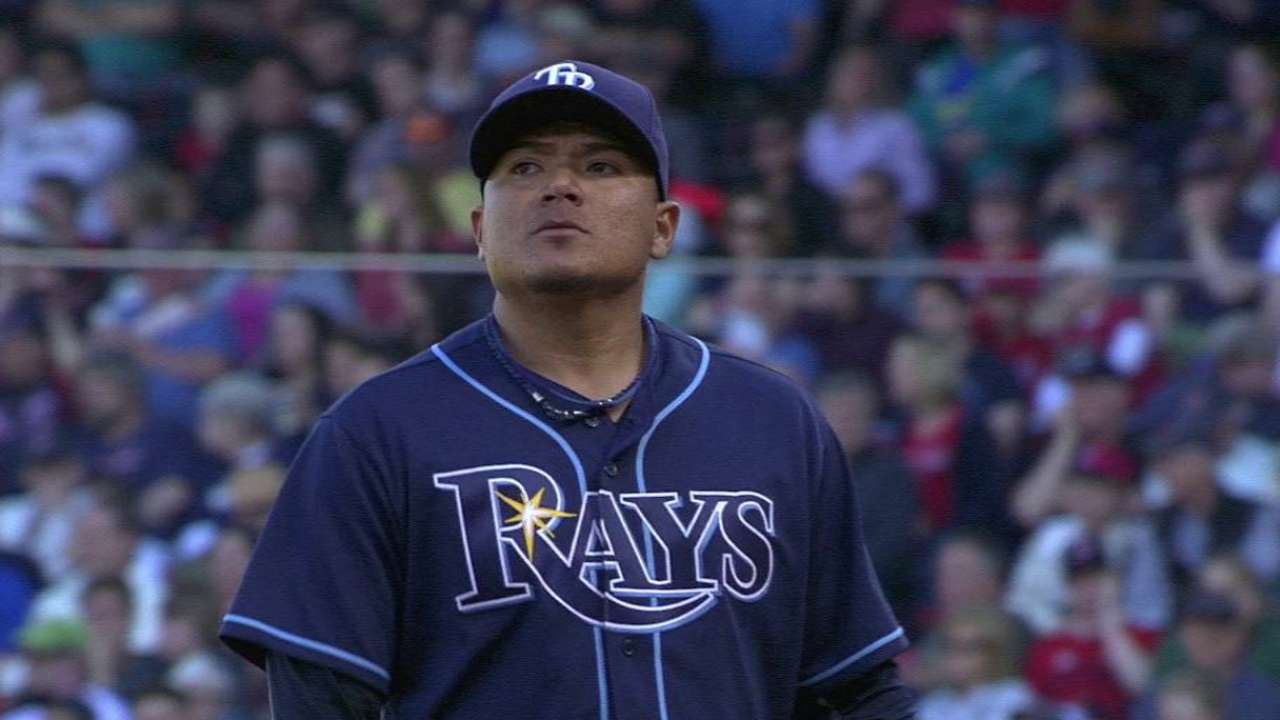 BOSTON -- Erasmo Ramirez is wired differently. That's why the Rays have been able to take the road less traveled with the way they have used the right-hander this season.
In Thursday's 12-8 victory over the Red Sox, Ramirez claimed his fourth win of the season after coming in to snuff out a seventh-inning rally and then surviving a nail-biter in the eighth to preserve a lead.
"He's just this happy-go-lucky guy," catcher Curt Casali said, "but when he gets in that high-leveraged situation, he's money."
The win tied Ramirez with Chicago's Chris Sale for the American League lead.
"My teammates make fun of that, about a bunch of wins," Ramirez said. "It's something I don't even think about. I just go into the game and try to do my best."
The Rays delivered a mild surprise at the start of the season when they decided to use a four-man rotation due to numerous off-days in early April. That meant sending Ramirez back to the bullpen rather than using him as the team's fifth starter.
Through Ramirez's flexibility, he has since evolved into a hybrid. He's made five appearances out of the bullpen and one start -- when he picked up the win against the White Sox on Saturday.
Rays pitching coach Jim Hickey allowed that what's happened with Ramirez "is probably not ideal to carry over for an entire season."
"You'd rather have a guy settle into a role, whether it's as a starter or a middle relief pitcher, or a shorter relief pitcher," Hickey said. What indicated to us that he could do that is the fact that he was very, very resilient."
Another part of the equation is the fact that Ramirez doesn't carry over the soreness from his appearances like many pitchers do after making starts.
"When we did decide to use him the way we're using him, one of the first things that he asked me [was], 'Can I throw back to back?'" Hickey said. "He knew that he could do it, he just probably hadn't done it in some time.
"So he was able to do that in Spring Training. What he's done has been pretty impressive. Not ideal, but you also have to give him a lot of credit, just because of the fact that a lot of guys wouldn't want to do that, but his attitude was basically whatever helps this team win more ballgames."
How long can Ramirez remain in the role he's been serving? Ask Ramirez and he'll shrug.
"I don't know, because I've never done this role before," Ramirez said. "But I know when I feel tired or something happens, I know just let them know and they'll give me an extra day. And I'll be fine the next day."
Jake Odorizzi, who started Thursday, but lasted just four-plus innings, said Ramirez is "the one guy who gets overlooked" amid talk about the Rays' pitching.
"He's got more wins than anybody in the rotation," Odorizzi said. "He comes out of the bullpen, he starts, he comes out of the bullpen again. He's been so versatile on this team, and I think that gets overlooked a lot. He's been a very key component to this pitching staff."
There's a good chance that Ramirez will return to the rotation once the calendar begins to show games every day. But for now, the decision to put Ramirez in his current role looks like a good one.
"He's certainly impacting more ballgames than he would have had he been just the fifth starter who didn't start for awhile, or someone we just sent to the bullpen," Hickey said.
And for now, Ramirez is the team MVP according to manager Kevin Cash.
"There's no might about it, he probably is [the team MVP]," Cash said. "He comes into any situation and just continues to make good pitches -- big pitches to the teeth of the lineup."
Bill Chastain is a reporter for MLB.com. This story was not subject to the approval of Major League Baseball or its clubs.