In back-and-forth affair, Rays beat Red Sox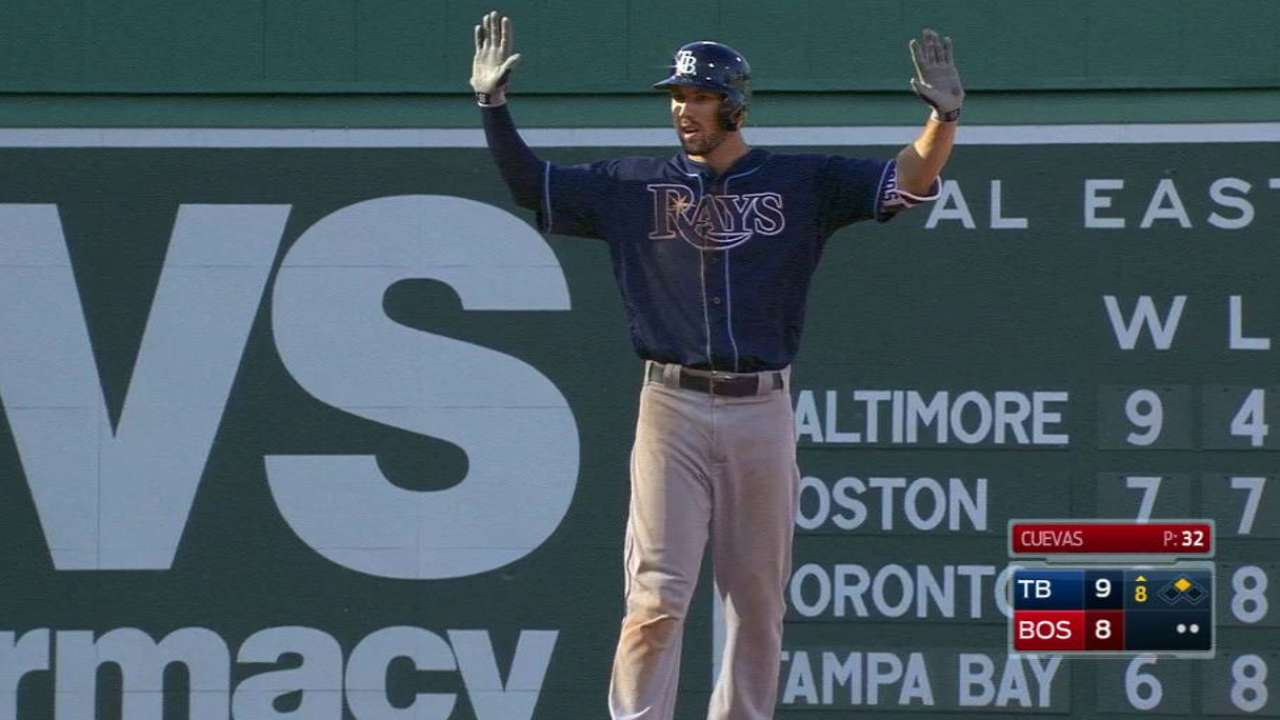 BOSTON -- Backed by a nice escape from the bullpen in the bottom of the seventh and a go-ahead, two-out, RBI double by Steven Souza Jr. in the eighth, the Rays rallied to a 12-8 victory over the Red Sox in a Thursday afternoon slugfest at Fenway Park.
"That was a resilient win. I think that's fair to say," Rays manager Kevin Cash said. "We had the lead, we gave up the lead. Tied. That's a really good lineup over there."
Red Sox ace David Price couldn't hold an early 5-1 lead, giving up nine hits and eight runs in 3 2/3 innings. The go-ahead hit by Souza came against righty William Cuevas, who took the loss in his Major League debut. Boston (7-8) went 4-6 on their 10-game homestand, and the 7-8 Rays, who have won four of their last five, will continue their road trip at Yankee Stadium.
The matinee had wild swings in momentum. Dustin Pedroia fueled Boston to a five-run first by smacking a two-run homer against Jake Odorizzi, but Tampa Bay chipped away against Price. Evan Longoria drilled a solo shot against his former teammate in the third to make it a three-run game. The Rays then jumped on Price for six in the fourth, stunning the Fenway Faithful.
"To jump out to a quick 5-1 lead, we feel like we're in pretty good shape," said Red Sox manager John Farrell. "They mount a big inning in that fourth inning once again to take the lead and it's a see-saw battle back and forth. We continue to have a number of really good at-bats, fight back into it, tie it up. It was, like I said, a wildly offensive day."
With his team down, 8-5, Mookie Betts led Boston's charge back with a two-run rocket that soared over the Green Monster in the sixth. According to Statcast™, the homer had an exit velocity of 105 mph and was projected to land 412 feet away.
David Ortiz smashed a leadoff double in the seventh, hustled to third on a flyout to right and then scored the tying run on a double to center by Travis Shaw against Rays lefty reliever Xavier Cedeno. With the bases loaded and one out, the Red Sox had a chance to take the lead, but Cedeno struck out Jackie Bradley Jr. Righty Erasmo Ramirez came on and struck out Betts looking to end the threat.
MOMENTS THAT MATTERED
Souza's grab: David Ortiz ripped a 3-2 pitch from Odorizzi down the right-field line in the first that appeared headed for extra bases. According to Statcast™, the ball came off Ortiz's bat at 103.2 mph. Souza managed to track it down and leapt in the the air to rob Ortiz. Souza looked remarkably athletic on the play, hitting a top speed of 16.3 mph in 2.6 seconds. More >
Price squanders early lead: For the second time on this homestand, Price couldn't hold a lead of three runs or larger. The Rays erupted for a six-spot in the fourth to chase him. The eight earned runs allowed by Price matched a career high. It was his shortest outing since April 22, 2015, against the Yankees. Price's 7.06 ERA through four starts is the highest it's been after any start in his career except for 2013, when he had an 8.18 ERA after two starts.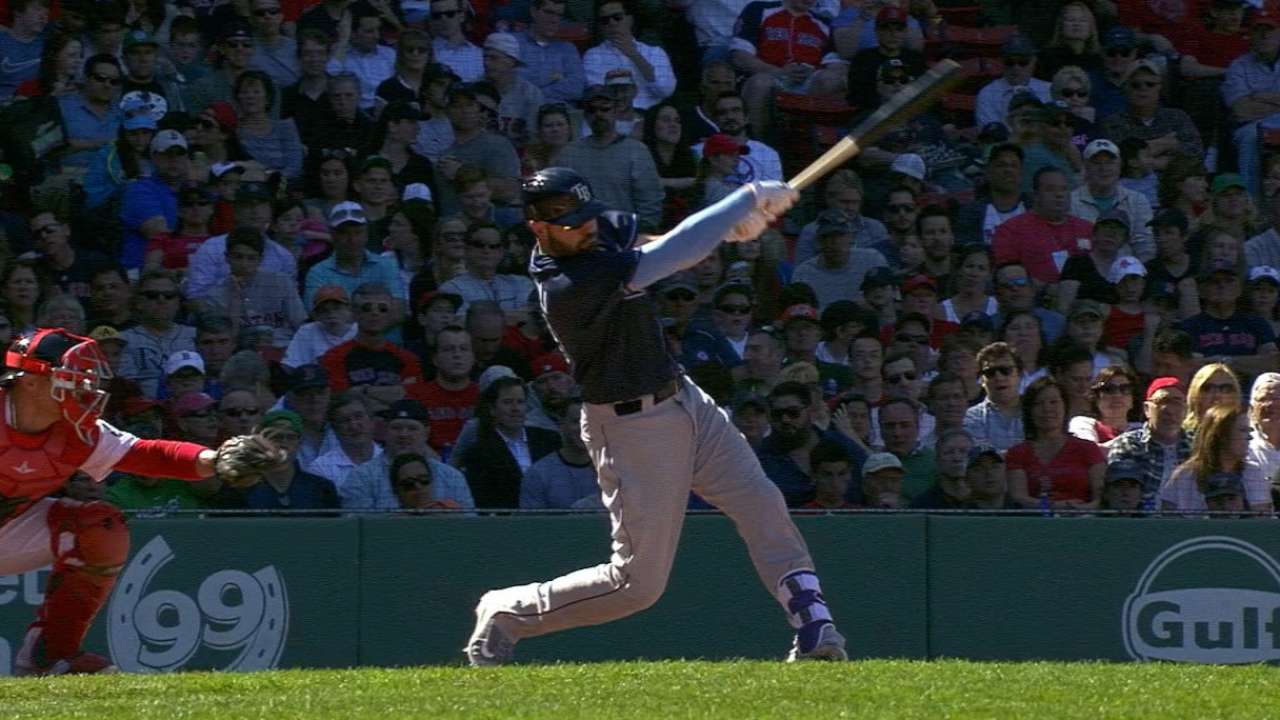 "That's the best I've felt in my four starts here," said Price. "To me, that's the most disappointing thing. To feel as good as I felt, I want to be able to go out there and get the results that I expect. I just didn't do that today." More >
Longoria takes former roommate deep: Evan Longoria entered Thursday's game without a hit in nine at-bats against Price. Longoria flew out in the first, extending the drought to 0-for-10 before he connected on an 0-1 fastball from Price in the third and deposited the ball over the Green Monster for a solo home run that cut the Red Sox's lead to 5-2. Longoria added a double in the fourth that scored two -- one of the runs was credited to Price, the other came at the expense of Red Sox left-fielder Brock Holt, who bobbled the ball to allow the second run to score.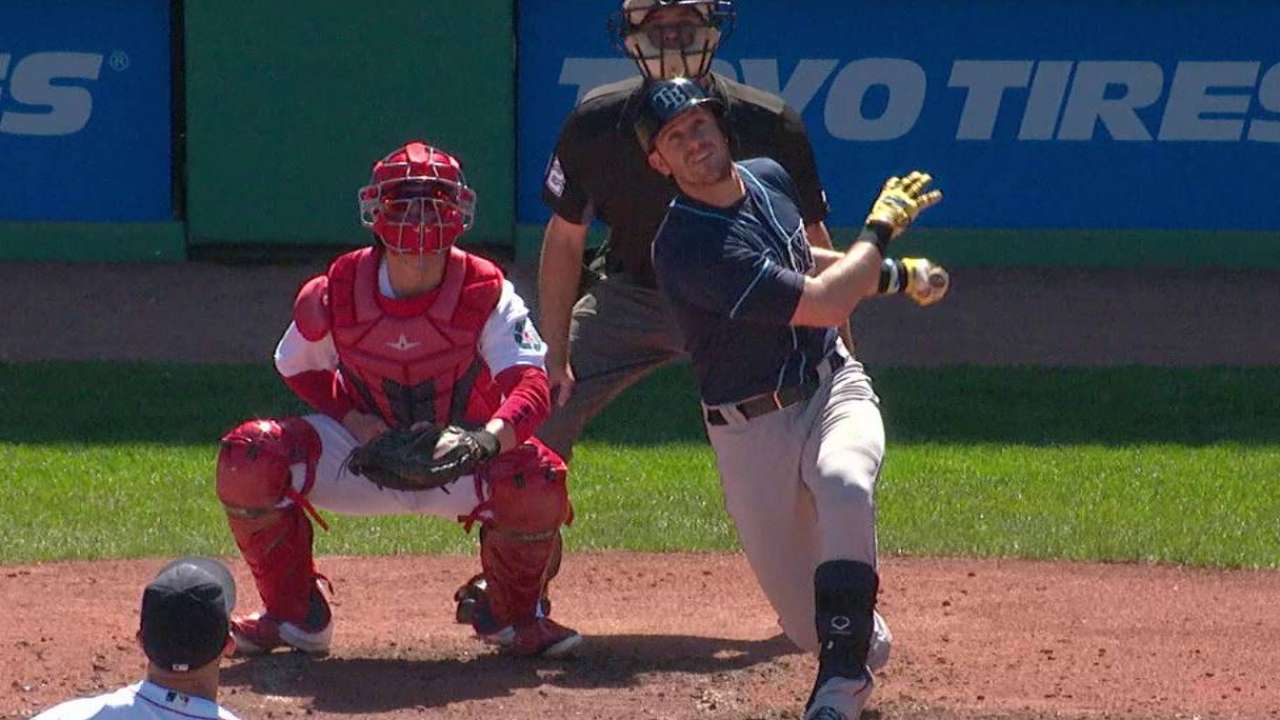 Shaw steals home in wild first: Travis Shaw was credited with a steal of home on an unusual play in the bottom of the first. With runners at first and third, Shaw broke for home as Holt attempted a steal of second. Catcher Curt Casali's throw to second went into center field. Knowing that Shaw had broken for home, second baseman Logan Forsythe stepped in front of the bag to try to thwart the play, but Casali didn't give him a chance. Holt was also awarded a steal and he moved to third on the error.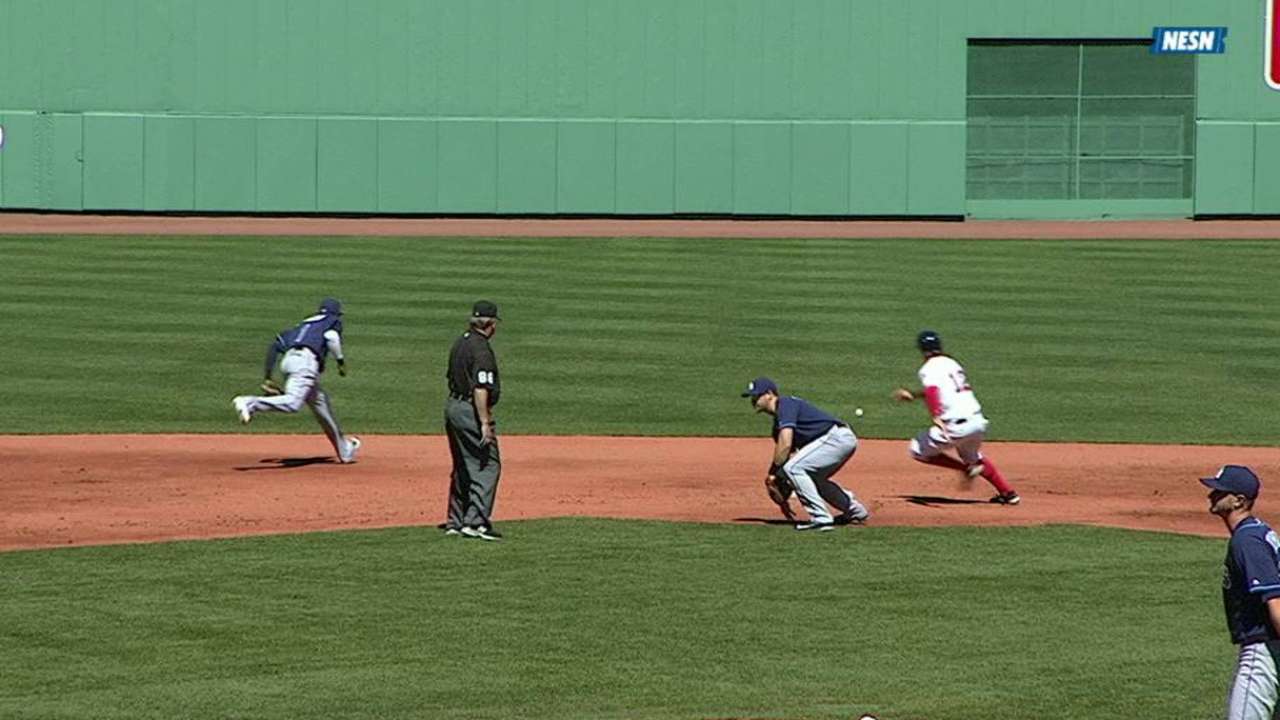 QUOTABLE
'What's your win probability?' Jim Hickey said this on the bench, down 5-1 with David Price on the mound." -- Cash, on the Rays' chances of winning against Price holding a four-run lead
SOUND SMART WITH YOUR FRIENDS
Brandon Guyer knows how to take one for the team. Last season he led the American League when he got hit 24 times. In the first inning, Guyer took one off his left leg on a pitch from Price, keeping the inning alive. He then took one on the elbow in the fourth, which proved to be a contributing factor to Price's early exit. Finally, Guyer got plunked in the ninth by Noe Ramirez. Guyer has now been hit five times this season and he's played in just nine games.
This is the fourth straight season Price has given up eight runs in a start. The good news for the Red Sox is that he's never done it more than once in a season.
Pedroia picked up his 1,500th career hit with a double in the sixth inning.
UNDER REVIEW
When Ortiz rifled one to first baseman Steve Pearce in the second, it was originally ruled a lineout, double play, and the Rays even ran off the field for the end of the inning. But Farrell had the umpires huddle and they overturned the call after seeing that the ball bounced before Pearce caught it. It went as a fielder's choice. Managers are not permitted to get video replays on trap plays, so Cash wasn't able to challenge.
On the next play, Hanley Ramirez was thrown out at first on a bang-bang play after a grounder to Odorizzi. Farrell asked for a review, but the call stood because the replay official couldn't definitively say if Ramirez's foot reached the bag before the throw arrived.
WHAT'S NEXT
Rays: On Thursday at 7:05 p.m. ET against the Yankees at Yankee Stadium, Matt Moore will start in a ballpark where he's had success in the past and feels comfortable. The Rays should use their right-handed lineup again, which they did in Thursday's game against the Red Sox, which would include Guyer and Pearce.
Red Sox: Knuckleballer Steven Wright opens a five-game road trip for the Red Sox on Friday night in Houston. Despite an 0-2 record, Wright has been solid, allowing just three earned runs over 12 2/3 innings. First pitch is scheduled for 8:10 p.m.
Watch every out-of-market regular-season game live on MLB.TV.
Ian Browne and Bill Chastain are reporters for MLB.com. This story was not subject to the approval of Major League Baseball or its clubs.