Price perplexed by shaky outing in finale
Ace lasts just 3 2/3 frames, allows Rays eight runs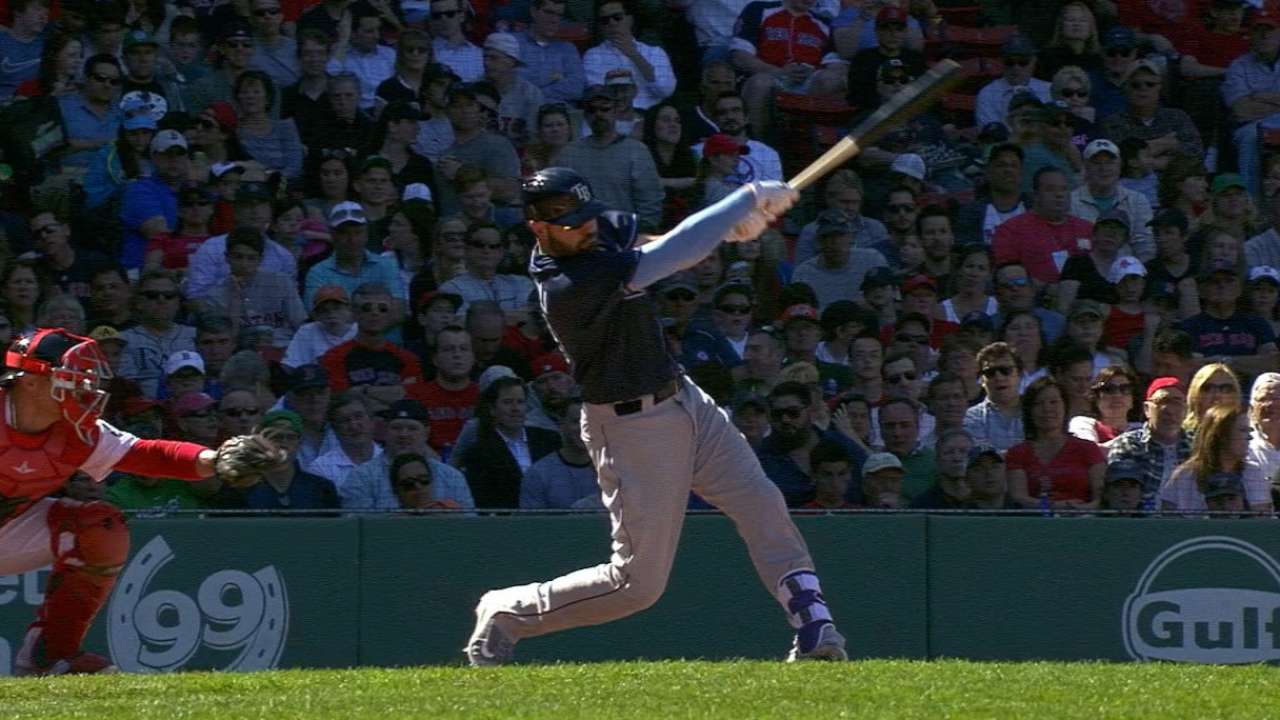 BOSTON -- Sometimes the days you feel the best are the ones you have to watch out for. David Price suffered that fate for the Red Sox on Thursday afternoon in a disappointing conclusion to his first homestand with his new team.
Staked to a four-run lead after one inning, Price was stunningly knocked out by the Rays with the fourth inning still in progress. Though Price took a no-decision, the Red Sox suffered a 12-8 loss.
It was a perplexing day for the power lefty, who is 1-2 with a 6.75 ERA in four starts against the team he broke into the Major Leagues with.
"That's the best I've felt in my four starts here," said Price. "To me, that's the most disappointing thing. To feel as good as I felt, I want to be able to go out there and get the results that I expect. I just didn't do that today."
In the home opener, Price squandered a 3-0 lead, but this one was even tougher for him to stomach. Over 3 2/3 innings, he gave up eight hits and eight runs while walking two and striking out five.
Through four starts, Price is 2-0 with a 7.06 ERA. Where does he go from there?
"Get better," Price said. "I don't enjoy that. I definitely enjoy going out there and doing what I love, and that's not fun for me. I know I'm better than that. Whenever you get five runs in the bottom half of the first inning, that's unacceptable."
To Price, there is no common thread to his struggles against the Rays.
"That's the fourth time I've faced those guys, so that weirdness, that's gone now," Price said. "I definitely enjoyed my time there and I enjoyed those guys, but in between those lines, I want to get after it."
Price was marvelous in his middle start of the homestand, walking none and striking out nine over seven innings against the Blue Jays.
But nothing was easy in this one. His former teammate and roommate Evan Longoria tagged him for a solo shot in the third, and the Rays had sliced the deficit to 5-2.
The crisis was in the fourth, when the Rays tagged him for six runs. Curt Casali got things rolling with a two-run shot to left, and suddenly it was a one-run game.
The lefty's annoyance level reached its peak when Brandon Guyer, who crowds the plate, was hit for the second time in the game.
"It's a good pitch. It's a really good pitch," said Price. "To have that be a hit-batter -- it's either a strike or it's a hit batter. It makes it tough. I was teammates with Brandon for quite a while in Tampa. He's one of the two guys I've played with over there that they're not going to get out of the way. If you miss in or if it's really close in, they're going to wear it. Him and Kelly Shoppach are the two guys I've seen do that really well."
Price acknowledges it was on him to make a pitch after hitting Guyer, and he didn't. Longoria clubbed one off the Green Monster for a two-run double that put the Rays ahead.
"You've got to be able to flush it," Price said. "You've got to be able to move on to that next pitch. I felt like I did that. I just didn't execute on the 0-1 changeup to Longo, and he put a good swing on it and hit it off the Monster."
Price has a 4.20 ERA in April, easily the worst of any month in his career.
"I think when you look at track records they probably tell you what's going on," said Red Sox manager John Farrell. "I think with power pitchers -- again we've talked about the first month, it's still a building phase of arm strength and overall command, and we may just be seeing that."
The Red Sox will next send Price to the mound on Tuesday night in Atlanta for the finale of a five-game road trip. By then, this performance will be far from his memory bank.
"I mean, he's out there grinding," said Red Sox second baseman Dustin Pedroia. "That one inning, I mean, he was throwing the ball great and that one inning they got some guys on and just had quality at-bats in a row. That's what it was. More credit to them. They put some good at-bats on him."
Ian Browne is a reporter for MLB.com. Read his blog, Brownie Points, follow him on Twitter @IanMBrowne and listen to his podcast. This story was not subject to the approval of Major League Baseball or its clubs.