Castillo feels offensive turnaround is coming
D-backs catcher homers off Bumgarner after falling behind 0-2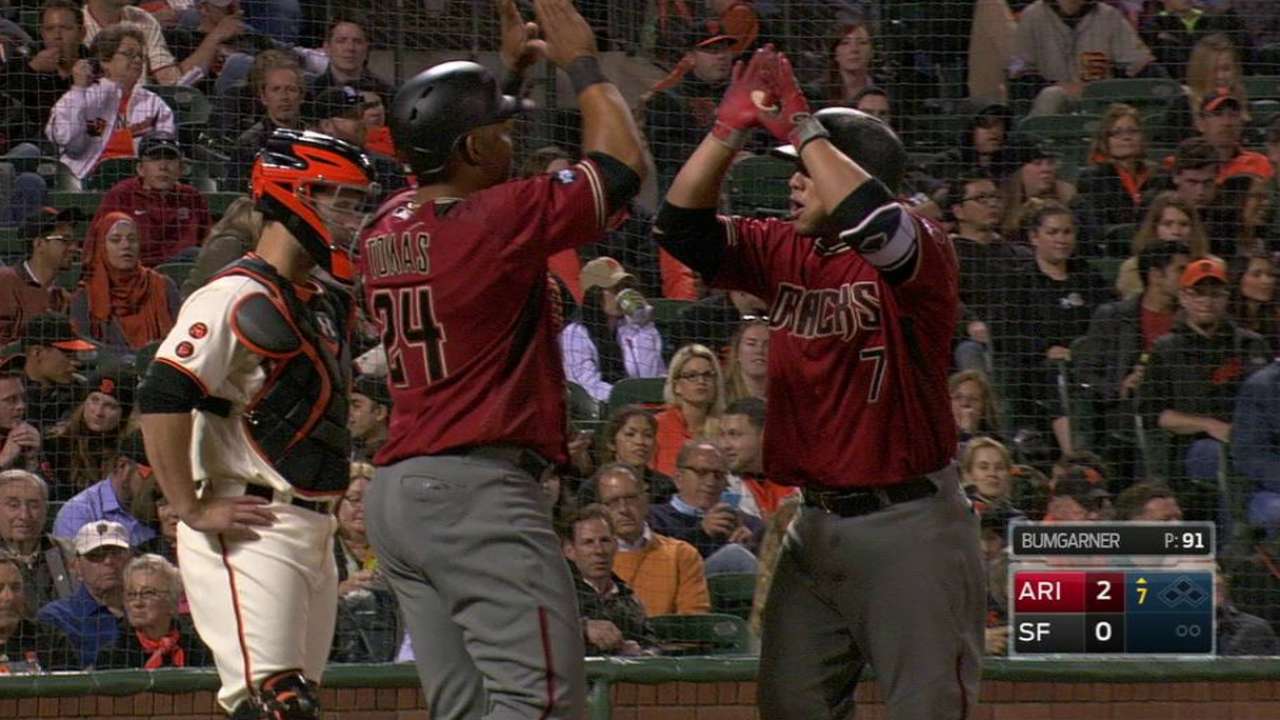 SAN FRANCISCO -- It's been a slow start at the plate for Welington Castillo this year, but the D-backs catcher refuses to give up, or give in.
It was the same attitude he had in the seventh inning Wednesday night when Giants starter Madison Bumgarner jumped ahead of him 0-2 and it was an approach that paid off when Castillo hit the next pitch over the wall in left-center to account for all the Arizona offense in a 2-1 win.
"I had two strikes so I had to be a little short," Castillo said of shortening his swing. "Just didn't try to do too much. I didn't think about hitting a home run, I just wanted to have a good at-bat and hit a ball hard somewhere and whatever happens, happens."
It was the third homer of the year for Castillo, who came into the game hitting .209.
"Not really, honestly," Castillo said when asked if he's felt good at the plate recently. "I'm not recognizing the pitches really good."
So Castillo has thrown himself into his work behind the plate with the D-backs pitching staff, all the while believing he will figure things out offensively.
"I know I can hit a little bit," Castillo said. "I have a job to do behind the plate and I feel really good because I feel like I've been calling good games and the pitchers are starting to throw the ball better. My hitting is going to come. It's going to come. I don't worry, I know I can help the team with my offense, too. At some point, it's going to come. I have to keep working on it and trusting and believing in what I do."
Steve Gilbert is a reporter for MLB.com. Follow him on Twitter @SteveGilbertMLB. This story was not subject to the approval of Major League Baseball or its clubs.