The defense bests: Fielders wow witnesses
Watch where triples (and homers and singles) go to die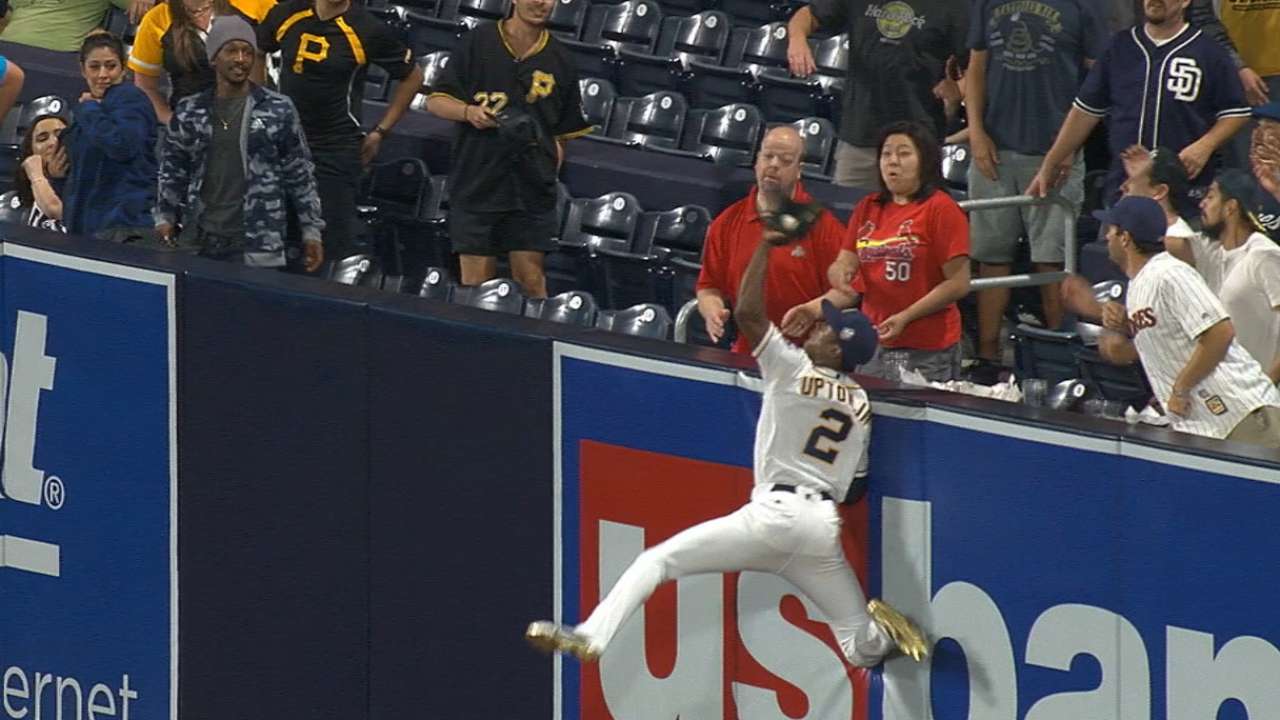 On Wednesday, a left fielder's throw traveled faster than any pitch from the mound, a pair of would-be home runs became outs, and that was just the beginning of the defensive wizardry on display.
If defensive dominance is your thing, this day was a memorable one as fielders put on a show across the Major Leagues. And thanks to Statcast™, we can appreciate just how special some of those feats were.
No. 1 on that list has to be the throw unleashed by the Yankees' Aaron Hicks, which surpassed teammate Aroldis Chapman's highest heat and made a little Statcast™ history. The heave came in the top of the fourth inning at Yankee Stadium as Oakland threatened to extend its 3-1 lead with the bases loaded and one out. When Yonder Alonso lifted a fly ball to left field, Danny Valencia tagged from third and tried to score, only to be foiled by Hicks.
His throw, which traveled 247 feet, reached a velocity of 105.5 mph on its one-hop journey to catcher Brian McCann, who applied the tag for the double play. Hicks' strike is now the fastest ever recorded by Statcast™, easily surpassing the 103.1-mph throw by the Astros' Carlos Gomez last September.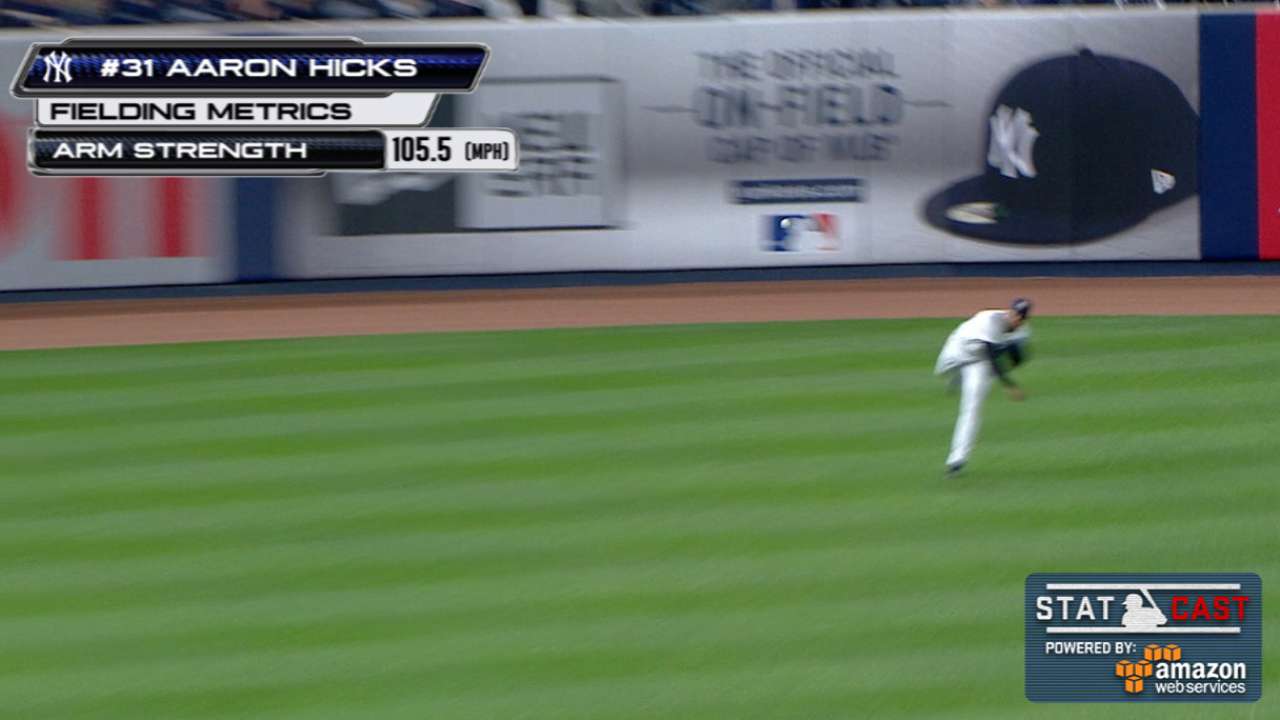 "I tried to make a strong throw, accurate throw, trying to be as fast as I can from catch to throw," Hicks said. "When you know your ball is not tailing and you've got that nice four-seam going straight, you know you're going to get a solid hop. I did today."
While Hicks used his arm to take away a run, Cardinals center fielder Randal Grichuk used his legs to do the same in Wednesday's 5-3 win over the Cubs at Busch Stadium.
With two outs in the first inning, it looked like Anthony Rizzo would break a 0-0 tie with a two-run homer as his drive off Carlos Martinez carried toward the seats in left field. But it was not to be for the Chicago first baseman. Grichuk got on his horse and raced 87 feet across the outfield, with a route efficiency of 98.5 percent, timing his leap perfectly to reach up over the wall and snatch the ball back.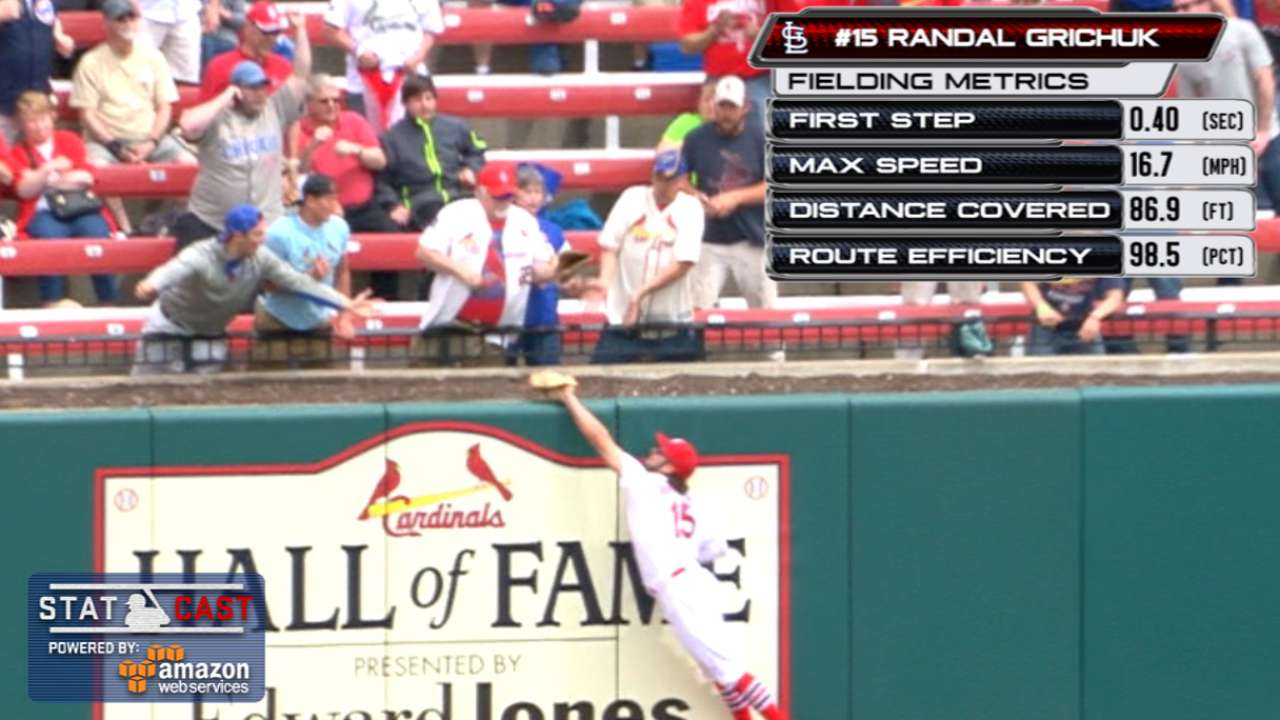 "Just getting to the wall to know where the ball is going to be is tough, but also having to jump and pull it back over is tough," Grichuk said. "It wasn't too far over, so it wasn't that bad."
Padres left fielder Melvin Upton Jr. matched Grichuk later in the evening at Petco Park. With one out and one on in the ninth inning of San Diego's 8-2 win over Pittsburgh, the Bucs' Matt Joyce lifted a deep fly ball that sent Upton drifting back 80 feet. At the wall, he leaped and stretched out to snare the potential homer.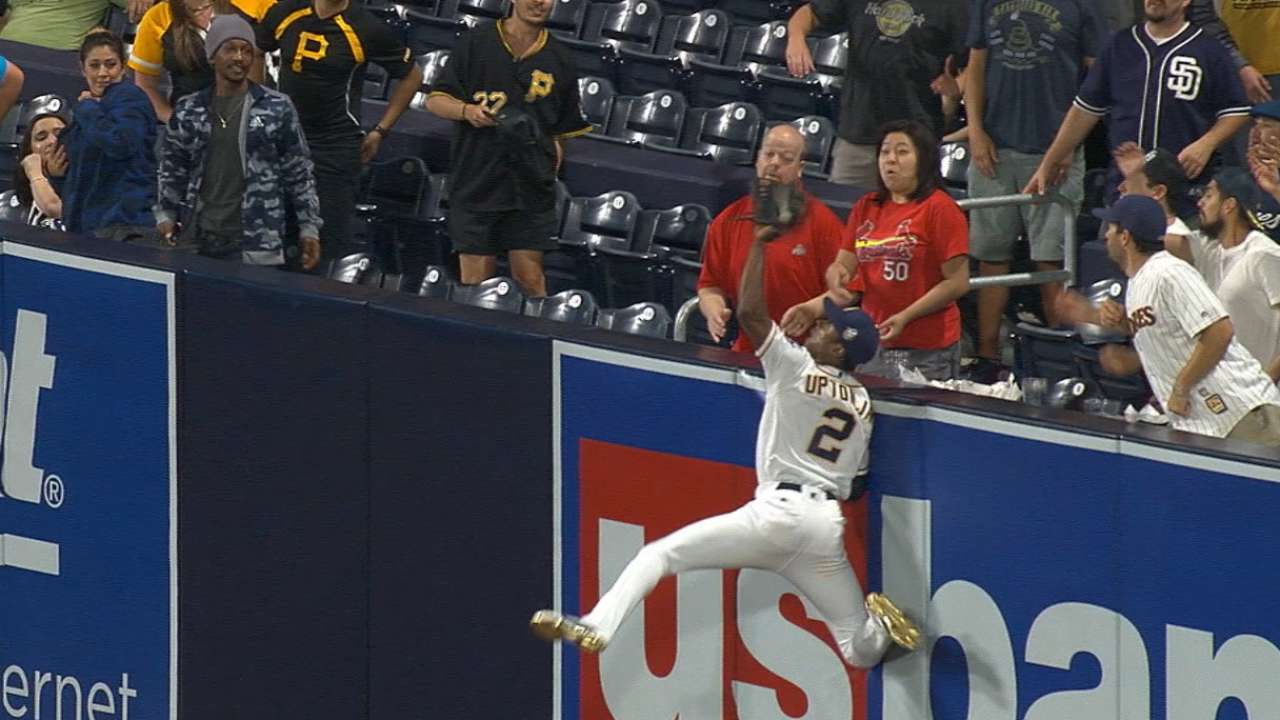 Astros right fielder George Springer didn't take away a home run, but he did put his body on the line to rob the Rangers' Prince Fielder of an extra-base hit.
With Texas already ahead 2-1 in the sixth inning at Globe Life Park, Fielder drove a Doug Fister pitch into the right-center gap. Springer took his first step in 0.37 seconds and got himself to a top speed of 19.1 mph before laying out for a full-extension diving grab. Statcast™ measured his route efficiency on the play at 98 percent.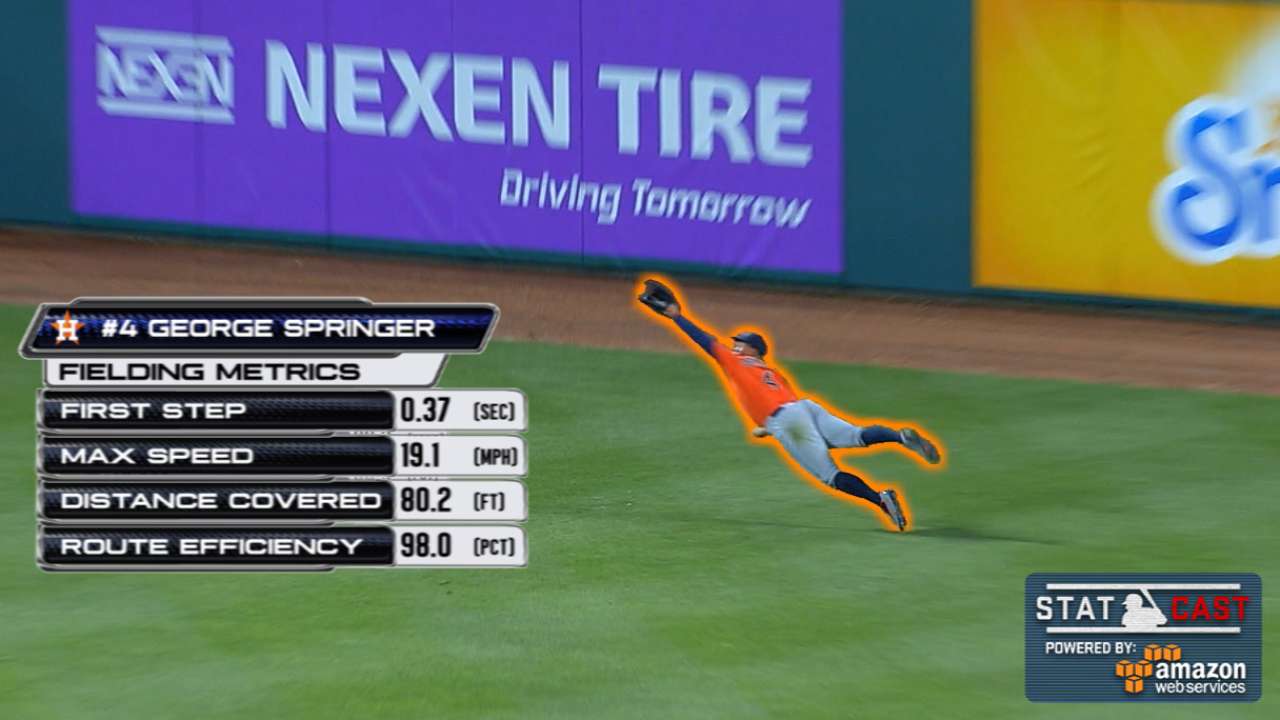 Orioles center fielder Adam Jones knows all about sacrificing his body to make a catch. In his case, the play temporarily kept a run off the board at a critical moment in the game, with Baltimore holding on to a 3-2 edge over Toronto in the seventh inning at Camden Yards.
With a runner on third and one out, Jose Bautista looped a fly ball into right-center. Jones, stationed toward the other gap, had to cover 79 feet with a top speed of 18.6 mph, completing the play with what must have been a painful belly-flop of a diving grab. No run scored, and although the Jays did tie the game that inning, the Orioles eventually grabbed the victory in the 10th.
Jones won the American League's Gold Glove Award in center field each year from 2012-14 but gave way last season to the Rays' Kevin Kiermaier. Why? Well, take a look at the play Kiermaier pulled off on Wednesday at Fenway Park.
In the seventh inning, Boston's Brock Holt lined a shot to deep center that forced Kiermaier to gallop over from the left-center gap and back toward the track. In doing so, he covered 65 feet at a top speed of 18.1 mph, leaping to make the grab over his shoulder before falling to his knees.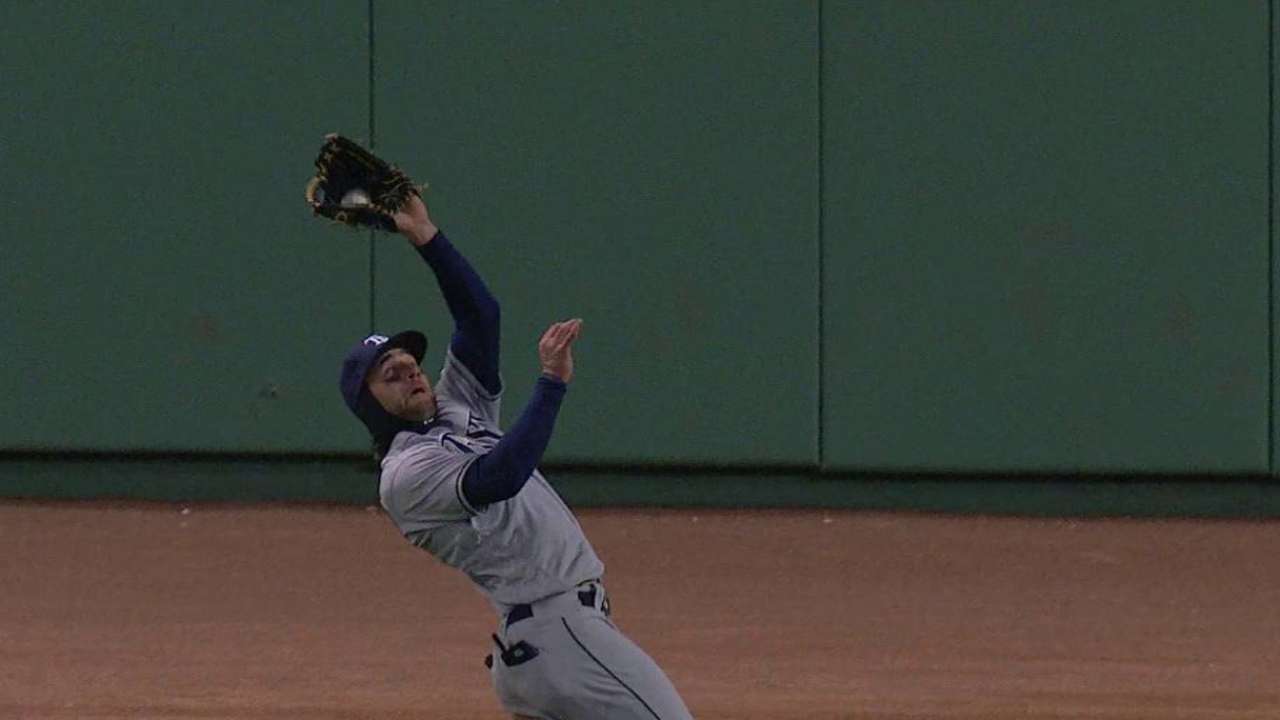 This day of defensive excellence was not all about outfielders, however.
The infielders had their time to shine as well, perhaps none more so than Royals shortstop Alcides Escobar. The Tigers were poised to extend their 1-0 lead with two outs in the third inning at Kauffman Stadium, when Justin Upton sent a blooper toward shallow left field against Ian Kennedy.
Ian Kinsler likely would have scored from second on the play -- if not for Escobar, that is. He quickly scampered back 43 feet and launched himself into the air, stretching way up for an over-the-shoulder snag.
Fellow shortstop Freddy Galvis of the Phillies pulled off a difficult play of his own on a popup, in this case one that actually dropped in front of him. It came in the top of the 10th inning at Citizens Bank Park, with the Mets' Wilmer Flores trying to drive home the go-ahead run from second with two outs.
Flores got jammed, and the ball looped over the mound and dropped right on the lip of the grass, to the left side of second base. Galvis, playing back, snatched the spinning ball on one hop with his bare hand and whipped a 72.1-mph throw that beat Flores to first. An inning later, the Phillies won.
Galvis' former Phillies teammate, Chase Utley, employed the craftiness of a 14-year veteran to make a nice play in the Dodgers' 5-3, 10-inning win at Turner Field. When Atlanta's A.J. Pierzynski hit a slow bouncer toward second in the fifth, Utley charged, scooped it up and used his glove to shovel the ball all the way to first for the out.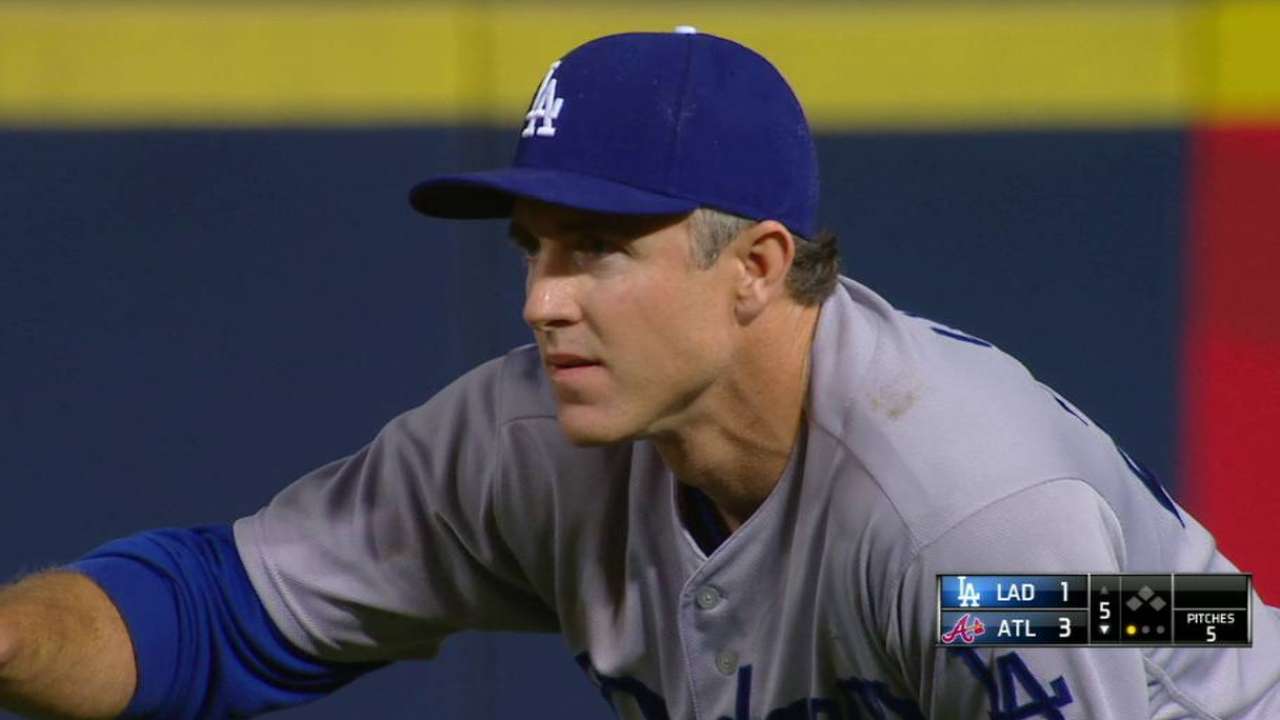 Later in the evening in San Diego, Padres third baseman Adam Rosales showed off both his range and his arm.
With two outs in the sixth inning, the Pirates' Francisco Cervelli smacked a ground ball down the line, only to have Rosales take his first step in 0.1 seconds and make a sprawling stop. He immediately hopped to his feet, and from just in front of the outfield grass fired an 88-mph strike across the diamond to nab Cervelli by a split second.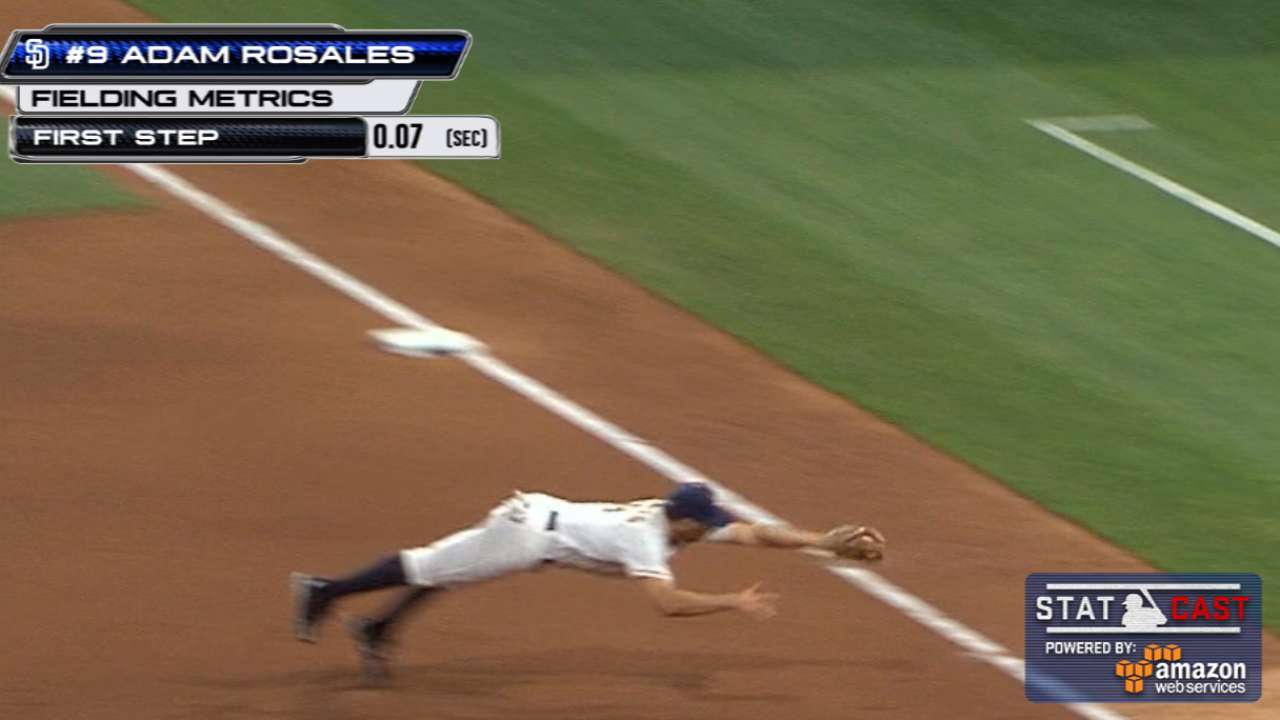 Andrew Simon is a reporter for MLB.com. Follow him on Twitter @AndrewSimonMLB. This story was not subject to the approval of Major League Baseball or its clubs.