Fastest-ever Statcast throw highlights GIFs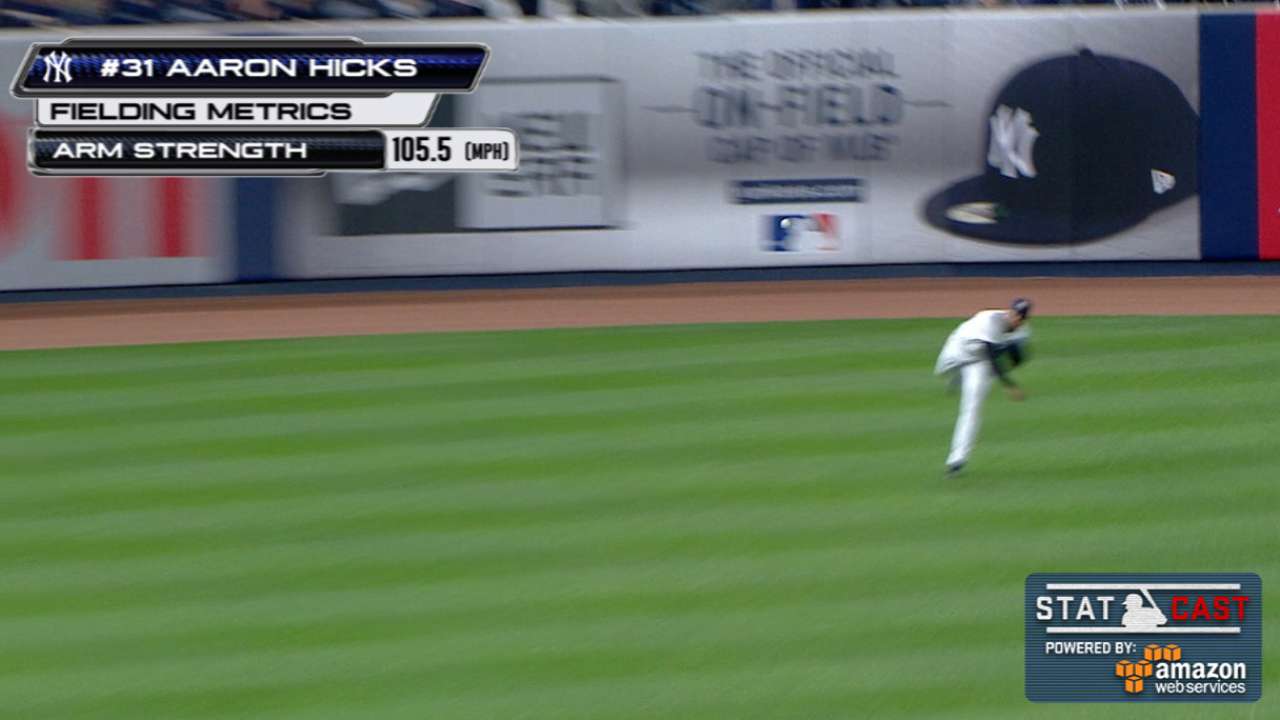 Here are the top GIFs from Wednesday's games, courtesy of @MLBGifs.
1. Faster than a speeding ...
This is what the fastest throw of the Statcast™ era looks like, courtesy of Yankees left fielder Aaron Hicks. His 105.5-mph strike completed a double play at the plate.
2. Leap of faith
This bellyflop had to hurt, but Orioles center fielder Adam Jones did what he had to do to prevent the tying run from scoring.
3. Look, up in the air ...
Astros right fielder George Springer pulled off his best Superman impression as he laid out to rob the Rangers' Prince Fielder of a hit.
4. Wall-to-wall coverage
The Cubs' Anthony Rizzo would have gotten a two-run homer, if not for meddling Cardinals center fielder Randal Grichuk.
5. Nothing up my sleeve, presto!
When the Pirates' Jeff Locke bounced a pitch, the ball could have gone a lot of places. Somehow, it ended up in the shirt pocket of the home plate umpire. What are the odds?
6. Face it, Drury
As the D-backs' Brandon Drury found out on this slide, the infield dirt at AT&T Park does not taste as good as the garlic fries.
Andrew Simon is a reporter for MLB.com. Follow him on Twitter @AndrewSimonMLB. This story was not subject to the approval of Major League Baseball or its clubs.