Baserunning blunder by Didi leads to DP
Yankees miss out on chance to score at least one run in seventh inning of loss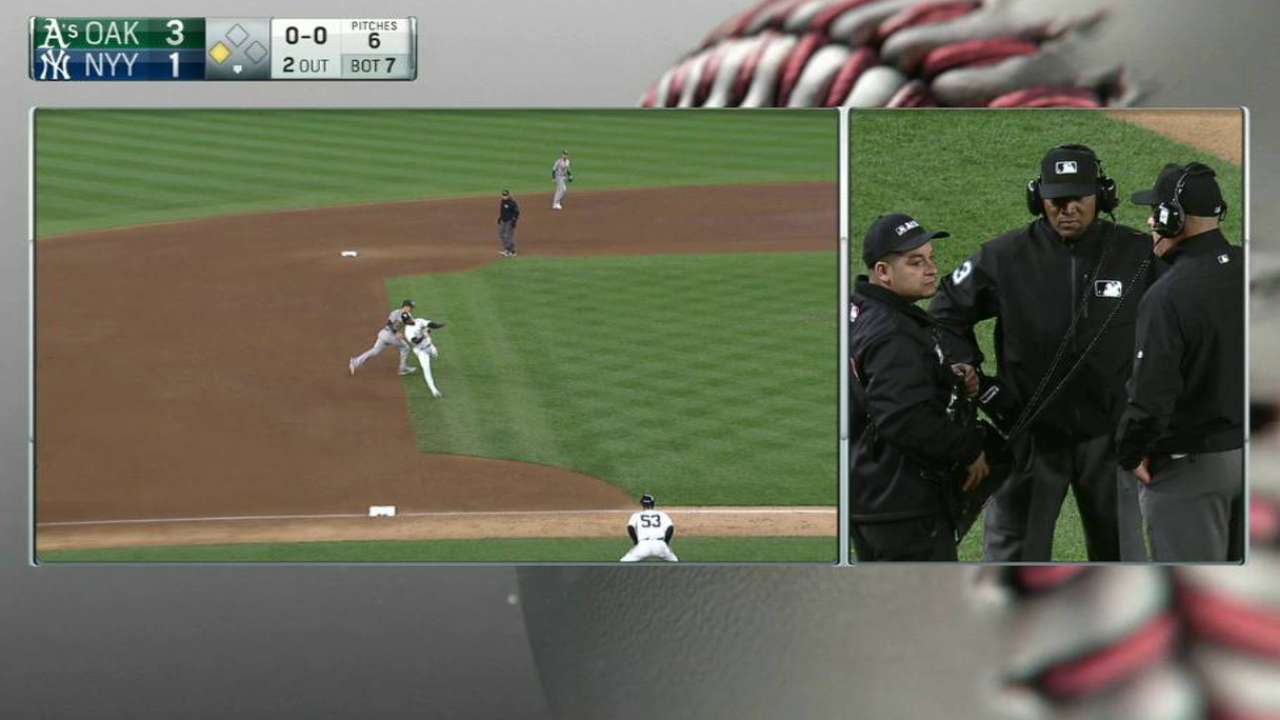 NEW YORK -- When someone makes a mistake as obvious as the one Didi Gregorius made during the Yankees' 5-2 loss to the A's on Wednesday night, there's no need for a manager to be anything but direct.
"[It was] bad baserunning," Yankees manager Joe Girardi said. "Bad baserunning. You've got to understand what your run means. You can't run into an out. It turns into a double play. We don't get any runs. It's just a bad read."
In the seventh inning, Gregorius was on second base and Chase Headley was on third with Aaron Hicks at the plate facing a two-run deficit. Hicks chopped a slow roller toward A's third baseman Chris Coghlan and Gregorius ran on contact. Coghlan was able to tag Gregorius before throwing out Hicks at first, securing an inning-ending double play.
• Bloom: Girardi's patience with Yanks wanes
Girardi wasn't the only one who was blunt about the shortstop's baserunning blunder. Gregorius himself made no excuses about the play.
"It was a bad read," he said. "We've been struggling with runners in scoring position so I was trying to get there just in case on a passed ball or whatever. I was just trying to play the game too quick and it was a really bad read."
Because of the bang-bang nature of the play and the importance of the situation, the Yankees challenged that Coghlan tagged Gregorius. After review, it was ruled that the call stands. Girardi said he thinks it was too close for review to say anything consequential, and had the play been ruled the other way on the field, the Yankees would've won the review. But Gregorius saw it, or rather felt it, differently. He asserted that he was in fact tagged.
Regardless of the outcome, it's the decision-making that Girardi brought into question after the game. Sure, had Gregorius evaded the tag and given the Yankees a runner on third with two outs, his play would've been lauded for being "heads-up baserunning." But even if Gregorius had reached third, Girardi still didn't seem to believe that it would've been the right decision.
"When you get on base you have to say, 'OK, what does my run mean? What can I do?'" Girardi said. "You've got to run through plays in your head and understand what your run means. Ground ball to third or short, I don't have to go. The infield is back. Let the run score and then we still have to get a hit to score another run. To me it's running things through your head."
Gregorius said after the game that he and Girardi had yet to speak about the play. Despite this, they seemed to share the same emotion.
"I'm [angry] about it too," Gregorius said. "I'm not going to smile and walk away about it."
Nick Suss is an associate reporter for MLB.com. This story was not subject to the approval of Major League Baseball or its clubs.