MLB.com Columnist
Phil Rogers
Walk-offs, terrific plays highlight wild Wednesday
Eight games decided by one run, including two that went to extra innings
Some days' games turn on the tiniest of margins, and Wednesday was certainly one of those.
We love talking about ways to make baseball better, but it always seems to get the last laugh. It's pretty perfect the way it is, and all you had to do was pay attention to the drama taking place all around the Major Leagues to see the latest demonstration.
There were eight one-run games, including two that went to extra innings. Another extra-inning game would wind up among three games decided by two runs. And in the last game of the night, the Giants' Madison Bumgarner and the D-backs' Zack Greinke dueled in a game that was scoreless until Welington Castillo's homer in the seventh inning.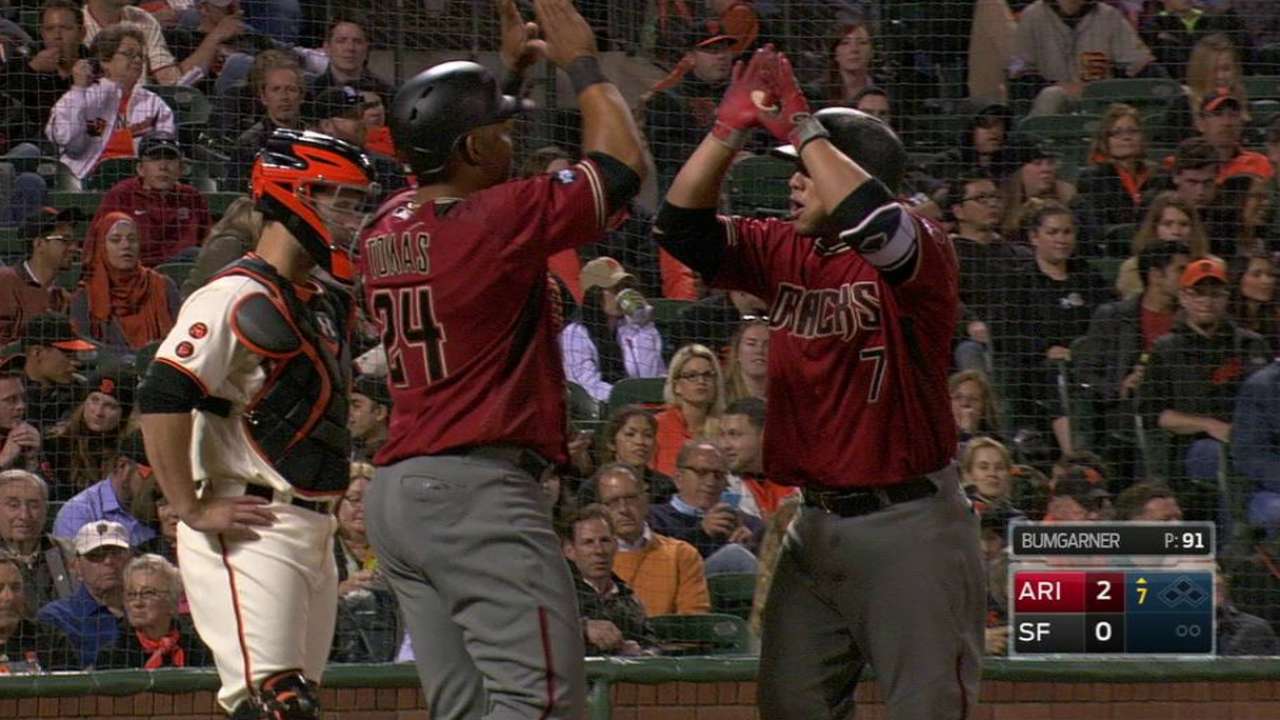 Consider the drama that rolled across our television screens, laptops and smart phones:
REDS 6, ROCKIES 5
After the Rockies scored three runs in the eighth to tie the score, the Reds won it on a ninth-inning single by catcher Tucker Barnhart. He lined it through a five-man infield, but the real drama came earlier -- both when Barnhart took advantage of a good hop off the bricks behind home plate at Great American Ball Park to trap Mark Reynolds off third and escape the eighth inning, and when Suarez noticed Dustin Garneau missed third base as he apparently scored in the seventh frame. Garneau still insists he stepped on the base, but he was called out after an appeal and a video review.
WHITE SOX 2, ANGELS 1
Seven scoreless innings from Chris Sale was the story of the day. But Trout was twice thrown out on the bases, the second time coming in the ninth inning. Third baseman Todd Frazier made a diving stop of a Trout smash, but his throw skipped past first baseman Jerry Sands. Trout should have been able to reach second base, but his spikes slipped on the wet grass as he turned left. He kept going anyway, and Sands' throw and Saladino's athletic tag just beat him to second, helping David Robertson earn the save.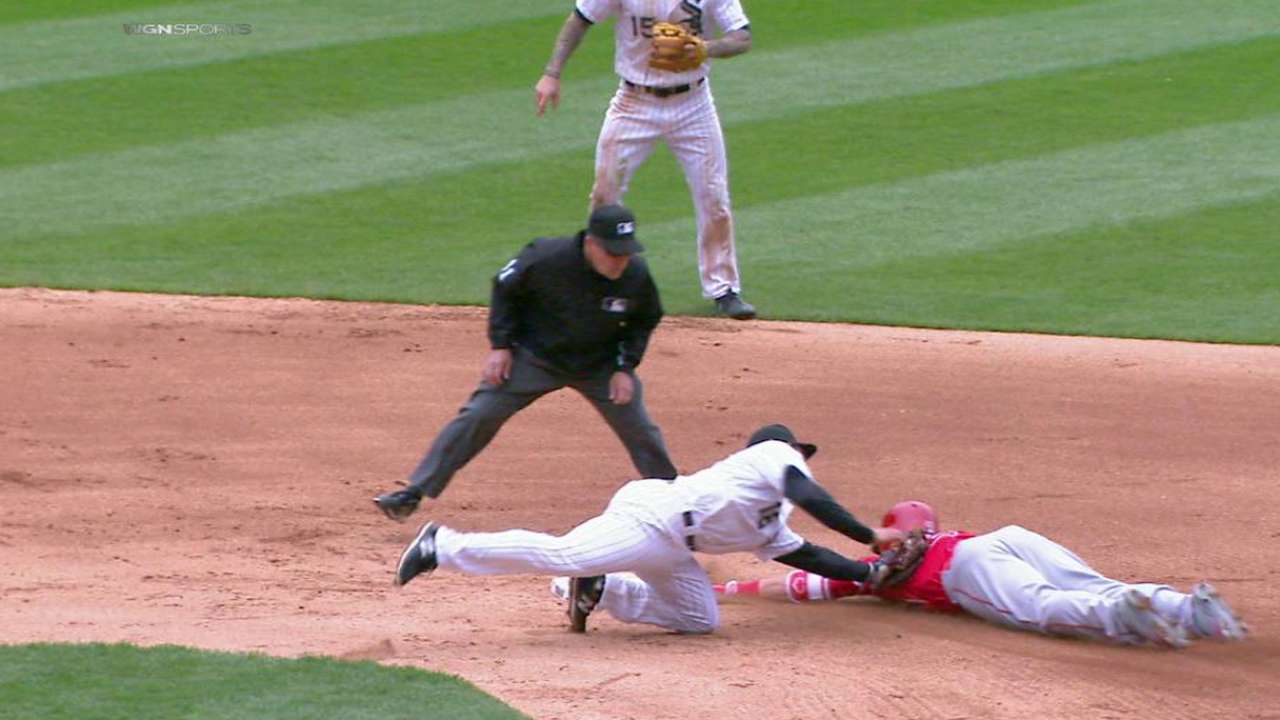 MARINERS 2, INDIANS 1
No runs were scored after the third inning in this duel between Taijuan Walker and Danny Salazar. Everyone knew Rajai Davis was looking to steal second base when Terry Francona pinch-ran him with two outs in the seventh inning. Joel Peralta picked off Davis, who wound up in a rundown. He would eventually crawl the last 20 feet to the bag at second, but he had already been tagged.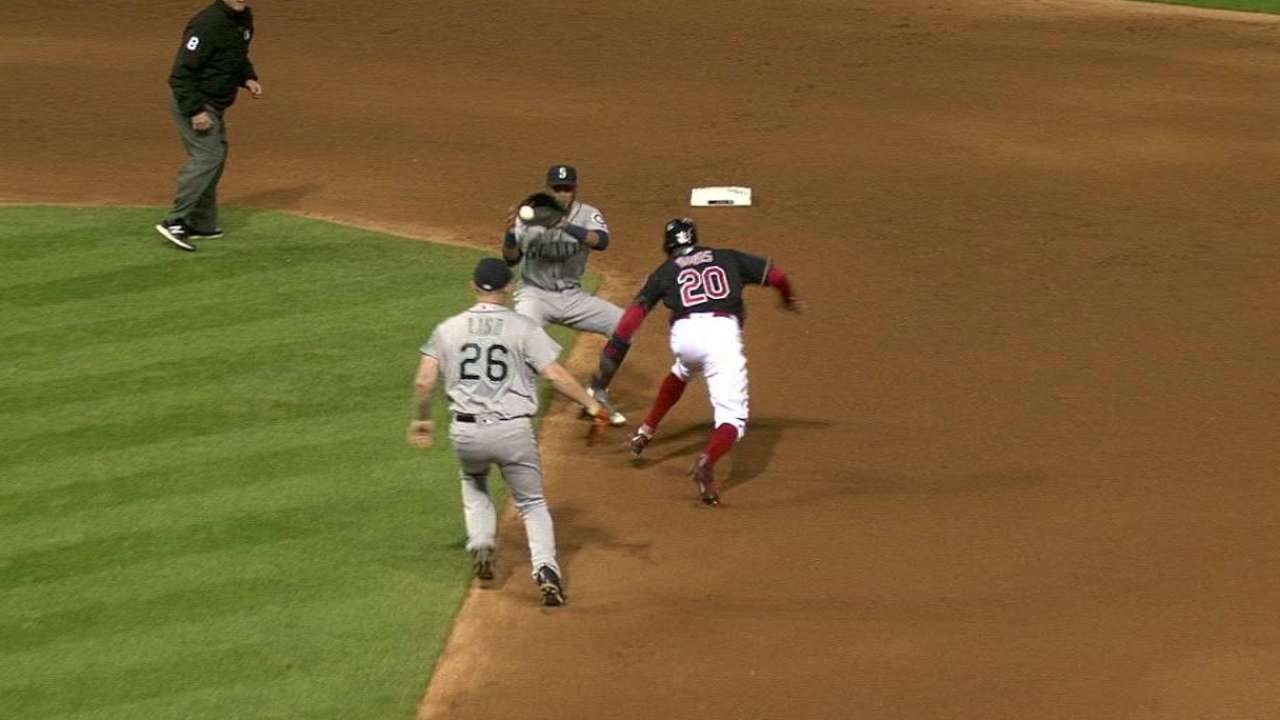 TIGERS 3, ROYALS 2
This was the kind of game that the Royals usually win. They did badly scare the Tigers in the ninth inning, with back-to-back solo home runs by Alex Gordon and Salvador Perez before Francisco Rodriguez struck out Mike Moustakas to leave the tying run on second base. Jarrod Dyson had walked and stolen second to give Moustakas a chance to be a hero, but Rodriguez would escape with a 29-pitch save.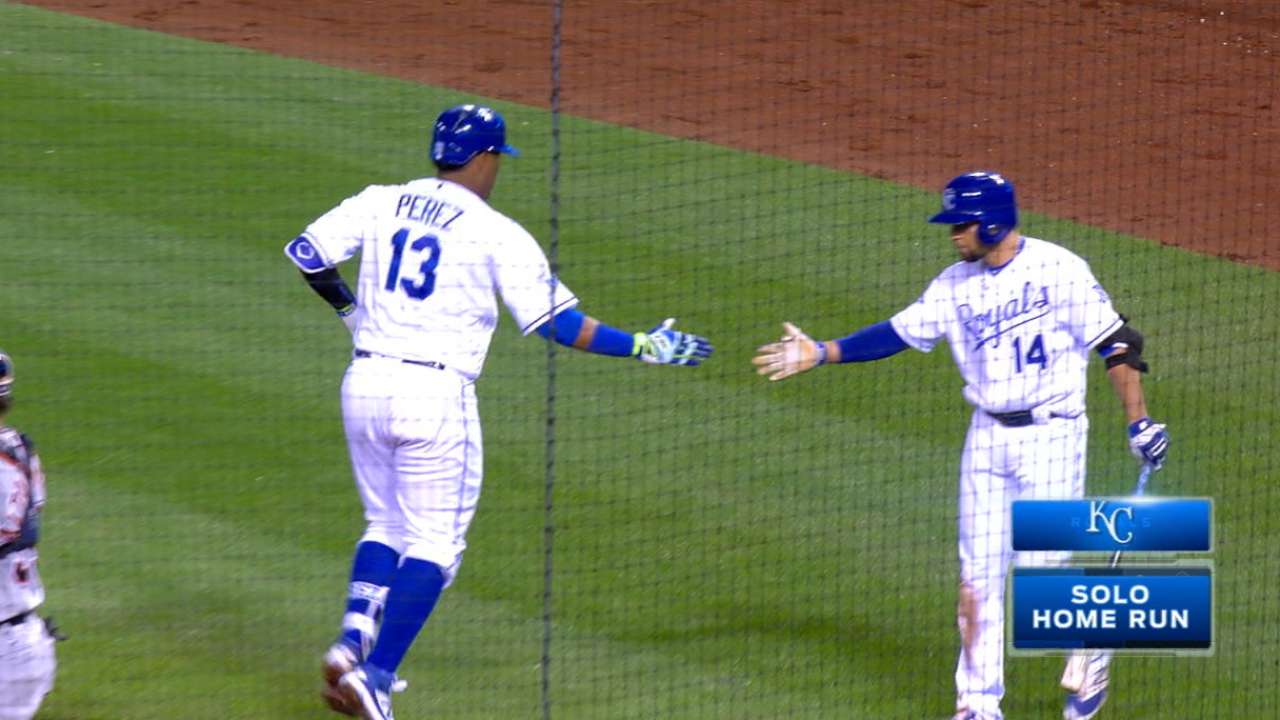 ORIOLES 4, BLUE JAYS 3 (10 INNINGS)
Josh Thole's day started by catching R.A. Dickey's knuckleball. It ended when he couldn't handle a 95-mph fastball from rookie Joe Biagini. His passed ball allowed Caleb Joseph to give the Orioles a walk-off victory, which is only their second since a 7-0 start to the season.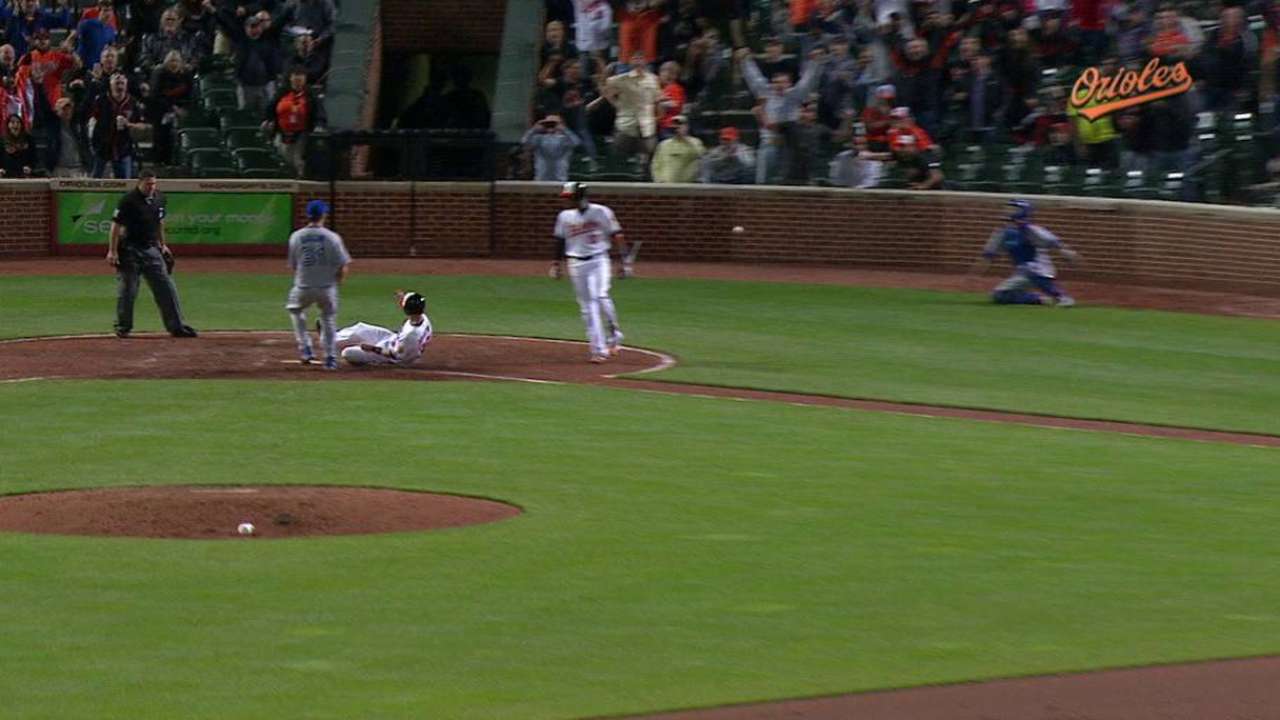 PHILLIES 5, METS 4 (11 INNINGS)
With two outs in the 11th inning, Wright made a vintage backhanded stop on a hard grounder by Bourjos. The Mets' third baseman was in foul territory when he got off his throw. It was a strong one, but speed has always been Bourjos' most reliable tool, and he outran Wright's arm as Freddy Galvis scored the winning run.
RANGERS 2, ASTROS 1
Beating the Astros at Globe Life Park is just something the Rangers do. They made Rougned Odor's two-run homer in the second inning hold up by taking advantage of some reckless baserunning by Houston. The Astros had two runners thrown out trying to take extra bases and another caught stealing, and it was enough that it turned one of the year's best catches into a footnote. You still ought to check out the George Springer grab, robbing Prince Fielder and making the outfielder (once again) a Statcast™ sensation.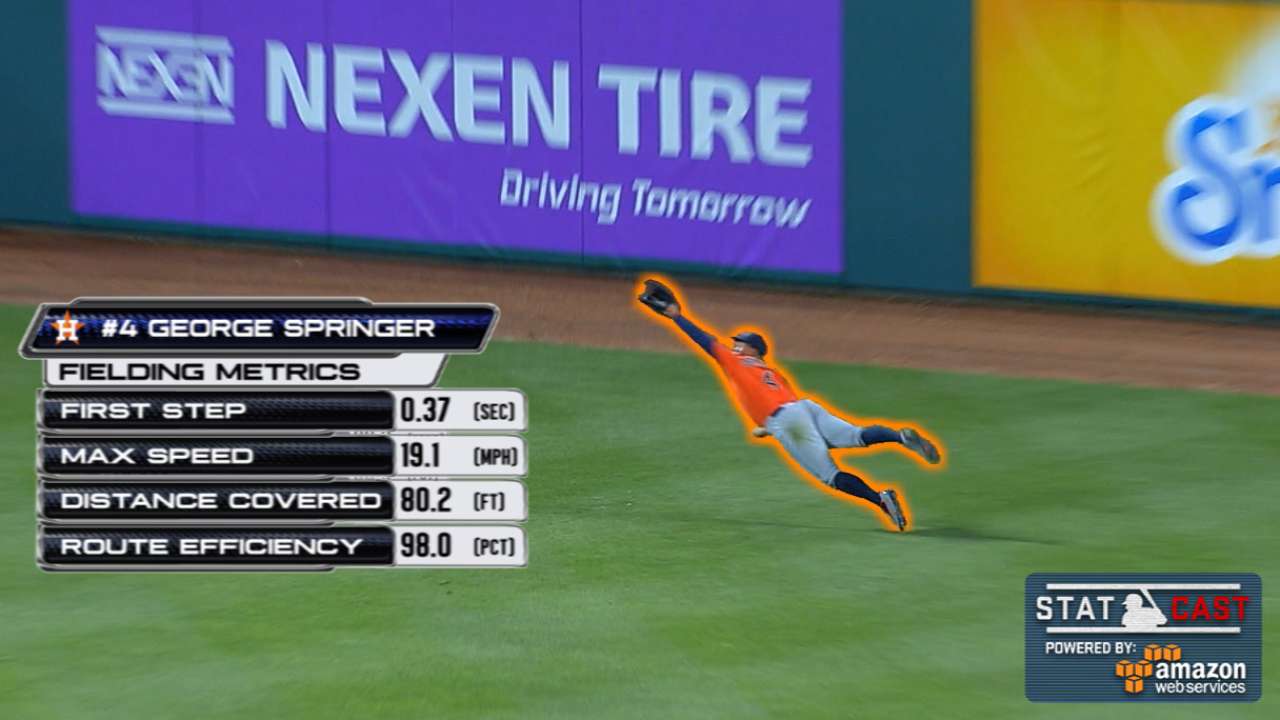 D-BACKS 2, GIANTS 1
The Greinke-Bumgarner duel was every bit as good as you would have expected. It came down to one pitch -- an 0-2 fastball to Castillo that Bumgarner left up and out over the plate when Buster Posey was calling for a pitch at the knees. Naturally, the Giants got the tying run into scoring position in the ninth inning, thanks to a Matt Duffy double, but D-backs closer Brad Ziegler put down the rally.
DODGERS 5, BRAVES 3 (10 INNINGS)
Justin Turner's double off Jason Grilli provided the winning margin for the Dodgers.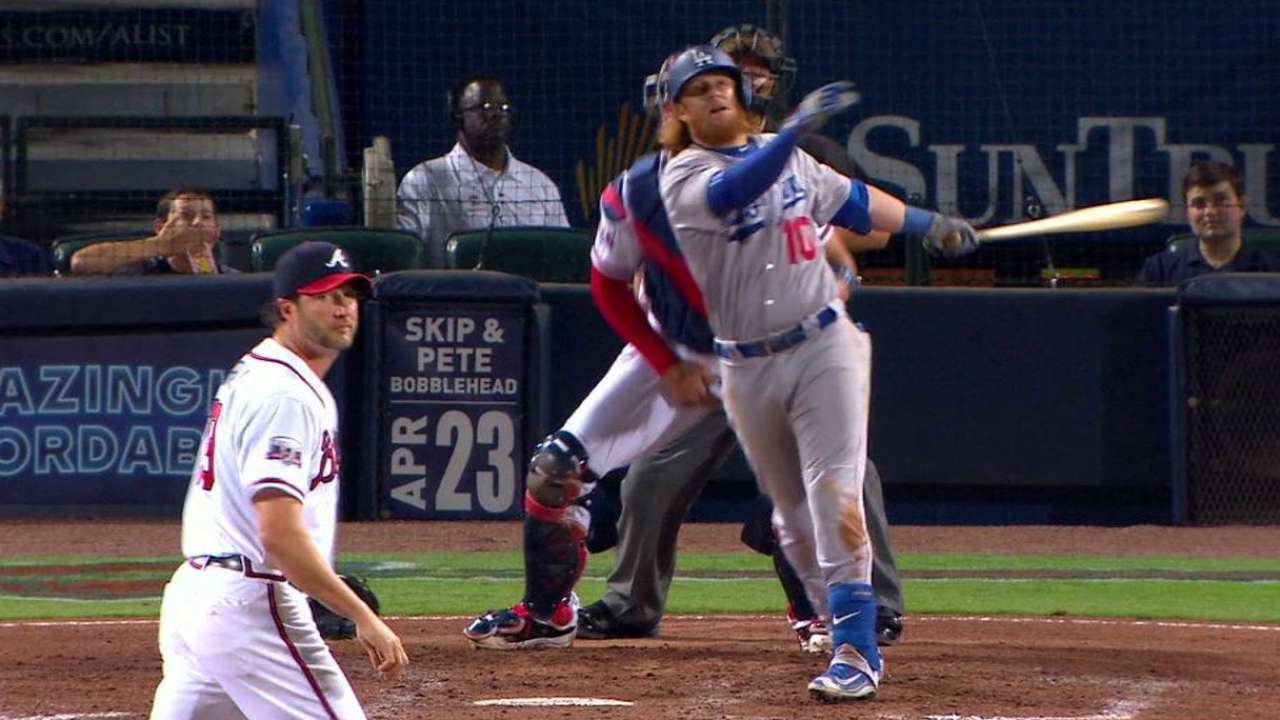 CARDINALS 5, CUBS 3
This could have been a whole different outcome if not for a play that happened in the first inning. Grichuk's running leap at the outfield wall in left-center took a two-run home run away from Rizzo, who would hit a long solo shot later in the game. It also set the tone for what would be a really terrific day of games.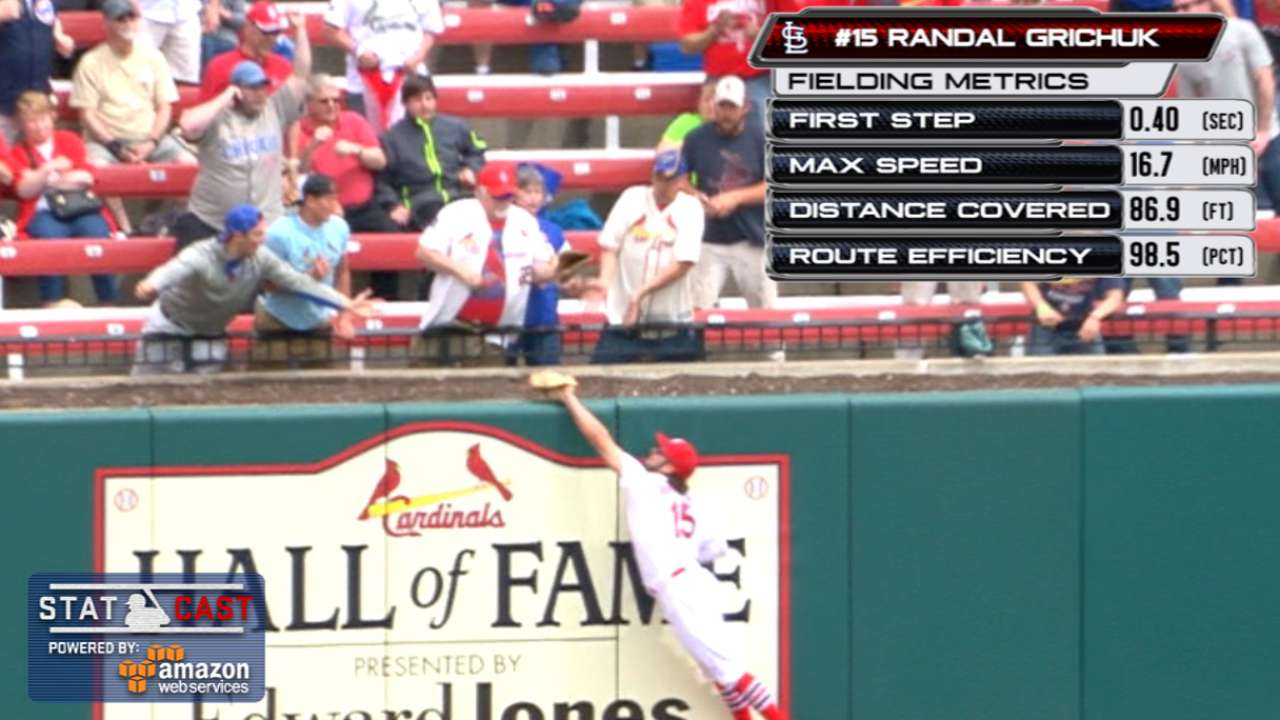 Phil Rogers is a columnist for MLB.com. This story was not subject to the approval of Major League Baseball or its clubs.