Aggressiveness proves costly for Astros
Three baserunners thrown out in first three innings vs. Rangers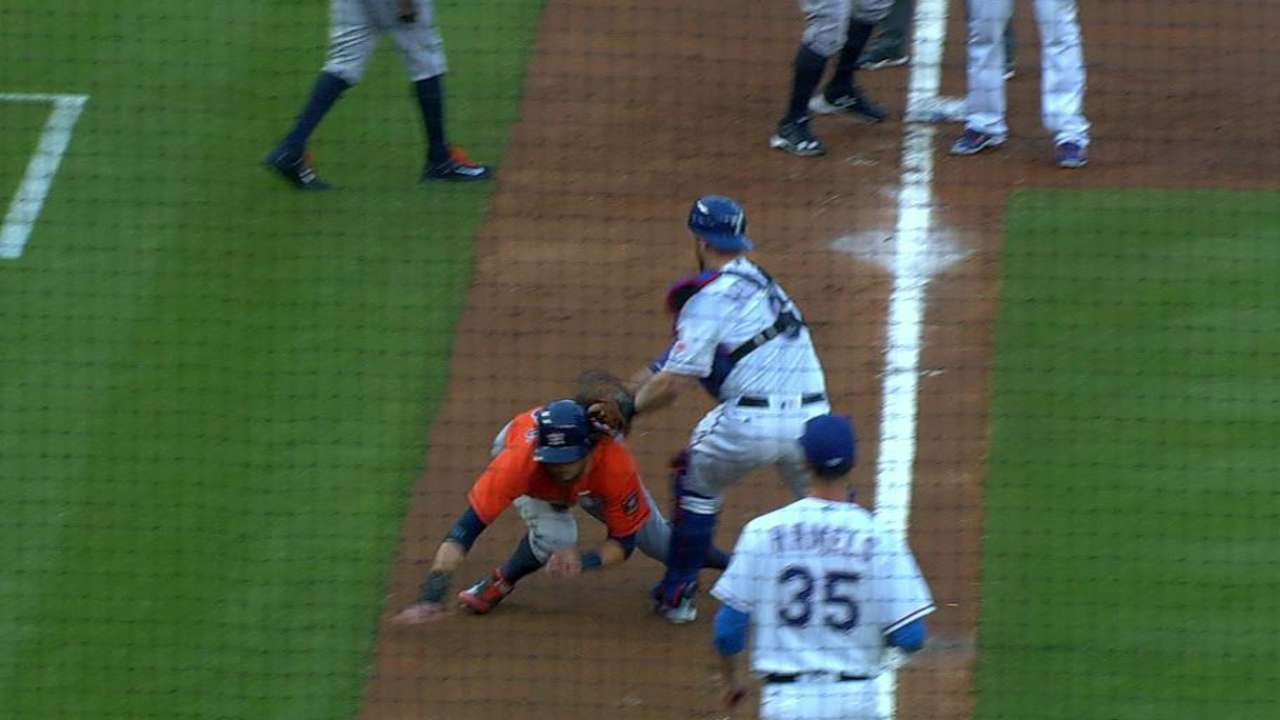 ARLINGTON -- The Astros didn't come through in the clutch on Wednesday night in going 1-for-12 with runners in scoring position in a 2-1 loss to the Rangers, but their biggest downfall was the outs they gave while still on the bases.
Three Astros runners were thrown out in the first three innings -- none bigger than Carlos Gomez, who was caught off first base after Marwin Gonzalez hit a fly ball to right fielder Nomar Mazara with the bases loaded and no outs in the second. Mazara fired home when Colby Rasmus initially broke from third. Rasmus stopped, but Gomez was caught in a rundown between first and second. That led to Rasmus getting tagged out between third and home for a costly double play that ended the rally.
It was that kind of night for the Astros, who lost their eighth game in a row at Globe Life Park.
"We've lost too many games, but we've lost because of small things, and it's very much something we're going to address," manager A.J. Hinch said. "We're going to get better at it. We've got to find a way to conquer the little things that are biting us in the [behind] every day."
Jose Altuve and George Springer began the game by being hit by pitches, and Carlos Correa followed with a strikeout. Hinch tried a double steal, but Tyler White struck out and Springer was thrown out at second for the third out on a play Hinch challenged and lost.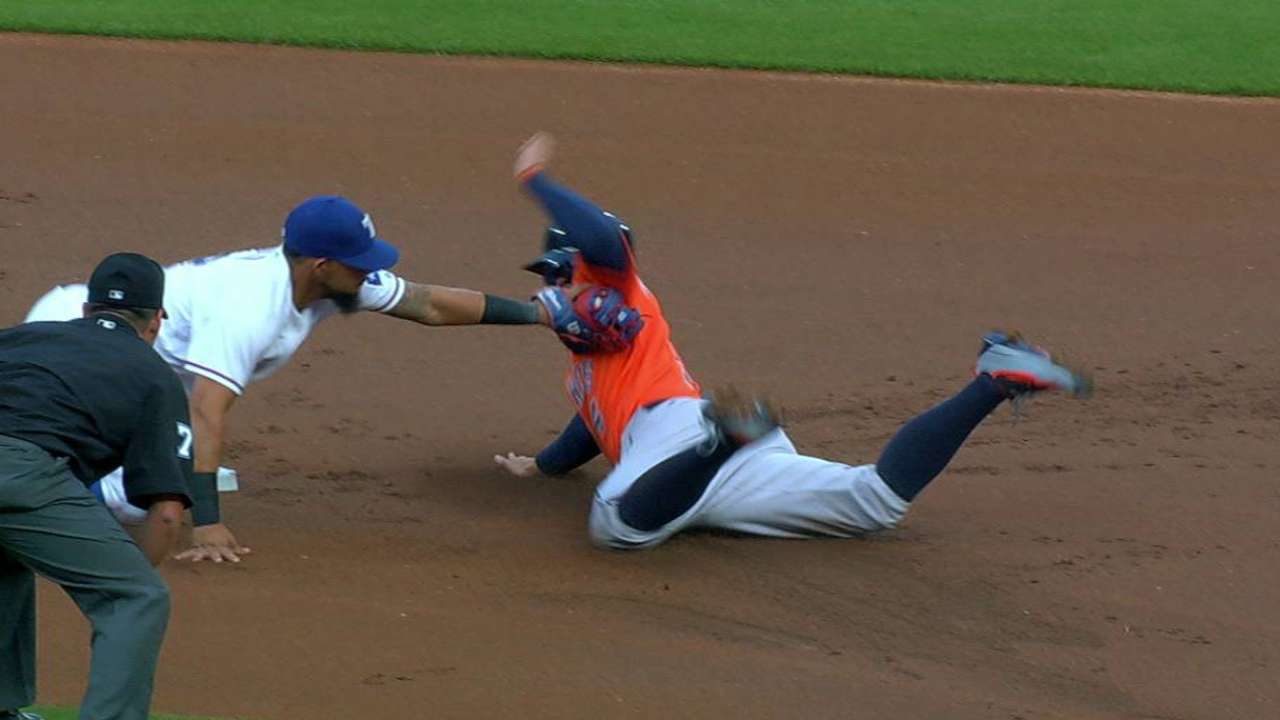 "You don't know how many baserunners you're going to get against [Rangers starter] Cole Hamels," Hinch said. "To have that play end ... It was important enough where the inning could have continued with runners in scoring position. Even though we knew it was a gray area -- maybe, maybe not -- we felt it was worth the risk [to challenge]."
As for the double play in the second, "It looked like Gomez just ran everybody off the base," Hinch said. "He read the high throw. I don't know if he thought Colby was going to go. It was pretty shallow. Mazara's got a good arm. [Gomez] was very aggressive with the read, which is the right read as long as there's nobody on in front of him. With [Evan] Gattis at second base, there's not a lot's going to happen regardless of throw. It ended up being costly aggressiveness."
Gomez thought the throw was going to be high and said he hadn't strayed too far off first.
"I looked at the mark, and I'm not even halfway," Gomez said. "I'm more toward first base. We see Colby take off, and he [stopped], and we had to stop, too. They take advantage and throw it to first and got me. They played well. It's nobody's fault."
Altuve led off the third with a single into the gap in left-center and was thrown out trying to stretch it into a double. Hinch was OK with the aggressiveness, but not the route.
"We spent a lot of time in the spring working on our routes around second base, cutting the bases and being able to run the shortest distance to second base from home, and it starts with your arc at first," Hinch said. "He carried it a little bit far, it looks like. I looked at the video, and those extra couple of feet matter."
Brian McTaggart is a reporter for MLB.com. Follow @brianmctaggart on Twitter and listen to his podcast. This story was not subject to the approval of Major League Baseball or its clubs.