Patient Hill collects first homer with Brewers
Veteran third baseman enjoys breakout after early struggles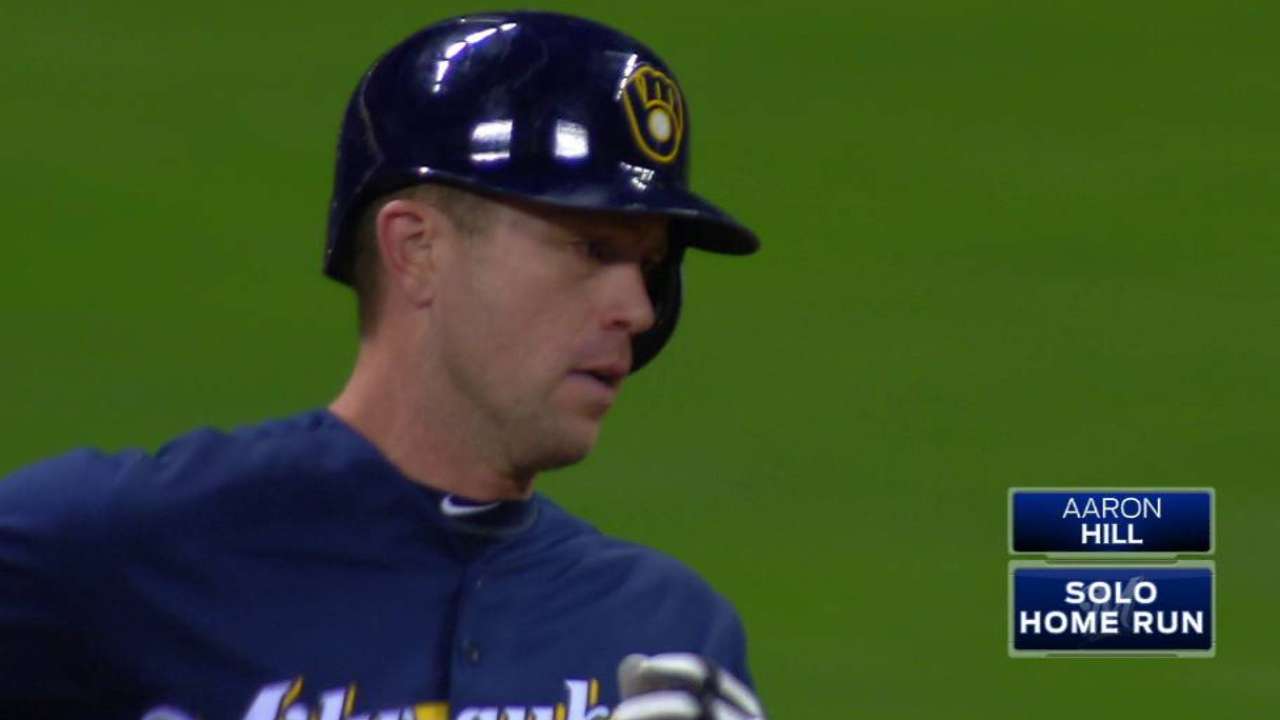 MILWAUKEE -- Aaron Hill has been around baseball long enough to know process is sometimes more important than results. That was the case in the Brewers third baseman's first two at-bats Wednesday, a lineout to right field and a blistering groundout to shortstop, which did nothing for a batting average that dipped to .143 after 41 at-bats, but offered Hill hope that eventually the hits would start falling.
Hill hit the ball hard again in the sixth inning, and this time no Twins defender could catch it. His first home run for the Brewers was a sixth-inning solo shot that gave Milwaukee a 5-4 lead on the way to a 10-5 win at Miller Park, which marked the Brewers' season highs for runs and hits.
"Everybody loves results," Hill said. "But when you know you're doing everything right, you're swinging at good pitches, everything is there -- it's just a matter of getting the consistency going and getting to the right point. Tonight felt good. We've been making some good strides over the past few weeks."
After leading off the sixth inning against Twins reliever Ryan Pressly with the home run that provided the Brewers a permanent lead, Hill singled amid a four-run rally in the seventh. They were two of the Brewers' 13 hits.
The Brewers' Nos. 3-6 hitters -- Ryan Braun, Jonathan Lucroy, Chris Carter and Hill -- combined to go 8-for-16 with six runs scored and seven RBIs. Hill finished the night batting .186.
"He's a great guy to have on the team," winning pitcher Jimmy Nelson said, "and it was good to see him get one. We just kept the pedal to the gas there at the end, and that was huge.
"[Hill] makes up for it in a lot of other areas. He's an awesome leader in the clubhouse. He's a great influence on all of us. To have his experience is huge. And he has really impressed me at third base; he has made some incredible plays there. So a lot of times, not just for him, but for a lot of guys struggling at the plate a little bit, there are a lot of things he can do to save runs out in the field."
Hill, 34, is not part of the Brewers' long-term rebuilding project. He was included in the January trade between the Brewers and D-backs, in part for financial reasons, and could be flipped before the Aug. 1 Trade Deadline if teams are interested.
That would require improved offensive numbers, of course.
"I've liked what's happened so far this year, as far as pitch selection and everything," Hill said. "It's just a matter of time, hopefully, getting the work in with our [coaches]. Keeping it simple. I know I've barreled the ball up a few times and just been unfortunate. You can't guide it."
Adam McCalvy is a reporter for MLB.com. Follow him on Twitter @AdamMcCalvy, like him on Facebook and listen to his podcast. This story was not subject to the approval of Major League Baseball or its clubs.