MLB.com Columnist
Barry M. Bloom
Girardi's patience waning as Yanks struggle
Several areas exposed in loss to A's at Yankee Stadium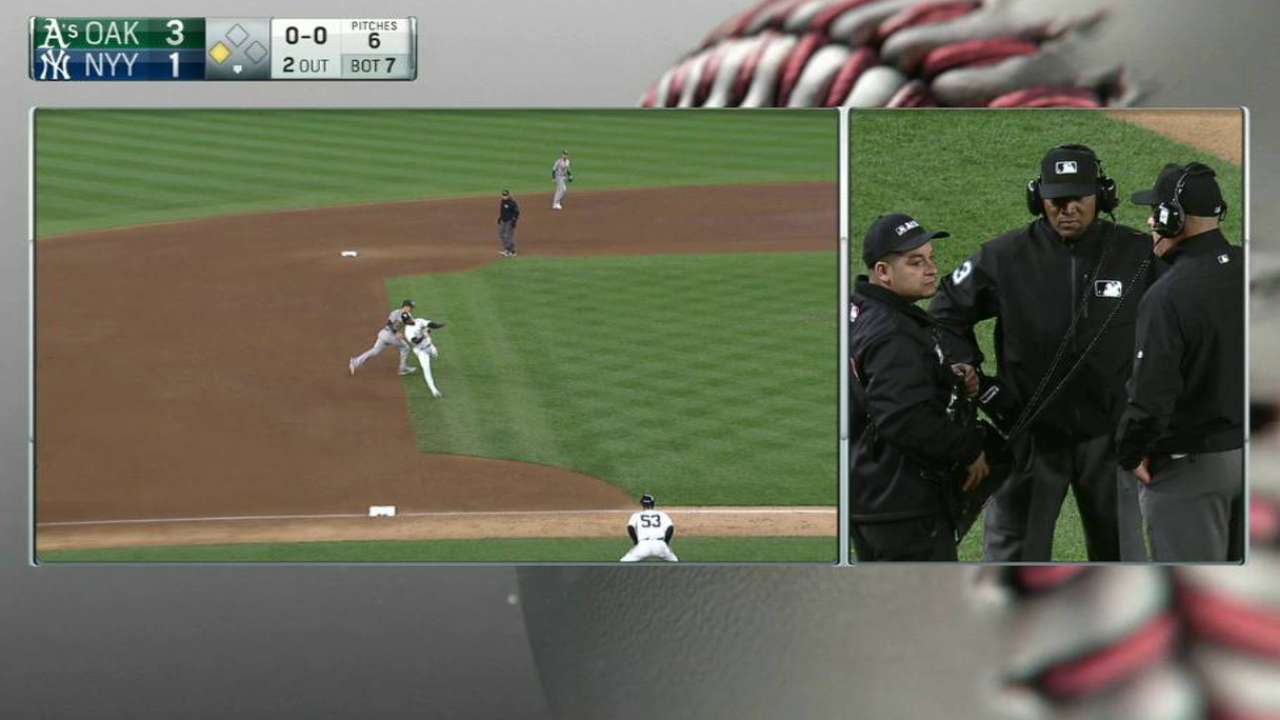 NEW YORK -- It's still just 13 games into a new baseball season, and this too will pass for the stumbling Yankees, who have lost two games in a row and six of their last seven.
But after a 5-2 loss to the A's at Yankee Stadium on Wednesday night when his club had problems in almost every area, manager Joe Girardi was more frustrated than usual in his postgame remarks.
How frustrated was he?
"Well, I think you can read my face," Girardi said.
Knowing the team and its temperament, how surprised is he by the way it's playing right now?
"I'm surprised," Girardi said. "There's too much experience in that room. I am somewhat surprised."
Girardi is usually pretty tempered in his remarks about players, but he was not happy with Didi Gregorius, who cost the Yankees a run and a chance of coming back in what was then a 3-1 game with a baserunning gaffe in the seventh inning.
"That was bad baserunning," Girardi said. "You've got to understand what your run means. You can't run into an out. It turns into a double play and we don't get any runs. It's a bad read."
Then there was the relative ineffectiveness of starter Nathan Eovaldi, who allowed three runs on five hits in the fourth inning sandwiched around an error by Gregorius, who simply dropped the ball on the pivot taking a throw at second base from Chase Headley.
Headley, playing shortstop on the shift, bobbled a grounder hit by Jed Lowrie, starting the comedy of errors on that particular play.
"He left some pitches up," Girardi said about Eovaldi, now 0-2 with a 6.11 ERA in his three starts. "He battled through it, but I didn't think his stuff was as sharp as his last outing."
Three plays earlier, catcher Brian McCann couldn't handle Aaron Hicks' throw to the plate, allowing Chris Coghlan to score on a Josh Reddick single.
"That was a tough play, a bang-bang short hop," Girardi said.
Of course, there's the Yanks' anemic offense, particularly with runners in scoring position. Add Wednesday night's 0-for-4 effort and they are batting .189 (21-for-111) in that category, 27th in the Majors.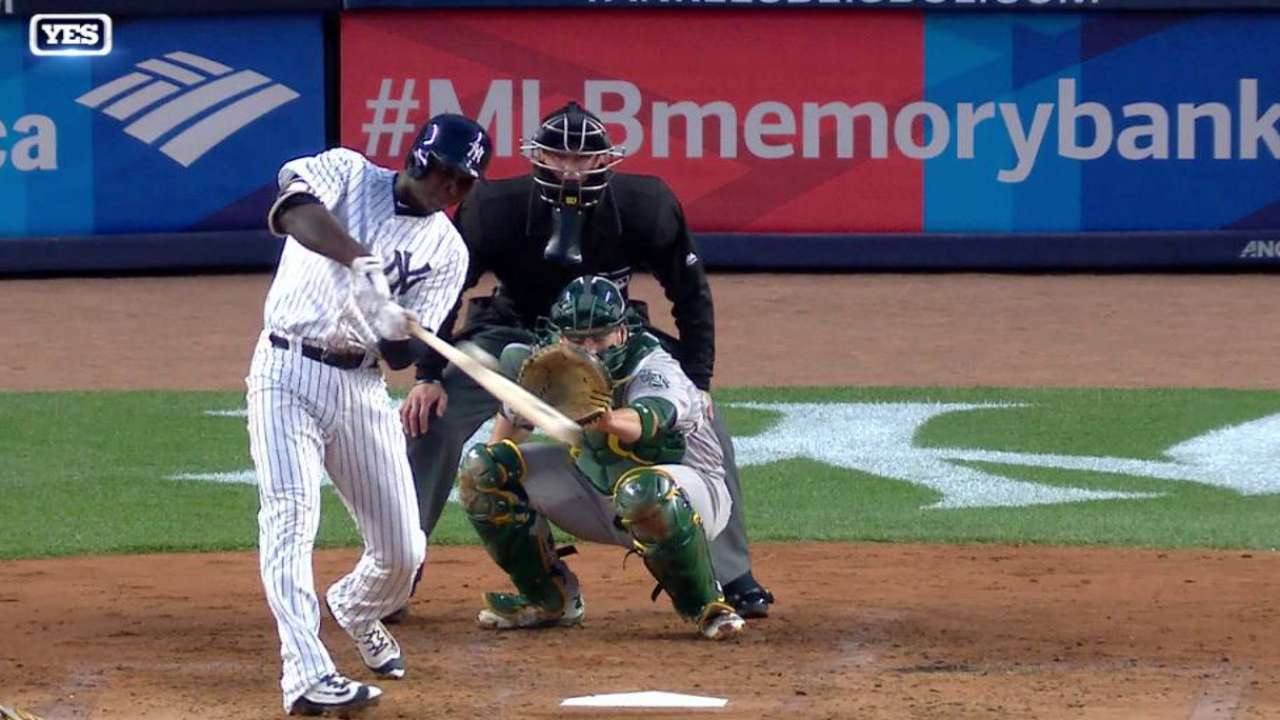 "The bottom line is we're not scoring runs," Girardi said. "I don't have any specific answers for you. It's tough to win games when you're not scoring runs."
Girardi was asked if the team's problem scoring runs is now carrying over to other areas.
"I think we have enough experience that it shouldn't carry over. If it does, I'm disappointed," Girardi said. "Your offense can't carry to your defense, and your defense can't carry to your offense. You have to learn to separate them.
"You know, right now we're not scoring runs, so everything looks bad. Everything is magnified when you don't score runs. But you have to find a way to do it. You have to find a way to score runs and keep tacking on."
The Yankees' baserunning, in particular, has been an area of concern during the opening weeks of the season. They are not aggressive, rarely going from first to third on a base hit, even to right field. Running on contact and scoring with two outs is also a lost art.
"I wouldn't say we have world track athletes that are paid to run 100-meter sprints in the middle of our order," Girardi said.
The Yanks, though, are batting .243 as a team and have scored just 53 runs, 17th in the Majors and nearly 40 runs behind the Cardinals, who lead with 91. Their two runs on Wednesday night were tallied on solo homers hit by Gregorius and Carlos Beltran.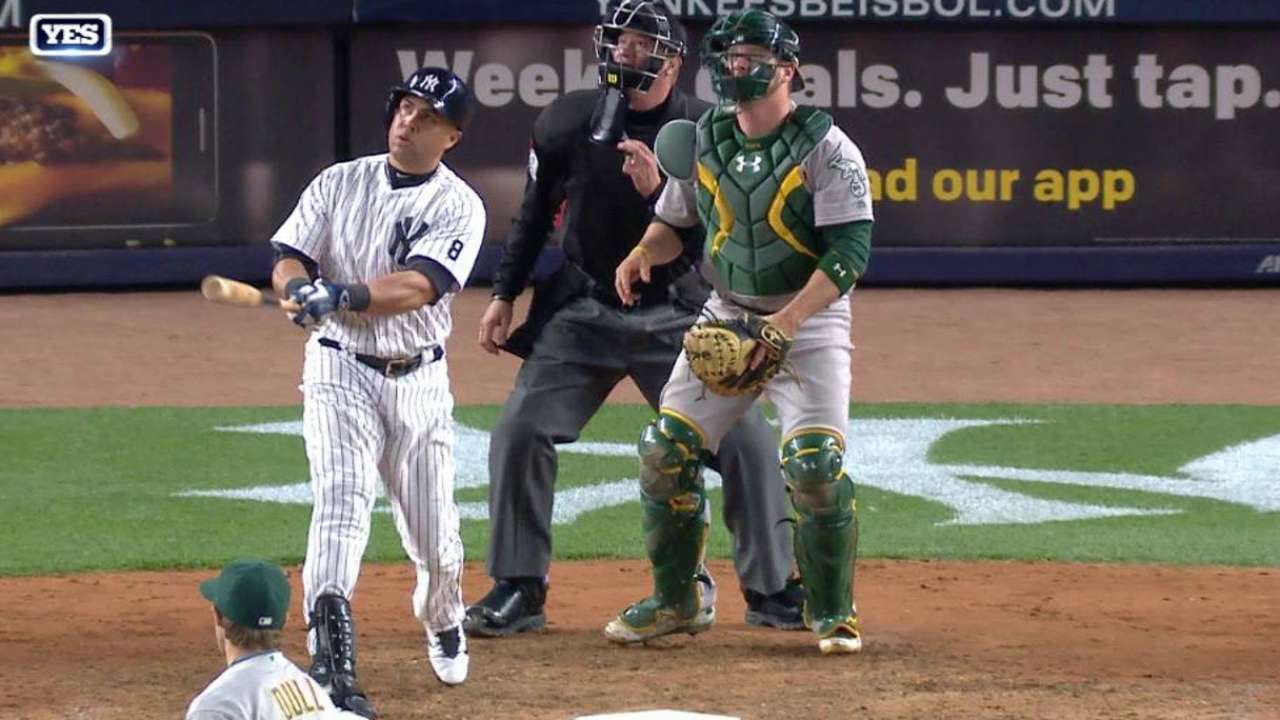 Thus, they need to find a way of generating more runs.
But when Gregorius tried to move forward 90 feet on that key play to end the seventh, he ran into an out and a double play. Gregorius was at second and Headley was at third when Hicks hit a grounder that was snared by Coghlan at third base.
Headley appeared to score, but Coghlan tagged Gregorius as he sped to third and barely tossed out Hicks at first. Girardi challenged the call, but the replay sustained that Coghlan brushed Gregorius on the tag.
The attempt by Gregorius was fine in concept, but not in practice.
"You have to run through plays in your head and understand what your run means," Girardi said. "If the ball is hit to third or short, 'I don't have to go.' The infield is back. Let the run score. You have to do that on a daily basis whether you're playing offense, defense or running the bases. You've got to know what you've got to do."
Was it simply inexperience?
"I don't know, I don't know," Girardi said. "That's a blunder we have to take care of."
There's plenty of time to take care of all that, and losing fortunes in baseball can certainly turn quickly into a winning streak. But it's obvious that the the patience right now of the usually implacable manager is beginning to run a tad thin.
Barry M. Bloom is a national reporter for MLB.com and writes an MLBlog, Boomskie on Baseball. Follow @boomskie on Twitter. This story was not subject to the approval of Major League Baseball or its clubs.