Cain's stamina not a concern for Giants
Right-hander has allowed 11 runs this season, all in 5th inning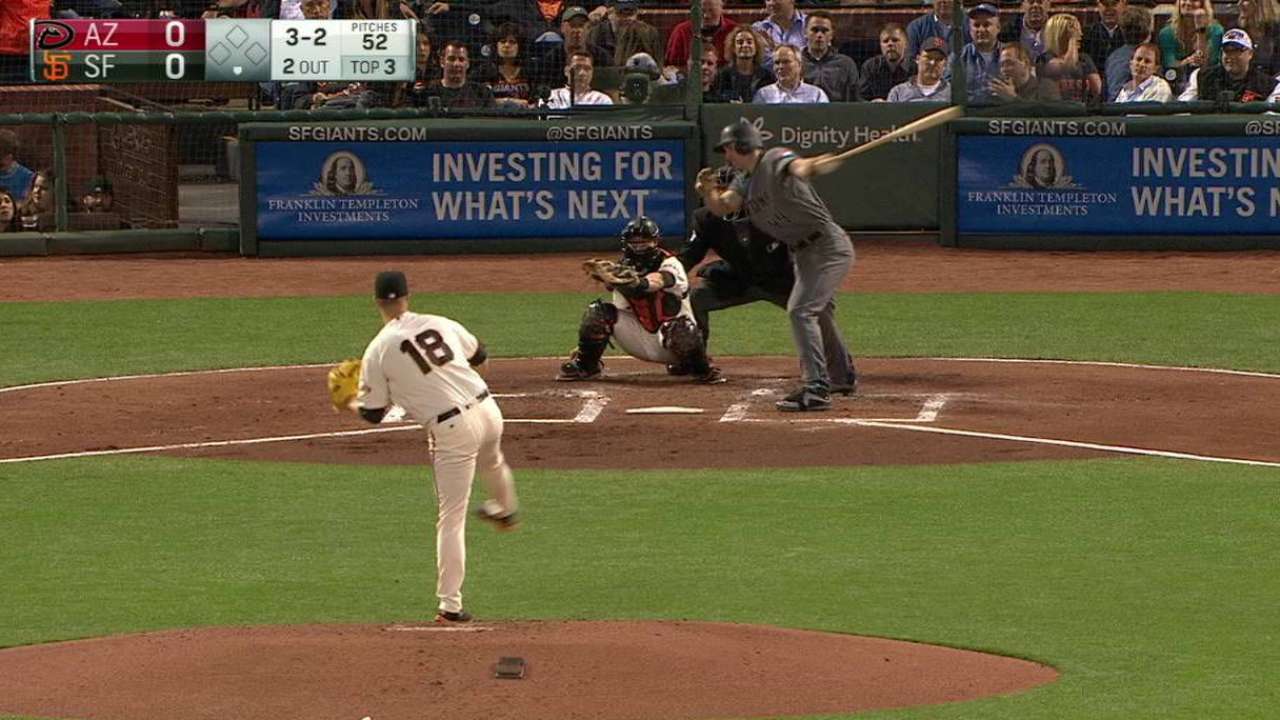 SAN FRANCISCO -- One day after right-hander Matt Cain failed to make it past the fifth inning for a third consecutive start, Giants manager Bruce Bochy reiterated his confidence in the veteran pitcher.
Cain was knocked around for three runs in Tuesday's 3-0 loss to the Arizona Diamondbacks, all of them in the fifth. That came after the three-time All-Star had held the D-backs hitless through the first four innings.
It came on the heels of Cain's previous start in Colorado on April 13 when he was tagged for six runs, all in the fifth. In fact, all 11 runs that Cain has given up this season have come in the fifth inning.
Bochy, though, doesn't see any reason to hit the panic button. The San Francisco skipper points to the work Cain has done before the fifth innings -- 12 innings, no runs, three hits allowed with eight strikeouts and five walks.
"There are so many encouraging things on how he is throwing the ball," Bochy said. "The stuff itself, the delivery ... we see a remarkable difference from where he was last year and how he's throwing the ball."
Cain missed the start of Spring Training while recovering from surgery to remove a cyst from his pitching elbow. As a result he logged just 11 2/3 innings during the Cactus League, leading to speculation that fatigue could be a factor in Cain's fifth-inning meltdowns.
Following his loss to Arizona on Tuesday night, Cain denied his conditioning is the problem. He blamed it instead on his inability to throw the pitches correctly.
"I just didn't manage the inning right," Cain said. "I think we had the right idea of what we wanted to do. I just didn't execute some of the right pitches."
Cain is just 20-26 since pitching his perfect game against the Houston Astros on June 13, 2012. He's spent considerable time on the disabled list each of the past three years and has a 6.46 ERA this season.
Bochy says he has no plans to make a change in the Giants rotation and believes Cain is getting closer to getting to full strength.
"He's got to get over the hump here a little bit in the pitch-count area," Bochy said. "I'm encouraged with what I've seen from him."
Mike Wagaman is a contributor to MLB.com. This story was not subject to the approval of Major League Baseball or its clubs.