Walker's play starting to match high expectations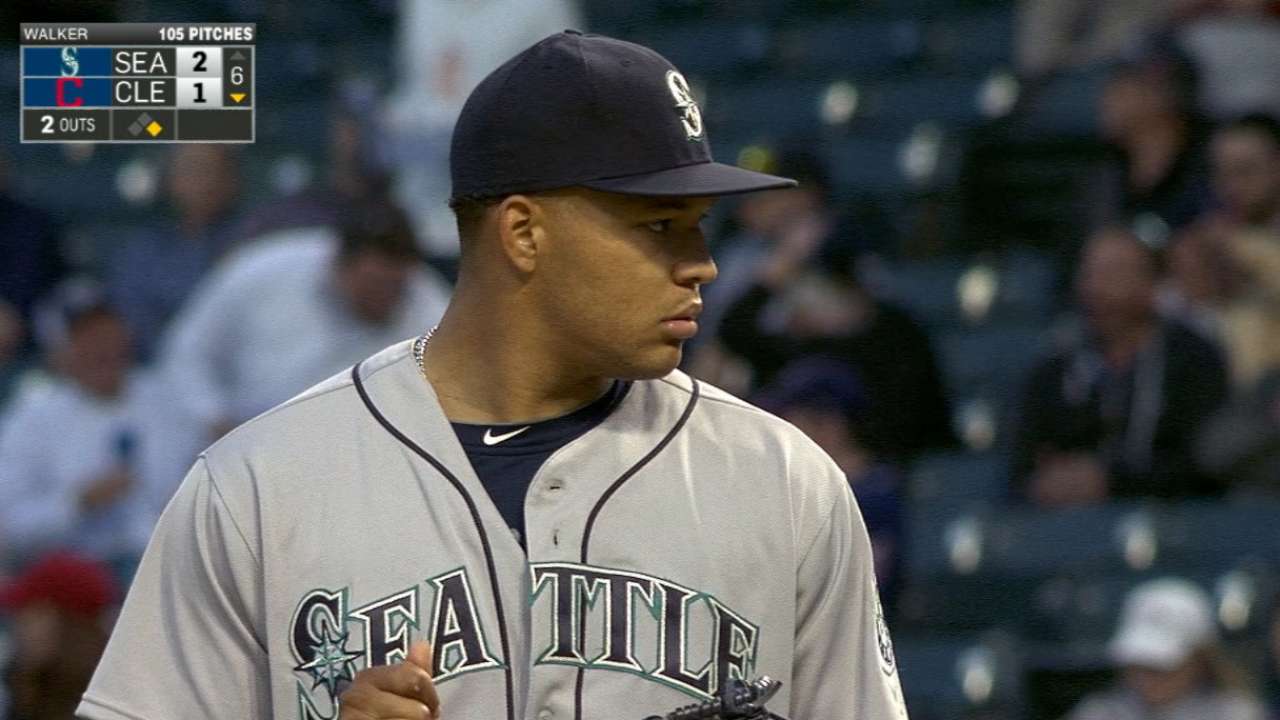 CLEVELAND -- This is the Taijuan Walker the baseball world has seemingly been waiting on for the past few years. The breakout candidate with the high upside and high heat, firing six innings with no earned runs in picking up his first victory of 2016 in Wednesday's 2-1 victory over the Indians.
Walker hooked up in a pitchers' duel with Indians standout right-hander Danny Salazar and came out on the winning side, as he gave up just three hits with no walks and six strikeouts before turning things over to his bullpen after 110 pitches.
"You are starting to see it," Mariners manager Scott Servais said after the 23-year-old improved to 1-0 with a 1.50 ERA in his first three starts. "Guys get into scoring position, he bears down a little bit more. You see a little bit crisper stuff. He's getting an understanding. He's getting comfortable, and obviously the confidence continues to grow. It's great to see a young guy with that kind of talent."
Salazar was outstanding as well, surrendering only a two-run triple to Norichika Aoki in the second inning in a three-hit outing over seven frames. But Walker pitched even better on this night, as he continues emerging as one of the American League's brightest young right-handers.
Since his slow start in the first nine outings of 2015, Walker has been a strong part of the Mariners' rotation. In his last 23 starts, he's 11-3 with a 3.36 ERA and 124 strikeouts with just 19 walks in 132 2/3 innings, and he seems ready to take it to a new level this year.
"Yeah, I feel good," Walker said of his first three outings of the new campaign. "I think it kind of starts from last year where I was just being aggressive and attacking early, just having a confidence and taking it to this year. Being able to be aggressive and really locate my fastball I think is the biggest thing."
Walker also has begun mixing in an effective curveball and changeup to keep hitters off balance. But he seemed to be cranking up his velocity more in his third start, and kept it throughout, finishing off Mike Napoli with a wicked 95-mph heater on the outside of the plate in the sixth inning.
He said he still felt strong even after reaching a career-high 110 pitches.
"I had my good velo early and kind of just had it throughout the whole game," Walker said. "That was probably the biggest thing, just starting off aggressive early and just going right after them."
"We talked about it a little bit," Servais said. "To kind of elevate your game and be one of the elite, he doesn't always have to come out and pinpoint it. Sometimes you just have to let it rip. He was certainly letting it go tonight."
But even when Walker is firing bullets, he's maintained his control. He didn't walk a batter in this one and has issued just two free passes in 18 innings on the season.
"It's impressive," Servais said. "I think it speaks to the type of athlete he is. He has the ability to make adjustments and manipulate the ball when he needs to get it into the strike zone and in a good spot in the strike zone."
"He doesn't look that young when he's on the mound," said Mariners veteran reliever Joaquin Benoit, who is 15 years older than Walker. "He is really poised and works fast."
"Tai deserved to win the ballgame," said Steve Cishek, who closed out the ninth for the save. "He was outstanding today and had great command of all his pitches. He's a gamer, and it was evident today."
The Indians' lone run was an unearned tally in the third after Jose Ramirez rifled a ball down the line that first baseman Adam Lind missed on his backhand attempt, putting runners on second and third. Jason Kipnis then drove in the run with a sacrifice fly, but that was the only damage done on the night.
Greg Johns is a reporter for MLB.com. Follow him on Twitter @GregJohnsMLB and listen to his podcast. This story was not subject to the approval of Major League Baseball or its clubs.