Pomeranz's hook has elevated his game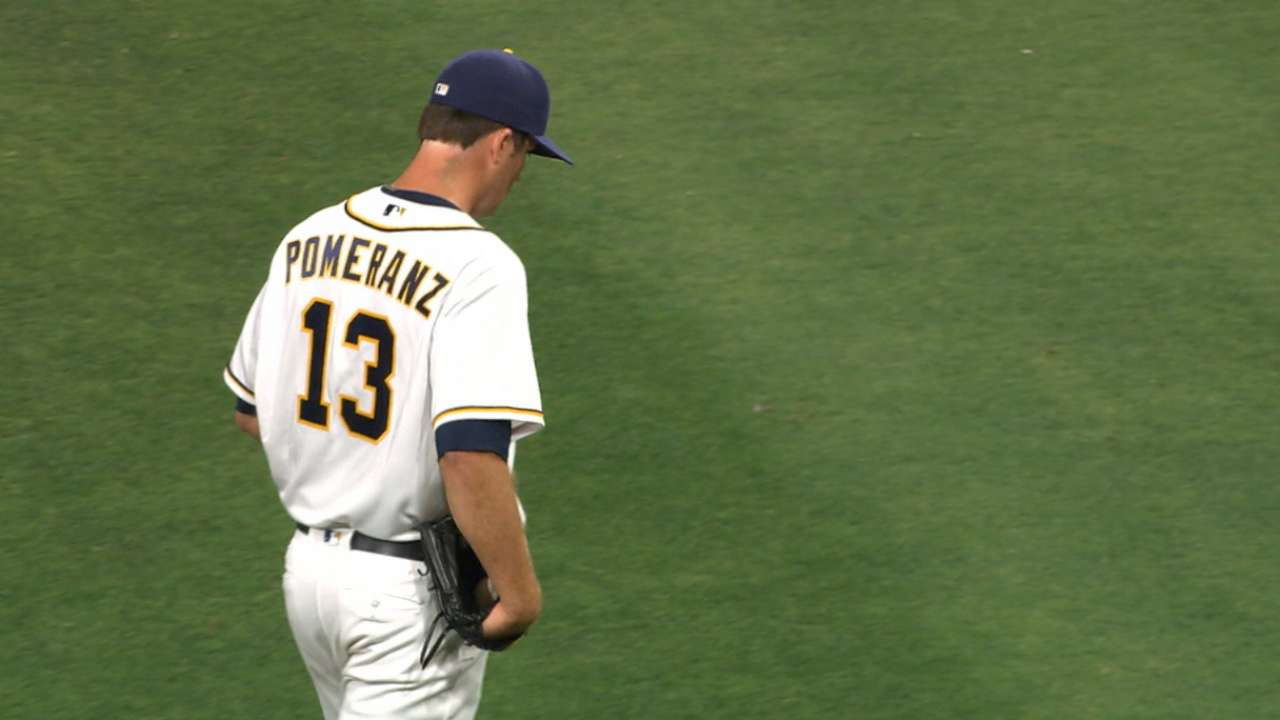 SAN DIEGO -- When the Padres acquired Drew Pomeranz in an offseason trade with Oakland, they envisioned the former reliever returning to the rotation and using his curveball to cement his position there.
In other words, they envisioned Wednesday night.
Pomeranz struck out a career-high 10 hitters, as the Padres cruised past the Pirates, 8-2. In what may have been his finest big league start, Pomeranz allowed only an unearned run -- which scored after he left the game with two outs in the seventh.
The biggest reason for Pomeranz's dominance on Wednesday? That filthy curveball of his, which he used to polish off eight of his 10 strikeouts.
"I threw a lot of them," Pomeranz said. "I was attacking them with it early on. They kept missing it, so I just kept throwing it."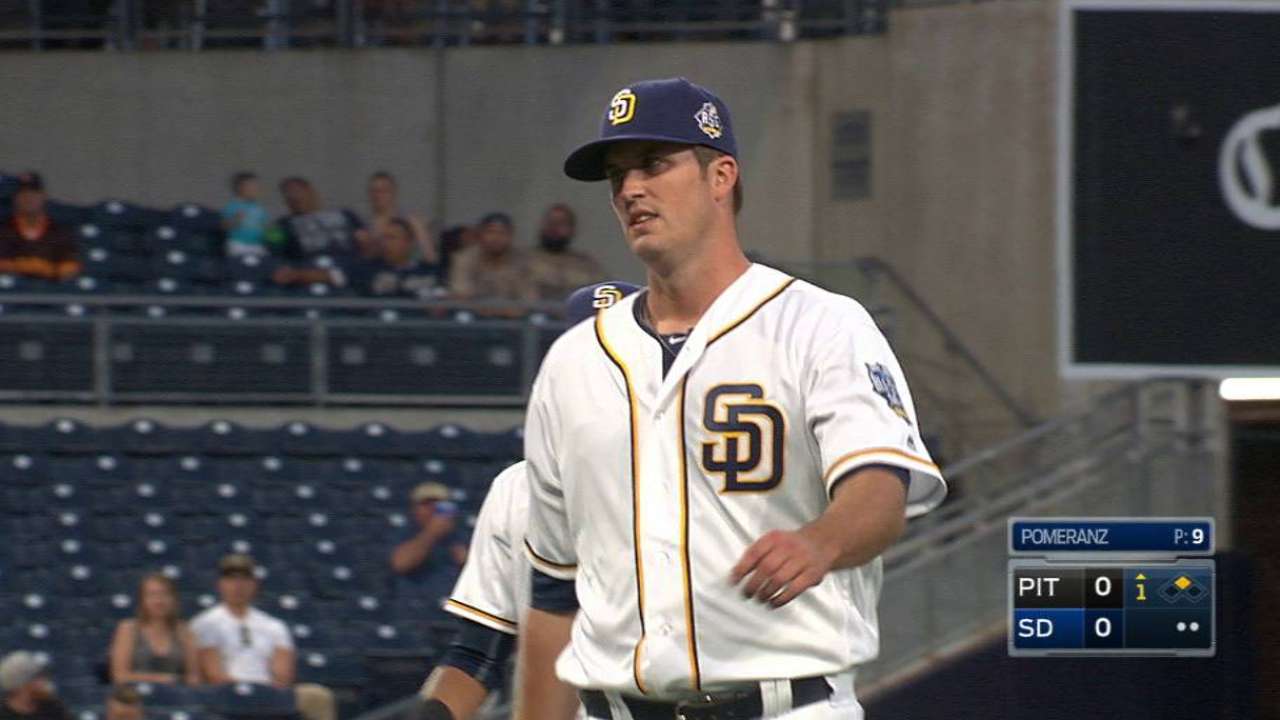 Pomeranz wasn't ready to look big-picture, saying he preferred to stay in the present. But the numbers back up the notion that he's as dominant on the mound now as he's ever been.
In five previous seasons, Pomeranz only recorded one game with at least eight strikeouts. He has now done so twice in a row, and opponents are hitting only .180 against him this season.
"His curveball is as good as a left-handed curveball there is in the game right now," said Padres skipper Andy Green. "It's playing very well. Ten punchouts were the product of that curveball."
The Padres made a point of asking Pomeranz to throw his hook more than he did in three seasons as a starter with Colorado -- when he used the pitch less than 17 percent of the time.
Pomeranz's outing on Wednesday made it easy to see why they would make such a request.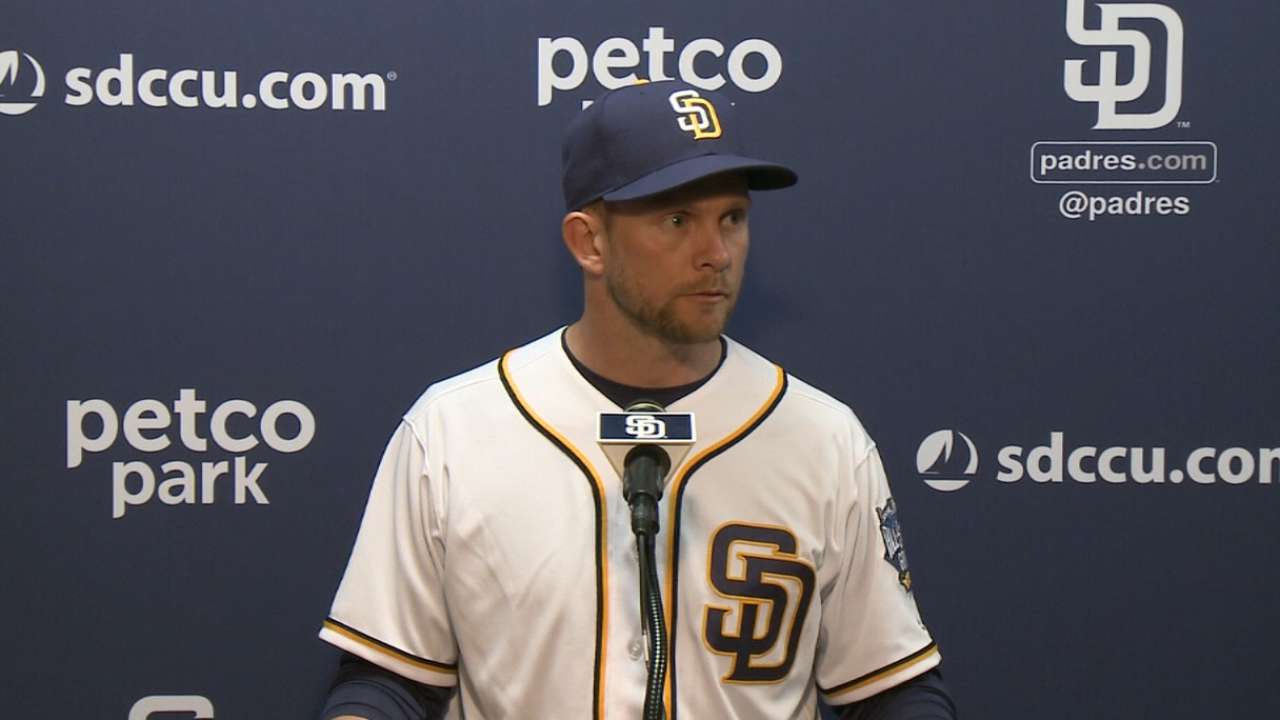 "He was on his game, and he had his good stuff, especially his curveball," said Pirates shortstop Jordy Mercer. "That was the pitch of the night."
The curveball is Pomeranz's biggest weapon, and when he combines it with his mid-90s fastball, it can be a devastating mix. But Pomeranz also added a cutter in the offseason and has put in significant work on his changeup -- and he didn't forget about those pitches either on Wednesday.
"I didn't throw the other two a lot, but I threw them when I needed them, and they were good," Pomeranz said. "That's about as much purpose as they can serve."
Pomeranz has been arguably the Padres' best pitcher on the young season -- a season in which he entered camp seemingly ticketed for a bullpen role after two solid seasons as a reliever in Oakland.
When Green and the Padres made the decision to hand him one of the final rotation spots, did they envision a these results?
"We were hopeful," Green said. "From the very beginning, when we acquired him, starting him was like an end-game goal for us. [We were] hoping that we could get to this point where he rose up and took it. And that's what he did."
AJ Cassavell is a reporter for MLB.com. Follow him on Twitter @ajcassavell. This story was not subject to the approval of Major League Baseball or its clubs.