McCutchen not worried about RISP struggles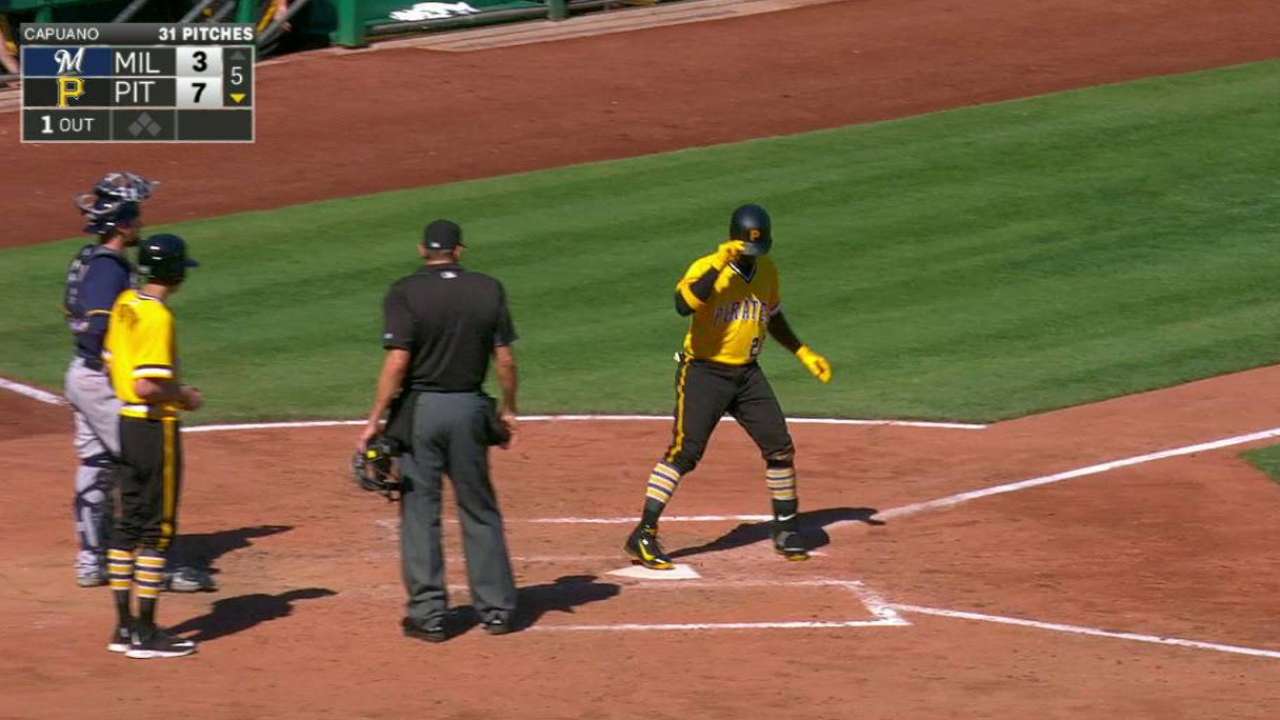 SAN DIEGO -- A year ago, Andrew McCutchen was better than ever in the biggest moments. The Pirates' star center fielder hit .361 with runners in scoring position last season, a personal best and the Majors' fifth-highest mark.
That success hasn't carried over in the first two weeks of the season, as McCutchen entered Wednesday's game 1-for-17 with one RBI with runners in scoring position. McCutchen has overcome slow starts before, and he's not worried about his numbers in April.
"It's the game. You're going to have off days, on days, good at-bats, bad at-bats. I'm not assessing it too much," McCutchen said. "Just taking it at-bat by at-bat. ... I'm going to go out, keep doing what I've been doing, keep working and all those at-bats will come together."
As a team, the Pirates have had more plate appearances (201) with men in scoring position than any other team. Their .235 average in those situations ranks 18th in the Majors, and they've grounded into a league-leading 11 double plays in those scoring opportunities.
McCutchen has drawn a team-high seven walks with runners in scoring position, which signals that teams simply may not be giving him much to hit in a run-scoring opportunity.
"He's going up there trying to get something done," manager Clint Hurdle said. "We're reminding our team as well as the individuals that we're just one swing away from breaking the game open with a single. Hard contact, just keep it simple, hit the ball where it's pitched. That's what we continue to encourage him with and everyone else in the lineup."
In a 5-4 loss to the Padres at Petco Park on Tuesday night, the Pirates went 3-for-15 with runners in scoring position and left 10 men on base.
Who's on first?
Catcher Francisco Cervelli made his first start at first base since 2014 on Wednesday night. Hurdle hinted Tuesday that Cervelli could start against a left-handed pitcher, and the Pirates finally faced one in Drew Pomeranz.
Chris Stewart started behind the plate, catching lefty Jeff Locke. Sean Rodriguez, a first-base option, started in right field in place of Gregory Polanco. The Bucs' bench consisted of four left-handed hitters: Polanco, John Jaso, Matt Joyce and Cole Figueroa.
The Pirates on Wednesday became the last team in the Majors to face a left-handed starting pitcher. They will see two more -- Patrick Corbin and Robbie Ray -- this weekend in Arizona.
A familiar feeling
On Tuesday night, the Pirates walked 10 batters, and despite the baseball cliche that walks will come back to haunt you, none of them scored. After the game, Hurdle openly wondered about the last time that happened.
As it turns out, not that long ago -- even for the Pirates. On Sept. 28, the Bucs walked 10 times but got shut out, 3-0, by the Cardinals at PNC Park.
Adam Berry is a reporter for MLB.com. Follow him on Twitter at @adamdberry. This story was not subject to the approval of Major League Baseball or its clubs.