Beltre-Andrus staredown all in good fun
Veteran third baseman caught scolding shortstop after homer that wasn't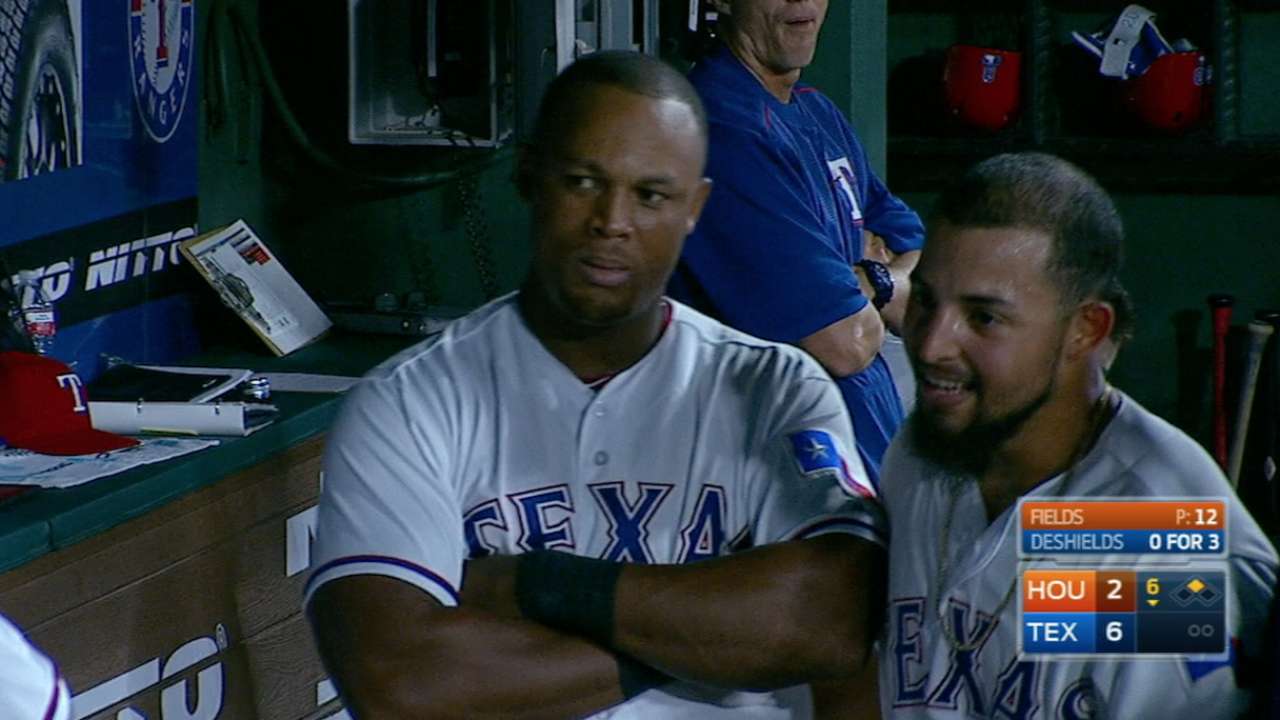 ARLINGTON -- The Rangers have never had a problem with the effort that shortstop Elvis Andrus gives on a baseball field.
But Andrus thought he had a home run in the sixth inning of Tuesday's 7-5 victory over the Astros, so he trotted out of the batter's box rather than go full speed. The ball ended up hitting off the wall, and Andrus had to race to second base to get a double.
It wasn't a big deal, except veteran third baseman Adrian Beltre was caught on camera first scolding Andrus, then staring him down in the dugout. It made for some great theater.
"I got it good off the bat for sure," Andrus said on Wednesday. "The spot was pretty good, too, down in the corner. I thought it was out until the last moment, and then I had to run hard to get to second base. I'm glad I got to second base. If I don't get to second base, I've got a problem."
As for Beltre ...
"He always gives me that look," Andrus said. "It happened once last year, but the ball actually went out. The chemistry in the clubhouse ... We like to have fun."
So if Beltre did it ...
"When he hits it, it goes 400 feet, and it goes out," Andrus said. "He doesn't have that problem."
Manager Jeff Banister just wants his players running hard out of the batter's box.
"Adrian and Elvis have a terrific relationship," Banister said. "We've seen that look before. Somehow it got captured last night. That's Adrian."
Fielder has strange splits: Prince Fielder went into Wednesday's game tied for second in the American League in RBIs, with 13 over the Rangers' first 14 games. He's amassed them despite hitting .173.
The explanation is simple. Fielder was hitting .313 with runners in scoring position going into Wednesday's action and was 0-for-17 with nobody on base.
"Nobody on base ... I would rather have to fix that problem than with runners in scoring position," Fielder said.
"It's a hitter being unselfish, and his ability to put the ball in play," Banister said. "He knows what his team needs. Prince know how to drive in runs. The average will go up. This is a good hitter."
Rangers beat
• Shawn Tolleson's save on Tuesday night was only the second in club history in which the reliever allowed a run but did not allow a hit. Jeff Russell had such a save on Aug. 4, 1989.
• Right-hander Dillon Tate, the No. 4 overall pick in the 2015 Draft, has been placed on the disabled list at Class A Hickory with tightness in his right hamstring.
• Yu Darvish, recovering from Tommy John surgery, is scheduled to throw 50 pitches in batting practice on Thursday. If all goes well, he will begin a rehab assignment on Tuesday with Double-A Frisco, with the goal of returning in mid-to-late May.
T.R. Sullivan is a reporter for MLB.com. Follow him on Twitter @Sullivan_Ranger and listen to his podcast. This story was not subject to the approval of Major League Baseball or its clubs.