Brewers bust out bats to topple Twins
MILWAUKEE -- Aaron Hill's first extra-base hit in a Brewers uniform was a go-ahead solo home run, and Chris Carter and Domingo Santana added insurance homers as Milwaukee broke out the bats for a 10-5 win over the Twins on Wednesday at Miller Park.
The Brewers set a season high for runs and hits as the teams traded big rallies in the late innings. The Brewers scored three times in the fifth inning for a 4-1 lead before the Twins tied the game in the sixth on home runs from Oswaldo Arcia and Eddie Rosario. The Brewers answered with Hill's home run leading off the bottom of the sixth against Twins reliever Ryan Pressly, then tacked on four runs in a seventh inning, highlighted by Carter's fourth home run.
"We just kept the pedal to the gas there at the end, and that was huge," said winning pitcher Jimmy Nelson.
Pressly had not been charged with a run in his first seven appearances this season, but was saddled with four earned runs and his first loss Wednesday. Nelson improved to 3-1 with the win, despite allowing season highs for runs (four, all earned) and hits (10).
The Brewers' Nos. 3-6 hitters (Ryan Braun, Jonathan Lucroy, Carter and Hill) each had multiple hits and combined to go 8-for-16 with six runs scored and seven RBIs.
"The loss is frustrating because we had chances and we battled and found a way to get it even with a few innings to play," Twins manager Paul Molitor said. "Sloppiness always concerns a manager when you don't execute. We know errors are part of the game, but you like to clean that up as best as you can."
MOMENTS THAT MATTERED
Great escape: Brewers manager Craig Counsell said before the game he'd have to be judicious in his use of Michael Blazek and Tyler Thornburg after each setup man made a multi-inning appearance Tuesday in Minneapolis, so it was up to newcomer Carlos Torres to relieve Nelson after Brian Dozier's check-swing double rolled over first base with two outs in the seventh inning. With first base open and the Brewers clinging to a 5-4 lead, Torres walked left-handed hitter Joe Mauer on four pitches, then walked right-handed hitter Miguel Sano on four pitches as well. That brought up Arcia with the bases loaded and Torres yet to throw a strike; Arcia struck out on three pitches.
"That was the big spot of the game, really," Counsell said. "You're going to be careful with Mauer in that situation. … I thought he made some close pitches to Sano that weren't called strikes, and then he made some great pitches to Arcia."
Arcia, Rosario go deep: After the Brewers took a three-run lead in the fifth, the Twins rallied back in a hurry thanks to homers from Arcia and Rosario in the sixth. Arcia's two-run blast went a projected 445 feet, per Statcast™, while Rosario tied the game with an opposite-field shot that went 382 feet.
"We hung in there and got a couple big home runs from Arcia and Rosario to get us back into the game," Molitor said. "But we just couldn't contain the second half of the game."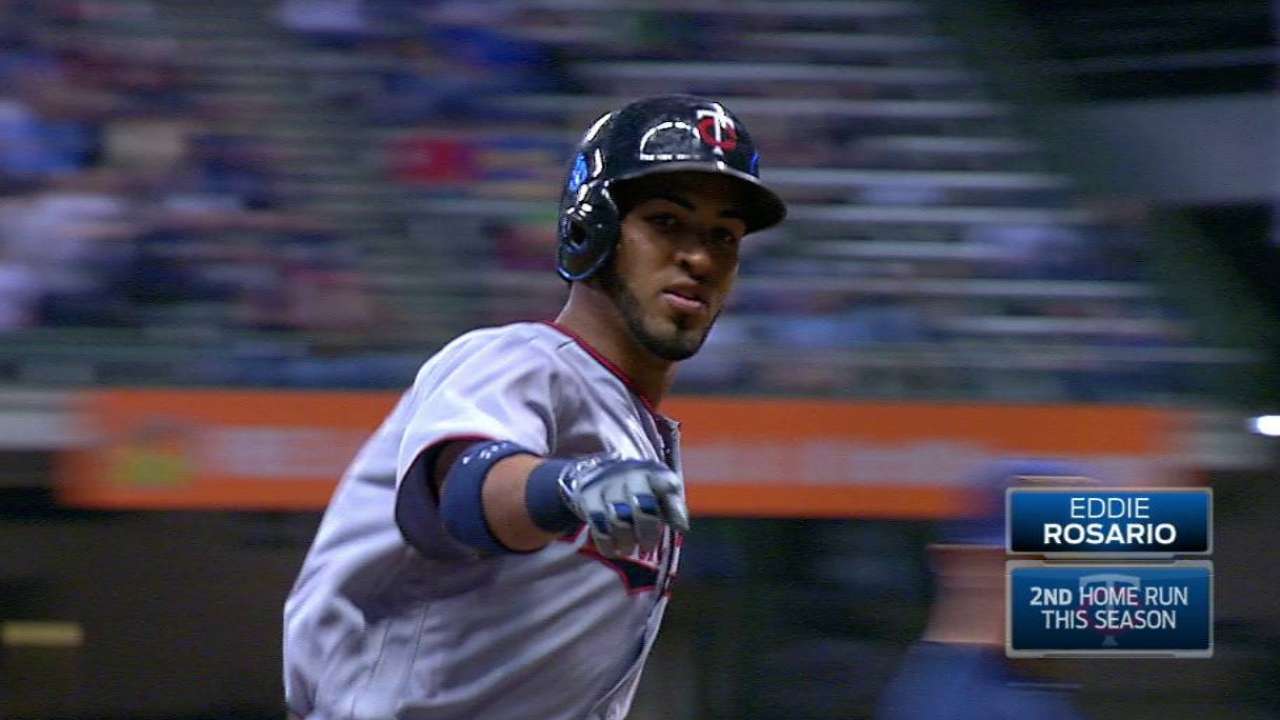 Patience pays off: Hill has been a positive force on defense and in a young Brewers clubhouse, but he hadn't done much at the plate with his new team before Wednesday. Hill's average slipped to .146 with loud outs in his first two at-bats -- a lineout to right field in the second inning and a sharp groundout right at the shortstop in the fourth, before he hit one where a Twins defender couldn't get it in the sixth.
"I've liked what's happened so far this year, as far as pitch selection and everything," Hill said. "It's just a matter of time." More >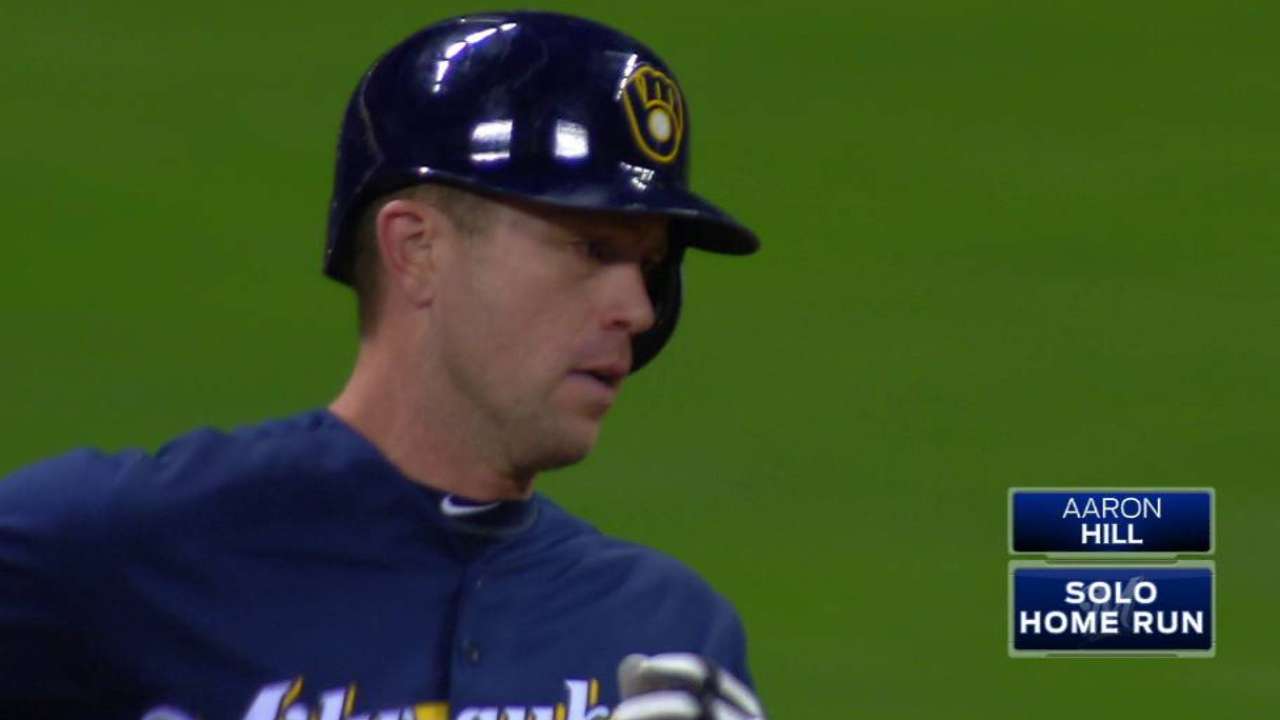 Arcia has tough day in left: Arcia has worked his way into the lineup because he's swinging a hot bat, and hit a two-run homer, but struggled defensively in left field. He bobbled a double in the gap from Carter in the fourth that allowed Braun to score. He also had a circuitous route on a two-run double to left from Lucroy with the bases loaded in the fifth. And he let a routine single from Lucroy get under his glove in the seventh, allowing Braun to score from first.
"The first one we were trying to keep Braun from getting too much of a running start by holding him on with a 3-2 count, and he went a long way to get to the ball, but didn't come up with it cleanly allowing the run to score," Molitor said. "And the next one, my guess is he was peeking to see if Braun was going to go first to third instead of watching the ball go in his glove." More >
SOUND SMART WITH YOUR FRIENDS
Nine of Carter's 12 hits this season have gone for extra bases, including five doubles and four home runs. Through 15 games, he's on a 54-double, 43-homer pace.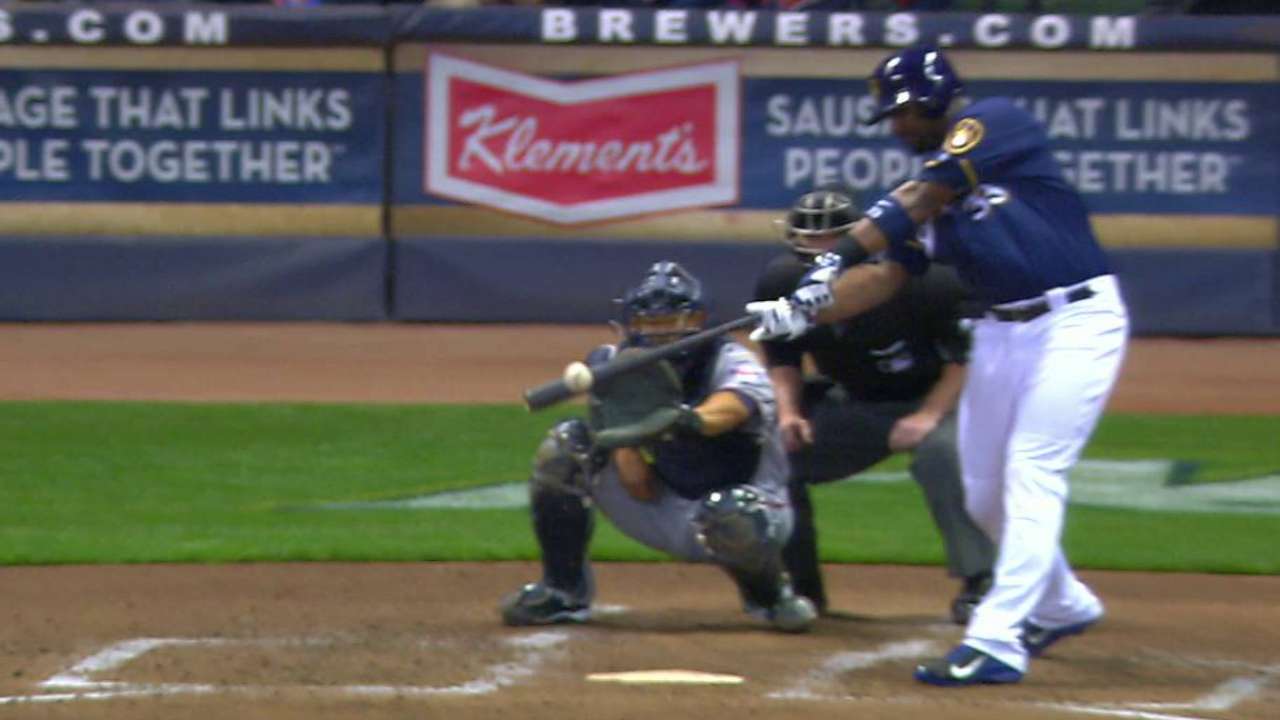 BREWERS MAKE ROSTER MOVE
Right-hander Tyler Cravy was optioned to Triple-A Colorado Springs after allowing a run on two hits in the ninth inning. The Brewers planned to make a corresponding move Thursday morning, and will promote a position player to return to a more standard seven-man bullpen and five-man bench.
WHAT'S NEXT
Twins: Right-hander Ricky Nolasco starts in the series finale and is looking for his first win despite two strong starts to open the season. Nolasco had a combined 5.64 ERA over the previous two seasons, but has a 3.21 ERA early this season.
Brewers: Taylor Jungmann hopes the Brewers saved some hits for Thursday, when the right-hander takes the mound in search of his first win of the season. Jungmann is 0-2 with a 9.00 ERA so far, and is 0-5 with a 9.34 ERA over his last eight starts dating to last season..
Watch every out-of-market regular-season game live on MLB.TV.
Rhett Bollinger is a reporter for MLB.com. Read his blog, Bollinger Beat and listen to his podcast. Adam McCalvy is a reporter for MLB.com. Like him on Facebook and listen to his podcast. This story was not subject to the approval of Major League Baseball or its clubs.