Leading man: Patient Herrera earns top spot
Phillies OF moved to leadoff position due to ability to draw walks, work pitches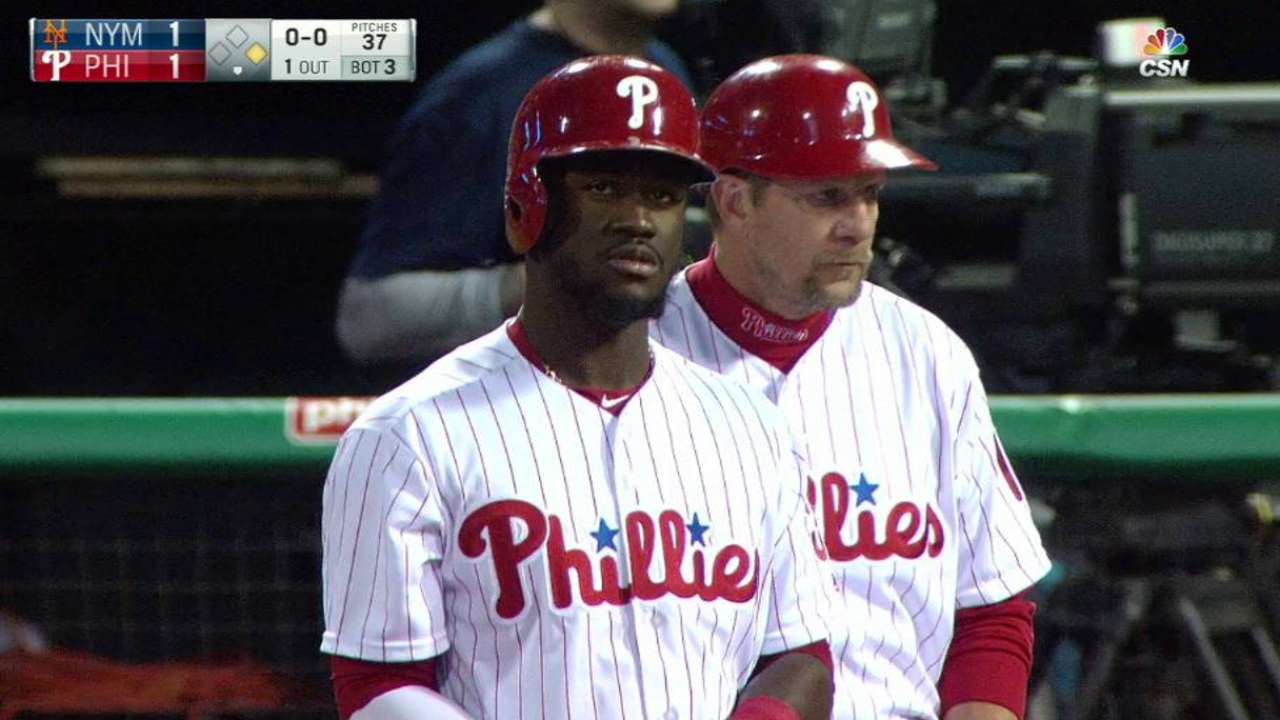 PHILADELPHIA -- Manager Pete Mackanin has insisted the Phillies need Odubel Herrera in the middle of their order because of the pop and hitting ability he provides.
"He's probably our best hitter right now," Mackanin said before Monday's game, in which Herrera hit second.
But he couldn't resist the urge to keep the hitter leading the National League in walks and pitches seen per plate appearance out of the leadoff spot for long.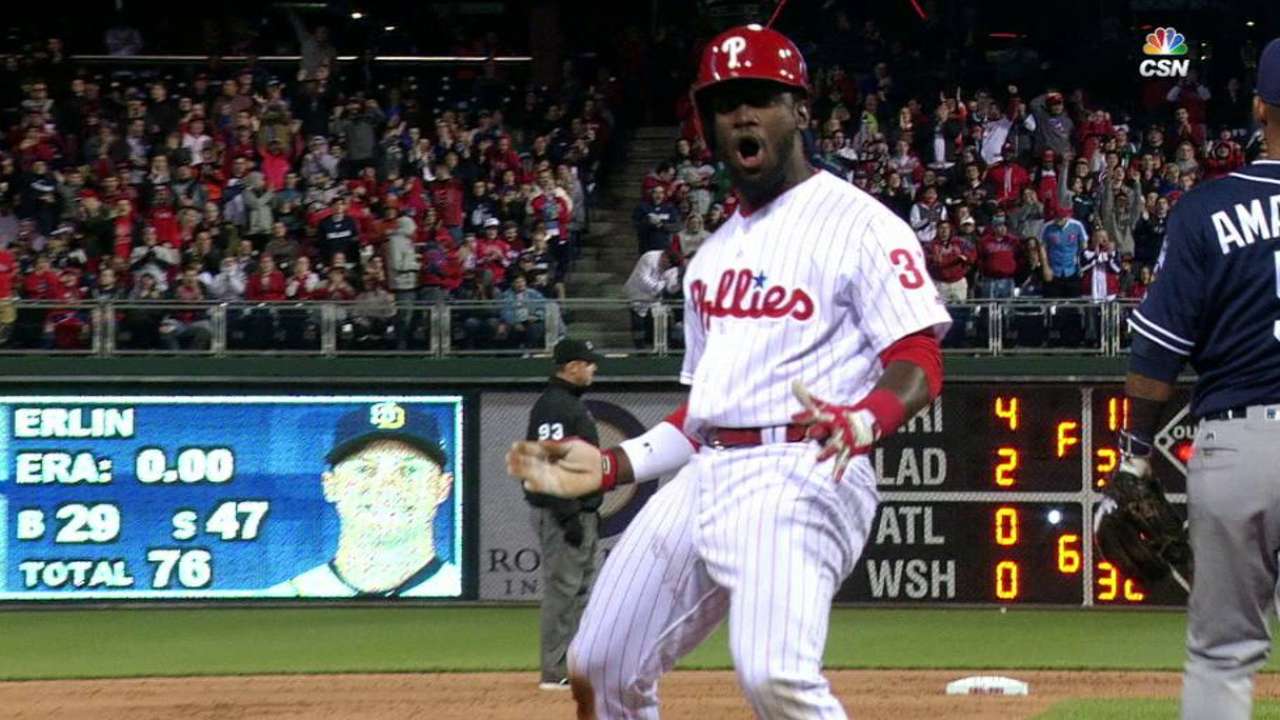 Mackanin had been clamoring to find a reliable leadoff hitter since the season started, experimenting with Freddy Galvis, Cesar Hernandez and Emmanuel Burriss there, as well as considering David Lough but deciding against it.
Finally, after drawing 14 walks in 15 games, including a streak of his last six (the longest for a Phillie since Michael Young in 2013), he found his name atop the lineup in Wednesday's 5-4, 11th-inning win over the Mets. He went 1-for-4 with another walk.
"I'm trying to be more patient each at-bat," Herrera said. "And that's giving me a lot of good results, so I'm going to keep trying to do it."
That success had led to him reaching base at the 14th-best clip in baseball, a .426 rate, heading into Wednesday's action. However, it took until No. 35 on the on-base percentage leaderboard to find a player with a worse batting average (which doesn't include walks) -- Mark Teixeira, who had a .385 OBP and .200 average, compared to Herrera's .426 and .255 marks.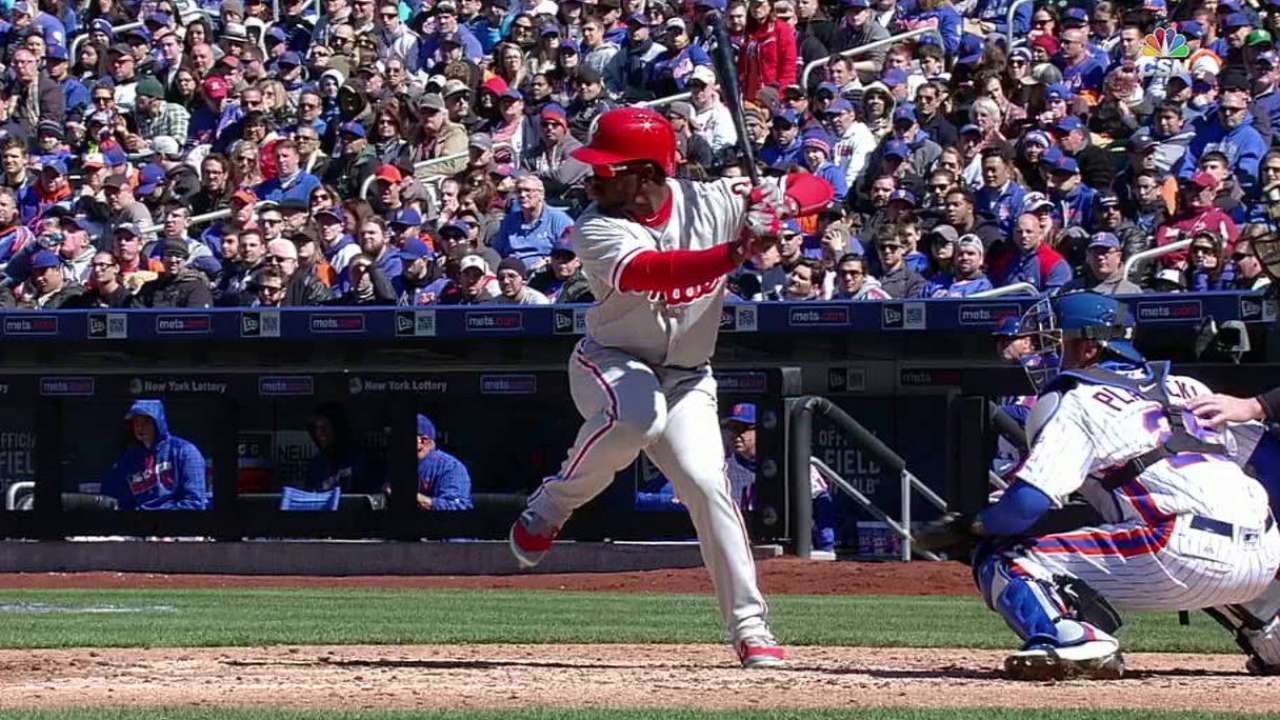 Because of Herrera's consistency reaching base near the top of the lineup, he also leads the Phillies in runs scored, with five. Having him on base gives players hitting behind him, like Ryan Howard and Maikel Franco, more chances to drive him home.
"That's what I'm looking for," Franco said. "Players get on base and in scoring position, you can drive them in. That's what you're looking for."
"If he's on base, things can kind of change," Howard added. "If there's runners on first and second or second and third, or just if he's on first, things can change, too."
Although the team appreciates his capacity for getting on base, the amount of pitches he sees in an at-bat could arguably be even more valuable -- especially to those hitting directly behind him.
Herrera's 5.13 pitches-per-plate-appearance led baseball. Mike Napoli was a distant second, averaging 4.89.
"I really want to establish myself in the MLB. I want to be respected," Herrera said. "I'm just seeing as many pitches as I can because I want to learn from those pitchers, too. I want to see what they're all about."
Howard and Franco agreed that being able to see more more pitches from the dugout or on-deck circle allows them to be more aggressive once they step into the box.
"A guy like Dubi will allow you to kind of see pitches," Howard said. "It helps you develop your plan a little bit more. ... If you're trying to see what this guy's slider's doing, how's his changeup, does it just float, does it sink, does it fade? Does he have a lot of bite on this pitch? What's he trying to do?"
It took Herrera until Aug. 14 to draw his 14th walk last season. By that time, he had struck out 82 times; Herrera's whiffed 16 times this season. He wasn't issued a single free pass in Spring Training. Herrera, however, said he hasn't made any drastic changes to his approach. But the team is taking notice.
"He's looking for pitches, and if he doesn't get it, then he's not swinging," Howard said. "He's definitely shown more patience and continues to mature as a hitter."
"It's a game of adjustments," Mackanin said. "Who's going to make the adjustments? Instead of making the same outs the same way ... you like to see players realize that, 'Hey, I see what they're trying to do to me, and I'm not going to swing at that pitch anymore.' That's the maturation process."
Evan Webeck is an associate reporter for MLB.com. This story was not subject to the approval of Major League Baseball or its clubs.