Dunn's absence felt in Marlins bullpen
Lefty remains on no-throw status with left forearm strain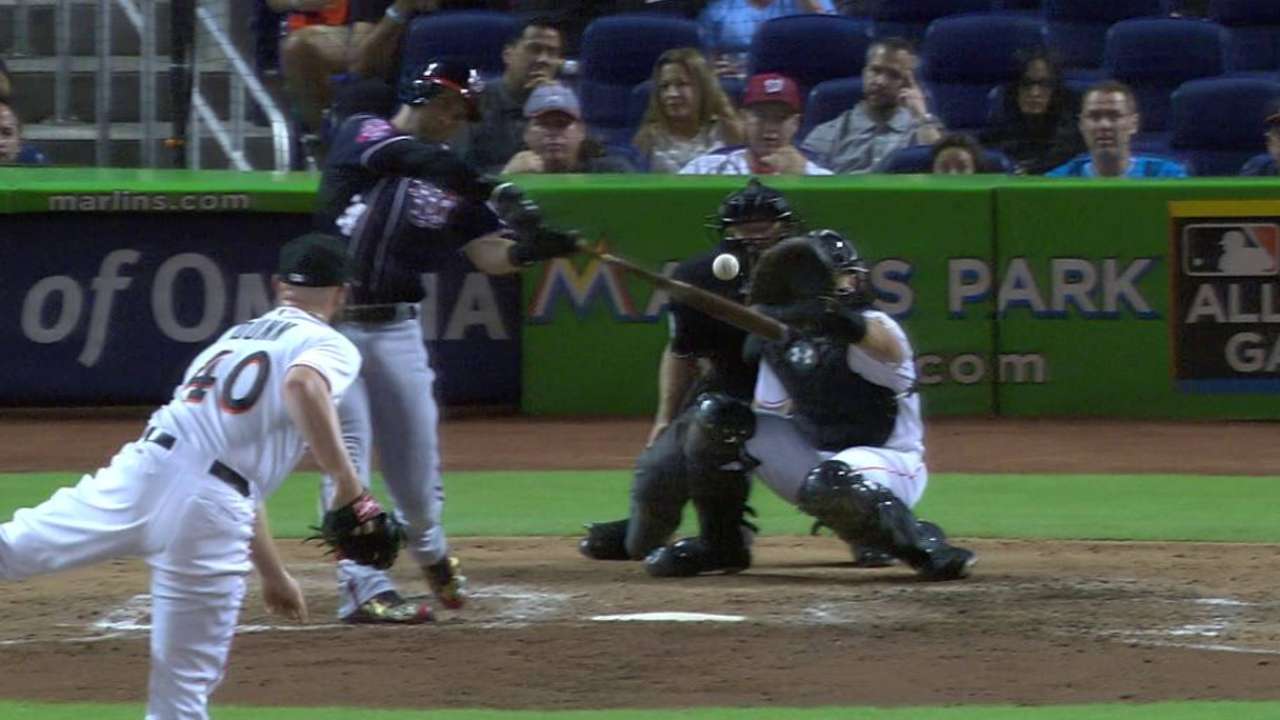 MIAMI -- The absence of Mike Dunn in the Marlins' bullpen is being felt. The hard-throwing reliever opened the season on the 15-day disabled list with a left forearm strain, and he is still on a no-throw status.
Without Dunn, Miami's bullpen doesn't have a power southpaw to challenge the likes of Nationals All-Star Bryce Harper, who belted a grand slam off lefty Chris Narveson in Tuesday's 7-0 loss at Marlins Park.
"Initially, it was two weeks," manager Don Mattingly said of Dunn's timeline to throw. "That period is a little closer. It's not there yet. Then, it's going to be a progression. It's going to be a little bit."
The encouraging news is Dunn says his arm is responding to treatment, and he's doing a variety of exercises -- like grip tests -- to gauge the strength of his throwing arm.
"Everything is feeling good," Dunn said. "We're doing more and more stuff to it every day. We're trying to make sure we're good and strong before we get going. We're doing total-body stuff, but [also] isolating the forearm itself and making sure everything is strong."
With Dunn out, Mattingly's two lefty options are Narveson and Craig Breslow.
Narveson, mostly a starter in his big league career, is primarily a long-relief option. But he has drawn the difficult assignment of facing Harper in the late innings twice this year. Both times, Harper has made him pay. He knocked a two-run double on April 10 at Nationals Park.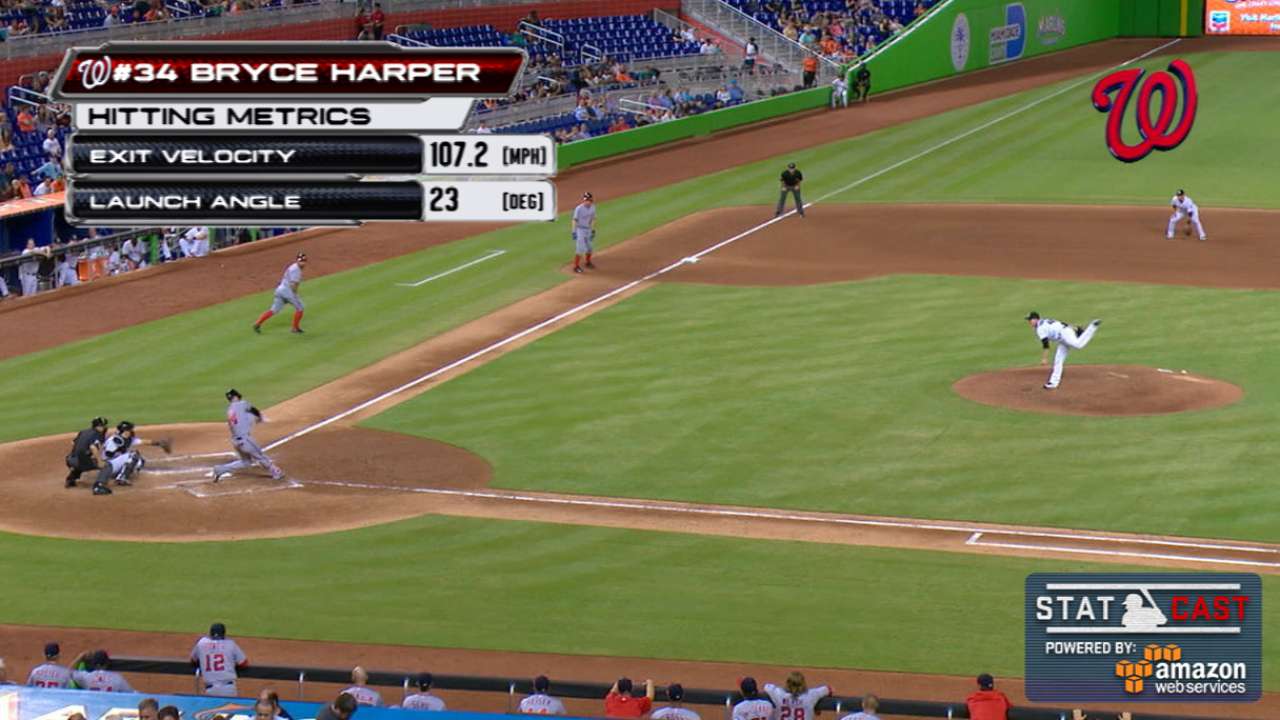 On Tuesday, the score was 2-0 before Harper connected on an 86-mph cutter for a grand slam. The fastest pitch he saw in the at-bat was an 89-mph fastball. Dunn is regularly clocked in the 94-96-mph range.
"It's different when you come in and you've got spikes on and you don't pitch," Dunn said. "But when you come in and know you've got zero chance of pitching, it's hard to watch the games."
Getting Harper at any time is difficult, but Tuesday's starter, lefty Adam Conley, struck him out twice. In the first inning, he got him with an 83-mph changeup. In the fourth, Conley fanned the reigning National League MVP Award winner on a 94-mph fastball.
"Obviously, you like some power with [Harper]," Mattingly said. "Adam was able to run some balls in there, at least get him aware and speed him up some. Maybe get him to chase. Our other lefties are a little different than that.
"You don't really replace Dunner unless you have that kind of guy out there."
The Marlins' bullpen is also without right-hander Carter Capps, who throws 100 mph. He underwent Tommy John surgery during Spring Training.
"Those are two really big pieces you think could be shortening the game, and it's innings we have to fill now and spots that we have to fill," Mattingly said. "That's where we're at."
Joe Frisaro is a reporter for MLB.com. He writes a blog, called The Fish Pond. Follow him on Twitter @JoeFrisaro and listen to his podcast. This story was not subject to the approval of Major League Baseball or its clubs.