Reds erase Rockies' tying run on appeal
Garneau called out for missing third while rounding on Raburn's hit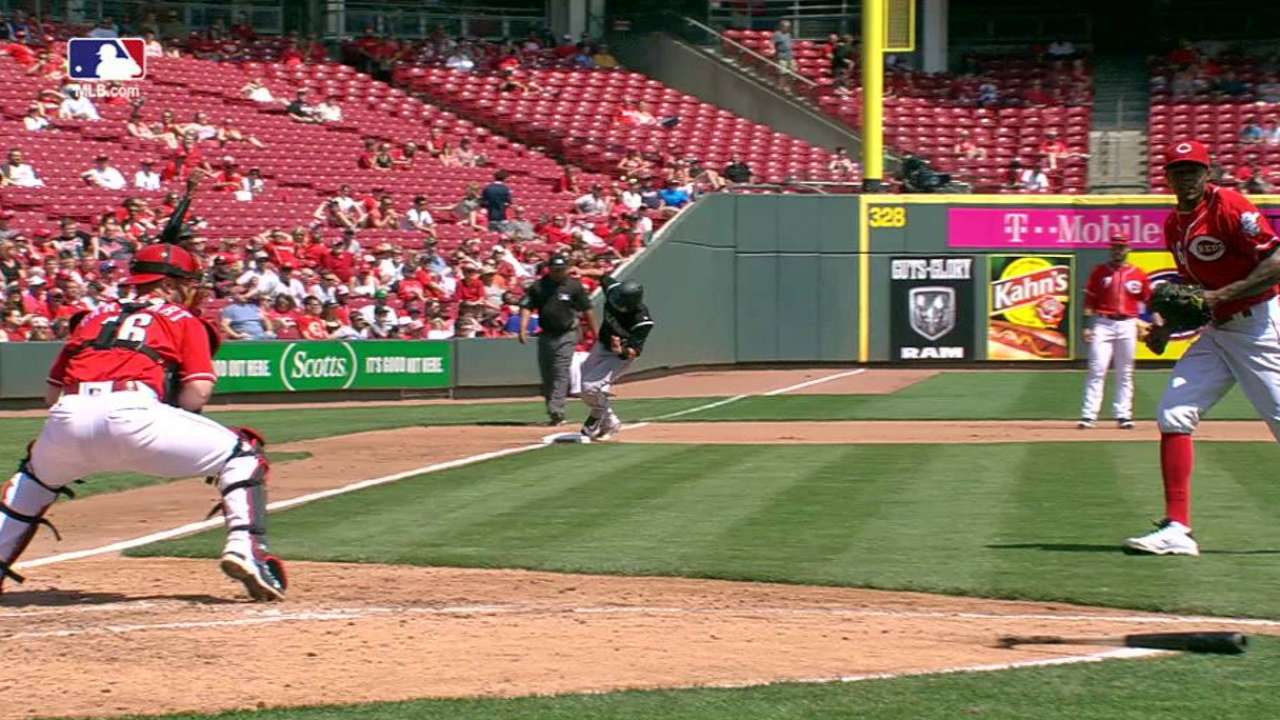 CINCINNATI -- Reds manager Bryan Price wasn't watching Dustin Garneau run when Rockies pinch-hitter Ryan Raburn hit what appeared to be a game-tying, two-out RBI single that scored him against Raisel Iglesias in the seventh inning. But fortunately for the Reds, third baseman Eugenio Suarez was.
Following the hit, Price went to remove Iglesias and summoned reliever Blake Wood. Wood made his requisite warmup pitches and when play resumed, tossed an appeal throw to third base and Garneau was called out, erasing what would have been the tying run in the Reds' eventual 6-5 walk-off win.
Suarez thought he saw Garneau not touch third base as he scored on Raburn's hit.
"I just watched him when he turned, he missed the base," Suarez said. "I talked to the umpire and asked him 'Do you think he missed the base?' I said, 'I think so.' Then I went to the mound and talked to Bryan Price."
During the pitching change after being informed by Suarez, Price spoke with home-plate umpire Gary Cederstrom.
"I said, 'Even though I brought in the new pitcher, I can make that appeal?'" Price said. "He goes 'Yeah, until another play is made, then you can no longer make the appeal.'"
Inside the Reds' clubhouse, video coordinator Rob Coughlin told bench coach Jim Riggleman that the replays were inconclusive.
"If we wanted to challenge it through video, we knew it wouldn't get overturned. But we could still do a standard appeal," Price said.
That proved big for the Reds. Once the appeal was successful, Rockies manager Walt Weiss argued the outcome and Weiss had to use a challenge for a replay review. It also put the onus on Colorado for conclusive video to exist that showed Garneau touch third base. The replay official deemed he could not definitively determine that the runner touched the base, and it was decided the call stands and the runner was out to end the inning.
Garneau insisted the replay ruling was incorrect.
"I didn't hit it solid, but I hit it, tripped over it and ran home," Garneau said. "I don't know what the guys saw back in wherever they're reading the play, but I know I hit the base."
Weiss said he didn't know for sure.
"I didn't see much," Weiss said. "I didn't get a look at the replay except for on the board up there. I couldn't tell if he hit it or not."
Under Rule 9.02 (c) (1), Wood was credited with the assist and the out on his ledger. Raburn was still given a hit on the play under Rule 9.05(b)(3), because even though the putout which retired the runner at third base was scored '1-5' on appeal, the original batted ball was fielded by an outfielder.
"Fortunately, we ended up coming up on the right side of that deal," Price said.
The Reds scored two runs in the bottom of the seventh to take the lead, but Colorado tied it in the eighth in what turned into a wild game before Cincinnati won it on Tucker Barnhart's walk-off hit in the ninth.
"It was a big run in the game," Garneau said. "I was very shocked. I mean, I hit the base, dragged my foot over it. I almost went down because of it. No doubts. I definitely hit it."
Mark Sheldon is a reporter for MLB.com. Read his blog, Mark My Word, follow him on Twitter @m_sheldon and Facebook and listen to his podcast. Thomas Harding is a reporter for MLB.com. Follow him on Twitter @harding_at_mlb, listen to podcasts and like his Facebook page. This story was not subject to the approval of Major League Baseball or its clubs.