Former starter Montgomery passes latest relief test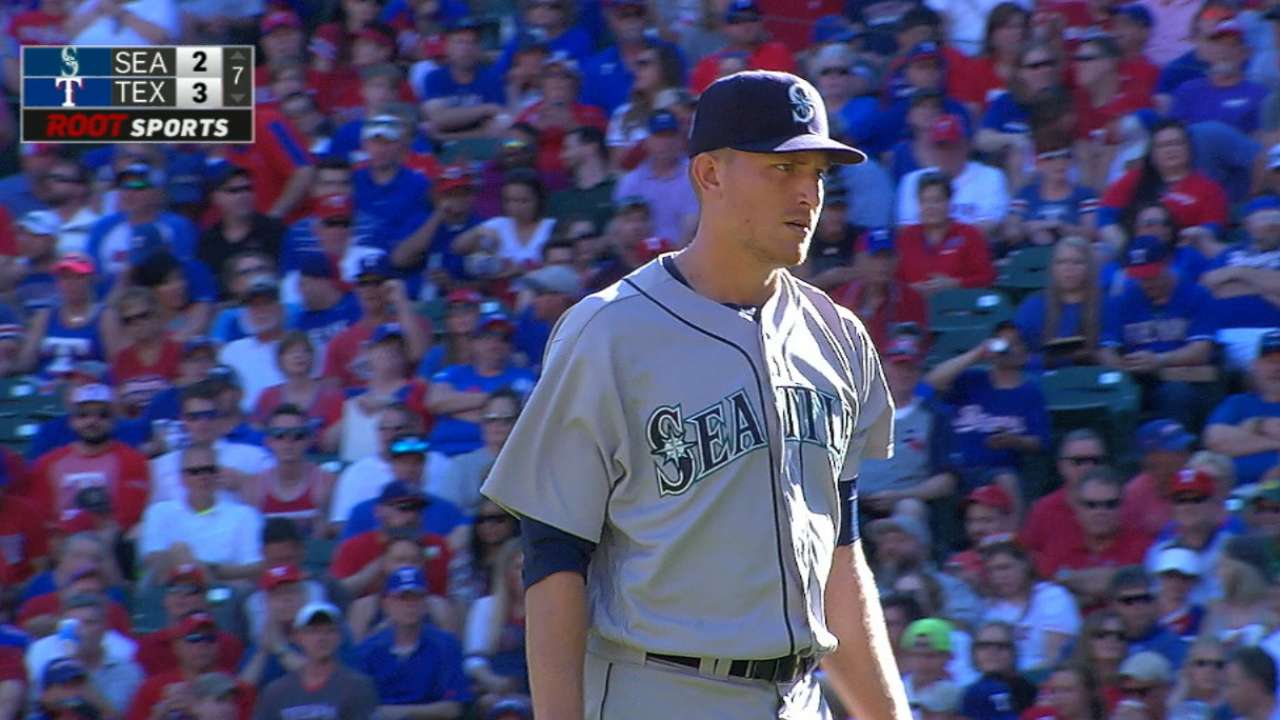 CLEVELAND -- The transition of Mike Montgomery from starter to left-handed reliever continues to look like a winner for the Mariners, as the 26-year-old passed his latest test with flying colors. Montgomery, who came to Spring Training appearing to be a man without a job, instead has taken on an important role for a bullpen that continues to impress.
Montgomery entered a bases-loaded scenario in the fourth inning of Tuesday's 3-2 loss to the Indians after starter Wade Miley had walked in two runs. The converted starter immediately retired Mike Napoli on a ground ball to get out of that jam, then retired eight straight batters before giving up a single and a walk at the end of his 2 2/3 scoreless innings.
"It was definitely a different situation for me," he said. "But I know in that spot, I've got to come in and come right at him. I kind of kept that mentality the whole way through. I knew I needed to eat up some innings for us, and I felt good and was able to get some grounds balls and stuff. It went pretty well."
"He threw the ball really well," manager Scott Servais said. "It was [a good test]. He's got to come in and make a pitch against a very good hitter. We needed to get out of it to have a chance in that game, and he did a good job there. I'm real happy with where Mike's at right now."
Montgomery is happy to be in any spot with the Mariners at this point, given he came to camp as the No. 7 starter and was out of Minor League options, so his future was in flux. When Charlie Furbush's shoulder issues landed him back on the disabled list, Montgomery loomed as a logical contender for a left-handed relief spot.
But the lanky Californian had been a starter throughout his entire pro career, so this was an experiment that needed time to play out. And while he had one bad outing when he gave up six hits and four runs in two frames against the Rangers, his other four relief outings so far in the regular season have resulted in 6 2/3 scoreless innings with just one hit, three walks and six strikeouts.
One of the remaining questions for Montgomery is how quickly he can bounce back in a relief role. His Texas troubles came on just one day's rest, otherwise he's had at least three days between appearances. Servais said the reliever definitely will need a break now after throwing 38 pitches Tuesday, but he feels Montgomery is adapting well.
"He's getting a routine on how to get loose and trying to anticipate when he's coming in the game and who's he going to face," Servais said. "There's all those mental things that go along with the physical. But he certainly looks the part. The stuff has ticked up as well."
Montgomery's fastball has been a couple mph faster this season. He says he was already feeling stronger this spring, even in a starting role after a rigorous offseason. But he acknowledges that throwing in shorter bursts allows him to let it loose, even when he throws multiple innings as he did Tuesday.
"I don't know if it really makes a difference coming in for one inning or a couple innings. I'm trying to have that mindset throughout," he said. "I think that's one of the things as I go forward, no matter what my role is going to be -- whether one batter or a couple innings -- it's just attack every pitch."
Worth noting
• Utility infielder Luis Sardinas got the start at shortstop on Wednesday in place of struggling Ketel Marte, who was hitting .186 after his first 12 games. Servais said Marte is working hard with hitting coach Edgar Martinez on his timing.
"He just really hasn't gotten in a good groove yet," Servais said. "We obviously saw it in Spring Training when he got going pretty good. He's not quite there consistently yet, but he's going to be fine. He's just a young player, getting off to a slow start, and it gives an opportunity for Sardinas to get in there today."
• Catcher Mike Zunino's 10-game hitting streak ended with an 0-for-4 day for Triple-A Tacoma on Wednesday that dropped his batting average to .412, but left-hander James Paxton threw six scoreless innings with three hits, no walks and three strikeouts in a 3-1 win at El Paso. Paxton is 1-2 with a 5.84 ERA in three starts.
Greg Johns is a reporter for MLB.com. Follow him on Twitter @GregJohnsMLB and listen to his podcast. This story was not subject to the approval of Major League Baseball or its clubs.