Barnhart saves game with arm, wins it with bat
Catcher picks off potential go-ahead run at third before walk-off hit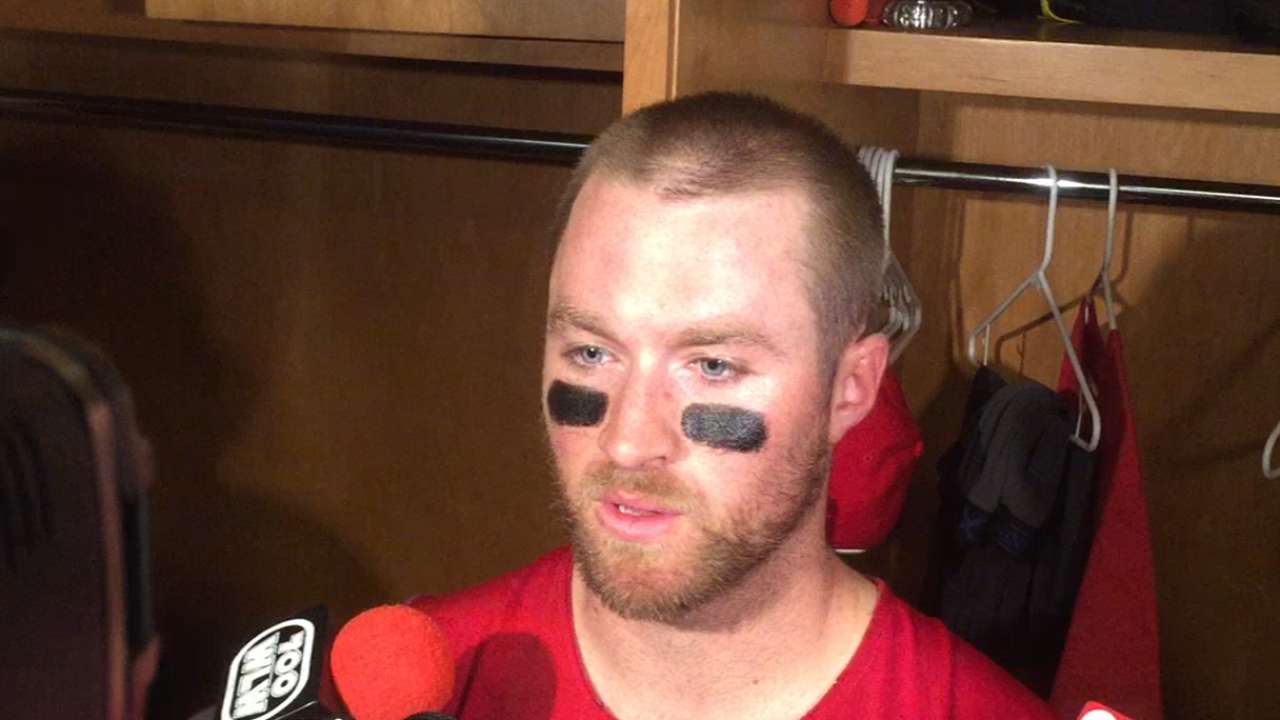 CINCINNATI -- When the Reds' bullpen couldn't hold down another game on Wednesday vs. the Rockies, it was backup catcher Tucker Barnhart who saved the bullpen.
Filling in as Devin Mesoraco got a day off, Barnhart gave the Reds a two-run lead with a two-out RBI double in the bottom of the seventh inning. Then, he acted quickly to prevent a wild pitch from scoring a go-ahead run for the Rockies in the top of the eighth inning. In the bottom of the ninth, with five infielders and one out, he hit the go-ahead RBI single for a 6-5 walk-off win by the Reds.
With a 5-3 Reds lead, Blake Wood and Tony Cingrani combined to allow three walks and two hits. Two runs scored to make it 5-5 with runners on second and third base when Cingrani fired a fastball to Dustin Garneau that whizzed past Barnhart. Fortunately for Cincinnati, the ball bounced hard off of the backstop right to Barnhart. He didn't hesitate to fire a throw to Eugenio Suarez at third base, where runner Mark Reynolds could not get back in time. Reynolds was the inning-ending third out, tagged standing up.
"That's just how we drew it up, I guess," Barnhart joked. "It's something that ended up being really a lucky play, honestly. It was a fastball on the ground. It's tough to make those plays. We got a lucky bounce and this one went our way today. We know that we have the signs behind the plate and that they do bounce back pretty quickly. I just turned my head to run back there and the ball was right on me."
Following singles by Brandon Phillips and Jay Bruce to begin the Reds' ninth, Colorado added a fifth infielder with one out and Barnhart batting against Christian Bergman.
The @Reds got their 3rd walkoff win of the season earlier, no other team has more than 1.

The Reds had 5 walkoff wins all of last year.

- ESPN Stats & Info (@ESPNStatsInfo) April 20, 2016
Barnhart didn't let the moment linger for drama. On the very first pitch, he sharply lined the game-winning hit into right field.
"As long as I get something in the outfield in that situation, it's a pretty good chance that Brandon is going to score," Barnhart said. "They brought five guys in, it obviously limits the ground balls going through. In that situation, I'm trying to get something in the air and in the outfield."
As Mesoraco has gotten off to a slow start, Barnhart has filled in well while batting .348/.423/.391.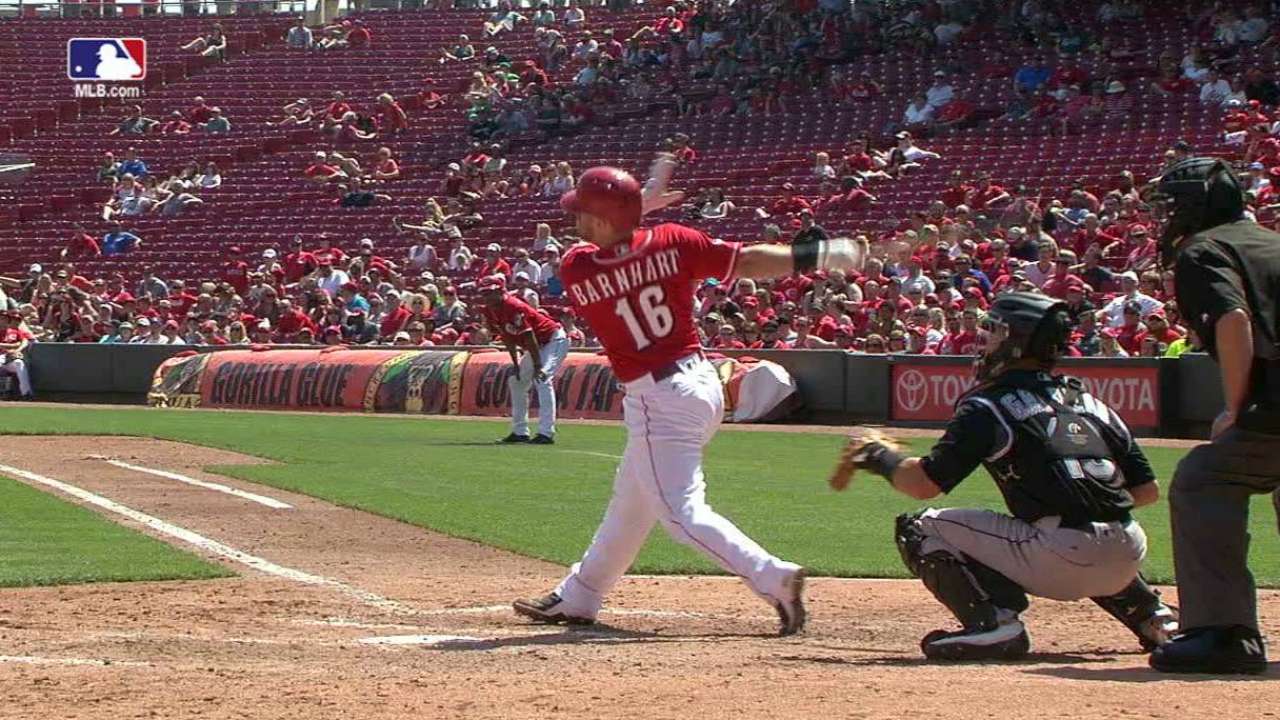 "It's nice to see Tucker," Reds manager Bryan Price said. "He's been kind of the unsung hero. Last year coming in and playing a lot. This year, picking up Devin when I don't have Devin in the lineup and doing a nice job handling the staff … He had to find some acreage outside the infield to find some open grass to drive in the winning run and he got it done. First pitch, it was really nice to see."
Mark Sheldon is a reporter for MLB.com. Read his blog, Mark My Word, follow him on Twitter @m_sheldon and Facebook and listen to his podcast. This story was not subject to the approval of Major League Baseball or its clubs.