Padres call up Weeks as Spangenberg hits DL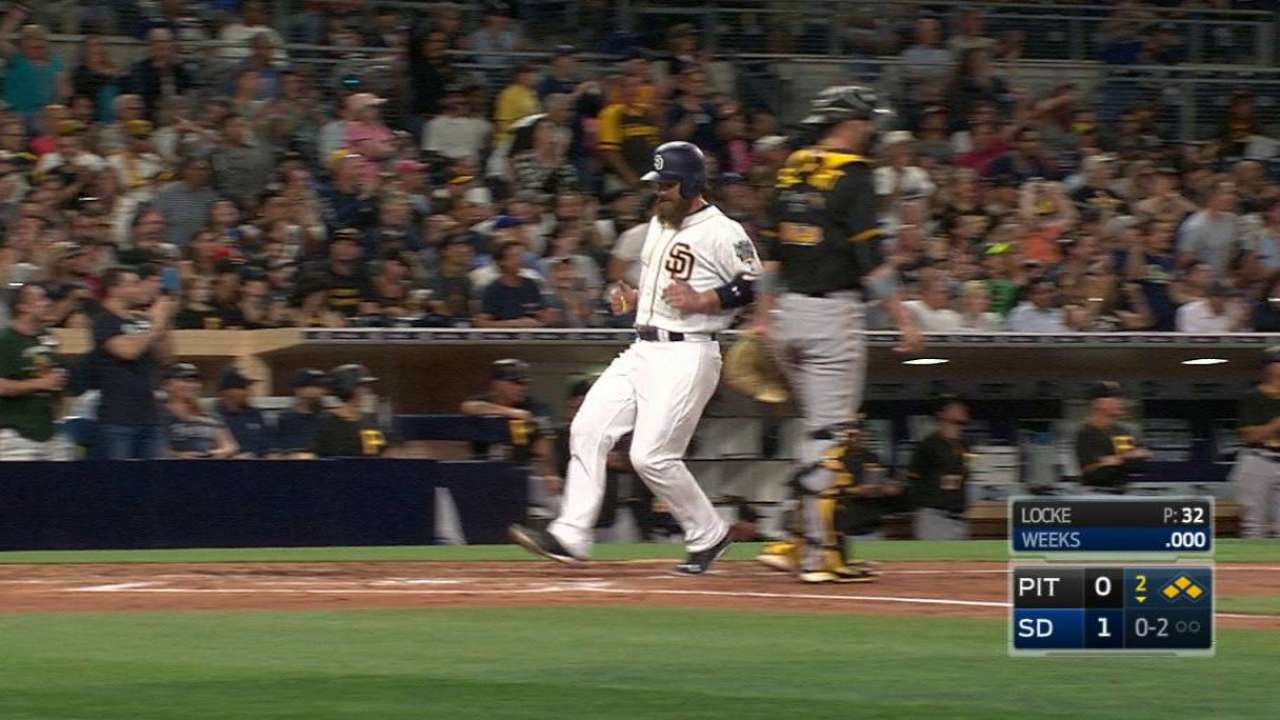 SAN DIEGO -- The Padres placed second baseman Cory Spangenberg on the 15-day disabled list Wednesday afternoon, a day after he strained his left quad while legging out an infield single.
The club also selected the contract of utility infielder Jemile Weeks from Triple-A El Paso, and he will take Spangenberg's place on the 25-man roster. Spangenberg, who was hitting .229 with a homer through 14 games this season, will undergo an MRI exam on Thursday.
"It's a little sore, but I don't think it's as sore as I thought it was going to be, so hopefully that's good news," said Spangenberg.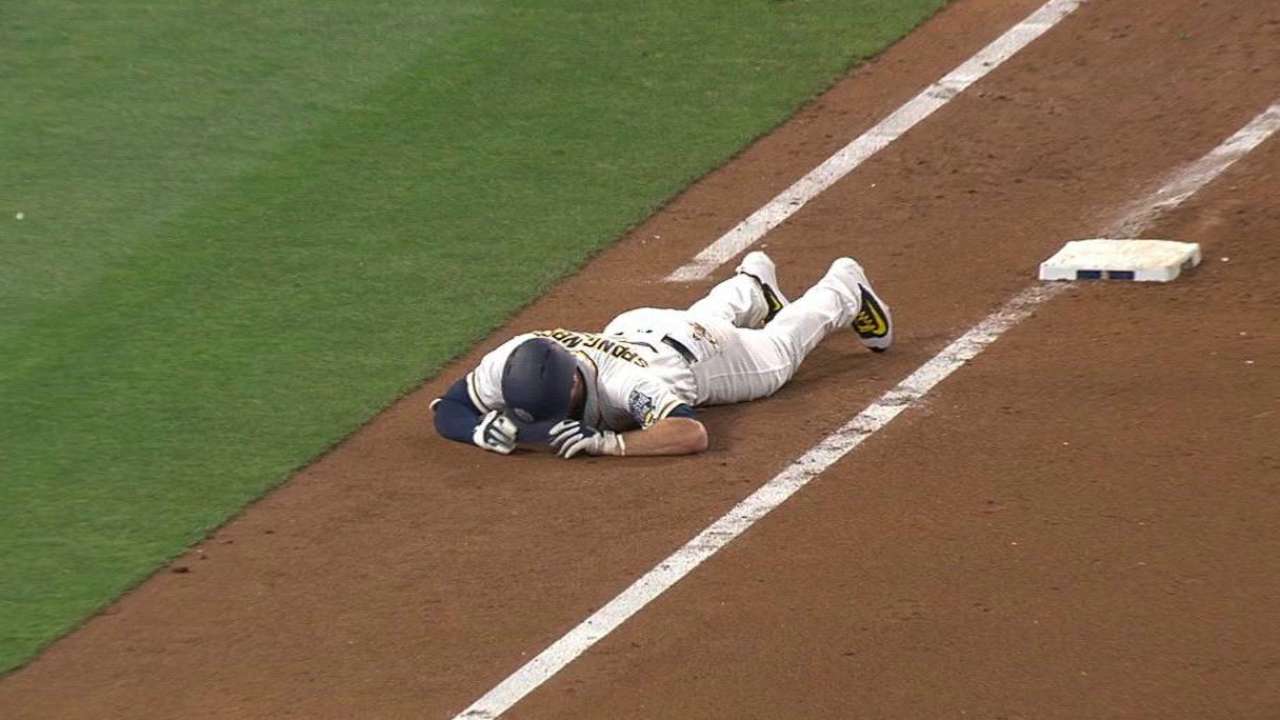 It appeared as though Spangenberg sustained the injury diving headfirst into first base. But on Wednesday, he clarified that the strain came about while he was running up the line.
"It wasn't the headfirst slide that caused it. I don't know where everyone's getting that," Spangenberg said. "I don't think you strain anything from a headfirst slide. I felt it three-quarters of the way, and I felt like I couldn't run anymore, so I just slid."
To clear room for Weeks on the 40-man roster, the Padres placed reliever Buddy Baumann on the 60-day DL. Baumann hasn't been able to throw because of tightness in his lower back, which dates back to Spring Training.
Alexi Amarista, who could have replaced Spangenberg at second, tweaked his hamstring Tuesday night -- a minor injury in comparison to Spangenberg's. Still, it was enough for Weeks to get his first start on Wednesday.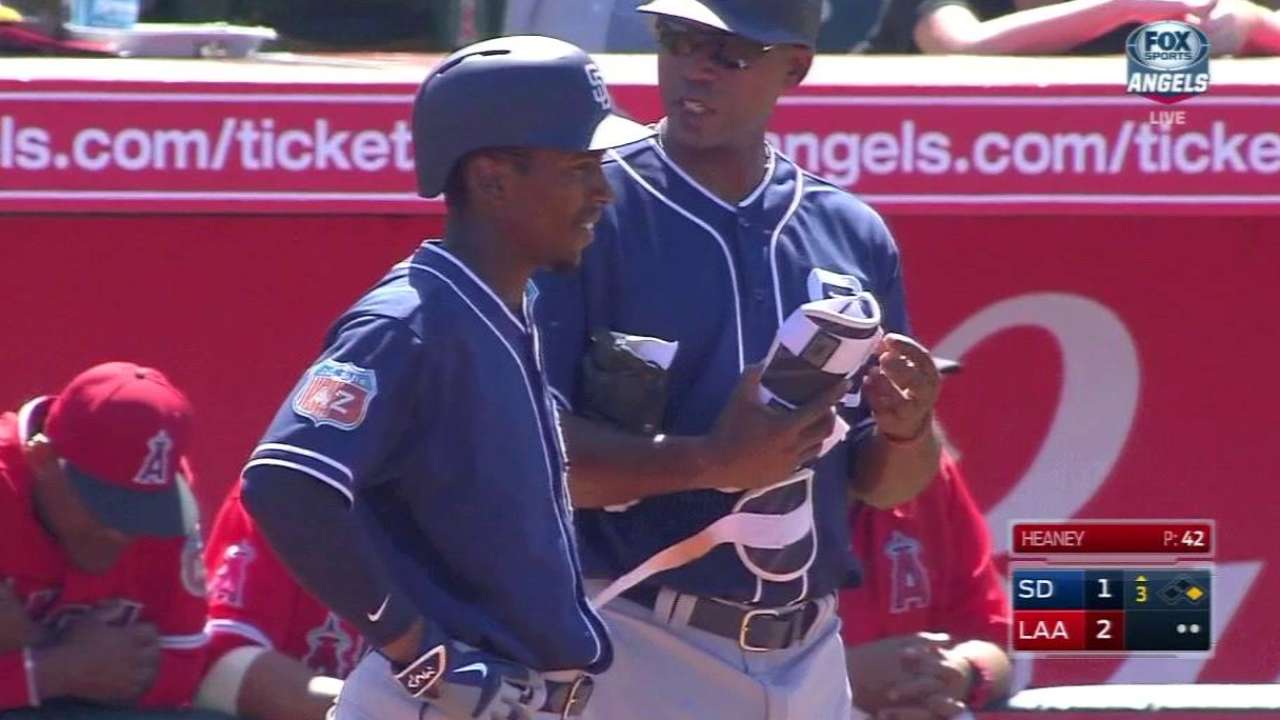 "Tonight I'm at second base," said Weeks, who had an RBI single in the second inning in his first at-bat on Wednesday. "Throughout the spring, I played everywhere. I'm just prepared to play wherever I can play, and however it's put out there for me, I'll be ready."
Weeks played six positions during the spring, to be exact -- second, third, short and all three outfield spots. He entered camp mostly as an afterthought on a Minor League deal, but pieced together arguably the best Spring Training of any Padre.
Weeks batted .340/.407/.585 in Cactus League play, while showcasing his versatility and his speed. He missed out on an Opening Day roster spot, being sent to El Paso on the final day of Spring Training.
"It was a little bit challenging, but I got drafted in '08, so I'd kind of been through the ups and downs," Weeks said. "I'd played five years in the big leagues. I've dealt with the getting sent down and coming back up and getting sent down. You just learn what it takes to know who you are in the game. You just keep going."
Padres manager Andy Green actually texted Weeks following his four-hit night on Monday. Green's message: "Keep it going, doing a great job. We're noticing up here."
Obviously Spangenberg's injury wasn't the ideal way for Weeks to get his callup, but Green praised Weeks' mindset after he was sent to El Paso.
"It's hard sometimes when you've earned your right to be on a Major League team, and you don't receive that right away," Green said. "All the reports I got down there was that he had a tremendous attitude. ... At some point in time, we knew we'd need him."
AJ Cassavell is a reporter for MLB.com. Follow him on Twitter @ajcassavell. This story was not subject to the approval of Major League Baseball or its clubs.