#TBT: Bucs pull off greatest extra-inning comeback
Pittsburgh twice rallies from 5 runs down, including 6-run outburst in 11th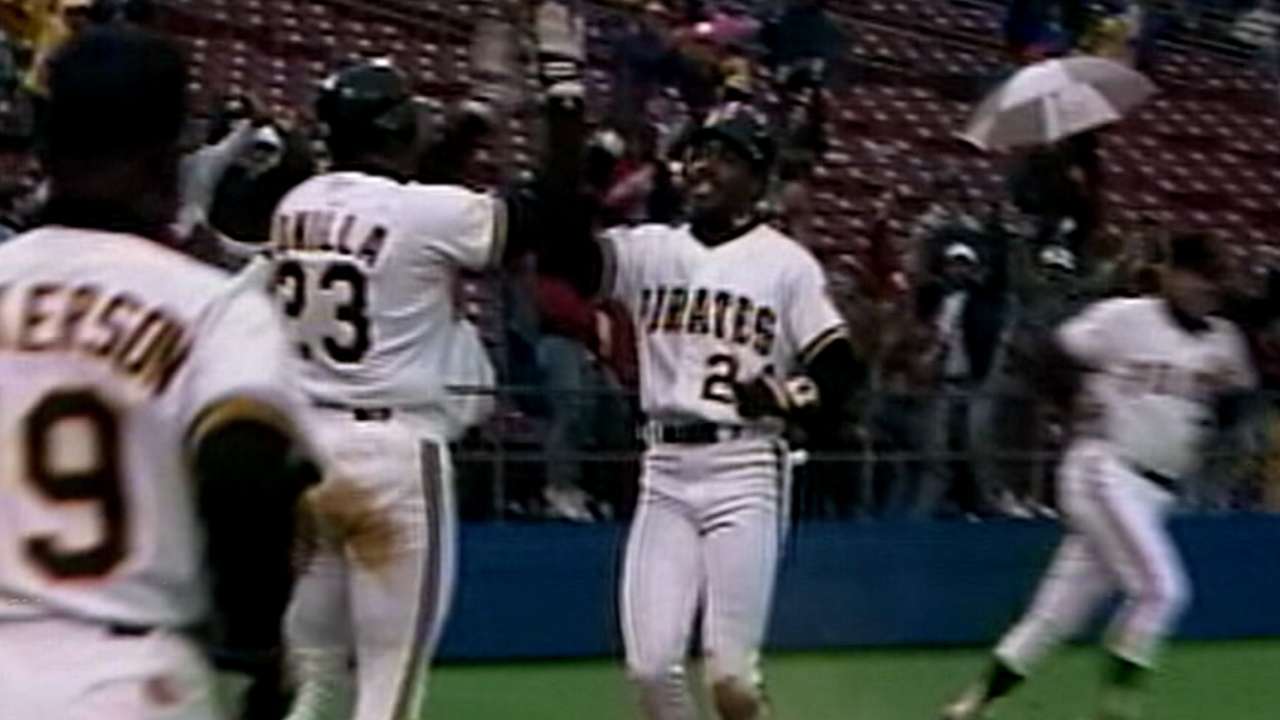 Maybe it made the most sense to just listen to the prescient and perfect words of the legend behind the broadcast.
Harry Caray was in the midst of his usual brilliant brand of baseball storytelling in the booth at Three Rivers Stadium on that night 25 years ago today. He had already seen enough freaky stuff on the field between his Chicago Cubs and the Pittsburgh Pirates to offer one more reminder that you just can't predict the Grand Old Game.
Or maybe sometimes you can.
It was a chilly, rain-soaked early-season game in which the Pirates had already rallied from a 7-2 deficit to tie the score in the ninth, and then the Cubs scored five in the top of the 11th to make it 12-7, with a grand slam by future Hall of Famer Andre Dawson the biggest blow, the one that Caray said "put the game away."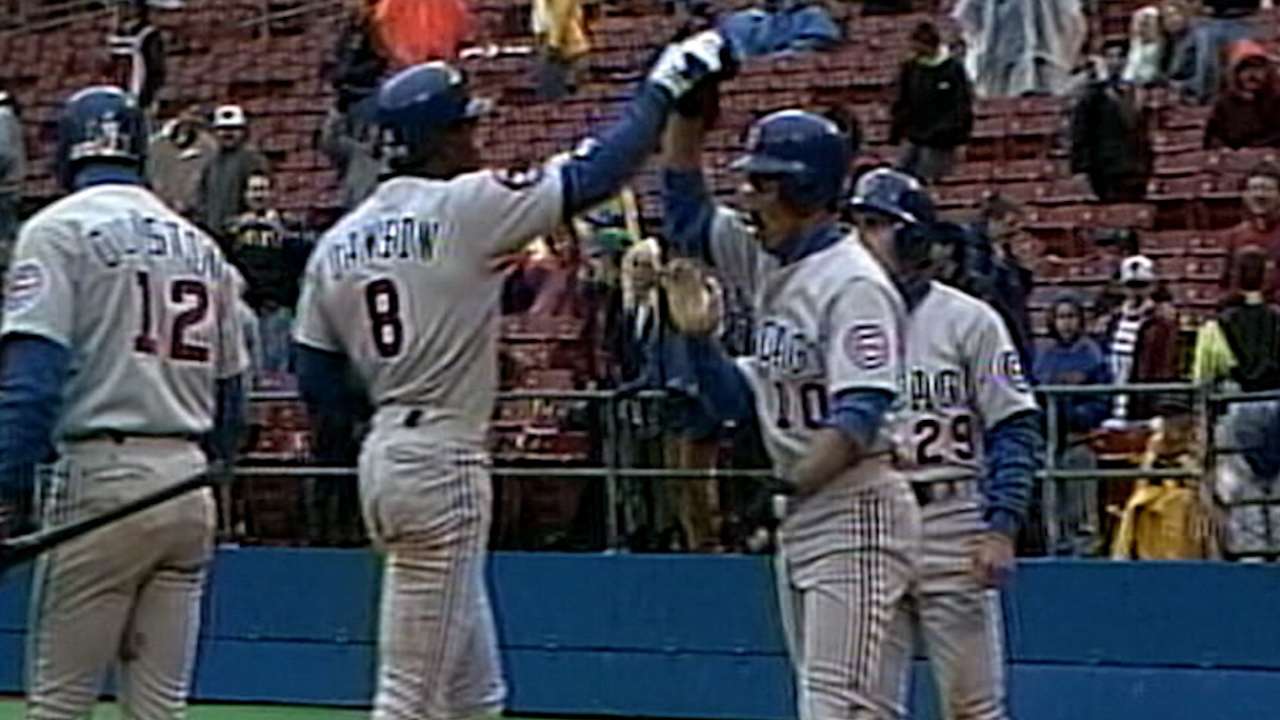 Things had quieted down in Steel City, the day's fight for the home nine generally believed to be squelched, but Cubs reliever Heathcliff Slocumb did exactly what you don't want to do: He walked the leadoff man, Jose Lind, to open the bottom of the 11th.
Enter Caray, who uttered the words, "Well, you never know," and, well, now we do know: What ensued was the greatest extra-inning comeback in Major League history and a perfect #ThrowbackThursday moment we look back on with smiles (yes, even Cubs fans) a quarter-century later.
"We were down five runs? Twice?" a bewildered, 26-year-old Bucs outfielder named Barry Bonds told The Associated Press in the giddy aftermath of an absurd 13-12 victory.
"It happened so fast, I didn't realize it."
Indeed it did, even in a game that ended up lasting a not-so-tidy four hours and 10 minutes. Here's how it went down:
After Slocumb walked Lind, he gave up a single to Curtis Wilkerson, then a single to Orlando Merced. Now Caray, already possibly sensing bad vibes, let out a preemptively sullen "Holy cow."
The Chicago Tribune described the moment thusly: "The hits loaded the bases and brought [Cubs manager Don] Zimmer to the mound on a dead run. He called on [Mike] Bielecki, [the next] night's starter. It didn't work."
Caray already had serious lamentation brewing in his voice as he noted the sacks being full and the fact that "all their good hitters are coming up."
It seemed Caray might have already known the inevitable was in motion, and the fans that remained from the original announced crowd of 10,860 started to perk up in similar acknowledgement.
The first of those "good hitters" was shortstop Jay Bell, who earlier in the game had committed a throwing error that led to two unearned runs. He had gone 0-for-5 at the plate with two strikeouts and had bounced out with the winning run on second to end the ninth inning.
"I was mad," Bell told the Pittsburgh Post-Gazette after the game. "I'd had my chance to drive in the winning run."
He made up for it here, slamming a double down the left-field line, cutting the deficit to 12-9 and pushing Merced to third. Andy Van Slyke followed with the first out of the inning, albeit a productive one. The outfielder, who was 0-for-5, lifted a sacrifice fly to center field drive in Merced and make it 12-10. Bobby Bonilla, who had hit a two-run homer in the four-run eighth, drew a base on balls, which brought Bonds to the plate.
Bonds would go on to finish second in the National League MVP voting at the end of that season, but he was mired in a slump. His fifth-inning single had snapped an 0-for-22 streak, but he also had struck out four times in the game.
This time, however, Bonds ripped a single to right field for his first hit with a runner in scoring position all season. The Pirates had cut the Cubs' lead to 12-11, the tying run (Bonilla) had just slid into third and clapped his hands demonstrably, and there was still only one out.
There would not be a second.
Gary Redus batted for pitcher Bob Patterson and worked yet another walk from Bielecki, who later said he had problems with the muddy mound. The bases were reloaded, and now the stage was set for Bucs catcher Don Slaught, who had had his own issues earlier in the night. Slaught, who'd entered the game as a pinch-hitter, had grounded out to end the 10th inning with the potential winning run on third. He also had been kicking himself for the pitch selection on the Dawson grand slam.
But Slaught had the opportunity to atone for all that, and he cashed in, lofting a long fly ball to center field.
"I thought it was at least a sacrifice fly, that we'd at least tied the game," Slaught told the Post-Gazette.
It was more. It got over the head of Jerome Walton.
"The game is over, and the Pirates, in unbelievable fashion, have won another ballgame," Caray shouted. "They have come back and won it [13-12]. They scored six in the bottom of the 11th. Ho-lee cow!"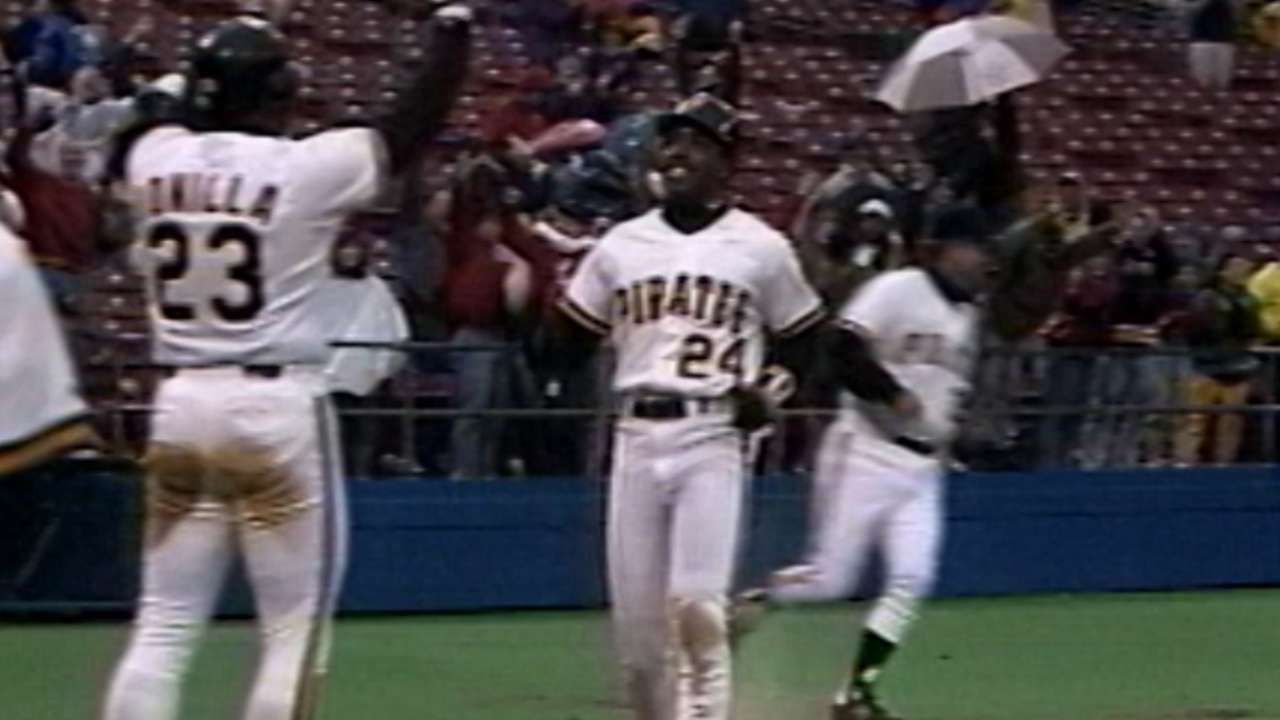 Slaught was beside himself. The whole Bucs team was.
"I had a chance to win it before that inning, but how many times do you get a second chance to win it?" Slaught continued later. "I'm thankful for that. Otherwise, I'd be beating my head against a wall."
Those reactions were reserved for the Cubs. Zimmer, who would be fired a few weeks later, said, "It's pretty tough. You have two five-run leads, and you blow both of them."
Back in the Pirates' clubhouse, the players had a tough time describing what they had just accomplished. And their manager, Jim Leyland, couldn't hold back tears.
"I'm real proud of that effort," Leyland told the Post-Gazette. "I'm kind of an emotional guy, as you know. But I just like people who go to work and do their jobs.
"People get down on this team. They talk about the salaries and the contracts. But there are not a lot of people who can do what these guys did today."
One of those guys, Van Slyke, summed up this bit of history in fitting fashion.
"I can't imagine [rallying] twice in a game," Van Slyke told the Post-Gazette. "You'll never see that again."
So far, he's right. Twenty-five years later, we haven't.
Doug Miller is a reporter for MLB.com. Follow him on Twitter @DougMillerMLB. This story was not subject to the approval of Major League Baseball or its clubs.