Montero lauds J-Hey for impressive throw home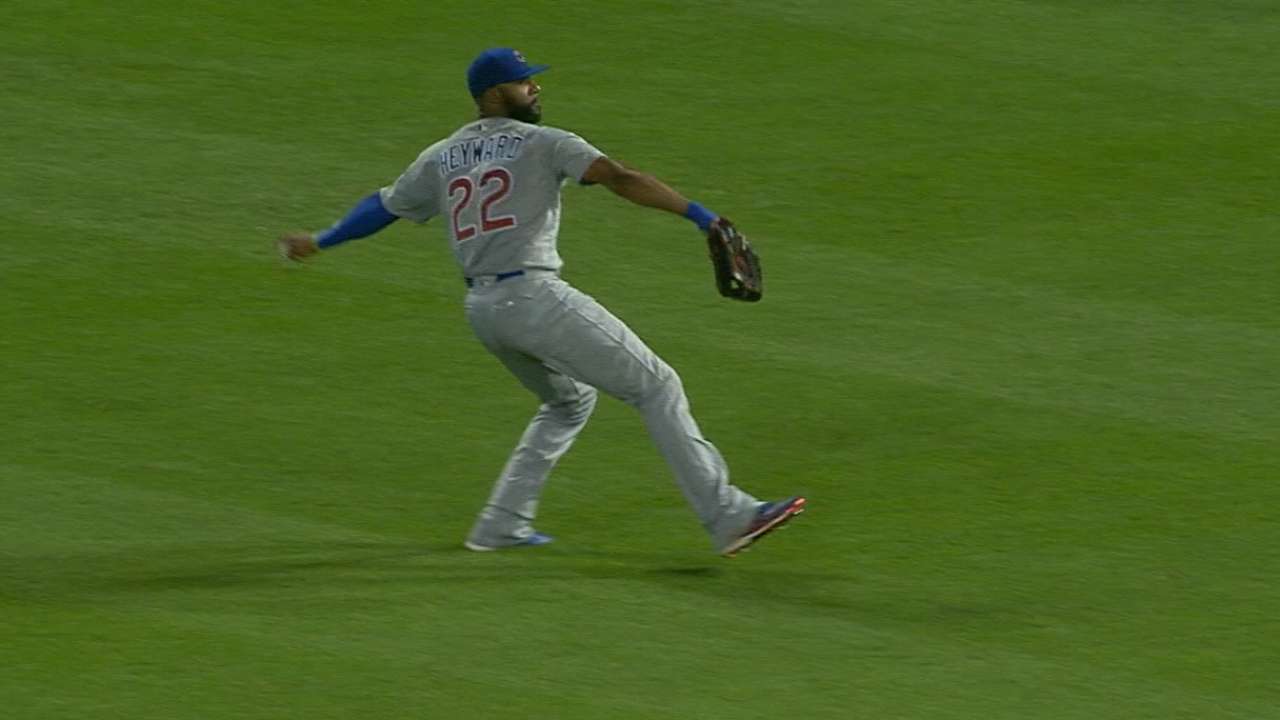 ST. LOUIS -- Jason Heyward may be struggling at the plate, but he showed just how valuable he is to the Cubs with his defensive play Tuesday night, and catcher Miguel Montero made a point of showing his support.
On Wednesday, Montero posted on his Twitter: "That's the beauty of baseball!!! You don't need to get a hit to win a game @JasonHeyward won that game with that throw," and added five fist-pump emojis.
That's the beauty of baseball !!! You don't need to get a hit to win a game @JasonHeyward won that game with that throw

— miguel montero (@miggymont26) April 20, 2016
"People don't realize he won the game there," Montero said Wednesday of Heyward's throw home in the fourth inning Tuesday night to get Matt Holliday and end the Cardinals' threat. "People say, 'Oh, he's not hitting.' It's not about that.
"If every player contributes one good thing, you add it up, and that's nine good things in a game. That was a game-changer. As a catcher, I learned over the years, you can go 0-for-4, but you can call a great game, win a ballgame, and the pitcher will be satisfied. If you let your at-bats bother you and take it out there on defense, you'll stink."
Heyward, who ended his 0-for-9 stretch in St. Louis with a single in the first inning Wednesday, has been a perfect fit, Montero said.
"He's a great teammate, plays hard, plays his heart out," Montero said. "You can see he wants to hit, but I don't care. We all know here what he's capable of doing. We all know he's worth every penny of what he got. One way or another, he's helping the team win, and that's the most important thing."
Worth noting
• Cubs manager Joe Maddon took advantage of the versatility of his roster and started Kris Bryant in left field and Javier Baez at shortstop on Wednesday.
"If I didn't think Javy was [just as good as Addison Russell fielding] ground balls, I probably wouldn't have done it," said Maddon, who wanted a strong infield defense behind starter Kyle Hendricks.
Baez may get a start in the outfield as well this season.
"The versatility from the infield to the outfield is so good, I don't feel like we're losing anything," Maddon said. "And you haven't even seen [Ben] Zobrist out there [in the outfield]."
• Maddon has used Matt Szczur as a late-inning defensive sub in left field and likes what he has seen.
"I think [Szczur] has truly arrived at that stage three Major League Baseball player [status] -- 'I belong here, I can do this,'" Maddon said. "I see a different level of comfort about his game. I'm liking it. He's arrived, he should stay here for a long time, and if given a chance to play on a more consistent basis, I think you'd see more out of this guy."
• Montero is feeling much more comfortable with the Cubs' starters now that they've played a few real games.
"Spring Training is different," Montero said. "You don't get to know [the pitcher]. You get to know his pitches and what his pitches do. ... But you really don't have a game plan in Spring Training. There are days they just want to build up their arms and throw 100 fastballs. When the season comes, that's when he's locked in and every pitch matters. That's when you start to know him, and that's how the game goes."
A perfect example came Monday, when Montero and starter John Lackey had a long conversation before Matt Carpenter's at-bat in the fifth. The Cardinals had two on and two outs, and Lackey struck out Carpenter, but not before a brief debate.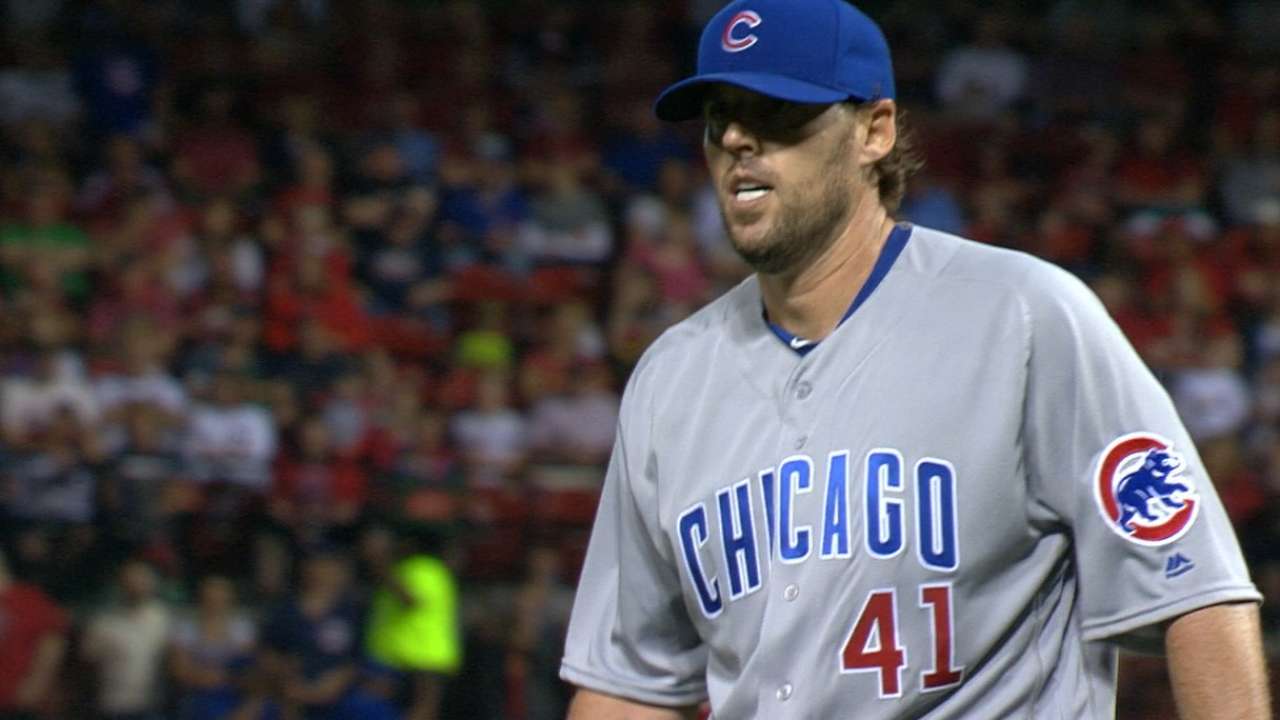 "I didn't really like his option," Montero said of Lackey's pick. "That doesn't mean I'm always right. I wasn't comfortable with that. I gave him another option -- I said, 'Why don't we go with this pitch, a changeup?' He said, 'All right, let's do it.' It was huge, it was a big pitch in the game."
Watching the boys get after it! Thank you all for the prayers and best wishes! Let's get this win! #LetsGo pic.twitter.com/pm0IZx44bv

— Kyle Schwarber (@kschwarb12) April 20, 2016
• Kyle Schwarber, who had surgery Monday on his left knee, showed his support for his Cubs teammates from his hospital bed in Dallas. Schwarber posted on Twitter: "Watching the boys get after it! Thank you all for the prayers and best wishes! Let's get this win! #LetsGo." He posted a photo of his leg while watching Wednesday's game vs. the Cardinals.
Carrie Muskat is a reporter for MLB.com. She writes a blog, Muskat Ramblings. You can follow her on Twitter @CarrieMuskat and listen to her podcast. This story was not subject to the approval of Major League Baseball or its clubs.