Chisenhall comes off DL; Brantley getting close
Indians send Cowgill to Triple-A Columbus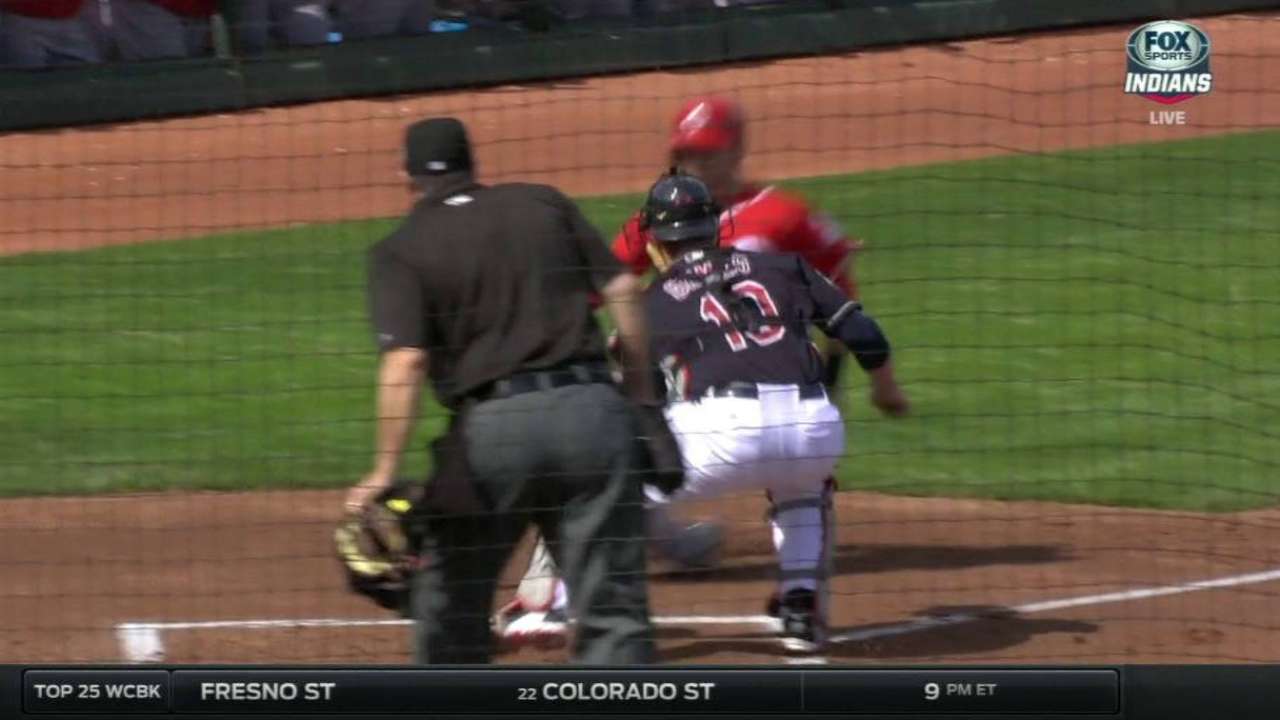 CLEVELAND -- Lonnie Chisenhall was off the disabled list and back in right field for the Indians on Wednesday. Now, Cleveland is only waiting on left fielder Michael Brantley to give the team the outfield alignment it was counting on for this season.
Prior to Wednesday's game against the Mariners, the Indians activated Chisenhall from the 15-day disabled list and optioned outfielder Collin Cowgill to Triple-A Columbus. Brantley, who was scheduled to continue his Minor League rehab assignment with Double-A Akron on Wednesday, could be coming off the DL in the near future.
"He's chomping at the bit, which is good," Indians manager Terry Francona said of Brantley. "That means he feels good. I think he'd like to come back yesterday."
Following Wednesday's rehab game and a day off from playing on Thursday, Brantley is tentatively scheduled to play in back-to-back games with Columbus on Friday and Saturday. Francona said Brantley, who had right shoulder surgery in November, would then be evaluated by the Indians' medical staff on Sunday -- potentially the final step before his activation.
Chisenhall projected to be the regular right fielder for the Tribe, but right forearm and left wrist issues during Spring Training convinced the club to put him on the DL to begin the season. Chisenhall played in seven Minor League rehab games between Columbus and Akron, manning right field and trying his hand in center in his final two games.
Cleveland plans on using Chisenhall primarily against right-handed pitching. So his DL stint was timely, given that the Indians faced seven left-handed starters in their first 11 games. Chisenhall transitioned from third base to right field last season and displayed above-average defense in his first stint as an outfielder.
Chisenhall struggled at the plate this spring while dealing with the health issues. He turned in a 2-for-26 showing in 10 Cactus League games, and then went 2-for-23 in his rehab appearances.
"He said the last couple days he really felt like he had his bat speed back and he felt good," Francona said. "He said he was ready. And you try to trust your guys. When a guy says he's ready, we try to believe in him and trust him."
Last year, the 27-year-old hit .246 with seven home runs, 44 RBIs and a .667 OPS in 106 games for the Indians. In the second half, though, Chisenhall returned from a stint at Triple-A, made the successful switch to right field and then hit .288 (.756 OPS) in his final 54 games.
Cowgill began the season on the Opening Day roster as a reserve capable of manning all three outfield positions. The Indians liked his track record against left-handers, but Cowgill went 1-for-12 at the plate, including an 0-for-9 showing against lefties.
"As disappointing as it can be to go to Triple-A, it can be really good for him," Francona said. "Since the first day of Spring Training, he's kind of been like on that hot seat, where he's trying to make the club. Every at-bat is like the seventh game of the World Series. Now, he can take a deep breath, go play and he'll get regular at-bats. It'll be really good for him."
Jordan Bastian is a reporter for MLB.com. Read his blog, Major League Bastian, follow him on Twitter @MLBastian and listen to his podcast. This story was not subject to the approval of Major League Baseball or its clubs.