MLB.com Columnist
Mike Petriello
Grichuk forced to adjust against massive shift increase
Cards outfielder seeing them on 63 percent of batted balls, up from 7 percent in 2015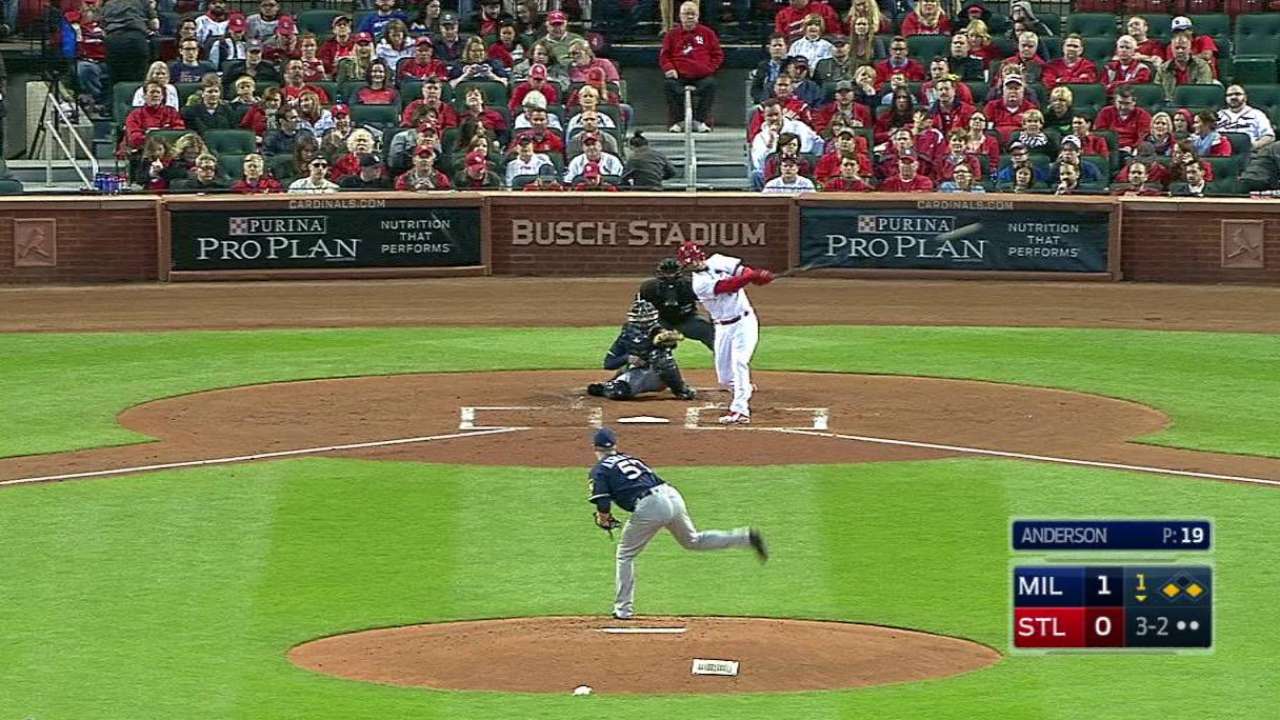 The book is out on Randal Grichuk, and teams are finally adjusting.
Perhaps you're immediately thinking that Grichuk is seeing more sliders, and that's true -- his slider rate has gone from 19 percent last year to 25 percent so far this season, a change so effective that it took Grichuk out of the lineup for two days earlier this month to work on pitch recognition (which seems to be working).
That's hardly it, though. In Grichuk's first full big league season, he benefited from the fact that despite Major League Baseball setting another record for most shifts used (nearly 18,000, according to Bill James Online), teams just about never put a shift in place against him. For most right-handed hitters, that might not have been a big deal. For Grichuk, he proved himself to be baseball's most extreme righty pull hitter, at least on grounders.
Pull percentage on ground balls, right-handed hitters, 2015
1. 83.5 percent -- Grichuk
2. 80.9 percent -- Brian Dozier
3. 80 percent -- Scott Van Slyke
4. 77.2 percent -- J.D. Martinez
5. 76.3 percent -- Andrew McCutchen
But despite that, opposing defenses didn't do much to react. Last year, when Grichuk put the ball in play, teams were shifted against him only 15 times. So far this year, that's already up to 17 times in far fewer plate appearances, making for a pretty massive difference:
2014
80 balls in play -- 3 shifts -- 3.7 percent
2015
214 balls in play -- 15 shifts -- 7 percent
2016
27 balls in play -- 17 shifts -- 62.9 percent
That makes for a considerable change. Using Statcast™'s ability to look at defensive positioning, we can see that change jump off the screen, particularly in regard to where the second baseman is standing. You can see that in 2015, the second baseman barely ever positioned himself to the left of second base. Even in the first two games of 2016, the opposition hadn't adjusted. But looking at 2016 as a whole? The shift is on, and then some:
What should have been obvious last year -- that Grichuk was almost always going to pull the ball when he hit it on the ground -- didn't turn into a reaction until a few days into this season. Unsurprisingly, he hit .272 on the ground last year, while Major League Baseball as a whole hit .236.
So has it affected Grichuk this year? The sample size for 2016 is so tiny that it's hard to draw conclusions, so noting that he's pulled only 60 percent of his grounders this year as opposed to 83.5 percent is more of an interesting note than a real change in approach given that we're talking about just 10 batted balls. The same goes for the fact that his Batting Average on Balls in Play is just .240 this year, down from .365 -- it's hard to put real stock in outcomes this early unless you also believe that Daniel Murphy will really hit .422 or Noah Syndergaard will keep up a 0.90 ERA.
But shifts are a little different. That's not based on an outcome that relies on what the other team gives you combined with a bit of luck. It's a strategy, and that we're already seeing Grichuk get shifted more this year than he did all of last year certainly seems to overcome the small sample-size concerns.
Now, the question is whether Grichuk can do anything about it. We've seen that he's capable of change; after all, his eight walks are already more than one-third of what he drew all of last season. Grichuk is adjusting to the slider. That's the tough part about bursting onto the scene, really. The more teams get to know you, the more they know how to beat you. It's whether you can adjust to those adjustments that really defines whether a young player off a great rookie year becomes a long-term contributor or a flash in the pan.
Mike Petriello is an analyst for MLB.com and the host of the Statcast podcast. He has previously written for ESPN Insider and FanGraphs. This story was not subject to the approval of Major League Baseball or its clubs.