MLB.com Columnist
Fred Zinkie
10 fantasy waiver-wire options to consider
Carter's homers, Jepsen's saves, Upton Jr.'s pop-speed could be had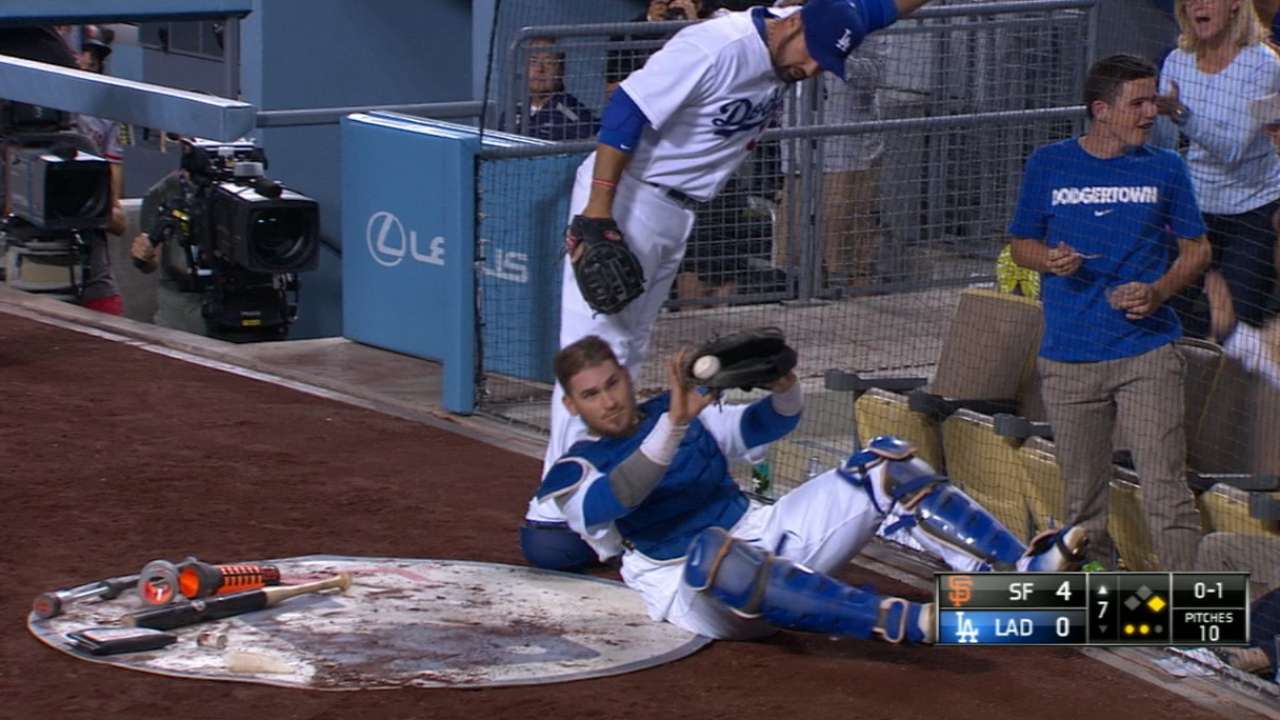 With more than two weeks of the regular season in the rearview mirror, fantasy owners are starting to get restless with underperforming lineup members. Even though it is not advisable to drop slow starters with a long track record of success, smart owners will take a long look at temporary replacement options. Among the following 10 guys, owners should be able to find someone who meets their needs.
Yasmani Grandal, catcher:
Recently activated from the disabled list, Grandal has resumed his role as the Dodgers' No. 1 catcher. The switch-hitting slugger compiled 31 homers from 2014-15, and his patient approach has resulted in a lifetime .353 on-base percentage. As part of a deep Dodgers lineup, he could dent shallow-league rosters if he gets off to a hot start.
Consider in: 12-team mixed leagues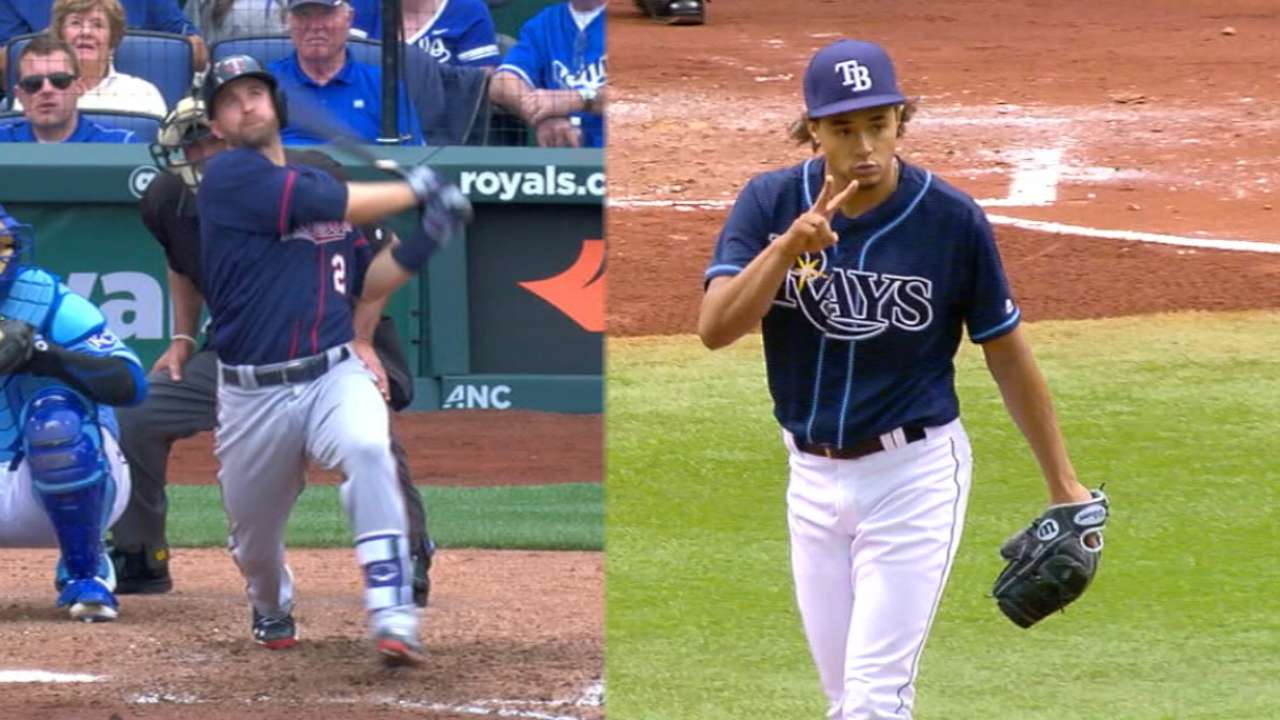 Chris Carter, first baseman:
With three round-trippers across 41 at-bats, Carter has clearly taken his power stroke to the National League and homer-happy Miller Park. The 29-year-old is not an ideal option for shallow leagues given his history of low batting averages, but he could help many owners given his 30-homer talent.
Consider in: 12-team mixed leagues
Eduardo Nunez, SS/3B:
Searching for an offensive spark, the Twins have recently given Nunez regular work out of the leadoff spot. The 28-year-old will certainly see his current batting average (.500) drop rapidly in the coming days, but he could nonetheless continue to help those in deep mixed leagues. A lifetime .272 hitter, Nunez has swiped 22 bases in a season (2011) and has tallied three steals across 30 plate appearances during the early going in '16.
Consider in: 15-team mixed leagues
Melvin Upton Jr., outfielder:
Upton has let down his share of fantasy owners in past seasons, but he could make a positive contribution for those who made a low-cost investment in 2016. The power-speed option struggled mightily in two years with the Braves, but he has hit .266 with seven homers and 13 steals across 281 plate appearances since joining the Padres at the outset of '15. If the 31-year-old can maintain a respectable batting mark, he should be able to tally enough homers and steals to make a dent in deep mixed formats.
Consider in: 15-team mixed leagues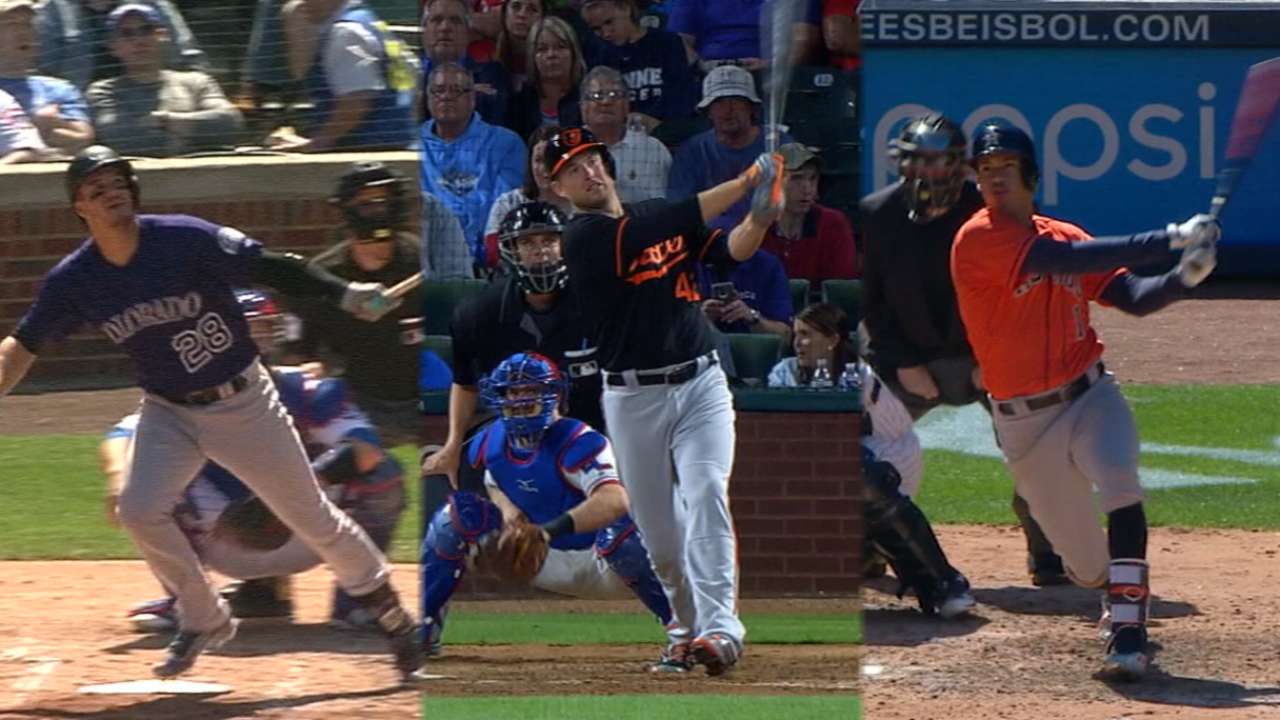 Michael Saunders, outfielder:
Due to his ability to rack up both round-trippers and steals, Saunders was a popular '15 sleeper pick before a left-knee injury wiped out most of his campaign. Now back to full health, the 29-year-old is hitting leadoff on a team that is searching for a table-setter in front of superstar sluggers Josh Donaldson, Jose Bautista and Edwin Encarnacion. Saunders could rack up runs at a great rate while also notching 15 homers and a double-digit mark in steals.
Consider in: 12-team mixed leagues
Peter O'Brien, outfielder:
The recent demotion of Socrates Brito has left the D-backs with a thin outfield group. For a club that needs both an outfielder and an offensive contributor after losing star sparkplug A.J. Pollock, O'Brien appears to be a terrific fit. He hit .271 with 34 homers in the Minors in '14 and batted .284 with 26 homers and 107 RBIs in Triple-A last season. Smart fantasy owners will stash O'Brien now, in hopes that he becomes a Major League regular by the end of April.
Consider in: 12-team mixed leagues
Ross Stripling, starter:
Despite bypassing the Triple-A level, Stripling has posted a 2.03 ERA and a 0.75 WHIP across his first two Major League starts. The right-hander may not end up as a long-term contributor, but he has solid short-term potential given his pitcher-friendly home park and strong supporting cast. Set to face the Marlins and Padres at Dodger Stadium in Week 4, Stripling deserves a temporary lineup spot in all formats.
Consider in: 10-team mixed leagues
J.A. Happ, starter:
Happ has excelled out of the '16 gate, posting a 1.89 ERA and a 1.21 WHIP -- stats that suggest he may have maintained some of the gains displayed across 11 stretch-run starts with Pittsburgh last year. Backed by a powerful Toronto lineup and strong defensive unit, the left-hander could hold a stable spot on mixed-league rosters despite working regularly against deep American League clubs.
Consider in: 12-team mixed leagues
Jon Niese, starter:
Has Pirates pitching coach Ray Searage found his next success story? While many fantasy owners were focused on Bucs starter Juan Nicasio earlier this year, Niese may be the one who most helps mixed-league teams. With a respectable lifetime 3.90 ERA, the southpaw could be a fantasy asset if he can improve on his career 1.36 WHIP and 7.0 K/9 rate. Last week, Niese held a Tigers team that excels against left-handers to three earned runs across six innings before tossing seven scoreless frames against the Brewers.
Consider in: 12-team mixed leagues
Kevin Jepsen, reliever:
At first glance, Jepsen appears to be a short-term option for saves given Glen Perkins' current place on the disabled list. But given several factors -- such as Perkins' 7.32 ERA during the second half of last year -- Jepsen could use the next couple of weeks to cement his place at the back of Minnesota's bullpen. If he can do so, the righty could notch 30 saves in '16.
Consider in: 10-team mixed leagues
Fred Zinkie is the lead fantasy baseball writer for MLB.com. Follow him on Twitter at @FredZinkieMLB This story was not subject to the approval of Major League Baseball or its clubs.