Longoria appreciates pitchers who work fast
BOSTON -- Evan Longoria believes pitchers who work fast have a better chance to succeed than those who don't because their fielders are more tuned in.
"I know from a personal standpoint it's tough when a guy is working fast -- particularly when he's around the zone," Longoria said.
"You look at it. The guys who work fast. ... I would venture to bet that the defensive numbers are better behind them because their fielders are more engaged. There's not as much time in between pitches. The ball is consistently in the zone. In the hitting zone more, which leads to more contact."
Longoria painted a portrait of what it feels like to play in the field behind a pitcher who takes his time.
"When you're standing around and the guy goes 3-1, 3-2 and then the next batter he's 2-0 then 3-1, you want early contact as a defender," Longoria said. "You want to be able to think the guy is going to be able to put it into play in the first three pitches. So you're ready. The deeper the count goes, the longer you're standing around. For lack of a better word, you lose focus. It's tough to stay engaged 100 percent for an eight- or nine-pitch at-bat."
A good example would be Drew Smyly's dominating outing Tuesday night against the Red Sox. Longoria also thinks that a crucial piece for Smyly's success is the fact that he works fast.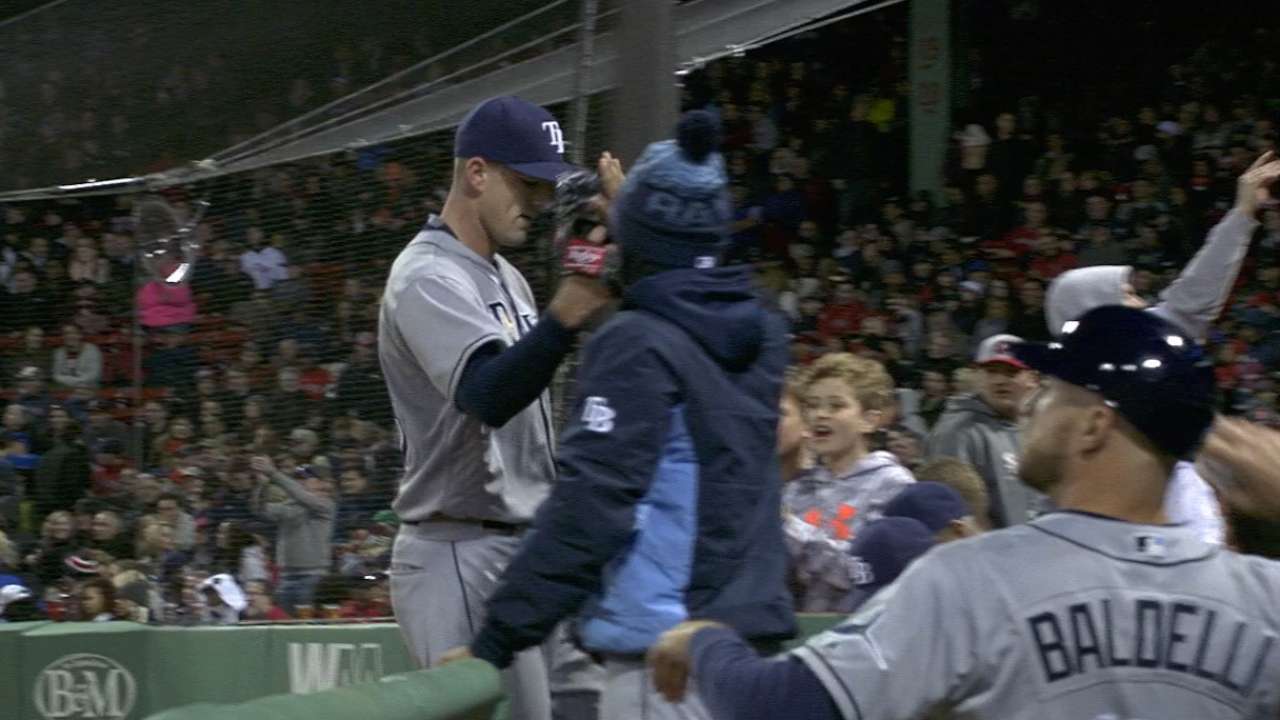 "He's efficient and he works fast," Longoria said. "I've tried to convey that to some of our guys that we've had in the past that don't work fast. It's one of the toughest things to overcome as a hitter, and I truly believe it's one of the reasons why Mark Buehrle was so successful for so long with what he was featuring out there -- particularly the past three or four years.
"As soon as you get in the box, [Smyly is] ready to go. You know he's throwing strikes, but you don't know what pitch he's going to throw. He's got three or four pitches that are pretty good Major League quality pitches."
Longoria was asked if it's a delicate subject to broach the subject with a pitcher about working faster and if he's actually asked a pitcher to do so.
"Not during the game, of course," Longoria said. "I think it's just like anything in this game. When you've been doing it for so long, it's tough to break the habit. [Jeremy Hellickson] was a guy that I pointed to specifically, where not only myself, but other guys and other coaches would say to him from time to time that you've got to work a little faster.
"But his way was his way. He felt like if he got away from that he wasn't giving himself the best chance to win. ... Guys don't want to get out of that routine, because if something negative happens, they immediately attribute it to because they went away from their slower pace to try and speed it up."
Longoria managed a smile when pressed further about his conversations with Hellickson, who now pitches for the Phillies.
"I'd tell him that every start," Longoria said, "and he'd say, 'I don't know what you're talking about. I'm working fast.' That was his thing."
Bill Chastain is a reporter for MLB.com. This story was not subject to the approval of Major League Baseball or its clubs.