MLB.com Columnist
Anthony Castrovince
Edgar instills knowledge while embracing new role
HOF candidate aims to spark Seattle's offense as hitting coach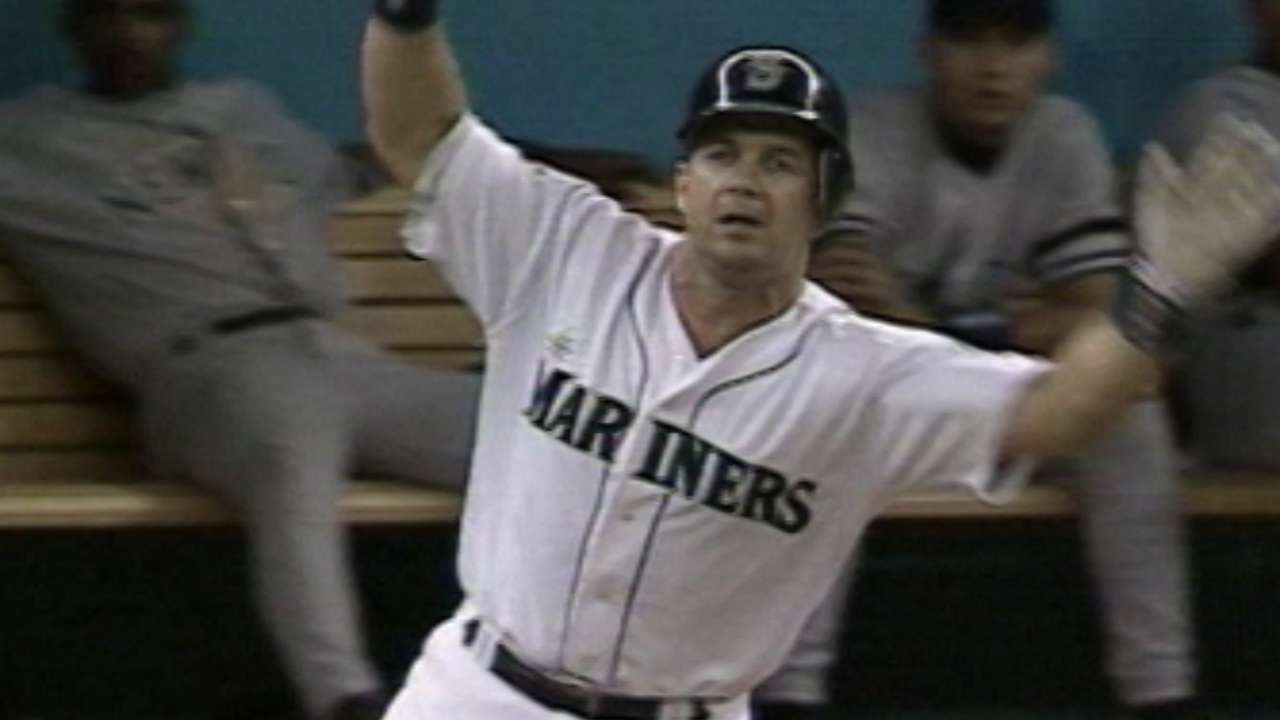 CLEVELAND -- If there's any justice -- and the current voting trends suggest there isn't -- we'll one day find Edgar Martinez in the Hall of Fame.
Until then, we find Martinez here, in the coaches room in the visitors' clubhouse at Progressive Field, poring over the data on his laptop in advance of a pre-series hitters' meeting that will last more than a half hour. Such study, such advanced scrutiny of this guy's slider and that guy's 2-1 tendency is something that a younger Martinez, who was more accustomed to meetings limited to a matter of minutes, would have found intrusive.
"In the past," Martinez said, "we didn't have so much information. And I think it worked better for me. I didn't want to know all the details."
These days, Martinez's job is in the details. His role is different, the game is different, and the task at hand -- making the Mariners' offense a relevant one -- is a tall order, indeed. But at least the guy entrusted with this task had a career .312/.418/.515 slash line and a reputation so refined that no less an authority than the great Mariano Rivera once said, "He had more than my number. He had my breakfast, lunch and dinner."
Even with a motivated Robinson Cano and an established power threat in Nelson Cruz in the middle of the order, the Mariners do not yet instill such fear in their opponent.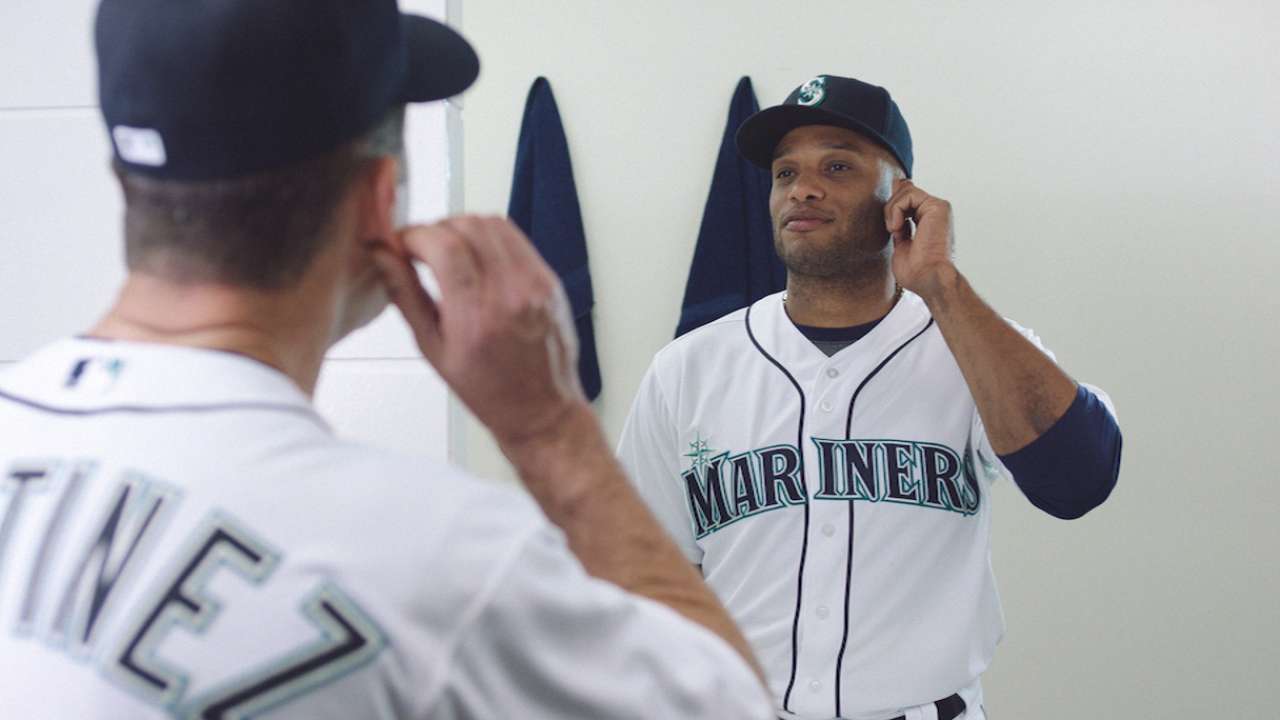 It has been nearly a decade -- going back to 2007 -- since Seattle finished higher than 11th in the Majors in runs per game, and early on this season, there have been few clues to suggest they're on the verge of a rousing rise in that standing. The Mariners remain the Reverse Rockies, feisty on the road (Tuesday's result aside, they're averaging 5.1 runs per game as the visitors), flustered at home (1.8 runs average at Safeco Field).
Organizationally, under new general manager Jerry Dipoto and manager Scott Servais, there is an increased emphasis on two-strike approach, controlling the zone, putting the ball in play -- concepts that need to be emphasized at a time in the sport's evolution in which teams, at large, are striking out more and walking less.
"We talk about trying to battle if you get behind in the count," Martinez said. "The approach we're taking is going to help. But it's early, and we're going to see results as the season progresses."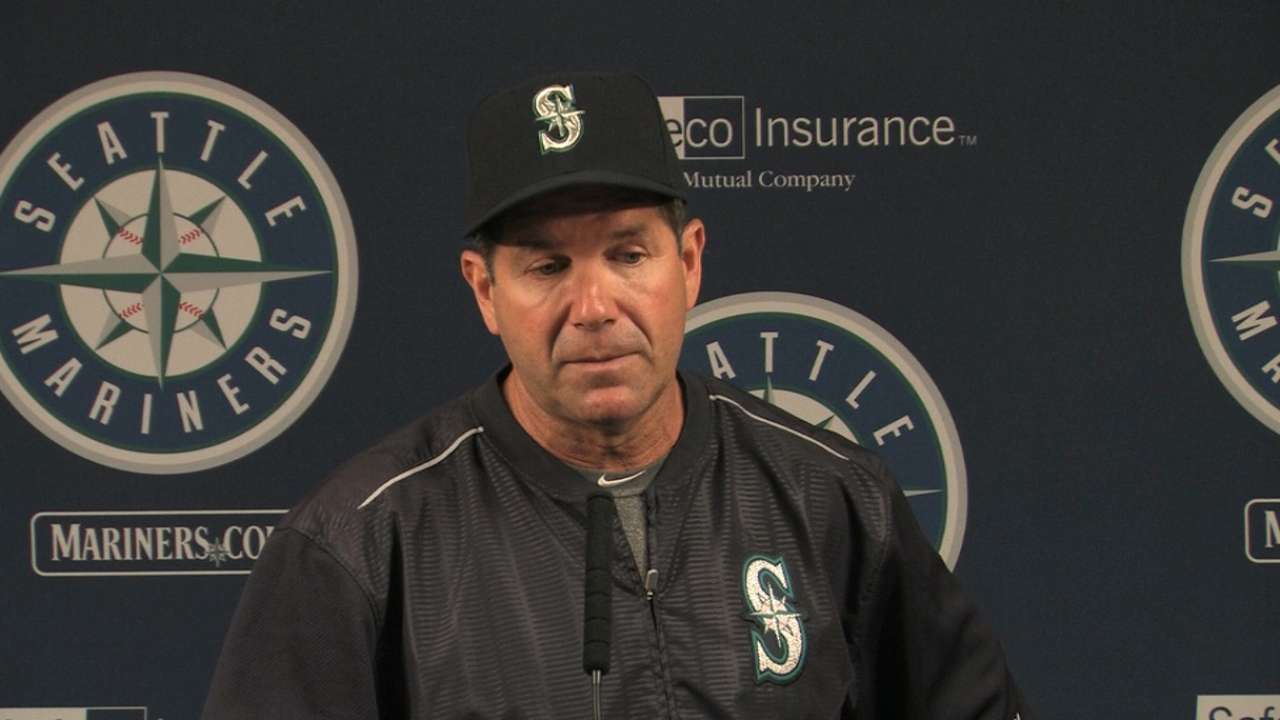 Yes, emphasizing those traits and employing them are two different things. The process of getting on base -- something Martinez himself mastered -- is something the Mariners continue to struggle with, as their OBP, which ranked 11th in the American League last year (.311), is again in the lower-third among Major League teams. There is reason to suspect they will improve in this area. Seattle's 22-year-old shortstop Ketel Marte, currently batting .186 with a .250 OBP, got on base at a .350 clip in a 57-game Major League break-in last year. Cano (.298), Kyle Seager (.264), Norichika Aoki (.241) and Adam Lind (.182) are all performing well below their career norms in this area.
So Martinez sees upside, and he expects adjustments.
"You go into a series and some teams have more power pitchers, others have more finesse," Martinez said. "So you have to make adjustments. Sometimes you want to be aggressive early in the count, sometimes you want to be patient early in the count. Sometimes with a starter, you want to be patient, but with a reliever, you want to be aggressive. So it's always changing, but it's always a strategy within the approach."
Martinez approaches this job with vigor, with patience and with positivity. Thrust into the role unexpectedly last summer -- not long after he had taken a position with the club as a roving instructor in the Minors -- Martinez has learned on the fly and come into 2016 with a better foundation.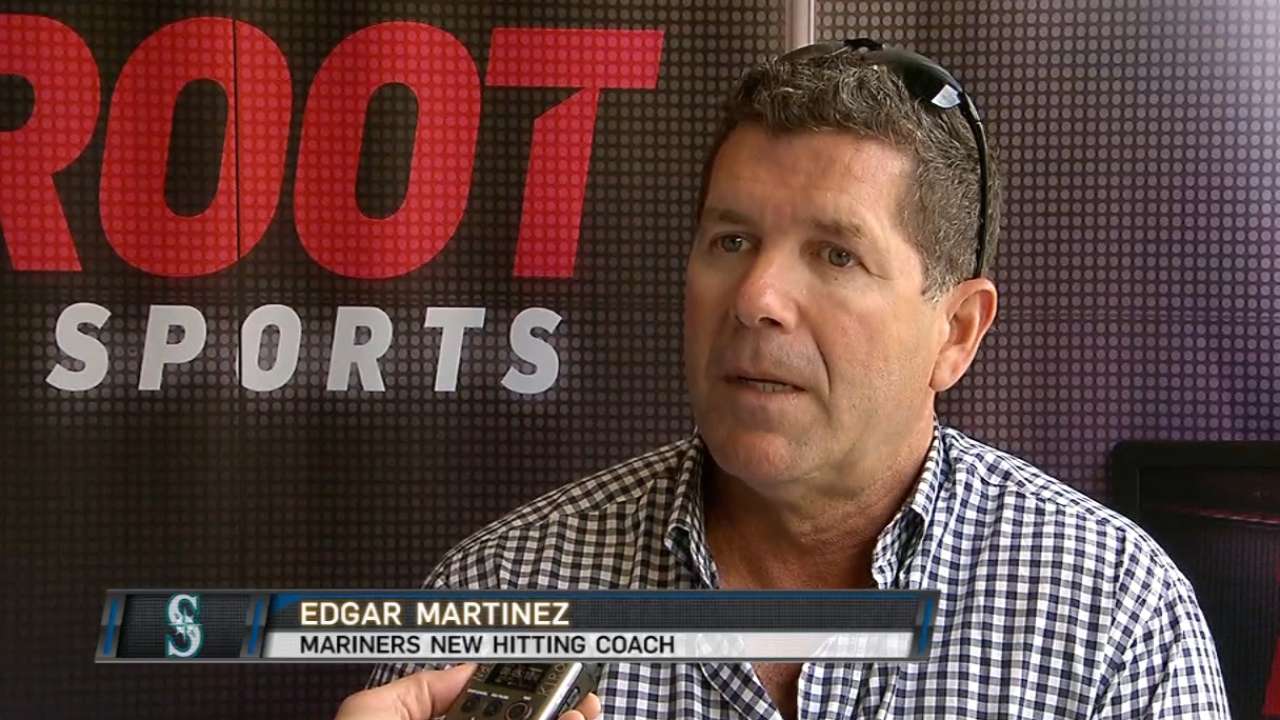 "When I came in last year," Martinez said, "I had never coached before. But the coaches last year, they helped out. And now from Spring Training, this coaching staff is helping me from the beginning. So it's better to start from the beginning and be able to build.
"I started last year as a roving instructor to see if it was something I wanted to do for the long term. And I liked it. The opportunity [to be the hitting coach] came and it was a surprise, but at the same time, I didn't know if I was ready. But since it's the team I played with my whole career and I live in Seattle, it couldn't have been a better opportunity. It came earlier than I expected, but I'm glad it did. I enjoy it."
The only hitting coach with more personal accomplishments than Martinez is the Marlins' Barry Bonds. And of course, his Hall of Fame case has its own set of complications.
For Martinez, it's a matter of positioning, and the continued dismissal of the designated hitter -- a position woven into everyday life in the Junior Circuit for more than 40 years -- by some members of the Baseball Writers' Association of America electorate has hurt his cause.
But if nothing else, Frank Thomas' 2014 entry provided a precedent, as Thomas is the first member of the Hall to log more than half his plate appearances (56.6 percent, to be exact) as a DH (Paul Molitor, at 43.8 percent, also had more total PAs as a DH than any other position he played).
Unfortunately, with his name appearing on only 43.4 percent of the latest ballots and only three years of eligibility remaining, time is not on Edgar's side -- at least, as it pertains to that particular ballot. And that's a shame, considering this was a man who mastered the art of full-time hitting so well that they named the DH award after him. It has become commonplace to hear some of the great pitchers of Martinez's era -- including teammate Randy Johnson, who entered Cooperstown last year -- say he was the best hitter they ever saw.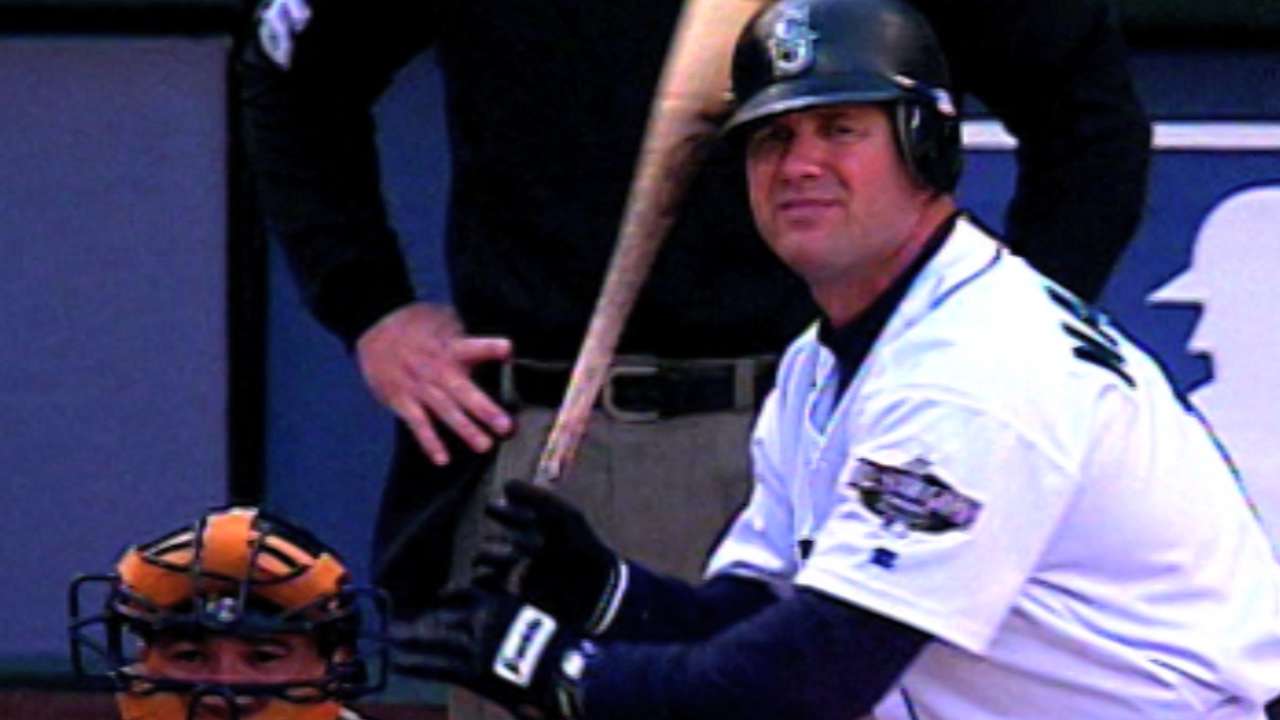 Perhaps the David Ortiz retirement tour will engender renewed enthusiasm for the value of the role.
"I'm looking forward to seeing how his career is viewed after he retires," Martinez said.
Martinez will tell you he's not spending much time assessing his own candidacy. He's too consumed with trying to do what so many great players have attempted and precious few have succeeded at. To impart the innate, to teach your own talent is no easy task. And a Mariners team with an established history of subpar offensive showings is no easy project.
But armed with info, intellect and enthusiasm, Martinez is giving it his best.
Anthony Castrovince is a reporter for MLB.com. Read his columns and follow him on Twitter at @Castrovince. This story was not subject to the approval of Major League Baseball or its clubs.