Adams, Cards lament missed chances
Pickoff at second base looms large in loss to Cubs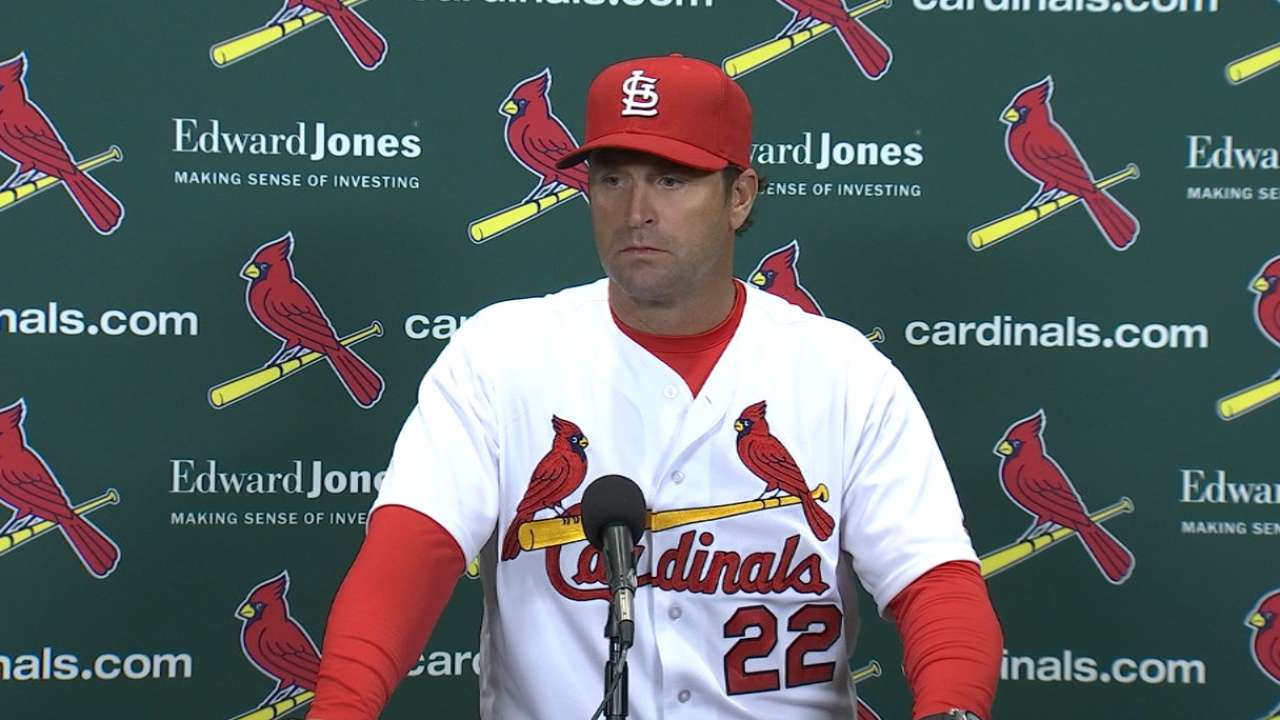 ST. LOUIS -- Cardinals manager Mike Matheny had a simple answer for reporters asking about the team's recent defensive woes before Tuesday's game against the Cubs.
"Errors happen," Matheny said.
Errors did happen again in the Cardinals' 2-1 loss to the Cubs on Tuesday night, though they didn't appear in the error column.
The Cardinals cost themselves at least one run in the second after Matt Adams and Randal Grichuk led off with back-to-back singles. Adams was caught stealing right before Yadier Molina tripled to left, scoring Grichuk. Kolten Wong struck out and Ruben Tejada popped out, leaving Molina at third.
"It didn't work out," Adams said. "I can't get picked off in that situation, first and second, nobody out, especially in a game like that."
Matheny declined to elaborate on the play afterward, only saying, "It was just a play that didn't work."
Another scoring opportunity was wasted in the fourth after Matt Holliday singled and Adams doubled, putting runners on second and third with none out. But Grichuk popped out and Holliday tried to score on Molina's shallow fly to Jason Heyward, who threw out Holliday at the plate.
"He's got to make a great throw, it doesn't matter who's running there, and he made it," Matheny said. "That's a play we need to try and push to make them make the play every time."
The miscues started early when Wong bobbled what looked to be a routine double-play ball in the first. Wong recovered to get the runner at first, preventing an error, but the inability to get the double play forced Jaime Garcia to pitch out of a two-on, two-out jam.
The missed opportunities didn't help Garcia, who labored with his control through five innings. The lefty walked four and threw just 59 of his 98 pitches for strikes. A two-out, two-run hit by Cubs starter Jason Hammel proved to be the game-winner.
"With the pitcher up in that situation, I've got to do a better job than that," Garcia said. "It's my bad and I'll just try to do a better job next time."
It was a far cry from Garcia's last outing, when he threw a one-hit shutout against the Brewers.
"The movement's a blessing and curse," Matheny said. "When he can control it and control it in the bottom of the zone, good things are going to happen. Then there's days when it's just going to run too much, and it's going to sail."
The Cardinals fell to 0-5 on the season against the Pirates and the Cubs, the two teams that finished directly below them in the National League Central standings last season. They've been outscored 22-8 in those games.
"We had opportunities to win this game today," Matheny said. "It doesn't matter who we're playing against, but if we don't execute in those situations, we don't get the job done, get the little things right, it doesn't matter who we're playing."
Joe Harris is a contributor to MLB.com. This story was not subject to the approval of Major League Baseball or its clubs.