Striking first always sits well with Rangers
Texas has 4-1 record in series openers this season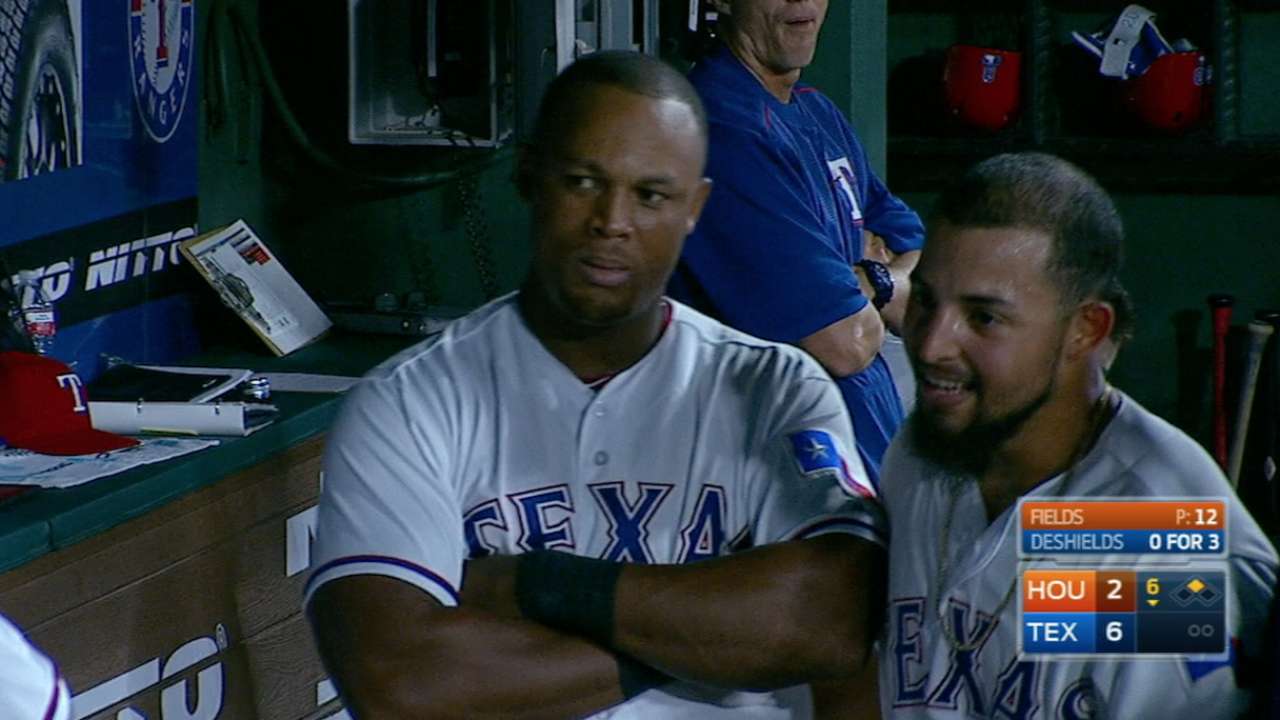 ARLINGTON -- Elvis Andrus, batting with a runner at second and no outs in the sixth, crushed a high drive to deep left and immediately went into his home run trot. But the ball hit off the top of the left-field wall, and Andrus had to bust it to get to second base for a double.
He caught plenty of grief from his teammates, especially best friend/archnemesis Adrian Beltre.
"We run hard out of the box," manager Jeff Banister said. "Elvis knows that."
That minor contretemps aside, the Rangers were able to thoroughly enjoy themselves on Tuesday night by taking Game 1 of their three-game series against the Astros with a 7-5 victory at Globe Life Park.
"It's always good to get a win, especially the first game of a series," said closer Shawn Tolleson after earning his fourth save. "Then you can go in the next day and win the series. I love winning the first game of a series."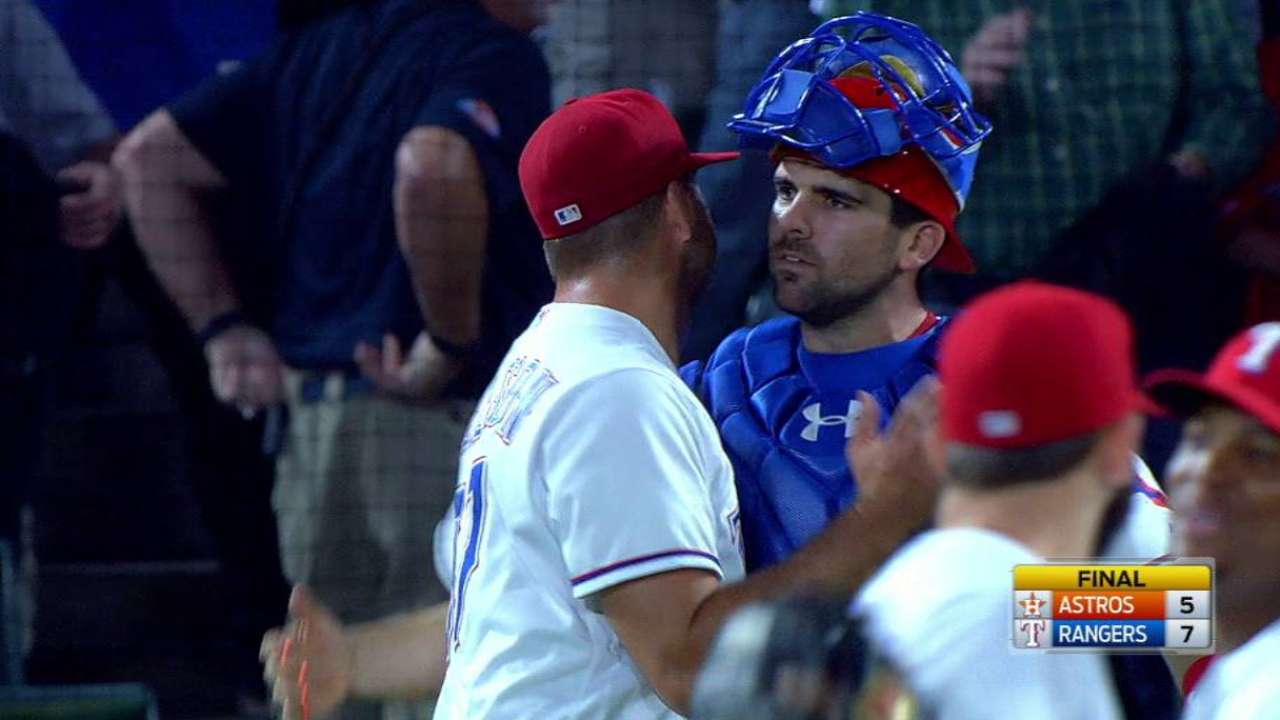 The Rangers are 4-1 in the first game of a series this season.
"That's what we want to do, get the first one," first baseman Mitch Moreland said. "It doesn't matter who we are playing, we wanted to get this done tonight, and that's what we were able to do."
The Rangers, who led, 3-0, after one inning, won on a night when starter Derek Holland needed 105 pitches to get through five innings. The Rangers needed five relievers to get through the final four innings before Tolleson struck out George Springer to end the game.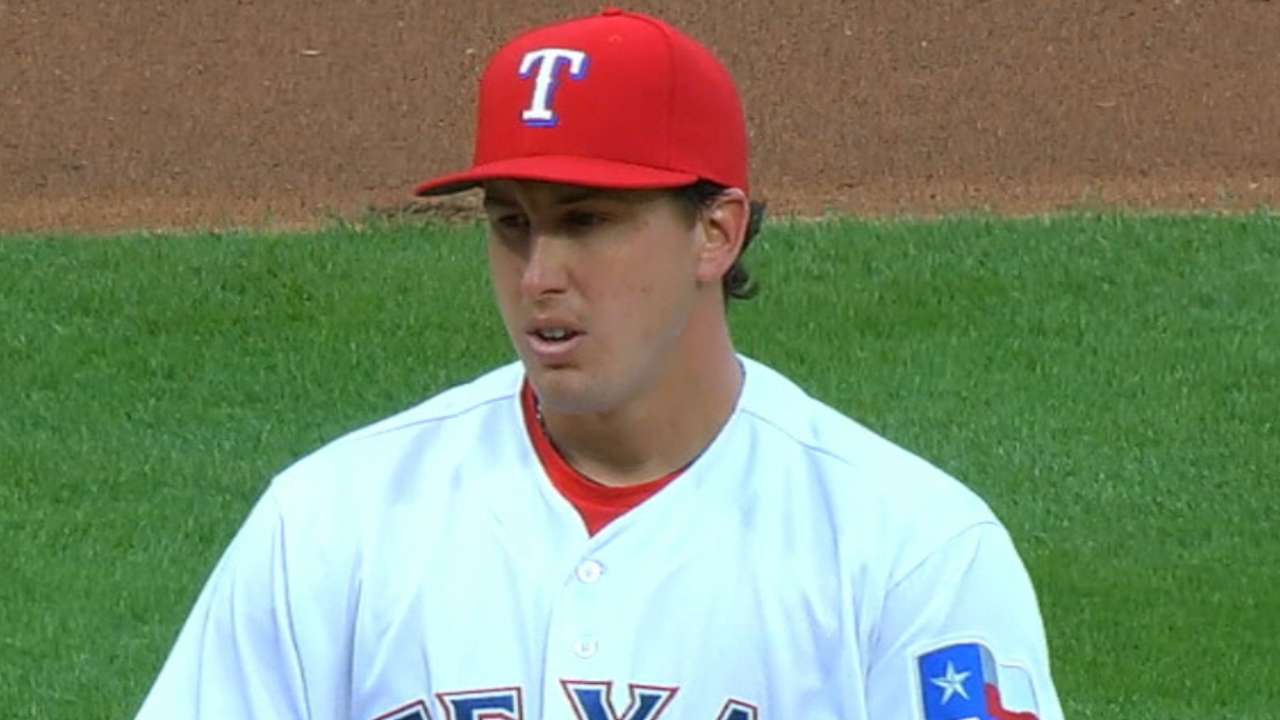 "Holland made some adjustments, but there were some long counts," Banister said. "It was a challenge for him to put away hitters; not a lot of swings and misses on his breaking ball."
The Rangers had 12 hits on the night, including home runs from Moreland and Prince Fielder, and Ian Desmond had his first two-hit game. Moreland, Odor and Andrus also had two hits; Nomar Mazara, who walked twice, was the only starter without a hit.
The Rangers have now won eight straight games against the Astros at home going back to last season, and 14 of their last 20 against them.
T.R. Sullivan is a reporter for MLB.com. Follow him on Twitter @Sullivan_Ranger and listen to his podcast. This story was not subject to the approval of Major League Baseball or its clubs.