Didi sparkles on D, laments misses in clutch
For Yanks' SS, final play in field, miscues at plate and on bases outweigh defensive gems
NEW YORK -- For Didi Gregorius on Tuesday night, the good times massively outnumbered the bad. But in the shortstop's mind, there's no sense in looking at it that way.
With the game tied in the Yankees' 3-2, 11-inning loss to the A's, Gregorius made three outstanding defensive stops to throw out Marcus Semien, Coco Crisp and Semien again. But in the 11th inning, with the score still tied, Gregorius couldn't get his whole glove on the ball. A Mark Canha sharp grounder got behind him, scoring Jed Lowrie and giving the A's the winning run.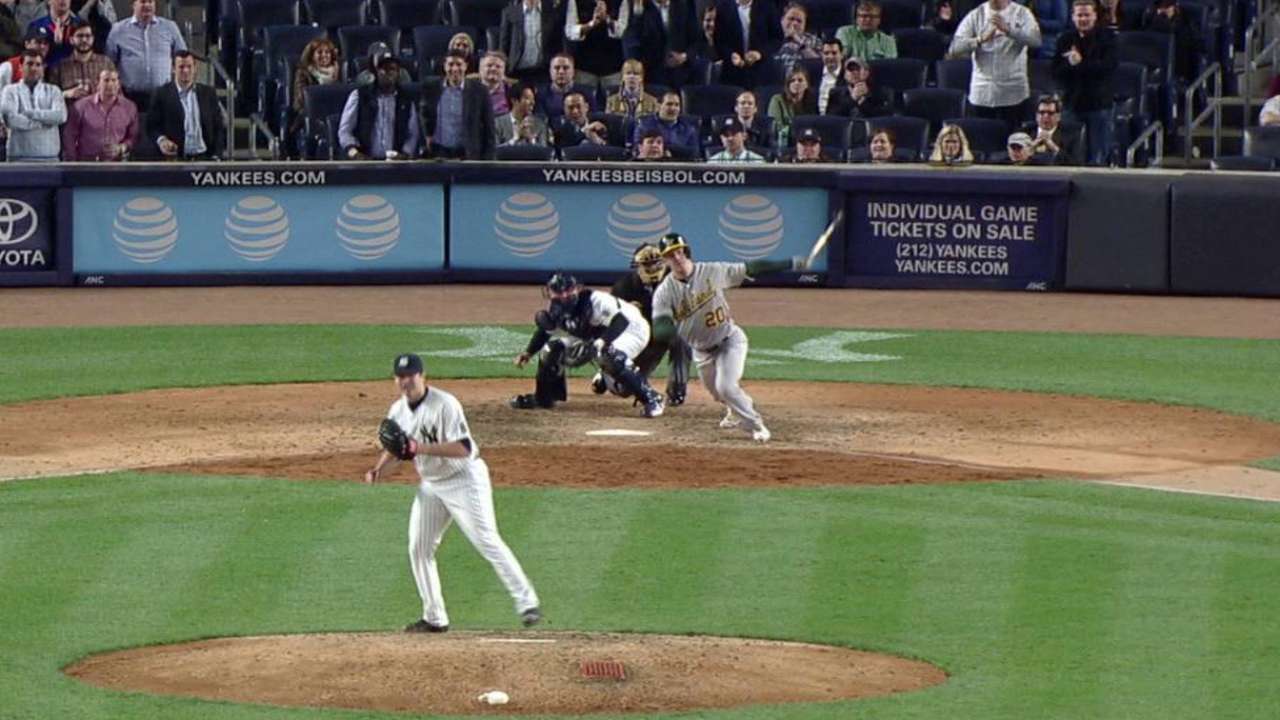 And even though Gregorius had the equity in the three potentially game-saving plays in the seventh and ninth innings, the one that got away is the one he couldn't get out of his head.
"If I made that play, that would've saved the game, and I couldn't make it because I dived for it and it hit my glove," Gregorius said. "So that's the most important play right there. Besides that, I don't really worry about that."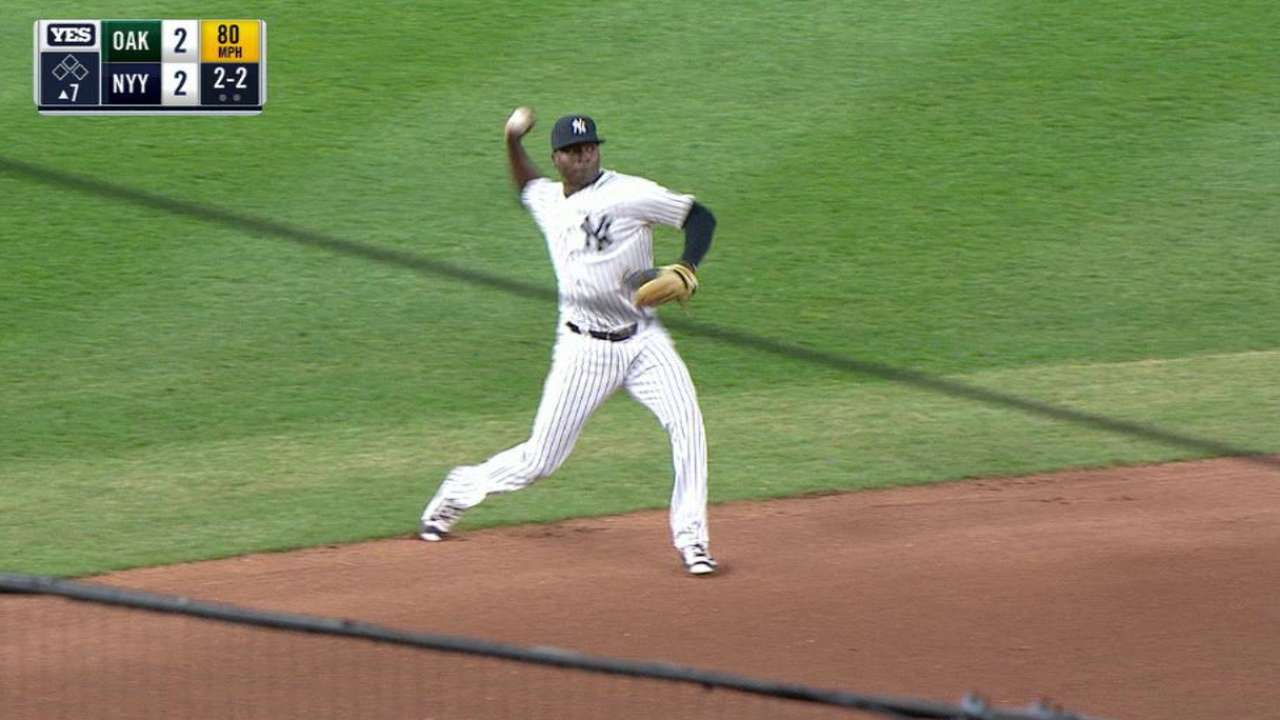 Based on foreshadowing from earlier in the game, Gregorius maybe should have seen the rise-then-fall of his up-and-down defensive day coming. He reached base twice, singling in the fifth and getting to first on an error in the sixth. But he was picked off trying to take second and stranded on second on those two occasions.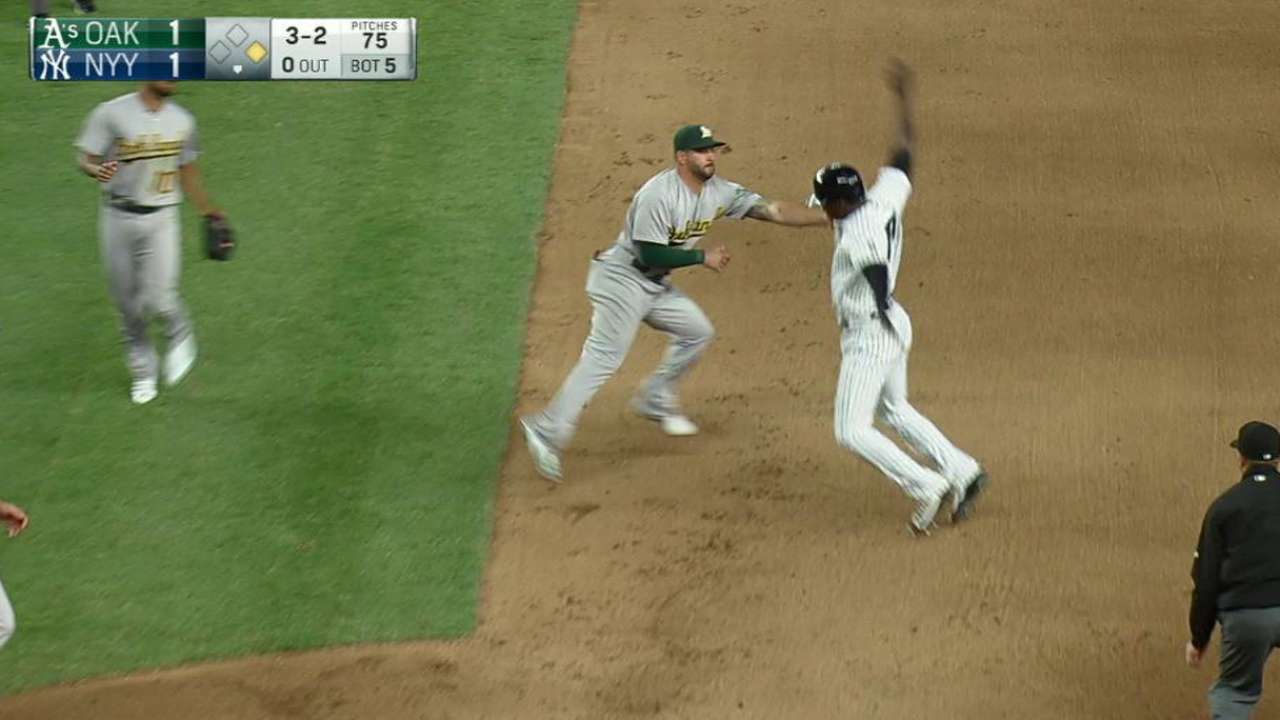 When he came up in the ninth inning with a chance to move pinch-runner Jacoby Ellsbury, representing the winning run, into scoring position with a bunt, he missed twice before flying out, leading to Ellsbury being caught stealing a batter later and sending the game to extra innings.
Gregorius had a simple, apologetic explanation for the pickoff.
"It's a 3-2 count," he said. "I should've held and made sure he went to the plate first and then go. It was my mistake on that. I went a little bit early, and he picked me off."
The series of missed bunts, however? Those might need a little bit more context.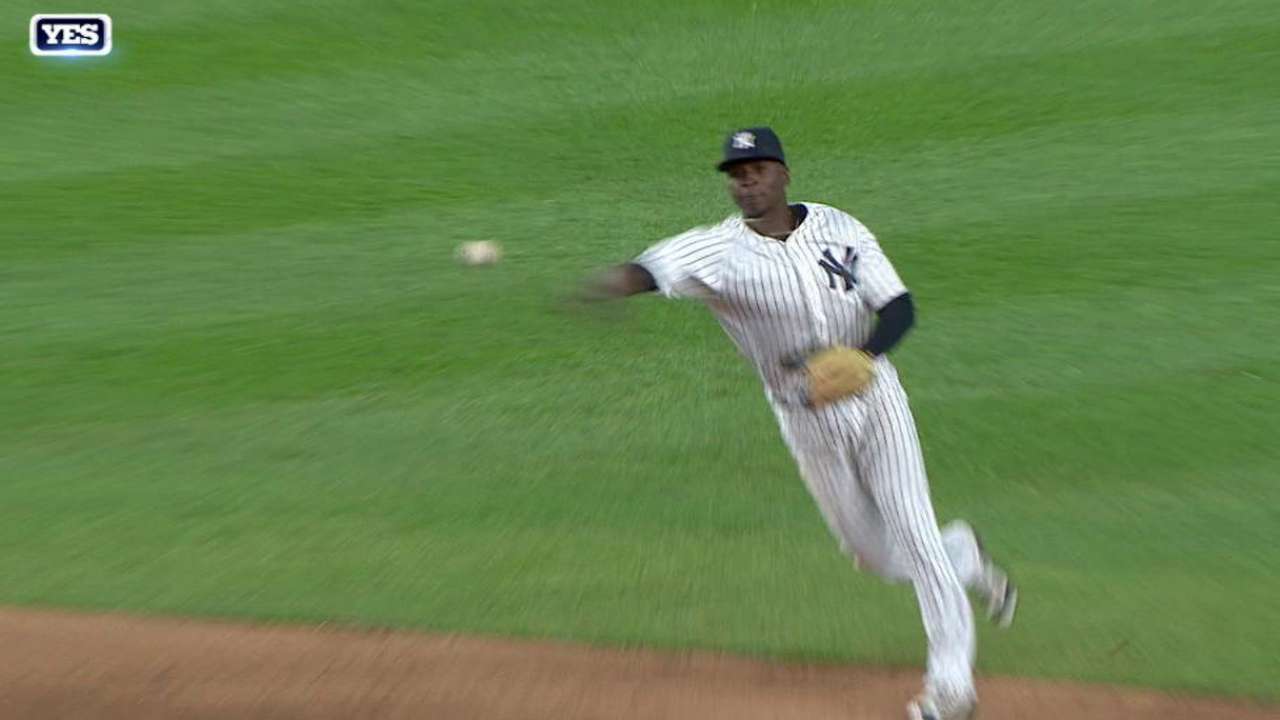 First, there was the pitcher. Oakland relief pitcher Fernando Rodriguez was quick-pitching, making it harder for Gregorius to get his bunts down. Second, there was Gregorius' reaction to the pitcher. After one quick pitch, Gregorius stood in the box awaiting another move to the plate. But Gregorius apparently wasn't 100 percent set and wanted a timeout. He asked home-plate umpire Laz Diaz -- by his estimation, multiple times -- for the timeout, but it was not granted.
Rodriguez threw his pitch before Gregorius was ready, and the bunt didn't stay fair.
"Apparently I didn't say it loud enough," Gregorius said. "Four or five times."
Gregorius said he wanted the timeout to reassess. And while he wasn't granted the stoppage in case of the bunt, he has plenty of time to sit back and reassess the game-saving play he couldn't make.
Because that's the kind of play he worries about.
Nick Suss is an associate reporter for MLB.com. This story was not subject to the approval of Major League Baseball or its clubs.