MLB.com Columnist
Richard Justice
Mount Harper: Nats star on another level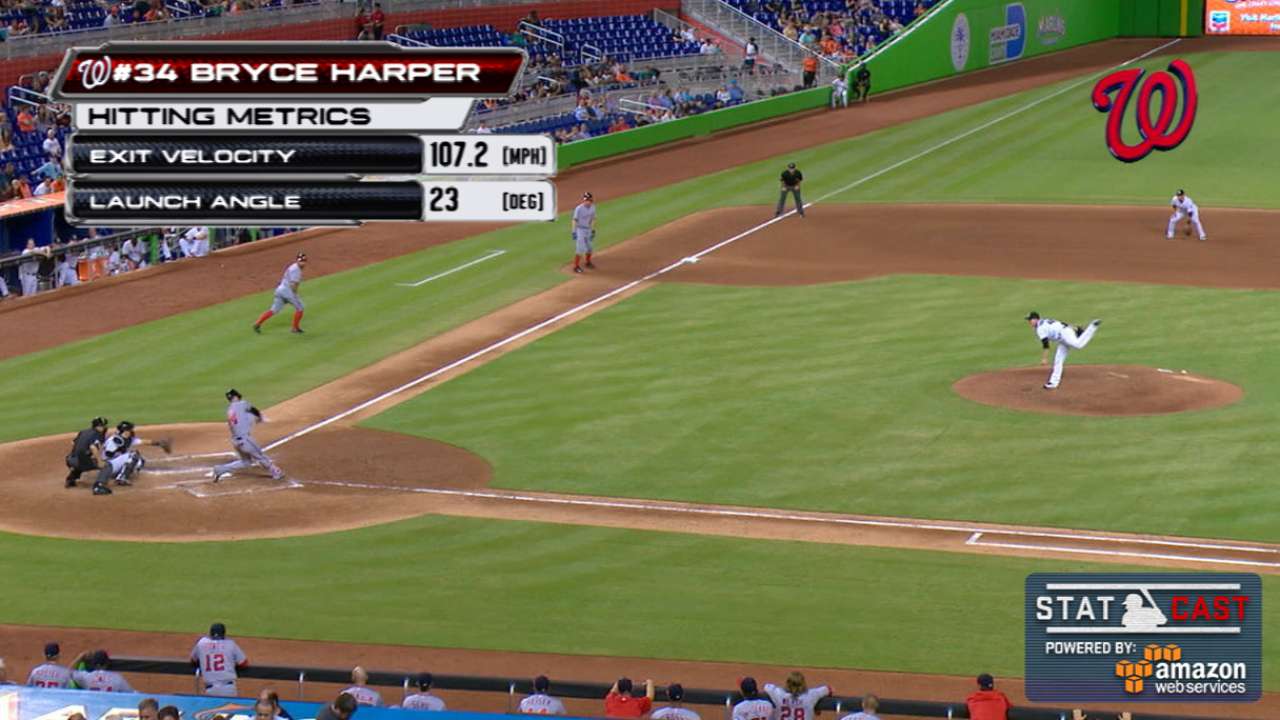 This must be what it was like to watch a young Hank Aaron or a young Willie Mays or Frank Robinson. Take your pick. Every so often, a player comes along who makes the game look oh-so-easy, a player who captivates us on so many levels. That's where we're at with Bryce Harper.
Is Harper the best player on the planet? Who cares? Part of the reason we love this game is that we can debate that kind of question into the wee hours.
All that's clear is that 23-year-old Harper is taking us on a sweet ride, that his every at-bat has become must-see television. We know that every time he swings, we may see something we've never seen before.
Harper homered again in the Nationals' 7-0 win over the Marlins on Tuesday night, his seventh of the young season and second with the bases loaded. Only sensational Rockies rookie Trevor Story has more home runs (eight), and Harper leads the Majors with 20 RBIs and a 1.295 OPS.
This is what we've come to expect from Harper since the moment last season when everything began to click. Think about this guy's career arc. He made his big league debut four years ago at 19.
For three seasons, there were only glimpses of greatness, but nothing more than that. At times, Harper was too aggressive, and he paid for it, both with injuries and rubbing teammates and opponents the wrong way.
In a poll of MLB players done before last season, Harper was voted the Most Overrated Player for the second straight year. How would that balloting look now?
After a 2015 season in which he hit 42 home runs and ran away with the National League Most Valuable Player Award, Harper showed up in Spring Training in even better shape and focused on improving his game, namely plate discipline and running the bases.
• Pizza by the Bryce! Try topping his bopping
Harper is good for the game on so many levels. One is that he says what's on his mind, even if it sometimes annoys a few people.
Harper made headlines before the season when he said baseball players ought to be able to show more emotion without starting a beanball war. Plenty of players agreed with this assessment, but he has the stature to say it and then back it up. It's Harper's game, and we get to watch. If he ends up changing the sport, good for him.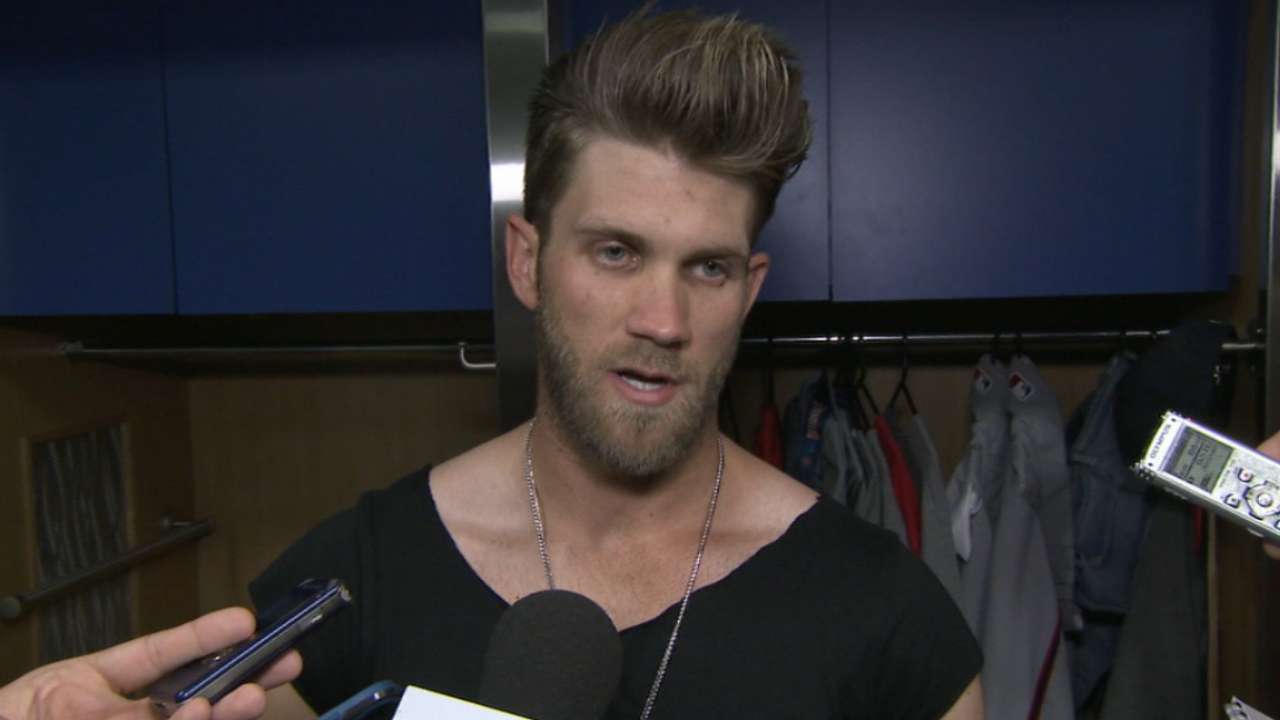 Is Harper better than Mike Trout? That's another part of the Harper discussion. If that's the comparison, there's no wrong answer. In four full seasons, Trout has finished first or second in the American League MVP Award vote every year.
This season, Trout has started slowly, but these debates have to be made over a period of several seasons. Harper is just 23 years old, and Trout will celebrate his 25th birthday in August. If we're really lucky, we'll still be having this conversation five years from now.
And don't forget about Carlos Correa and Kris Bryant and Manny Machado. Others are on the horizon.
How much will it take for the Nationals to sign Harper? That's another talking point. Will he choose to resist whatever the Nats offer and see what the market will pay him after the 2018 season? Will Harper break the $400 million threshold or maybe even $500 million?
To dwell on that stuff means risking not appreciating how good this guy is. Every at-bat by Harper has the feel of a big event.
What Harper mainly is going to do is draw people to the sport and to his games. We're going to watch and be amazed. We may look back and feel fortunate that we were fans at a time when one of the all-time greats flashed across the sky.
Harper is still so young, and there's still so much to accomplish. Until he gets deep into real October baseball, his career can't be put into true perspective. However it plays out, this is as good as it gets. He's why we love this stuff.
Richard Justice is a columnist for MLB.com. Read his blog, Justice4U. This story was not subject to the approval of Major League Baseball or its clubs.