Balk indecision heats up Bucs-Padres tilt
SAN DIEGO -- Padres right-hander Colin Rea balked, Pirates manager Clint Hurdle talked and San Diego skipper Andy Green walked off the field after being ejected during a wild third inning in the Padres' 5-4 win over the Bucs on Tuesday night at Petco Park.
By the time the unusual, mildly confusing sequence was over, the Pirates scored a run on Rea's balk that was, wasn't and was again.
Andrew McCutchen was on third base and Starling Marte was at second with two outs and Francisco Cervelli at the plate. No one was holding McCutchen, who broke toward home as Rea started his windup.
"I was able to throw him off a little bit," McCutchen said.
Rea sped up his delivery in a manner that caused his right foot to come about an inch off the rubber before he threw the ball. It was initially called a balk, and McCutchen walked home to give the Pirates a 2-0 lead.
But the umpires convened and sent McCutchen back to third base. In their initial meeting, the umpires only discussed whether Rea was pitching from the windup, not out of the stretch. It's legal for a pitcher to speed up his delivery -- to quick-pitch, in other words -- out of the windup.
"At first, we just thought he sped up his motion, so we didn't talk about the hop," crew chief Brian Gorman told a pool reporter. "That's when we said it wasn't a balk."
For a moment, Pittsburgh's lead was back to 1-0. Watching the replay on the ballpark's video board, however, it was clear to Hurdle that Rea had lifted his foot off the rubber. So Hurdle went back out to argue.
"I just said, 'That's a balk,'" Hurdle said. "I said, 'That's not good enough. Maybe you guys didn't get the look you needed.' ... It was very clear on the replay."
"We had to huddle again because we didn't discuss that the first time," Gorman said. "During the second huddle, we said since he disengaged the rubber before he released the ball, then we have to go with a balk there. That's when Andy got a little heated."
Gorman's reversal (or perhaps re-reversal?) of the call allowed McCutchen to trot home again, gave the Pirates a 2-0 lead and drew the ire of Green, the Padres' first-year skipper.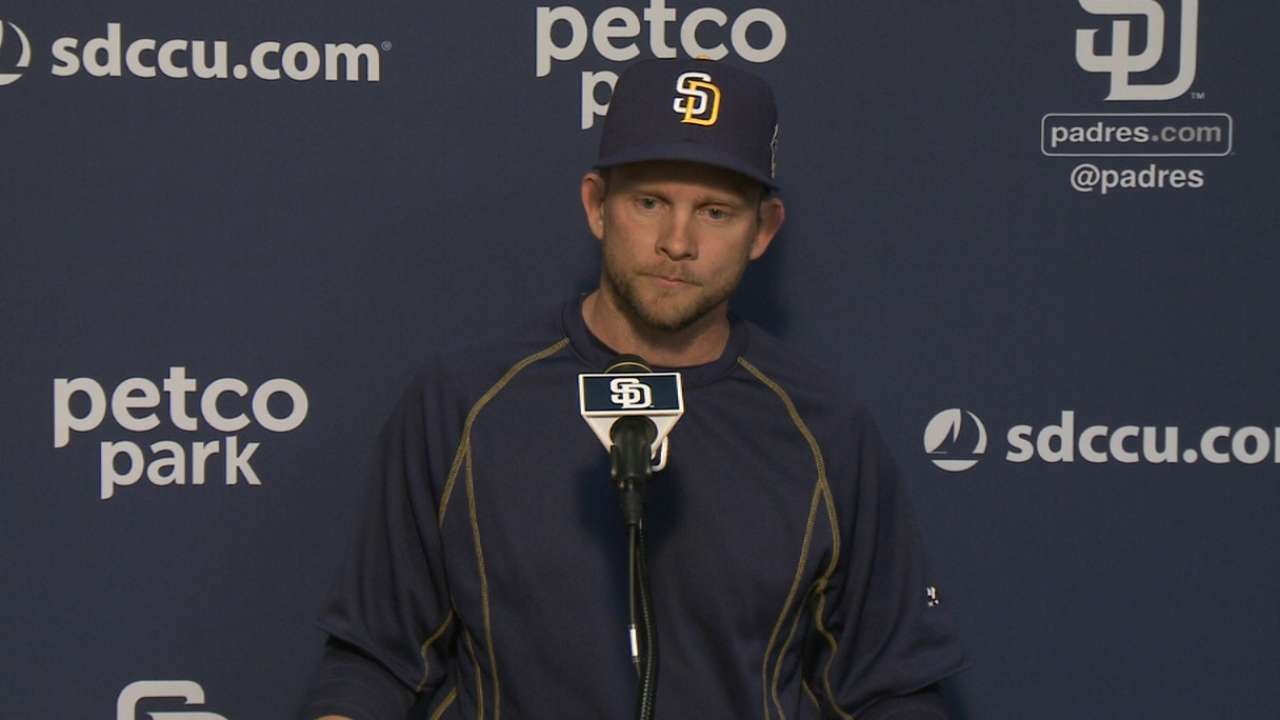 "As long as I've been around, and everyone on staff, no one had seen a reverse of a reversal," Green said. "It's kind of where the frustration was on my part. ... The way that all played out is not the way it supposed to play out."
Green argued that Hurdle should have been ejected immediately for disputing a balk call, instead it was the Padres' skipper who wound up earning the first ejection of his managerial career.
"They can argue a balk call. They can't argue a step balk call, like a step to first, but you can argue all the other kinds of balks," Gorman said. "He just got warned to stop continuing to argue and he continued to argue."
Adam Berry is a reporter for MLB.com. Follow him on Twitter at @adamdberry. This story was not subject to the approval of Major League Baseball or its clubs.